Week 12 NFL Power Rankings - Who's Putting Their Best Foote Forward?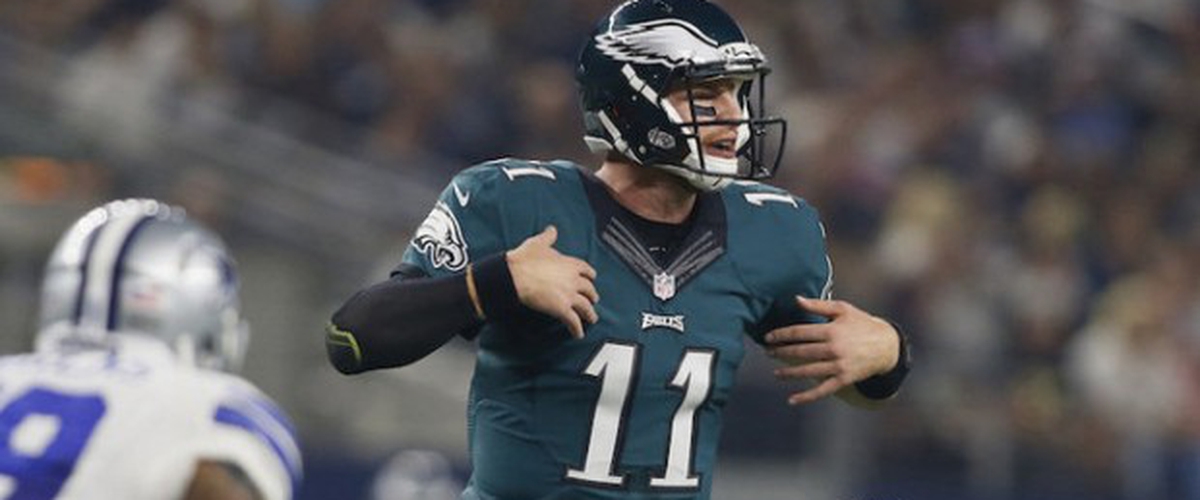 11 weeks of NFL football are in the books. What a season so far. Every week, there seem to be multiple teams coming out of nowhere to shake up the NFL landscape. Many division leads remain up in the air and many teams still have realistic playoff hopes. Where does your team rank heading into week 12? Let's find out in The Best Foote Forward's Week 12 NFL Power Rankings.
Last week's byes: Carolina Panthers (7-3), Indianapolis Colts (3-7), New York Jets (4-6), San Francisco 49ers (1-9)
This week's byes: None. We're done!
32: Cleveland Browns (LW: 32) 0
Same old, same old if you're a Browns fan. A 19-7 loss to the Jags was a bit closer than many expected but nonetheless, it's not a win. The 0-10 squad travels to Cincinnati to play the 4-6 Bengals this Sunday.
31: San Francisco 49ers (LW: 30) -1
No game last week for the 49ers but due to the Giants winning and Broncos losing (again), I've dropped San Fran a spot. It doesn't really matter whether Jimmy Garoppolo makes his season debut on Sunday against the Seahawks - the outcome should remain the same.
30: Denver Broncos (W: 29) -1
Make it six in a row for Denver. Even if they turn the season around and win six in a row, it's not guaranteed that 9-7 will secure a wild-card spot in this year's AFC. Maybe it's time for Paxton Lynch to play (when/if he's healthy)? We'll see.
29: New York Giants (LW: 31) +2
Although management has expressed faith in head coach Ben McAdoo, it's hard to believe a blowout loss to the Chiefs wouldn't have expedited his exit. It wasn't an impressive win, but it's a win nonetheless. Make it two on the year for the G-Men.
28: Indianapolis Colts (LW: 27) -1
No game last week for Indy. A game this Sunday against the Titans is bittersweet. A win could hurt the Titans' playoff chances, but it also hurts the Colts' chances at a top-5 pick in the upcoming NFL Draft. I'm not indicating that the Colts are going to tank and I'm not encouraging them to, but it's something to keep an eye on moving forward.
27: Miami Dolphins (LW: 26) -1
The bad Dolphins showed up on Sunday. Quarterback Jay Cutler is currently going through the NFL concussion protocol, indicating that Matt Moore might be getting the start this Sunday against New England. 4-7 isn't going to look very good for the 'Fins, especially if the Ravens/Bills win and get to 6-5 on the year.
26: Arizona Cardinals (LW: 25) -1
Arizona continues to play well, but not well enough to win. With matchups against the Jaguars, Rams, Titans and Redskins on the schedule for the next month, we could be looking at a 4-10 team very soon.
25: Chicago bears (LW: 24) -1
Chicago, much like Arizona, loses (but closely). With another year of experience, a good free agent class and a solid draft haul, the Bears should be a respectable opponent next season. Continue to give Mitchell Trubisky opportunities and hope he can take advantage of them. Keeping the game with the Eagles relatively close would be a huge confidence boost for the young QB.
24: Tampa Bay Buccaneers (LW: 28) +4
Just like that, Tampa Bay has won two games in a row. They were against the Jets and Dolphins but nonetheless, they're wins. Maybe Jameis Winston should be shut down for the season? Ryan Fitzpatrick has been playing well enough to keep Jameis on the sidelines until it's truly important. With that said, no game this year is truly important for a team that has no realistic playoff hopes.
23: Houston Texans (LW: 20) -3
I mentioned last week that I'm trying to gradually drop Houston down the list because they were so talented before DeShaun Watson got hurt. This is me continuing to gradually do so. The team could easily be in the bottom-5 by the end of the season but for now, expect the decline to be 2-3 spots at a time.
22: Green Bay Packers (LW: 19) -3
It doesn't get much worse than Sunday did for Green Bay. The Packers got shut out by the Ravens in a game in which Brett Hundley's passer rating was 43.6. He's been downright horrible in relief of Aaron Rodgers. Until Rodgers returns, things aren't going to look good for Green Bay and with how deep the NFC is, things aren't looking good as we speak.
21: New York Jets (LW: 21) 0
Neither of the New York City teams lost last week! The Giants pulled off a shocking upset over the Chiefs and the Jets didn't play. With the Panthers coming to town this week, it's not likely that the Jets can pull back into the playoff race. We all knew this though, right? The Jets were never taken seriously as a playoff contender, but it was fun while it lasted.
20: Cincinnati Bengals (LW: 22) +1
Cincy picked up a huge win over the Broncos on Sunday. It may have saved the Bengals' season. Instead of being 3-7 and on the extreme outside looking in, Cincinnati finds itself firmly in the middle of the pack in the crowded AFC. A win over the Browns this Sunday will help a lot, assuming the Bengals will win.
19: Oakland Raiders (LW: 17) -2
What happened to the Raiders? 2 losses in the last three games with 22 points combined in those losses? That's horrible. Oakland continues to shoot itself in the foot and desperately needs a win against the Broncos this Sunday in order to keep its playoff hopes alive. Let's hope the team can get its act together.
18: Buffalo Bills (LW: 16) -2
Speaking of what happened to Oakland, what happened to Buffalo? The Bills have lost three of their last four games and are suddenly in a quarterback controversy between Tyrod Taylor and... Nathan Peterman. It doesn't get more confusing than that. A game against the struggling Chiefs on Sunday will be a big indicator of where this team will stand moving forward.
17: Los Angeles Chargers (LW: 18) +1
How about the team that beat Buffalo? After starting 0-4, the Bolts have went 4-2 and are on the outside of the AFC playoff picture. A big Thanksgiving matchup with the Cowboys looms for LA, one that will have big playoff implications for both teams involved. If Los Angeles wins, expect it to be significantly higher in the rankings next week. In the event of a loss, it'll be hard not to drop them a few spots.
16: Baltimore Ravens (LW: 23) +7 *BIG RISER*
Maybe the Ravens aren't bad!? Look at these losses:
Bears (by three)
Vikings (by eight, still one score)
Titans (by three)
If the Ravens execute a few more plays in those games, they could easily be 7-3 or 8-2. That's a crazy thought. There are some bad losses on the resumé but in general, maybe this is a playoff-calibre team. I haven't given them enough credit; it's about time I did so.
15: Washington Redskins (LW: 15) 0
Washington usually does enough to win, but never actually gets the win. A prime example of that was on Sunday when the team imploded in epic fashion. The 'Skins will not be a playoff team until they can learn to win close games and play four quarters of football. Simple as that. They're still a decent team, but won't be a good one until those issues are fixed.
14: Tennessee Titans (LW: 14) 0
Tennessee is a glorified version of the Miami Dolphins. One week the team is dominant, the next it's getting blown out by an (obviously) superior opponent. The Titans are a frustrating team to watch. This team needs a win against the Colts in order to stay within a game of the division-leading Jaguars. If Tennessee loses to Indianapolis, expect it to be quite a few spots lower in next week's rankings.
13: Dallas Cowboys (LW: 13) 0
Wow. Dallas is a completely different team without Ezekiel Elliot and Tyron Smith. Dak Prescott played his worst game as a pro on Sunday night. He can't afford to follow up that performance with anything short of great on Thanksgiving against a scary Chargers pass rush. Dallas' season is on the line; will Dak save the day?
12: Seattle Seahawks (LW: 8) -4
More bad news for Seattle as not only is Richard Sherman out for the season with a torn achilles, but now Kam Chancellor is headed to the IR as well. This season has not went the way Seattle hoped. This is still a playoff-calibre team, but it remains to be seen how the team will react to so many injuries.
11: Kansas City Chiefs (LW: 9) -2
Kansas City has fallen way off after starting the year 5-0. Not many Super Bowl contenders can have a 1-4 stretch during the season and still believe in themselves enough to get to the big dance. Kansas City is who we thought they were. Alex Smith has not played well and Andy Reid's play calling has been the downfall for this squad. Either this will continue against Buffalo on Sunday or Andy Reid will make the necessary adjustments to get his team back on track. I think the latter will happen.
10: Atlanta Falcons (LW: 12) +2
So much for hitting the panic button in Atlanta. The offense returned to its usual form against the Seahawk on Monday. It doesn't matter how many points the defense gives up when Matt Ryan is clicking with his receivers, as that connection is among the best in the NFL. Atlanta hosting Tampa Bay this Sunday presents another prime opportunity for Ryan and company to go to work.
9: Detroit Lions (LW: 11) +2
Detroit's ceiling is very high. The defense has played well at time this year and Matthew Stafford seems to have a switch he can flip at any time and turn into one of the best quarterbacks in the NFL. The problem is - both of these instances don't usually happen at the same time. Many have doubted Detroit this season and what better opportunity to prove legitimacy than a Thanksgiving matchup against the NFC North-leading Vikings?
8: Jacksonville Jaguars (LW: 10) +2
Jacksonville continues to win games behind a stifling defense and average offense. If it isn't broke, don't fix it. This team ever so slightly reminds me of the 2000 Baltimore Ravens. Obviously the defense isn't that good, but it's elite. The Jags are going to be a tough team to beat come playoff team if Blake Bortles continues to take care of the ball.
7: Carolina Panthers (LW: 7) 0
Carolina stands pat after the bye week. Cam Newton looks to bring his MVP alter ego to MetLife Stadium on Sunday against the Jets in a matchup that will help the Panthers continue to keep pace with the Saints in the NFC South. With a great defense and a great Cam Newton, there's nothing this team can't accomplish.
6: Los Angeles Rams (LW: 4) -2
Tough loss for the Rams against the Vikings. Jared Goff didn't play a terrible game, but he just couldn't put points up on the board. I'm going to credit some of this to the Vikings' amazing defense but nonetheless, it's concerning if you're the Rams. What if you play Minnesota again come playoff time? I guess hope for a better result.
5: Pittsburgh Steelers (LW: 6) +1
Pittsburgh is downright scary when it is playing at peak level. When Big Ben or the defense has an off game, this team is very vulnerable. Thursday against the Titans was not one of those instances. The Steelers have re-cemented themselves as a threat to the Patriots in the AFC.
4: Minnesota Vikings (LW: 5) +1
Minnesota made a huge statement when it beat the Rams on Sunday. This team is for real. Case Keenum has been playing very good football as of late and with the defense playing the way it is, there are only a select few teams that can compete with Minnesota. A Thanksgiving matchup with the Lions presents the opportunity for another statement game.
3: New Orleans Saints (LW: 3) 0
WHO DAT? The Saints have rattled off eight wins in a row. Sean Payton and Drew Brees are going to be scary come playoff time, especially with a resurgent defense. New Orleans is another one of many NFC teams who are legitimate Super Bowl contenders. Brees and company travel to Los Angeles to face the Rams on Sunday.
2: New England Patriots (LW: 2) 0
If New England wins this week and Philly loses, the Patriots will no doubt be the top team in next week's rankings. Tom Brady has been playing absolutely fantastic football this year and the defense continues to get better each week. New England is a prime example of a team peaking at just the right time.
1: Philadelphia Eagles (LW: 1) 0
Did you expect anything different? Philly exploded in the second half to pull away from the Cowboys on Sunday night, displaying just how dangerous this team can be. Carson Wentz had an off night and his passer rating was stil 95.8. That's insane. The Eagles shouldn't have much trouble with the Bears this week and should find themselves in the same spot in next week's rankings.
That's all I've got for this week's Power Rankings. There are many games on the schedule this week with plenty of playoff implications, so expect the rankings to look different a week from now.
--------------------------------------------------------------------------------
This is your reminder to put your Best Foot(e) Forward in everything you do today! Always do the right thing and be the best possible version of yourself every day.
As always, if you'd like to get in touch with me or follow my social media accounts, you can find them here:
Facebook: https://www.facebook.com/TheBestFooteForward
Twitter: https://twitter.com/TheBestFooteFWD
Instagram: https://www.instagram.com/thebestfooteforward
Email: bestfooteforward17@gmail.com
If anyone is looking for fantastic bye-week analysis about who's favored to win coming off a bye or when facing someone coming off a bye: I encourage you to check out http://cheatsheetwarroom.com/fantasy-football/nfl/bye-weeks.aspx. This is my friend Brad's website. He has some amazing bye-week infographics with tons of helpful information on them. Although we're done with bye weeks, we do have 4 teams coming off a bye this week. Perfect for picks. Feel free to check it out. You can contact Brad at brad@cheatsheetwarroom.com. Let him know what you think!