Post Super Bowl 2-Round 2019 NFL Mock Draft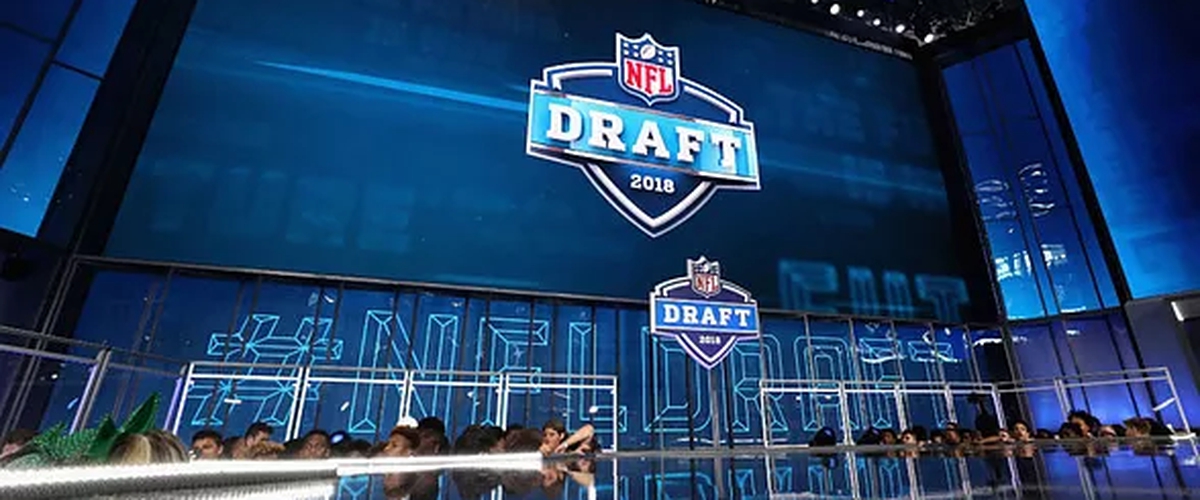 Round 1
1. Arizona Cardinals: Nick Bosa, EDGE, Ohio State
- Bosa is is the best player in this draft, and with holes all over the roster, the Cardinals need to to stick with a best player mentality. Bosa collapses the pocket while also being strong against the run. Pairing him with Chandler Jones will make a rushing duo that will be near impossible to stop.
2. San Francisco 49ers: Josh Allen, EDGE, Kentucky
- The 49ers actually have a good amount of talent. They still have some holes to fill, including a rush off the edge. Allen is a lean and speedy rusher with the bend to speed past tackles. he needs to add some bulk to play in the 49ers 4-3 scheme, but this will give this team an outside pass rusher to pair with interior rusher DeForest Buckner.
3. New York Jets: Ed Oliver, Defensive Line, Houston
- The Jets need to rebuild. They have some key core pieces, but need to continue adding to them. Oliver is the best player left at this pick. He also can play anywhere on the line for this team. His flexibility will allow the Jets to play him anywhere with Leonard Williams to create a great defensive duo on the line.
4. Oakland Raiders: Quinnen Williams, Defensive Line, Alabama
-The Raiders need to hit on their picks in this draft with the number that they have. They can easily get a perennial Pro Bowler here with Williams. Williams lives in the backfield and will help the pass rush by pushing the pocket up the middle. He can be paired with Maurice Hurst to terrorize quarterbacks in the middle of the defense.
5. Tampa Bay Buccaneers: Rashan Gary, Defensive Line, Michigan
-The Bucs have plenty of needs. But with this pick they can add an absolute monster to their defensive line. Gary can play inside or outside in the NFL and will give this defense more flexibility. He is an athletic freak the should play left end in the league as a bigger end that can plug the run and rush the passer. Combining him with JPP, Gerald McCoy and Vita Vea will create a great defensive front.
6. New York Giants: Dwayne Haskins, Quarterback, Ohio State
- The Giants need to invest in a quarterback of the future. Haskins is the perfect fit in an underwhelming class. With only one year of starting experience at Ohio State, he can sit behind Eli Manning and learn for a year before taking over. He has all of the intangibles to go along with a great arm. That will allow him to excel after a little bit of learning. Pairing him with Odell Beckham Jr. and Saquon Barkley will give this offense a big three to terrorize the NFL with.
7. Jacksonville Jaguars: Kyler Murray, Quarterback, Oklahoma
- The Jags need to right the ship before they completely lose control. Adding a leader and playmaker at the quarterback position can help them do this in a hurry. At just 5'11" Murray is drawing rave comparisons to Russell Wilson. These comparisons are spot on as he has the athleticism and arm that Wilson has. He also can calm the offense with his leadership.
8. Detroit Lions: Clelin Ferrell, EDGE Clemson
- The Lions have some work to do after showing a surprising amount of promise in their first season under new head coach, Matt Patricia. Now he will look to add more weapons to his defense in order to attack the strong offenses in the NFC North. Ferrell is an excellent pass rusher that is the most pro ready out of the group. He should be able to fit in right away and help bring pressure for this defense.
9. Buffalo Bills: Jonah Williams, Offensive Tackle, Alabama
- The Bills need to build around Josh Allen if they want to succeed. Williams can either play guard or tackle for the Bills and be a Pro Bowler. His technique will allow him to make up for his lack of length as a tackle, but he could also dominate as a guard. Either way the Bills will have a cornerstone to add to the line with this pick here.
10. Denver Broncos: Devin White, Linebacker, LSU
- The Broncos really need a quarterback. But with a weak class and a bridge quarterback in place, the team can afford to pick a better player to make an impact here. The Broncos have struggled to cover tight ends for years and have gotten slow in the middle of their defense. By adding White here, the Broncos will have a super athletic linebacker that can make plays all over the field. White has the athleticism to be a force all over the field and can help make this defense elite again.
11. Cincinnati Bengals: Devin Bush, Linebacker, Michigan
- Bush is a great prospect that can become the center of this defense. The defensive line and secondary are both already loaded with talent, but they are missing key pieces at linebacker. Malik Jefferson will be able to hold down the WILL linebacker spot, but now they have the chance to draft the new age MIKE linebacker. Bush has the athleticism to destroy plays all over the field and will give this team a fiery leader on defense to set the tone.
12. Green Bay Packers: Brian Burns, EDGE, Florida State
- The Packers have two picks to get this team back to where they need to be. With their first pick, they grab a pass rusher that will give them the speed off the edge that they have missed for quite some time. Burns is lean and fast and can bend the edge. He will need to add some bulk to hold his own against the run, but he has all of the traits and skills of a great pass rusher.It also won't hurt that he will be playing with perhaps the league's best front three.
13. Miami Dolphins: Drew Lock, Quarterback, Missouri
- The Dolphins have made it clear that they are moving on from Ryan Tannehill. With this pick they can grab a new leader to take over this offense. Lock has all of the talent to succeed in the NFL but will have to prove that he has the mental side to succeed. He has an elite arm and solid mobility. He gives this offense a bright and experienced future.
14. Atlanta Falcons: Jefferey Simmons, Defensive Line, Mississippi State
- The Falcons are loaded with talent but floundered through injuries throughout the year. Now they have a solid pick that can help to either pair with Grady Jarret or replace him should he leave in free agency. Simmons has some character concerns, but has the skill set of a top ten pick. Adding that to this defense will only make it scarier and will help to keep the pressure on the quarterbacks of the NFC South.
15. Washington Redskins: Daniel Jones, Quarterback, Duke
- The Redskins are looking for a new leader with Alex Smith's career most likely over. With this pick they can grab the most pro-ready of the quarterback class in Jones. Jones comes from the pro system and has the skills to make an easy transition to the NFL. He reminds me a lot of Mitchell Trubisky and should show a similar talent level in the NFL if put in the right situation.
16. Carolina Panthers: Yodney Cajuste, Offensive Tackle, West Virginia
- With Cam Newton likely to miss the year, the Panthers have to face the reality that they have to protect their quarterback. At this pick they can grab an excellent tackle to help accomplish that goal. Cajuste has the quick feet and power needed to matchup with any edge rusher in the league. He will need to refine his run blocking, but should be a perfect fit on this line at left tackle.
17. Cleveland Browns: Andre Dillard, Offensive Tackle, Washington State
- With Joe Thomas retiring last offseason there has been a hole at the blind side spot all season. With this team poised to start contending, they need to protect their new franchise quarterback, Baker Mayfield. Dillard showed smooth technique at Washington State and should transition easily to the NFL. His combination of technique and power will allow him to be a long term technician blocking for Mayfield.
18. Minnesota Vikings: Cody Ford, Offensive Line, Oklahoma
- The Vikings have to get meaner in the trenches to compete in the NFC North. They have a need at left tackle but could also upgrade at guard. Ford doesn't have the length to play tackle, but could be a Pro Bowl guard for them. He has the power to dominate inside and should help to bolster the running attack while also giving Kirk Cousins more time in the pocket.
19. Tennessee Titans: Marquise Brown, Wide Receiver, Oklahoma
- Brown is a playmaker. This offense needs to add playmakers if they want to compete with the resurgent Colts and scary Jaguars. The Titans have some strong pieces in place and need to give Marcus Mariota every chance to succeed. With this pick, Mariota will be out of excuses and will have a very strong supporting cast.
20. Pittsburgh Steelers: Greedy Williams, Cornerback, LSU
- At 6'3" Williams has the size that makes defensive coordinators drool. But he also has fluid technique and unique ball skills that will allow him to dominate in the NFL. He has the size to disrupt passing attacks and the technique to take advantage of it. He should take over immediately as the number one corner and dominate the AFC North.
21. Seattle Seahawks: Jachai Polite, EDGE, Florida
- The Seahawks defense has lost some of their edge as they have aged. The leadership of theteam has to recommit to adding tools to the defense. With Frank Clark coming up on free agency, they can use a top flight pass rusher. Polite may not have ideal length, but is built very well. He speeds around defenders while using his bending ability to bend the edge. He can help make this defensive front scary again.
22. Baltimore Ravens: D.K. Metcalf, Wide Receiver, Ole Miss
- After a scary neck injury threatened his career, Metcalf has been cleared to play. This is good news for the Ravens as he was playing like a first round talent before his injury. At 6'4" and 230 pounds, Metcalf is the perfect compliment to the speedy John Brown, if the Ravens can keep him. Metcalf will offer new quarterback Lamar Jackson a big target to through to and will help with some of the accuracy issues with his big catch radius.
23. Houston Texans: Greg Little, Offensive Tackle, Ole Miss
- The Texans need to have one thing in mind this offseason: protect Deshaun Watson. Their line is terrible and needs drastic help. The can start by grabbing a big tackle in Greg Little with this pick. Little can play either tackle and help shore up that position. He has the size and length to hold his own in the NFL, while displaying surprisingly quick feet.
24. Oakland Raiders (From Chicago): Deandre Baker, Cornerback, Georgia
- The Raiders need to continue adding solid pieces to their horrible defense. After adding to the interior pass rush with their first pick, here they grab a corner to bolster their pass defense. Baker is a physical corner that is more than willing to come up and hit the ball carrier. He should slot in across from Gareon Conley to solidify the cornerback position, and give this defense a core to build around.
25. Philadelphia Eagles: Byron Murphy, Cornerback, Washington
- The Eagles suffered through a ton of injuries to the secondary down the stretch. Now they can grab a great slot corner to solidify that position and add valuable depth in the secondary. Murphy will need to move inside in the NFL because of his slight build.
26. Indianapolis Colts: Christian Wilkins, Defensive Line, Clemson
- The Colts have worked hard to usher in a new culture by drafting and signing leaders with playmaking ability. After a surprising run, they will look to continue this trend. They can do this by draft Christian Wilkins from Clemson. Wilkins is a fierce competitor that has an endless motor. He is an upstanding character and a leader on and off the field. He should help add an interior pass rush to this defense that can help take the pressure off the linebackers and edge rushers.
27. Oakland Raiders (From Dallas): Mack Wilson, Linebacker, Alabama
- Wilson is an athletic tackle machine that can also cover very well. The Raiders have had next to no talent in the middle of their defense throughout the past few seasons. Now they can grab a leader that will be fighting for a Pro Bowl spot every year. With this pick, the Raiders will grab cornerstones at every level of their defense.
28. Los Angeles Chargers: Jawaan Taylor, Offensive Tackle, Florida
- The Chargers need to continue building this offensive line to protect Phillip Rivers and open holes for the running backs. Taylor is not projected to play left tackle in the NFL because of his size at 6'5" and 328 pounds. This is perfect for the Chargers as he can start right away at right tackle and be a force.
29. Green Bay Packers (From New Orleans): N'Keal Harry, Wide Receiver, Arizona State
- The Packers grabbed their needed edge rusher with their first pick. Now they grab a playmaking receiver to pair with Randall Cobb and Davante Adams. Harry is the big bodied receiver that Aaron Rodgers has missed all of these years and will give Rodgers another target in the redzone. Adding another playmaker to these receivers will allow new head coach Matt Lafleur to unleash Aaron Rodgers at a whole new level.
30. Kansas City Chiefs: Trayvon Mullen, Cornerback, Clemson
- The Chiefs need to focus on retooling the terrible defense. Here they can grab a solid corner to play opposite of Kendall Fuller. Mullen had an excellent showing in the championship game to put a cap on a terrific year. He has the instincts and ball skills to be a number one corner in the NFL. This pick will help make this secondary scary again.
31. Los Angeles Rams: Montez Sweat, EDGE, Mississippi State
- The Rams need to find a way to keep this defense scary after investing in quite a few big contracts last offseason. Sweat could easily be a top 15 pick but slides here because of teams with other needs. Sweat also slides because of previous off filed issues. But his combination of speed and power off the edge are worthy of the Rams taking a chance here. The coaching staff in LA managed to keep Ndamukong Suh on his best behavior this past year, so they should be able to get the most out of Sweat on the edge of their defense.
32. New England Patriots: Oshane Ximines, EDGE, Old Dominion
- The Patriots will look to continue building on their dominant defense with this pick. They could easily take a tight end here if Gronk is retiring. But the promise of Ximines is too much to pass up here. Ximines has all of the talent and size that make coaches drool. But he is a project that will need to find a way to put it all together to dominate in the NFL. The Patriots coaching staff should be able to help him do just that.
Round 2
1. Arizona Cardinals: David Edwards, Offensive Line, Wisconsin
2. Indianapolis Colts (From New York Jets): AJ Brown, Wide Receiver, Ole Miss
3. Oakland Raiders: Josh Jacobs, Running Back, Alabama
4. San Francisco 49ers: Dalton Risner, Offensive Line, Kansas State
5. New York Giants: Michael Jordan, Offensive Line, Ohio State
6. Jacksonville Jaguars: Irv Smith Jr., Tight End, Alabama
7. Tampa Bay Buccaneers: Deionte Thompson, Safety, Alabama
8. Buffalo Bills: Parris Campbell, Wide Receiver, Ohio State
9. Denver Broncos: Tytus Howard, Offensive Tackle, Alabama State
10. Cincinnati Bengals: Will Grier, Quarterback, West Virginia
11. Detroit Lions: Chase Winovich, EDGE, Michigan
12. Green Bay Packers: Taylor Rapp, Safety, Washington
13. Atlanta Falcons: Jaylon Ferguson, EDGE, Louisiana Tech
14. Washington Redskins: Jonathan Abraham, Safety, Mississippi State
15. Carolina Panthers: Nasir Adderley, Safety, Delaware
16. Miami Dolphins: Joe Jackson, EDGE, Miami
17. Cleveland Browns: Hakeem Butler, Wide Receiver, Iowa State
18. Minnesota Vikings: Dre'Mont Jones, Defensive Line, Ohio State
19. Tennessee Titans: T.J. Hockenson, Tight End, Iowa
20. Pittsburgh Steelers: Mecole Hardman, Wide Receiver, Georgia
21. Philadelphia Eagles (From Baltimore): Bryce Love, Running Back, Stanford
22. Houston Texans (From Seattle): Elgton Jenkins, Offensive Line, Mississippi State
23. Houston Texans: Damon Arnette, Cornerback, Ohio State
24. New England Patriots (From Chicago): Noah Fant, Tight End, Iowa
25. Philadelphia Eagles: Bobby Evans, Offensive Line, Oklahoma
26. Dallas Cowboys: Ross Pierschbacher, Offensive Line, Alabama
27. Indianapolis Colts: Julian Love, Cornerback, Notre Dame
28. Los Angeles Chargers: Dexter Lawrence, Defensive Line, Clemson
29. Kansas City Chiefs: David Montgomery, Running Back, Iowa State
30. New Orleans Saints: Rock Ya-Sin, Cornerback, Temple
31. Kansas City Chiefs (from LAR): Tre Lamar, Linebacker, Clemson
32. New England Patriots: Deebo Samuel, Wide Receiver, South Carolina