Fantasy Sports' Big Secret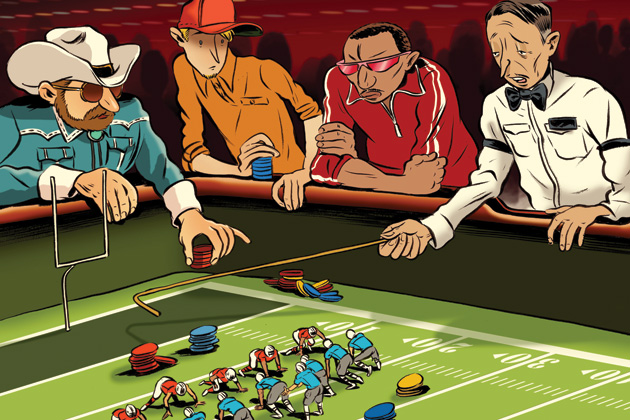 There's just something irresistible about fantasy sports.
Last week was "experts week". My fantasy football debut season started with the 8th and last overall pick in the draft. After an hour of cold sweats, I put together a solid squad...Gronk, Matt Forte, Fitzgerald, etc. After, having an inkling to bench Peyton Manning in favor of Mr. Irrelevant – the last overall pick in the draft – Sam Bradford, I decided that Week 1 will be expert week. 'I'll listen to the projections', I thought – it was an easy way to fight my inclinations, which, if wrong, would have looked very foolish. Peyton is a Fantasy legend and if Bradford laid an egg, I would have been the league laughingstock for that week, and maybe the whole year from then on.
I lost in Week 1. Put up a valiant effort with 118 points, usually enough to get you a win but my opponent exploded for 144 and shut the game down. Bradford, needless to say, outplayed Peyton significantly.
Enter "instinct week". 'Hell yeah!' - I thought. 'This means I actually know what I'm talking about here!' Week 1 gave me the green light to start trusting myself. Week 2, the experts still believe in Manning and the Broncos (whose Defense I also have) even though they're playing away on a Thursday night at Kansas City, which has a good defense and looked mighty impressive in the opener. 'Screw that! Sam Bradford, welcome to "Euro Steppin'" (my team name, as I'm the only guy in our league based outside of the US), 'Peyton, take a seat for a Week, we'll see how this partnership progresses...'
Moving right along, 'let me work this waiver wire. Boom!' Picked up Bishop Sankey, Titans D, and Todd Gurley, just as a future prospect. Proud. 48 hour trade negotiations, boom! Landed Antonio Brown, the number 1 ranked wide receiver for Alshon Jeffery! At this point, I'm pumped! And my match-up this week is against guy that hasn't even noticed his best player was suspended for the first 2 games but has him in the line up. 'I got this!'

I woke up on Friday to find out Manning and the Broncos D combined for 40 points the previous night.' What?!' I could live with 20 from Peyton but the defense?! 'On a short week?!' While walking to the bathroom to brush my teeth, I'm convincing myself that it's still okay. Nobody could have predicted the defense beastin' this much on a short week and who knows...maybe my starters can do even better! 'I still got this!'

Sunday – that magical time – 1 o'clock eastern, 7pm my time – Red Zone channel starts. A football fan's little piece of heaven. No commercials, no talkin', no opinions, no stress, no problems, no responsibilities, just....football.
The early games are an up-hill climb. Fitzgerald puts up 29....on my bench! But even with my instincts. and not the experts' picks, I'm projected to beat my opponent by 5...I got this!

After my defense did damn near nothing, I was down 24 after the early games, but homeboy had played all his players already. I still had my kicker, Randle, and...Sam Bradford to feature. 'I'm good', I thought.
Randle and Bradford are playing each other. Randle is doin' some work. In Fantasy Football you get 6 points for a touchdown, one point for every 10 rushing yards, and the QB gets a point for every 25 passing yards... those numbers will be significant later. Randle's rushing is allowing me to get the chase going, while Tucker, the kicker for Baltimore is doing his part to get me within single digits. It's the forth quarter. Both in the afternoon games in my fantasy match-up. Well past midnight but a man can't fall asleep in such situations, that's obvious, so I'm glued to my screen, my best friend, Ham, constantly in my ear-phone, laughing at my torment, having already taken an ass-whoopin' in his match-up... it's down to the wire.
Bradford is blowing everything! His Eagles are playing a historically bad game offensively! I can't believe this. 'After all this, Bradford?! After all the struggles we've been through over the past two weeks? After I benched the legend for you?! This is how you do me, Bradford?!' The frustration level is boiling over at this point as Bradford is actually flirting with a negative score in the forth quarter, as Ham and I now notice that he looks strangely like a child in his helmet. 'The Eagles are driving' – Ham tells me. 'I don't care at this point!' I bark back, having been led up by this team too many times already. Turnover. 'I don't got this.'
It's the last 2 minutes. I'm down 5 points, the Eagles are driving again. Ham and I have moved on to talking about other things – that being our Fantasy Soccer line-ups and scores, of course. All of a sudden the Eagles are in the red zone, and I dare say to Ham – 'Bro, they score here and after all this I'll get my win'... And they score. Ham calls me lucky and does a little bit of fantasy hating, while I enjoy my moment...the Fantasy Football victory formation – eyes closed, arms raised. 'I won', I whispered with a grin. I won.
I glanced at my phone where the ESPN Fantasy Football app had been running all night and notice I'm still down 1. I tell this to Ham. He paused and said that maybe touchdowns are worth 4 in our league. A silence ensued. A slew of vulgarities followed that as I learned that was indeed the case! Bradford finished with a pathetic 6 points, leaving my final Fantasy score of 98-99. Oh, but Sam wasn't done. Just to tease me, he passed for 224 yards, leaving me 1 shy of a tie. And as if that weren't enough?! He ran for 9.5 yards...
'Are you f•••••g kiddin me?!' I exclaimed, throwing pillows around the room at this point. 'The guy played a suspended player! I'm goin' to sleep!'
After requiring a couple of days to compose myself, I set-up the line-up for Week 3. And I cruuuuushed! I went mostly instincts this week and put up 148. Best score of the week... And... that's it. That's the end of the story for Week 3.
That got me thinking. Fantasy sports is all about the losing. It's all about the chase. The agony of losing far outweighs the joy of winning. The constant chase, the mind games, the conversations, the relationship fights, the frustration, and all the coming up short is what fantasy sports is all about. When you win, even if you crush, like I did last week, you move on with your day. When you lose, you feel like a real loser. When you win, it's still not real life. Man, I worked hard for that victory! Not real world hard, but fantasy hard. I earned it. But when I checked the scoring, no music came on, no models came over, no fireworks cracked.

I do hope for one thing though. The Championship. I spell that word with a capital letter for a reason. That elusive, magical state of on-top-of-the-worldness that all of us strive for. And if and when I win, it won't be about the money, it will be about the victory formation – eyes closed, arms raised, whispering, I won.
---