Lions Look: Defense Takes A Holiday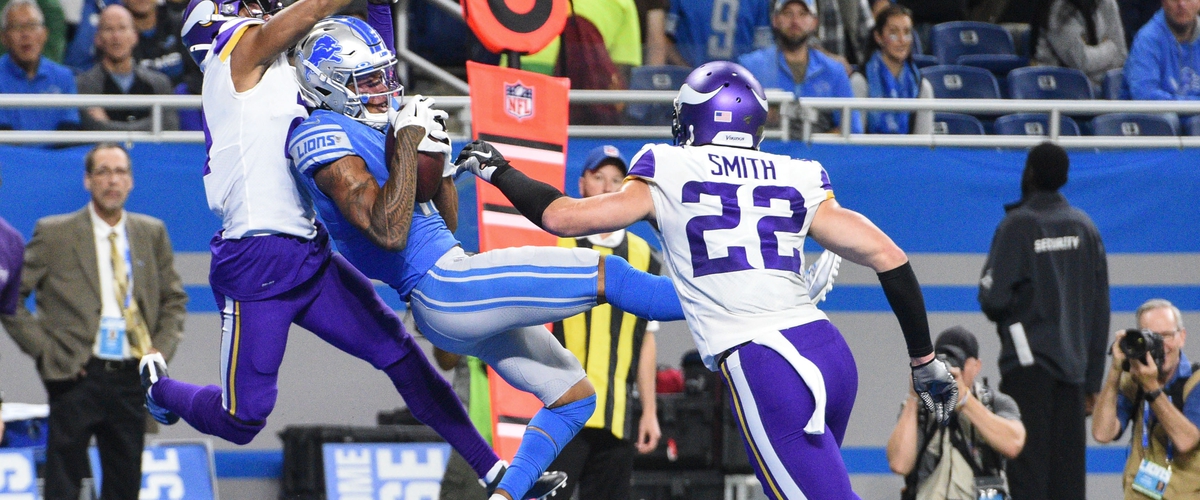 An old school NFC Central style defensive battle this wasn't.
In a game which the offenses of the Minnesota Vikings and the Detroit Lions combined for over 900 yards, the Lions' defense would turn a more horrific performance as they would surrender 6 touchdowns to the Vikes, led by QB Kirk Cousins and RB Dalvin Cook, who would defeat the Lions 42-30 to extend their current win streak to three and remain one game behind the NFC North leading Green Bay, who handled the visiting Oakland Raiders 42-24.
The Vikings on their win streak have done two things. First and foremost, they have taken care of the ball. They never gave away possession to the Lions defense all day while drumming up one takeaway, an interception of Matt Stafford very late in the fourth quarter to snuff out an improbable comeback attempt. Minnesota has only coughed up the ball 3 times in as many games while generating five turnovers on defense. Ball security is at a premium, especially this season with defenses exceptionally aggressive in trying to force fumbles. Not surrendering possession means opponents don't get extra chances on offense to score punitive points due to carelessness. The second component has been the play of Cousins, who has been stellar. While he carried a higher passer rating than most of his contemporaries, he has been stretching the field as of late, adding a deep ball threat to his arsenal. After the Chicago game, Cousins took a lot of heat for his method of play, which is normally as a short to intermediate range passer in the style of a traditional West Coast signal caller. By adding that long ball to take advantage of the speed of wide receivers Stefan Diggs and Adam Thielen, Cousins has put up gaudy numbers (68/90, 976 yards, 10 TD's, & 1 INT for a 142.6 passer rating) as a result. The concern is how long will this last? Cousins is playing at an unsustainable pace. When he comes back down to Earth, can the Vikings continue winning? If they minimize turnovers, they remain difficult to beat. But Cousins is notorious for fumbling, and if he starts putting the ball on the turf, will it crack his confidence in the passing game? Only time will tell.
As for the Lions, there is no other way to express it: the defense is absolutely terrible. In Detroit's two wins, the defense did make key plays to ensure victory. But in the tie game in Arizona and this three game losing streak, they cannot get off the field and they surrender way too much yardage. The Lions' D was among the worst in yards allowed, and after letting Minnesota rack up 42 points and 503 total offensive yards, those numbers will only climb. While playing man to man defense in the secondary has been effective in keeping top line opposing passers in check, the lack of a viable pass rush is killing this unit. Coverages are critical in stifling the many pass happy offenses that litter the NFL philosophical landscape, but if those tasked with pressuring opposing quarterbacks don't even disrupt reading their progressions, much less force mistakes, even the greatest defensive backs eventually lose containment on their assignment, which becomes a big play for the offense and a backbreaker for the defense. It is painfully obvious that head coach Matt Patricia and defensive coordinator Paul Pasqualoni must make adjustments to a unit that was considered a strength at the conclusion of last year. Perhaps a switch to a 3-4 alignment may be the best solution, as so many players on defense now have experience with that alignment and the Lions continue to employ a base 4-3. All that's known right now is the Lions are 2-3-1 and in last place in the highly competitive NFC North. There must be a sense of urgency in Allen Park in repairing this defense before the 2019 season slips away.
The Lions' schedule begins to lighten up some, as the rebuilding New York Giants come calling to Ford Field. Rookie QB Daniel Jones should not be taken lightly, as he has provided life on Big Blue's offense. And if the Lions D doesn't tighten up some, next week's result could be far more dire for the Honolulu Blue and Silver.
---