Lions Look: Drawing Conclusions
Due to unforeseen circumstances, last week's Lions Look did not post. Given the nature of this post, both the Week 10 and 11 games will be mentioned. However, dear reader, as you will see, the tenor of this article will be different than a game analysis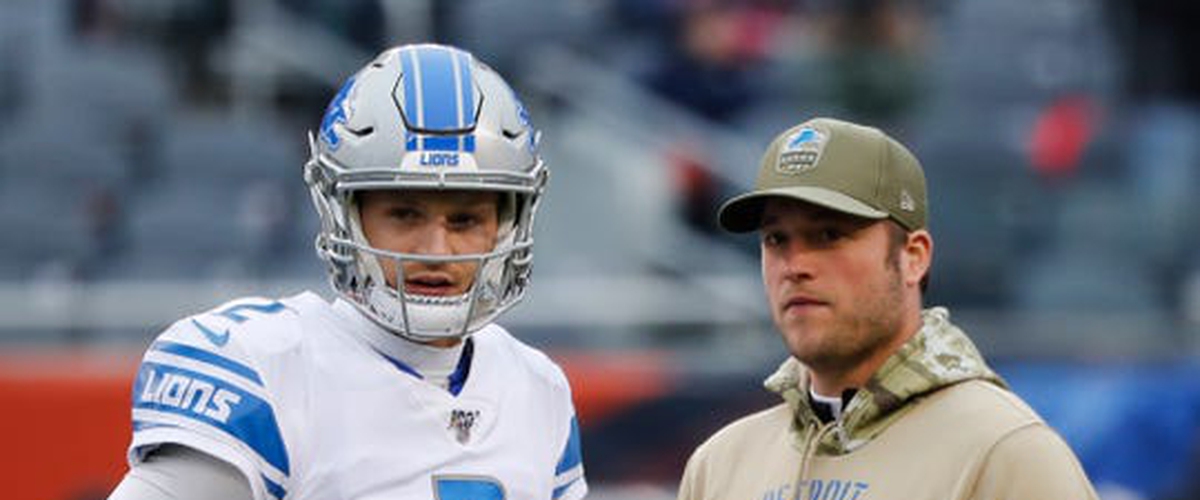 It's either a slide or a freefall.
The Detroit Lions have continued to struggle since their bye week in losses to the Chicago Bears (20-13 in Chicago) and the Dallas Cowboys (35-27 in Detroit). The Lions are 3-6-1 and have went 1-5 since entering the bye week 2-1-1.
The defensive woes continue for the Lions. Opposing quarterbacks continue to carve up Detroit's D, with the Bears' Mitch Trubisky posted a season best passer rating of 131.0 (16 of 23 for 173 yards, 3 TD's) and the Cowboys' Dak Prescott put up big numbers with the Lions keeping RB Ezekiel Elliott in check (29 of 46 for 444 yards, 3 TD's). The run defense has been better, as the Lions have not given up more than 82 team yards in a single game, but generating only one takeaway and six sacks (5 of those were on Trubisky) make it very difficult to defeat many passers in this league. Offensively, it boils down to one thing: the loss of QB Matthew Stafford to broken bones in his back. The absence of Stafford means not only the loss of the Lions best offensive player, but one who was enjoying both a career campaign and recognition by some as a dark horse MVP candidate. In his place is Jeff Driskel, a four year journeyman on his third team. He does have starting experience, going 1-4 with the Cincinnati Bengals last year. albeit with a pedestrian 82.2 passer rating. So Driskel was forced into action, and he has played valiantly. Lions offensive coordinator Darrell Bevell has a knack of getting the most out of his quarterbacks, and that continues with Driskel, whose performance in Chicago (27 of 46 for 269 yards, TD, INT for a 73.6 passer rating) came on short notice, and who played well (15 of 26 for 209, 2 TD's for 109.3) against an aggressive Dallas pass rush. Both of those games were winnable had Stafford been under center. No disrespect toward Driskel, but he does not have the track record Stafford has built up through his 11 year career. But as the Lions head into the balance of their schedule, there are a few conclusions your humble scribe has drawn as Detroit is heading toward another season without playoff participation.
1) Zero confidence in head coach Matt Patricia and sinking belief in general manager Bob Quinn. Patricia has shown the job may be bigger than he is capable of handling. His 9-15-1 record as of this week is not the direction that Quinn had in mind when he fired previous head man Jim Caldwell after a 9-7 record, his third winning season in four years in Detroit, and missing the playoffs. And while we're on the subject of Quinn, his record isn't much better. Over four years and two coaches, the Lions are 27-29-1, with a lone wild card berth in 2016, before his players began to stock the roster. Demanding the dismissal of Patricia & Quinn is still premature, unless it is known they have lost the locker room. Both should get one more year to prove the Lions are on the right track. In truth, one could make the case that Quinn gets a chance to hire a second head coach. Quinn has been diligent in acquiring talent both through the draft and in free agency, which is an admirable trait. By extension, one could argue that the coach is the weak link, not the GM. While the idea of giving a football executive a longer leash than a head coach is not popular, it may be worth trying to play the long game instead of cleaning house and starting from scratch.
2) Patricia will need to sacrifice assistants to stay on for a third and deciding season. The obvious target is defensive coordinator Paul Pasqualoni, whose unit ended 2018 10th in yards allowed and 16th in scoring to a current 30th and 24th, respectively. Patricia has been referred to as a defensive genius, but that reputation is being deemed as fraudulent after this performance. He may need 2020 to salvage his good name.
3) Critics of Stafford are retaining a dignified silence recently, as it is clearly evident that his play has been the difference between the Lions at least staying in contention for a wild card berth and Detroit relegated to a high draft position in April. While he may be approaching the sunset of his career, Stafford has a few prime years in him, and it would behoove Quinn to ensure the Lions at least have the pieces around Stafford to qualify for postseason opportunities.
4) Speaking of Quinn, he must continue to keep bringing in players to improve the team. Yes, he has made his fair share of whiffs, but he has yet to be dissuaded from that forward approach. He still needs to keep trying to give the offense a running game, and he must continue bringing in front seven defenders to shore up a unit that struggles to pressure the quarterback and win at the second level.
Coming up for the Lions is a road trip to Washington to face a beleaguered Redskins outfit who are lost with an interim head coach steering the ship. Detroit should be favored to be victorious, but the way this season has gone for the Lions, nothing can be taken for granted.
---