Nate Oats and the Buffalo Bulls Aren't a One-Hit Wonder
You probably remember the Buffalo Bulls from their upset win over Arizona in the NCAA Tournament last year.
If you're a Wildcats' fan, that blowout probably hasn't left your mind since. The Bulls carved up a fearsome DeAndre Ayton-led Arizona team with lights out shooting and pestering perimeter defense, crushing the Pac-12 champs and brackets everywhere in the process.
But Buffalo's moment in the spotlight looks to be far more than a flash in the pan. The Bulls are on a roll this season, sporting a 24-3 record and a Top 25 distinction, all the while leaving top-flight coaches like Sean Miller, Bob Huggins, and Jim Boeheim wondering how they were outcoached by a former high school math teacher.
Nate Oats is an unlikely leader for one of the best mid-major teams in the country. A former Division-III basketball player for Maranatha Baptist University in his hometown of Watertown, Wisconsin, Oats didn't have the collegiate pedigree to land a coaching gig right out of school. Instead, he pursued a Master of Science and got a job as a math teacher for a local high school in Wisconsin.
While teaching, Oats volunteered as an assistant for Division-III University of Wisconsin-Whitewater. He got his big break while he was teaching math at Romulus High School in Michigan, when former Rhode Island assistant Bobby Hurley came through the doors to recruit then Romulus-student E.C. Matthews. Hurley was impressed with Oats's coaching, and hired him as an assistant on his staff when he became the head coach at the University of Buffalo. And when Hurley departed for Arizona State just a couple years later, Oats took over the job.
During his tenure at Buffalo, the Bulls have made the NCAA Tournament three out of five seasons, and this is poised to be his team's fourth appearance since his arrival back in 2013. This year, however, is a tad different. This time, a tournament berth comes with expectations.
It's easy to see why Buffalo is a threat when March rolls around. This is a team littered with seniors – five seniors start or play more than 23 minutes per game. They're experienced, they shoot the three at an extremely high clip, they get after you on the glass, and they dominate the transition game. That's become the Buffalo way this season, and it's a pretty tough formula to beat.
For the Bulls, that starts and finishes with C.J. Massinburg. One of two players on the roster who have been mainstays in the rotation for four years, Massinburg leads Buffalo in scoring with 18.5 points per game. And his best performances have come on the national stage, putting up a 43-point, 14-rebound night at West Virginia and a 25-point, 8-rebound outing against Syracuse at the Carrier Dome.
For a guard who scores as much as he does, Massinburg is extremely efficient. He shoots 49% from the field and knocks down over 43% of his three-point attempts, good for third in the Mid-American Conference among qualified players. Massinburg isn't the only three-point threat Buffalo has, though. Eight out of nine players in the rotation are more than comfortable letting it fly from deep, and four of those eight shoot 40% or above. In fact, the worst shooter of the group this season has been Jeremy Harris, who has been in a season-long shooting slump, but is still a career 36% three-point shooter and a threat to get hot in any given game.
As adept as they are from beyond the arc, three-point shooting isn't what sets Buffalo apart from the rest of the nation. What makes this team different from every other mid-major come tournament time is the way they create extra possessions. Buffalo ranks 9th in the country in extra scoring chances per game, a metric that takes into account offensive rebounds and turnovers on both ends of the floor.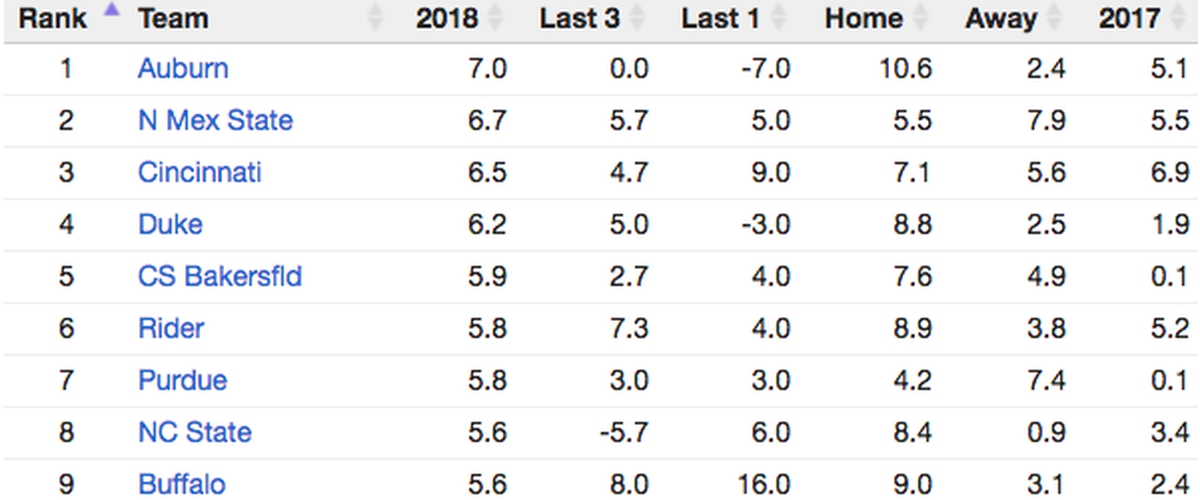 That means that Buffalo is generating 5.6 more scoring chances than their opponents on average, giving a huge advantage to an already talented bunch. That can be primarily chalked up to guard play. The Bulls are one of the better rebounding teams in college basketball, ranking 12th in the nation with more than 40 a game, and Buffalo's guards crash the glass on both sides of the floor better than any other backcourt in college basketball. Check out their relentless pursuit on the offensive glass off a Nick Perkins missed free throw.
Three of Buffalo's guards get a hand on the basketball following a miss, including Massinburg, Harris – both of whom average upwards of six rebounds a contest – and finally Jayvon Graves, who soars in for the putback dunk. It's this sort of nightly effort and willingness to rebound from the backcourt that makes Buffalo so unique. Their guards help create extra possessions, and they do it in more ways than one.
Perhaps the best way the Bulls create extra scoring chances is by running. Nate Oats's team can afford to create fast break situations whenever possible because they're an athletic, guard heavy team and Oats rotates those guards in and out to keep them fresh. It's part of why Buffalo ranks eighth nationally in adjusted tempo. Of the teams in the projected tournament field, only North Carolina runs a more up-tempo offense. Take a look at this fast break later in the same game at Toledo.
This has no business being a fast break off a missed shot here. Most teams probably collect the air ball and dribble up to run their offense in the half court. Buffalo had other ideas. As soon as Massinburg sees that Luke Knapke's jumper is off line, he's already turning his head and leaking out. He doesn't need to watch Dontay Caruthers get the rebound because he knows by the time he turns his head back toward Caruthers, the ball will be on the way, and like clockwork, it is. Caruthers throws a perfect outlet pass to Massinburg for an easy layup on the other end.
Teams simply aren't prepared to run with Buffalo, and they have to be, because the Bulls are going to dictate the pace of play and find extra scoring chances like they've done all year. Quick threes, put-backs, post feeds to Perkins with 23 seconds on the shot clock, and leak-outs for easy buckets create an up-tempo offense that most teams aren't used to defending. Buffalo's extra scoring chances (5.6 per game), combined with extremely efficient offense (1.12 points per possession) gives Nate Oats an extra six points to work with on any given night.
Of course, Oats, the math teacher and head basketball coach all rolled into one, knows all of this. He knows these numbers have the potential to add up to a significant NCAA Tournament run in just a few weeks. But he also knows how quickly that can be erased by a Cinderella, and his team is out to prove they're a whole lot more than a one-hit wonder.