"The Stack" 3-16-18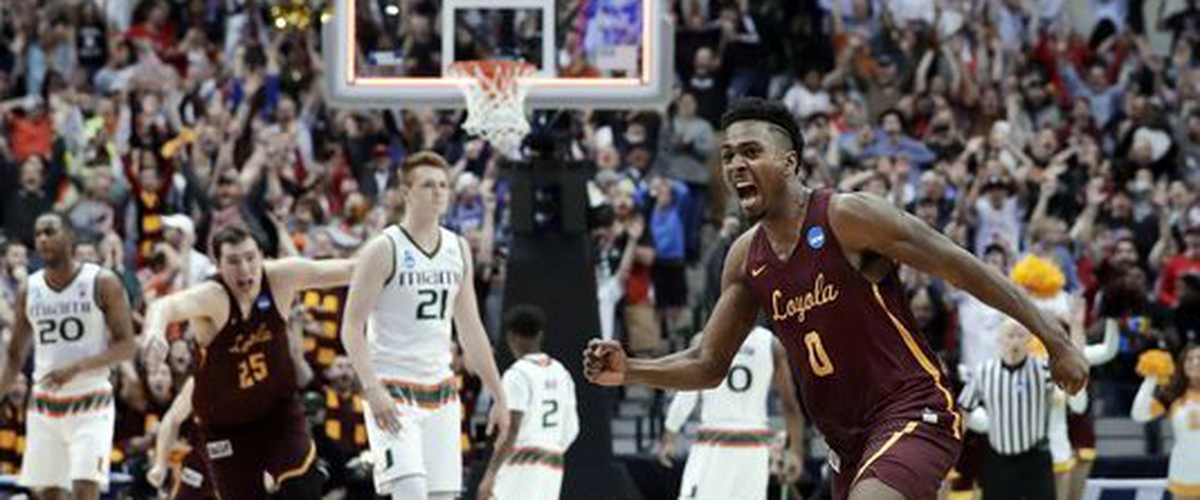 The first buzzer beater of the NCAA Tournament and the first upset belongs to Loyola-Chicago how hit a three-pointer with .03 seconds left to lift the #11 seed Ramblers past #6 seed Miami (FL) 64-62.
Well you couldn't ask arguably for a much better opening day to the NCAA Tournament. We saw #13 seed Buffalo destroy a bunch of brackets by annihilating #4 seed Arizona 89-66. The day started off with an overtime thriller between #10 seed Oklahoma and #7 seed Rhode Island, a game that Rhode Island would ultimately win. How about a Hail Mary (perhaps literally) with #11 seed Loyola-Chicago beating #6 Miami (FL) with a last second three pointer to win 64-62. Ever heard of Rob Gray? You will now after his 39 point performance to lead #6 seed Houston past #11 seed San Diego State 67-65. There were 71 three point attempts in the 12-5 South Dakota State-Ohio State matchup, a game that Ohio State would ultimately win 81-73. My poor Jackrabbits. They were so close. Again it was a great day and today is going to be just as great hopefully. The Stack is back to preview and make some predictions for today's games (what were we 12-4 yesterday?) in "the stack" for today, Friday, March 16th:
#10 Providence vs. # 7 Texas A&M 12:15 PM ET CBS (Charlotte, NC) West Region
Pretty good matchup to start the day off. A&M can score a lot of points, but Providence played really well in the Big East Tournament. I can't go against head coach Ed Cooley and Friars. This may be a crazy pick and I'm going out on a bit of a limb, but give me…
Predicted winner: Providence
#15 CS-Fullerton vs. #2 Purdue 12:40 PM ET TruTV (Detroit, MI) East Region
After Arizona's loss last night, you kind of look at other teams that might make an early exit and Purdue certainly fits that bill. Despite having Isaac Haas and Carson Edwards, Purdue struggled a bit down the stretch and struggling is a bit of a stretch considering they made it to the Big Ten championship game. They won't struggle against the Titans. Purdue rolls.
Predicted winner: Purdue
#13 Marshall vs. #4 Wichita State 1:30 PM ET TNT (San Diego, CA) East Region
Marshall shoots the ball…a lot. They can really score (Mike D'Antoni's brother is the head coach so we shouldn't be surprised I guess), but they aren't tournament tested like Wichita State is. Landry Shamet is really good. Yet I have funny feeling that Marshall will pull off this upset, especially with the game tipping off at 10:30 AM local time. I have Wichita State in my bracket though so I will keep them I guess.
Predicted winner: Wichita State
#15 Georgia State vs. #2 Cincinnati 2 PM ET TBS (Nashville, TN) South Region
The Stack like Georgia State head coach Ron Hunter mainly because I remember him from his days as IUPUI head coach. It's a shame he is running into a buzzsaw that is the Cincinnati Bearcats. Cincinnati is great offensively and even better defensively. That's what makes them incredibly dangerous in this tournament.
Predicted winner: Cincinnati
#15 Lipscomb vs. #2 UNC 2:45 PM ET CBS (Charlotte, NC) West Region
Lipscomb is making their NCAA Tournament debut. Enjoy it everyone. It is a tremendous experience. Against Joel Berry III, Theo Pinson and company, I don't see how Lipscomb is going to stay with UNC and pull off this upset. UNC cruises to victory.
Predicted winner: UNC
#10 Butler vs. #7 Arkansas 3:10 PM ET TruTV (Detroit, MI) East Region
You never want to go against a Butler team in the NCAA Tournament, but this Arkansas team is pretty good. They can get after it and score a bunch of points. I think they take care of business and get by Butler. Arkansas is a really big sleeper team in this tournament quite possibly.
Predicted winner: Arkansas
#12 Murray State vs. #5 West Virginia 4 PM ET TNT (San Diego, CA) East Region
When West Virginia plays a complete game, they are among the best teams in college basketball. Their defense (Press Virginia as it is called sometimes) is great and they have good players like Juwan Carter. Yet they go into too many times where the offense disappears and their defense suffers as a result. They blew a lot of second half leads this year. Just remember that when Murray State, who can certainly score the basketball, is on the verge of pulling off the upset. Having said all that, I still don't have Murray State, but perhaps I should.
Predicted winner: West Virginia
#10 Texas vs. #7 Nevada 4:30 PM ET TBS (Nashville, TN) South Region
Nevada is such a fun team to watch. They are good offensively and have a number of good players who can lead the team to victory. Texas has Mo Bamba and his length and size will make life a little more difficult for the Wolfpack, but this is not a one game Wolfpack. Nevada has at least one win in them.
Predicted winner: Nevada
#9 Kansas State vs. #8 Creighton 6:50 PM ET TNT (Charlotte, NC) South Region
Arguably, Kansas State shouldn't have even made the NCAA Tournament. Creighton can score. They did it a lot in the Big East. I think Creighton will just have too much firepower to lose.
Predicted winner: Creighton
#14 Bucknell vs. # 3 Michigan State 7:10 PM ET CBS (Detroit, MI) Midwest Region
This Bucknell squad is a very dangerous #14 seed. You may recall, Bucknell beat Kansas as a #14 seed a number of years ago. They have a pretty good big guy. Michigan State has Miles Bridges though plus a whole lot of other talent and provided they show up, they should be able to get by Bucknell. After all, a lot of people believe that Sparty is going to win it all.
Predicted winner: Michigan State
#16 Texas Southern vs. #1 Xavier 7:20 PM ET TBS (Nashville, TN) West Region
I've mentioned before how much I like Texas Southern head coach Mike Davis. I like Xavier far more. Chris Mack is a great coach. J.P Macura is a tremendous player as is Trevon Bluiett is one of the best players in the country. I almost named my kid Xavier. They are my sentimental favorite. So I have to pick them.
Predicted winner: Xavier
#13 Charleston vs. #4 Auburn 7:27 PM ET TruTV (San Diego, CA) Midwest Region
Auburn struggled down the stretch. They have some injuries. Yet Bruce Pearl deserves a lot of credit for leading Auburn back to the NCAA Tournament given all of the issues and controversies surrounding this program. I hope Pearl is not at fault or violating any NCAA rules. Having said that, I think they are in line for a very quick exit in the NCAA Tournament, but I think they will win one game.
Predicted winner: Auburn
#16 UMBC vs. #1 Virginia 9:20 PM ET TNT (Charlotte, NC) South Region
In case you haven't heard, no #16 seed has ever beaten a #1 seed. It isn't happening in this one. This is Virginia's best team they've had under head coach Tony Bennett. Losing Deondre Hunter hurts Virginia, but that is a loss that will be felt later on in this tournament. They won't feel it in this game against UMBC.
Predicted winner: Virginia
#11 Syracuse vs. #6 TCU 9:40 PM ET CBS (Detroit, MI) Midwest Region
That 2-3 zone defense that Syracuse throws at teams is difficult to prepare for. TCU is in for a tough go at it. Injuries have affected TCU this season. At the same time, TCU's defense isn't all that great, but Syracuse's offense struggled a little bit against Arizona State. While I know it's never wise to doubt the Cuse, I think I will. Watch it come back to bite me in the butt.
Predicted winner: TCU
#9 Florida State vs. #8 Missouri 9:50 PM ET TBS (Nashville, TN) West Region
Florida State isn't going into this tournament with a lot of momentum. They haven't played great. Missouri isn't exactly lighting the world on fire themselves, but Michael Porter Jr. got some of the rust knocked out back in the SEC Tournament. I want to see him play at least one more game in the NCAA Tournament. I think Missouri is the more talented team and will find a way to win.
Predicted winner: Missouri
#12 New Mexico State vs. #5 Clemson 9:57 PM ET TruTV (San Diego, CA) Midwest Region
It seems like the most trendy 12-5 upset is New Mexico State over Clemson and for good reason. They have a guy who is one of the top rebounders in the country. They play sound basketball. Clemson has some injury problems. They haven't been playing great as of late. I like NMSU to win possibly a couple of games in this tournament.
Predicted winner: New Mexico State
Coming up Saturday: Reaction to Friday's NCAA Tournament action plus previews and predictions for Saturday's second round games