Way Too Early 2019 NFL Mock Draft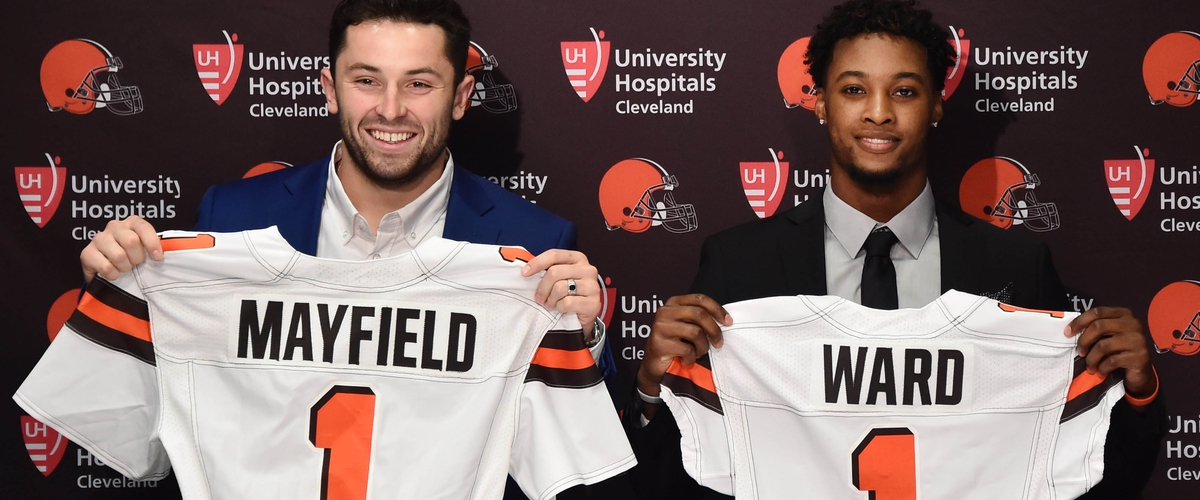 If anything, I'm writing this so that you can mock me a year from now. Mocks this early are never even close to right. Still, there is a good chance that you'll hear these names called around this time next year, as 27 of the picks in my first 2018 draft heard their name called, with 13 going in the first round. The pick order was based on a random simulation of the season and doesn't necessarily reflect my opinion.

Let's do this.
#1: Miami Dolphins: Drew Lock, QB, Missouri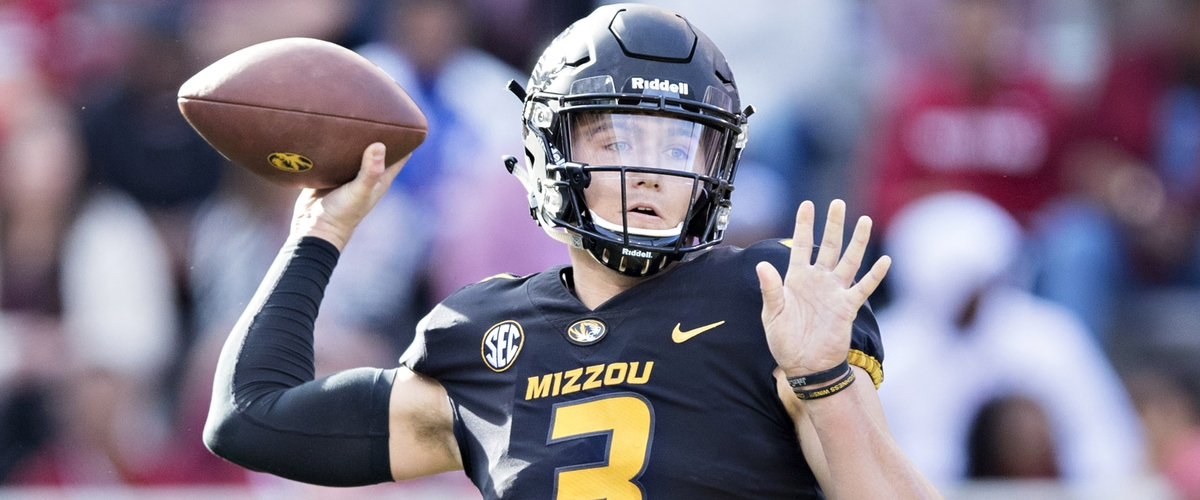 57.8%, 3964 yards, 9.5 YPA, 44 TD, 13 INT
Ryan Tannehill would be 31 heading into the 2019 season, and he has had his second major knee operation. If Miami ends up at 1, they should look to draft his successor. Lock's 44 touchdowns, an SEC record, are a testament to his laser arm and skill with the deep ball. At 6'4" and 225 pounds, Lock won't have any size questions around him. Lock's sizzling production and arm should warrant him being the first overall pick.
#2: Buffalo Bills: Ed Oliver, DT, Houston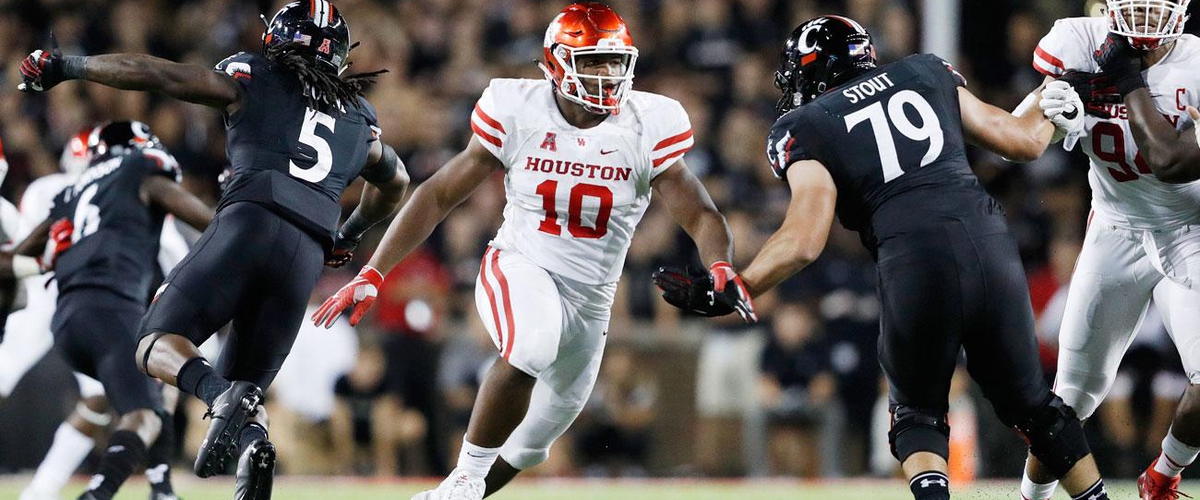 73 tackles, 16.5 TFL, 5.5 sacks, 3 PD, 2 FF
After spurning all the national powers as a Top 5 recruit to stay home in Houston, Oliver has dominated the AAC in a downright scary fashion. Possessing a lightning-quick first step, rare strength for his size, and a high football IQ. Oliver is the best in what could be a historically good d-line class. Kyle Williams can't play forever, and Adolphus Washington and rookie Harrison Phillips shouldn't prevent Buffalo from taking Oliver and his monumental talent at 2.
#3: Arizona Cardinals: Nick Bosa, EDGE, Ohio State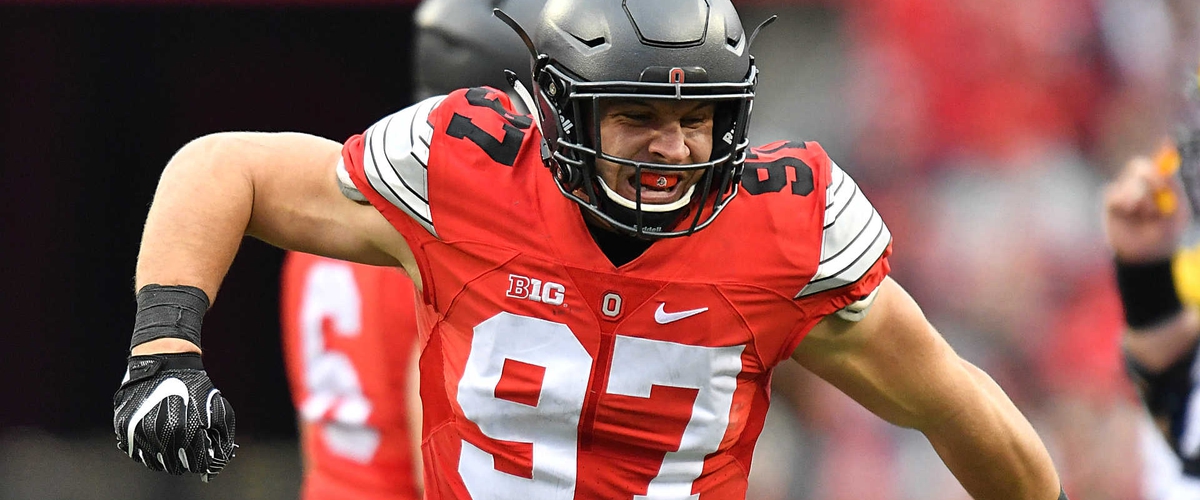 34 tackles, 16 TFL, 8.5 sacks, 2 PD, 1 FF
Just three years after brother Joey went third overall to the Chargers, little brother Nick ends up in Arizona. The Bosa brothers are almost mirror images of one another. Quick, disciplined, and impossible to block 1 on 1, the younger Bosa could end up being just as good if not better than his older brother. On a Cardinals team that is still waiting for Robert Nkemdiche to show if he can play, Bosa would instantly shore up their defensive line.
#4: Washington Redskins: AJ Brown, WR, Ole Miss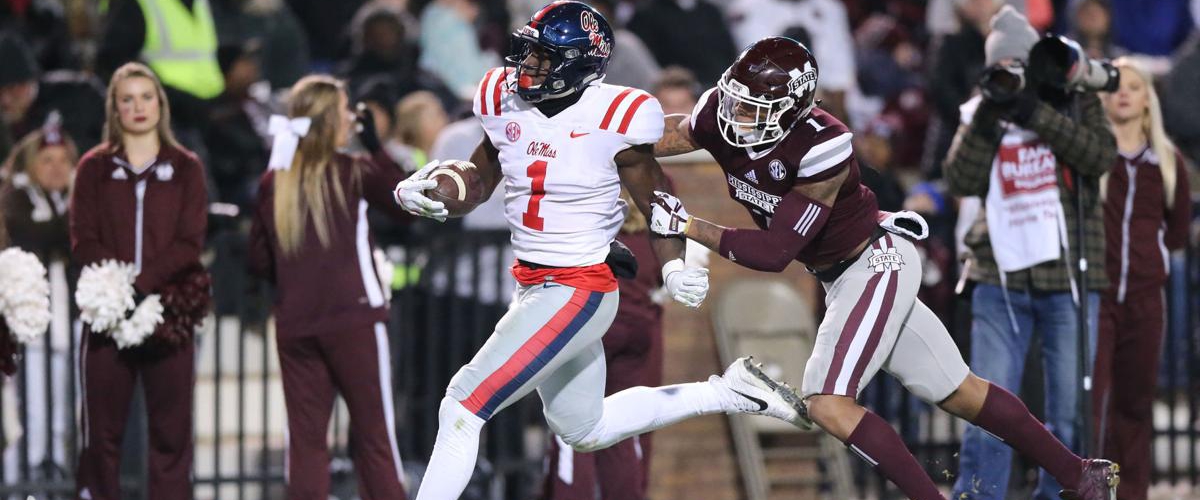 75 Rec, 1252 yards, 16.7 YPC, 11 TD
Washington ending up at the 4th overall pick likely means that Alex Smith declined mightily. Part of his hypothetical poor play is the very real lack of a stud receiver to throw too. At 6'1" and 225 pounds, Brown has the build of a running back, and looks like one after the catch. He also has the strength, athleticism, and sticky hands to be a problem in the red zone. Brown stands out as WR1 in this draft class, and would be an instant upgrade for Washington.
#5: Cincinnati Bengals: Justin Herbert, QB, Oregon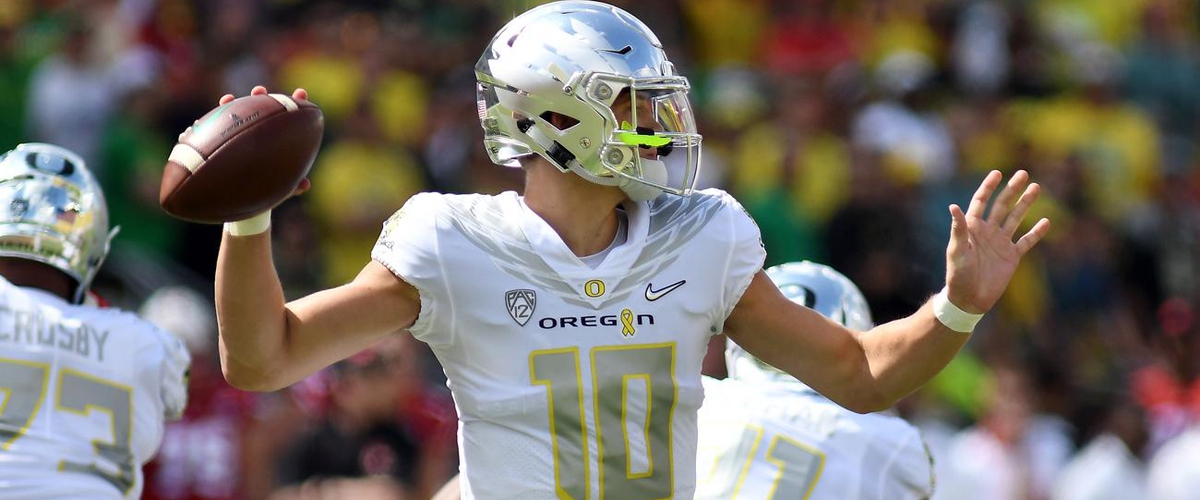 67.5%, 1983 yards, 9.6 YPA, 15 TD, 5 INT, 183 rush yards, 5 rush TD
When Herbert was injured last season, Oregon looked totally lost. When he played, they were arguably the best offense in college football. Herbert's arm is fantastic, but finding a quarterback with his accuracy and dual-threat capability at 6'6" and 225 pounds is exceedingly rare. If Cincinnati ends up at 6, Marvin Lewis and Andy Dalton may end up as casualties. Even if they stay, the Bengals shouldn't hesitate if Herbert is on the board.
#6: New York Giants: Christian Wilkins, DT, Clemson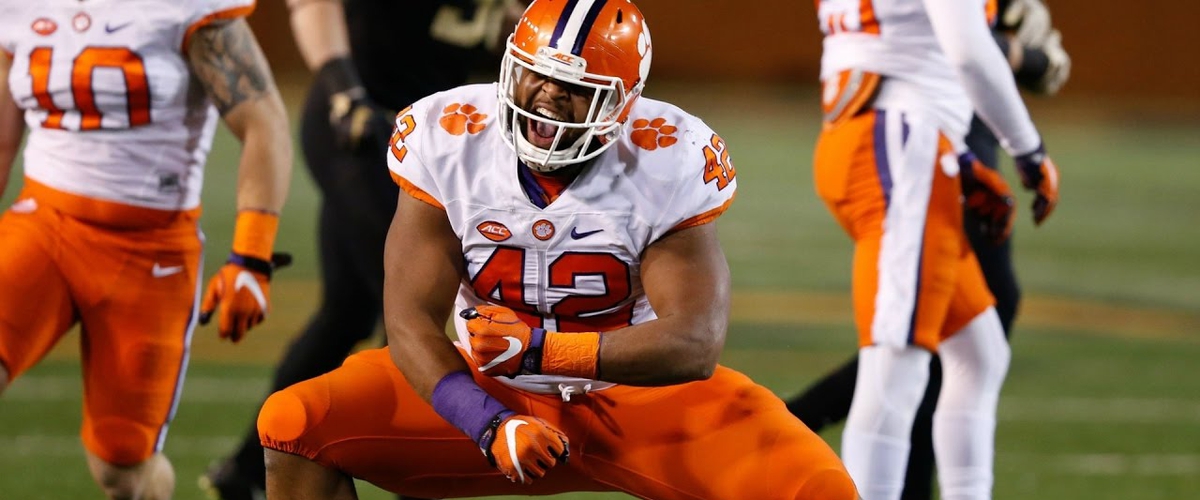 60 tackles, 9 TFL, 5 sacks, 4 PD
Damon Harrison is as good as it gets at the nose tackle spot, but the Giants don't have a dangerous interior pass rusher. Wilkins is insanely athletic, and has shredded ACC competition with his quickness and powerful hands. He is an improved run stuffer as well. With another year of play under his belt, Wilkins may end up the best lineman in this class. He could start Day 1 for a talented Giants defensive line.
#7: Cleveland Browns: Greg Little, OT, Ole Miss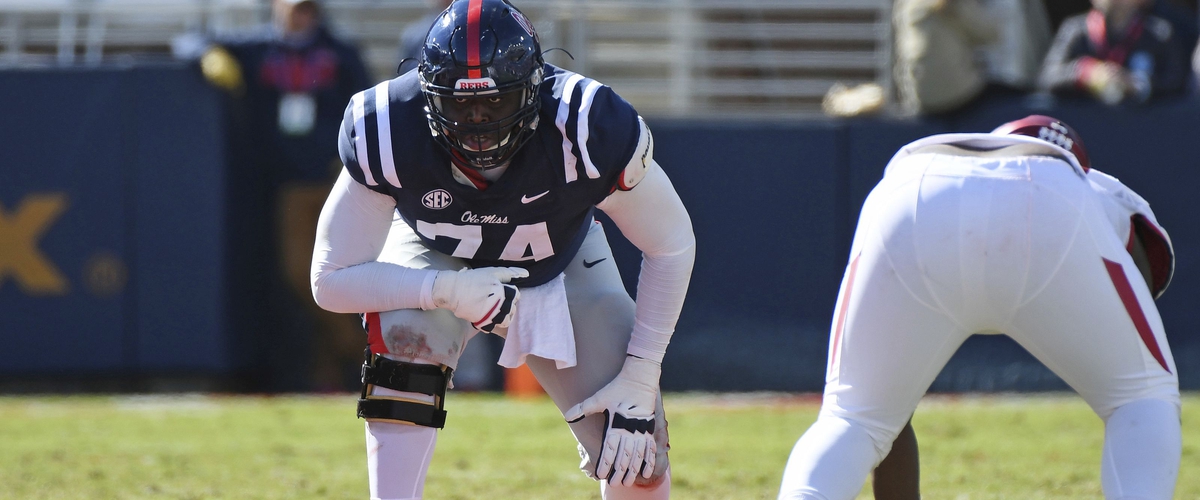 Now that Cleveland has it's franchise quarterback in Baker Mayfield, it's time to replace Joe Thomas and find someone who can block his blindside. Little is exactly what a Hollywood casting agent would want in an offensive tackle. Big with long arms and a wide base, the ironically named Little is an anchor in pass protection. Little is a safe bet to keep Mayfield clean for years to come.
#8: Baltimore Ravens: Dexter Lawrence, DT, Clemson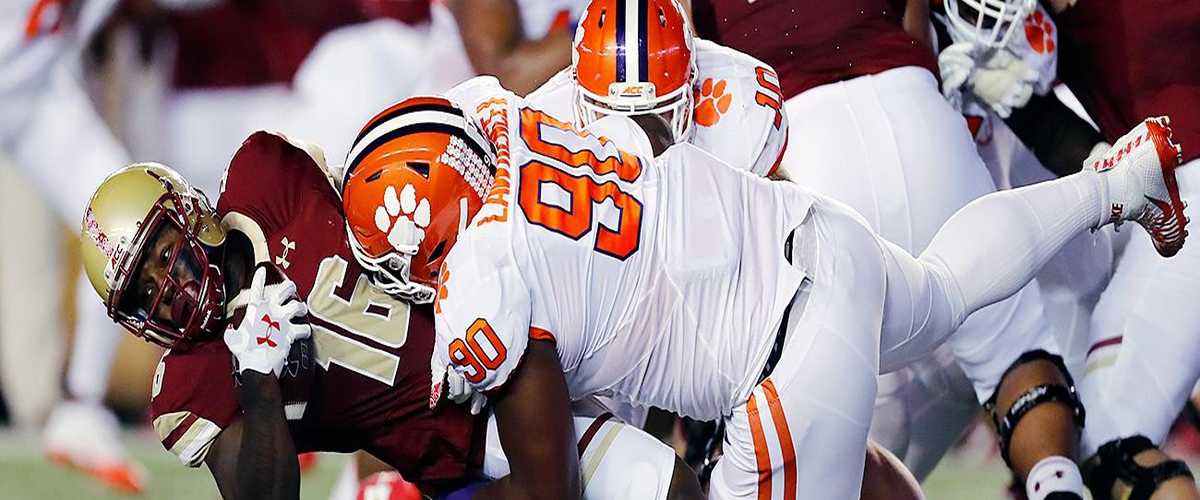 33 tackles, 2.5 TFL, 2 sacks, 1 FF
If you liked Vita Vea in the 2018 draft, you're going to love Lawrence. At 340 pounds, Lawrence will make his money as a run-stuffing space eater. However, his surprisingly light feet and athleticism give him legitimate pass-rush potential and surprising versatility. Him and Brandon Williams in the teeth of the Baltimore defense would be a hellish duo. The Ravens invested a lot of capital into the offense in 2018, and they can add a defensive centerpiece in 2019.
#9: New York Jets: Jonah Williams, OT, Alabama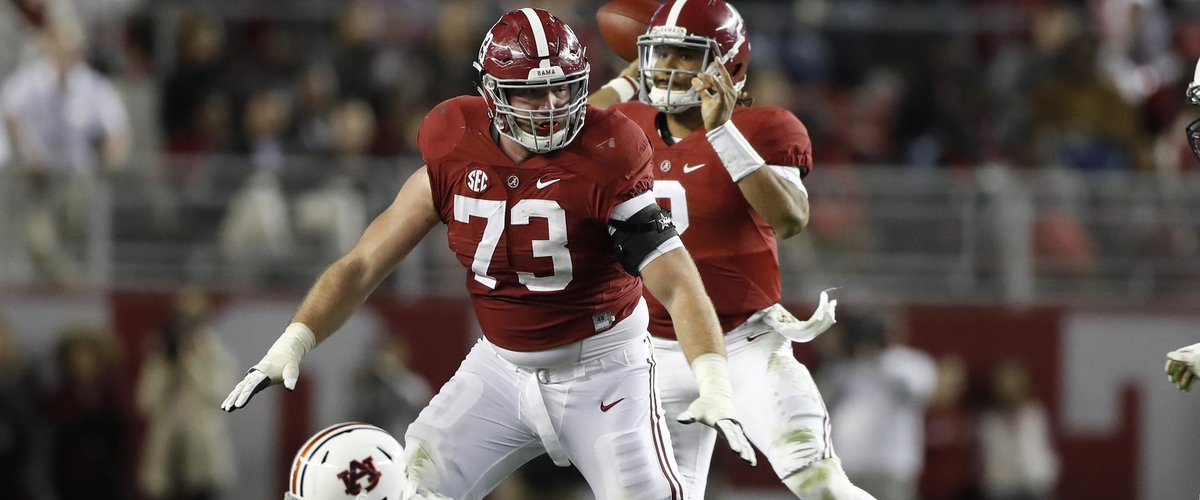 The Jets lucked out when Sam Darnold fell to them at #3 when it was thought he was a lock to end up in Cleveland. They need to protect him at all costs. Williams is the next one up in the conveyor belt of strong, smart Alabama lineman. Williams is a road grader that can make blocks in the second level and anchor down in pass protection. Much like Cleveland before them, the Jets would be foolish to pass up a tackle like Williams to keep their franchise QB upright.
#10: Denver Broncos: Jarrett Stidham, QB, Auburn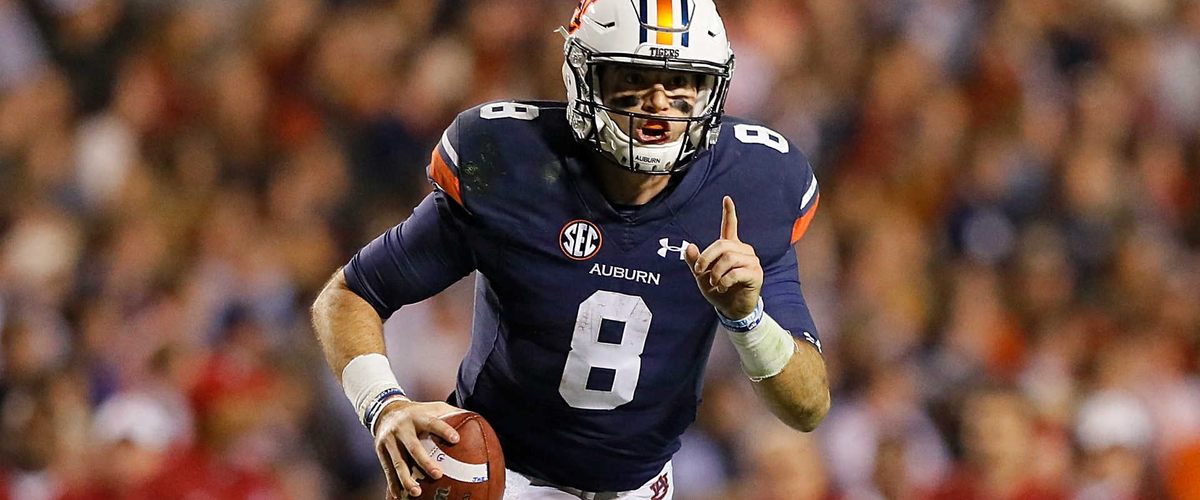 66.5%, 3158 YPA, 8.5 YPA, 18 TD, 6 INT, 153 rush yards, 4 TD
Case Keenum is not only on just a two year deal, but has only produced one starter-caliber season out of 4. He's a great backup, but not a full-time starter. Stidham has great accuracy on both short and deep passes. His dual-threat ability in Gus Malzahn's offense would be a major boon for Denver. Even if Case Keenum is a stud, it wouldn't be a terrible idea to take a quarterback who needs a year to sit and learn before taking the reigns as QB1.
#11: Indianapolis Colts: Greedy Williams, CB, LSU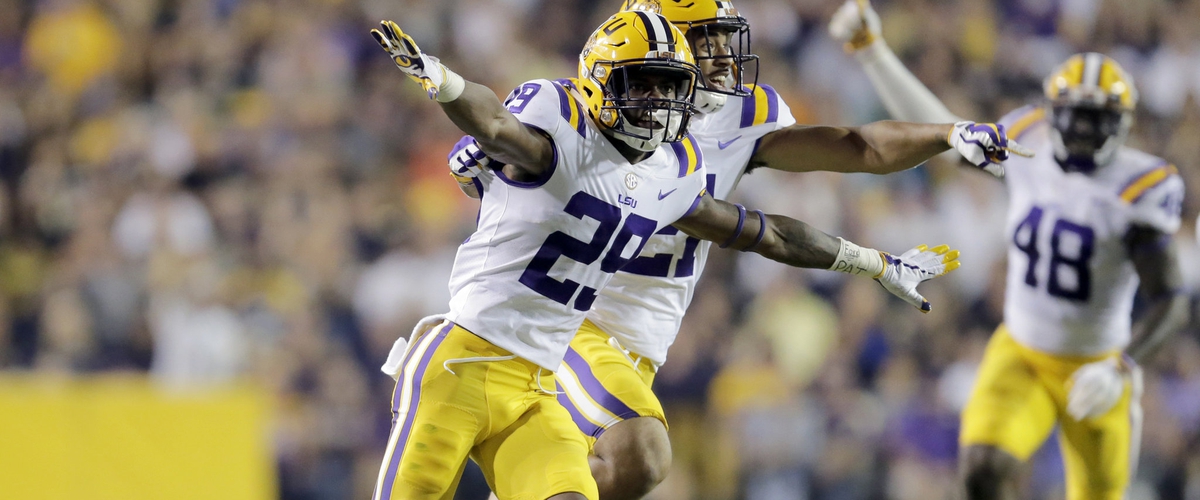 38 tackles, 1.5 TFL, 10 PD, 6 INT
Leading the SEC in interceptions and having the passer rating when thrown too as a redshirt freshman is no small feat. Andraez, known as Greedy, is a supreme talent with speed and fluidity in man coverage. He can play in the slot or on the outside. Malik Hooker and Quincy Wilson are the base of a solid corps in Indianapolis. The Colts secondary with Williams would be not only respectable, but feared.
#12: Tampa Bay Buccaneers: Trey Adams, OT, Washington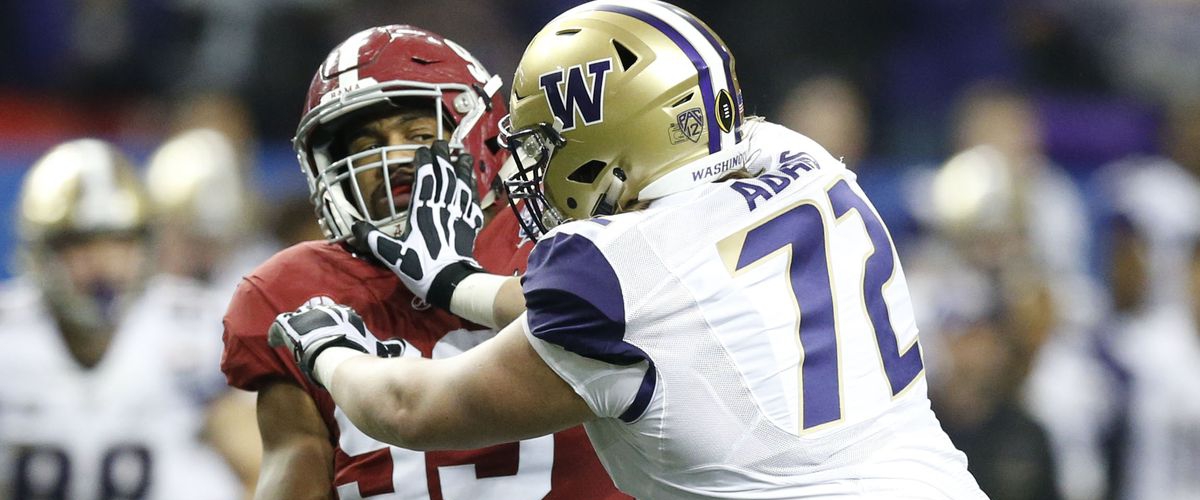 Adams likely would have been a high draft pick if he declared last season, but a knee injury led to him staying in school another year. Big, crazy strong, and light-footed, Adams has the look of a classic left tackle. His performance against NFL pass rushers in the Pac-12 can't be understated. Tampa improved a previously poor offensive line, but the tackle spot is till below par. Adams would fix that problem for years to come.
#13: Chicago Bears: Clelin Ferrell, EDGE, Clemson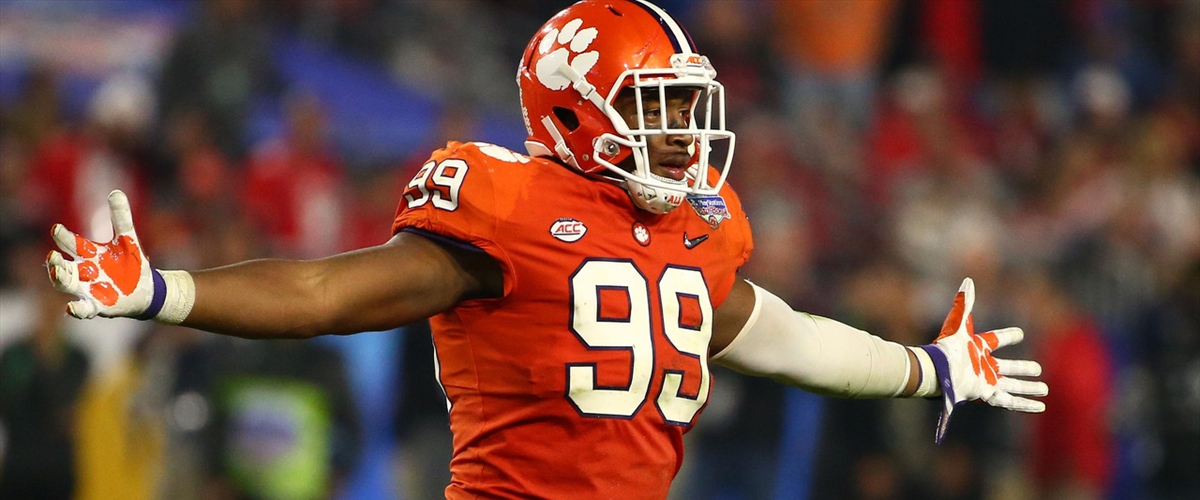 66 tackles, 18 TFL, 9.5 sacks, 2 FF, 1 PD
While Christian Wilkins and Dexter Lawrence get most of the publicity on the historically good Clemson defensive line, Ferrell is the best pass rusher. A strong, physical pass rusher with solid speed that pairs well with his great strength, Ferrell is a versatile player with 5, 3 and 1 tech potential. Chicago has an impressive defensive front, but lack a bona fide pass rusher like Ferrell. The Bears are building something worth watching, and Ferrell could be their next big addition.
#14: San Francisco 49ers: Bryce Love, RB, Stanford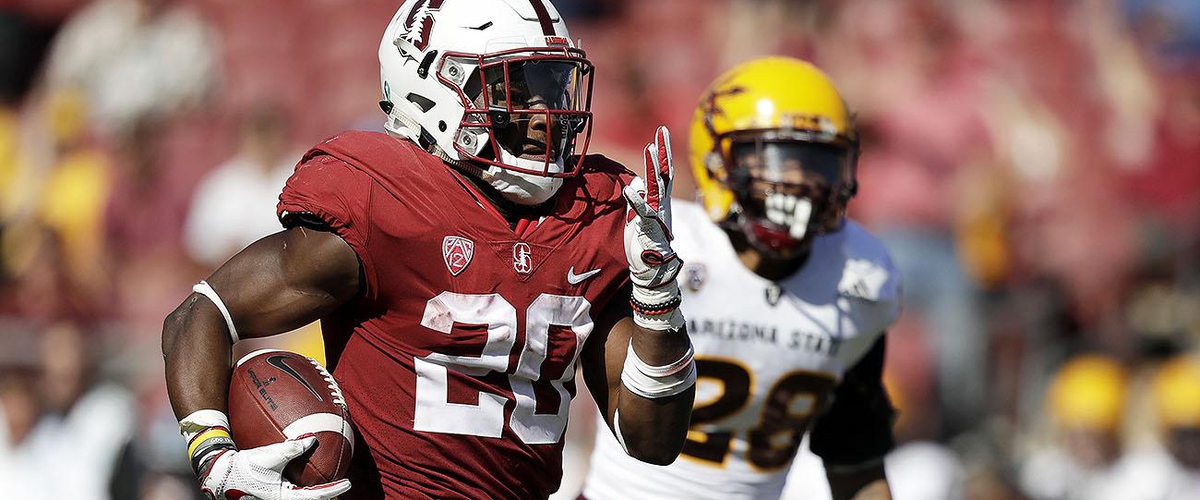 2118 yards, 8.1 YPC, 19 TD
The addition of Jerick McKinnon will certainly help in Kyle Shanahan's offense, but San Francisco could use a dynamic bell cow at the running back spot. Love's blazing speed, great vision, and elusiveness in the open field have torn elite Pac-12 defenses asunder. Love is clearly the top running back prospect in this class, and his receiving potential paired with his running ability is a mouthwatering combo.
#15: Detroit Lions: Rashan Gary, EDGE/DT, Michigan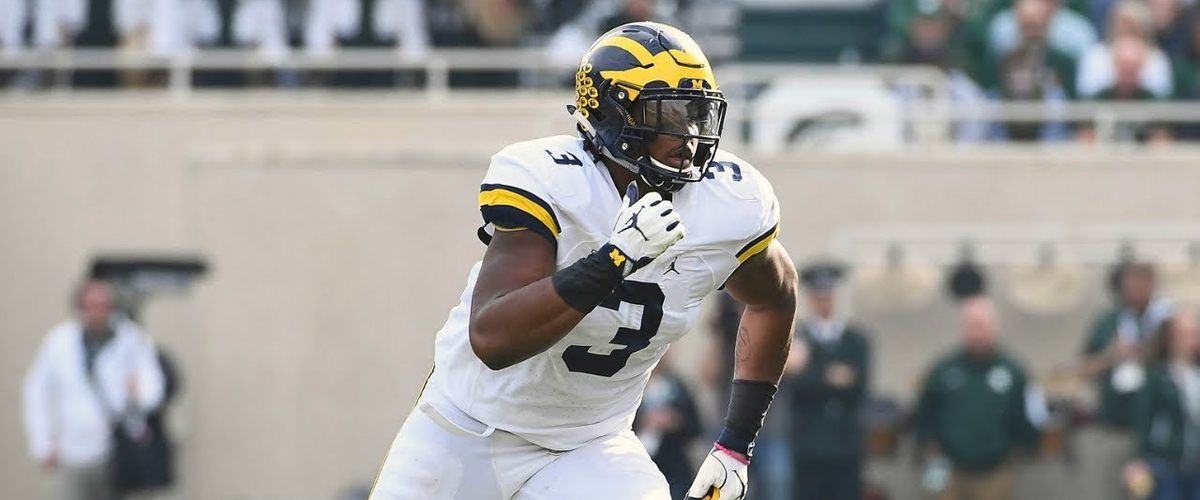 58 tackles, 11.5 TFL, 5.5 sacks, 1 FF
Despite Ziggy Ansah and the improvement of A'Shawn Robinson, Detroit's decision to neglect the defensive line in the draft puzzled many. Gary has played every position on the line in Jim Harbaugh's defense. He's likely best suited to be a pass rushing 3 tech, muck like Maurice Hurst in the 2018 draft. Gary's potential and athletic ability are off the charts, and could be the final puzzle piece for the Lions on defense.
#16: Seattle Seahawks: Collin Johnson, WR, Texas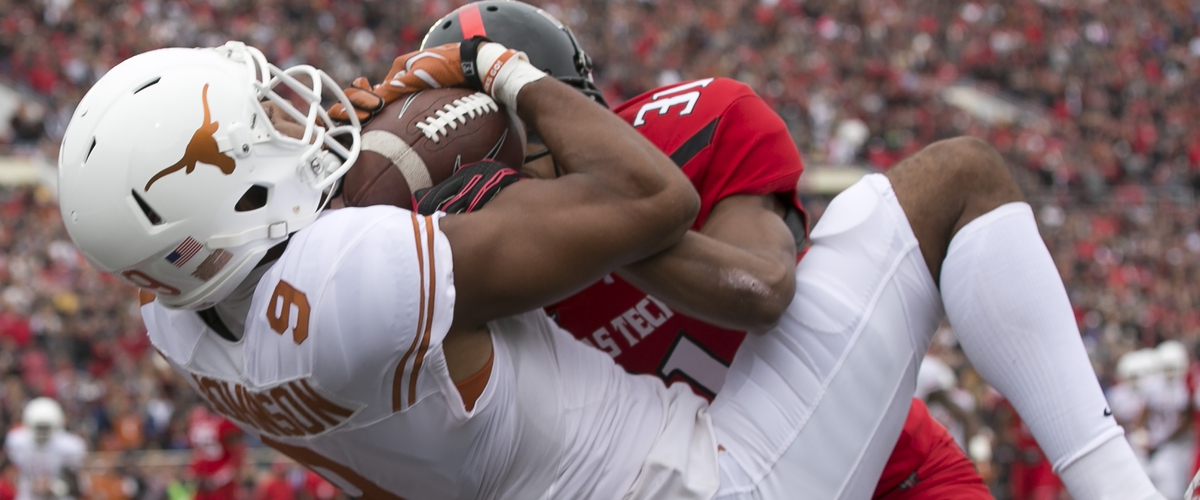 54 Rec, 765 yards, 14.2 YPC, 2 TD
At 6'6" and 220 pounds, Johnson has unreal size for the wide receiver position. He could conceiving become a tight end with 20 extra pounds on him. He has a lot to like as a wideout. 50/50 jump balls are more 80/20 with him. His good speed and run-after-catch ability for his size, Johnson presents unique mismatch potential in the slot or outside. The Seahawks need to get Russell Wilson pass catchers. Johnson with Wilson could be a perfect match in Seattle.
#17: Atlanta Falcons: Raekwon Davis, DT, Alabama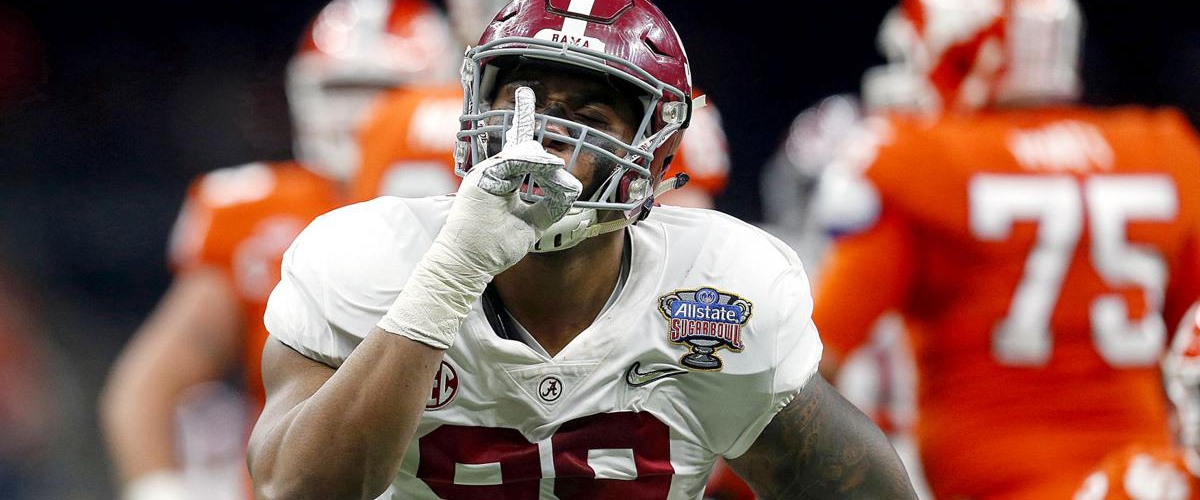 69 tackles, 10 TFL, 8.5 sacks, 1 INT, 1 FF
While Da'Ron Payne was the run-stuffer, Davis was the interior pass rusher on Alabama's vaunted front. His quick first step, smart hand usage, and top-shelf athletic ability give Davis a profile similar to many of the dominant Alabama lineman of yesteryear. The Falcons drafted only one interior lineman in Deadrin Senat, and he's a project. Davis could provide a more immediate impact for a playoff contender like Atlanta.
#18: Kansas City Chiefs: DeAndre Baker, CB, Georgia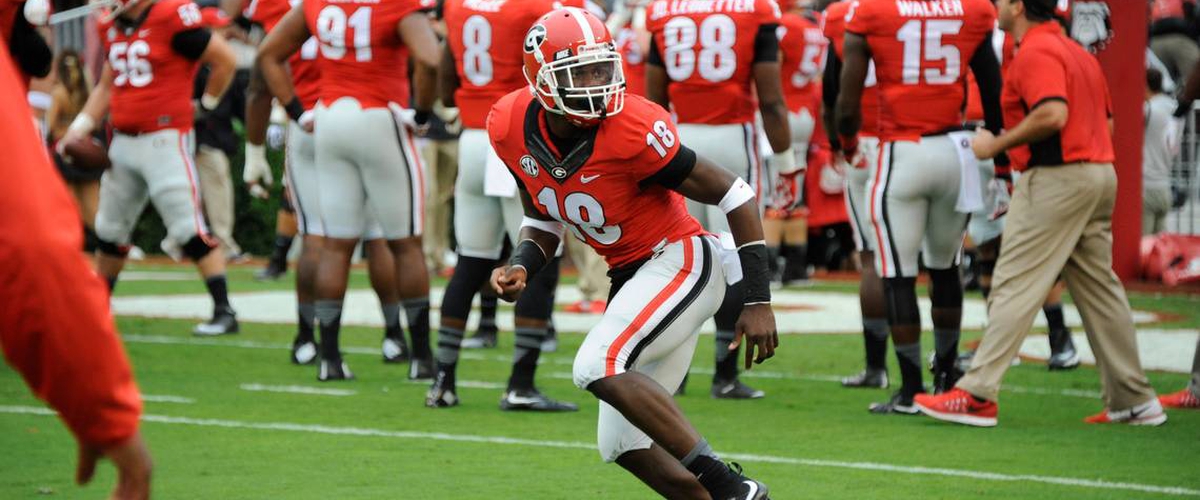 44 tackles, 1 TFL, 9 PD, 3 INT
Despite trading Marcus Peters, Kansas City bizarrely neglected to use a high draft pick on a cornerback. Baker is already showing CB1 potential. A solid corner in both man and zone concepts and possessing good lateral agility, Baker's instincts and turnover potential is what sets him apart. Peters went to the Chiefs at pick #18 in 2014, and they could grab his replacement in Baker at pick #18.
#19: Oakland Raiders: Devin White, OLB, LSU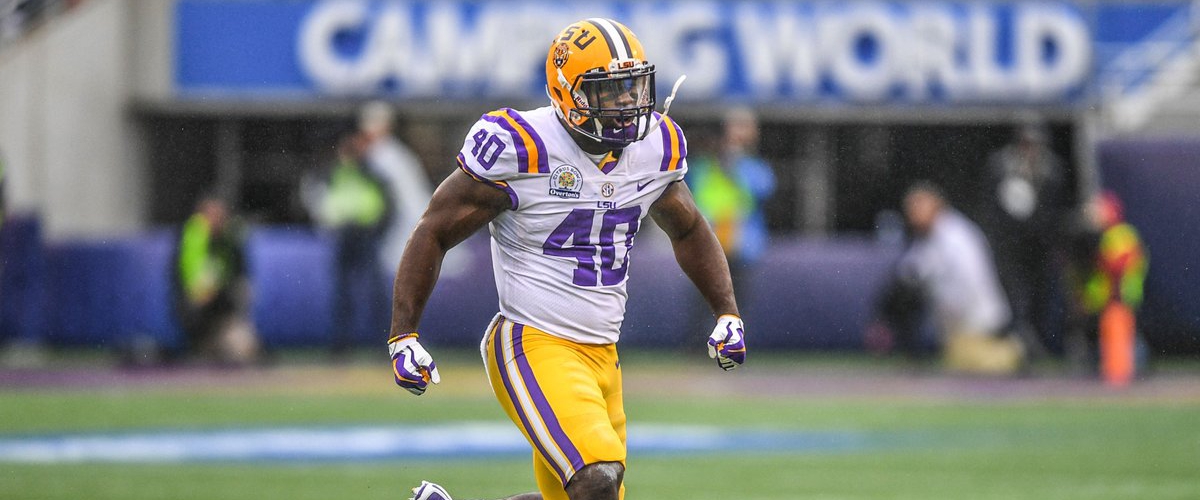 133 tackles, 13.5 TFL, 4.5 sacks, 3 PD, 1 INT
Oakland taking a linebacker seemed like one of the locks of the draft, but the Raiders decided to go to Bizarro-World for their first 3 picks. They can fix that issue with White. A missile that explodes off the snap and reads the game well, White is a terrific run defender and is improving in coverage. White is a pro-ready player that could start Week 1 in almost any scheme. He'll look nice in the middle of Jon Gruden's defense.
#20: Carolina Panthers: Austin Bryant, EDGE, Clemson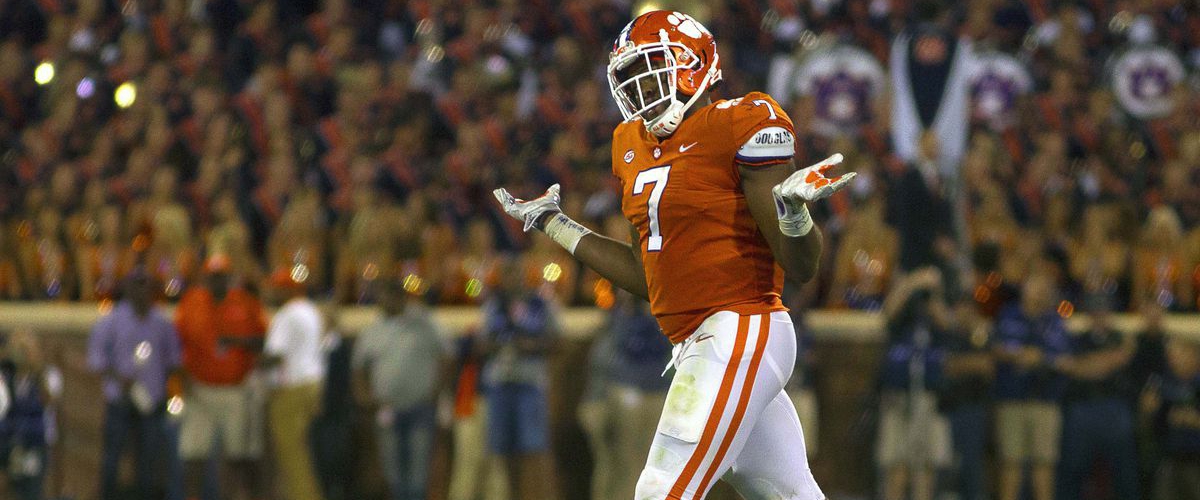 50 tackles, 15.5 TFL, 8.5 sacks, 1 PD, 1 INT, 2 FF
Bryant may end up as the Abdul Salaam, Lamar Lundy, or Gary Larsen of the Clemson defensive line (the player with the least fanfare), but he is a phenomenal pass rusher. Quick off the snap, possessing a variety of pass rush moves, and an improving run defender, Bryant has a lot of what the Panthers currently lack. With Julius Peppers already long in the tooth, Bryant would have a perfect mentor in Carolina.
#21: Houston Texans: Beau Benzschawel, OG, Wisconsin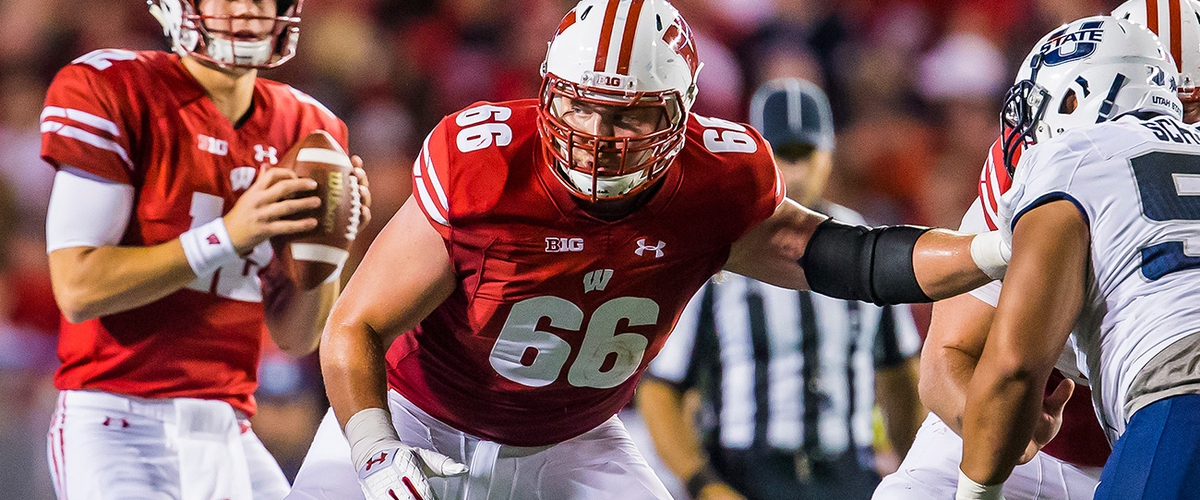 Houston did well to add some offensive lineman in the draft, but their line is in such disarray that they could only make a dent in it in the draft. Benzschawel is everything one would expect a Wisconsin guard to be. Strong, smart, and tough, Benzschawel is the best run blocker in this class. If he can improve his feet in pass protection, the Texans can finally patch up their holes on the interior line that have plagued them for years.
#22: Dallas Cowboys: Noah Fant, TE, Iowa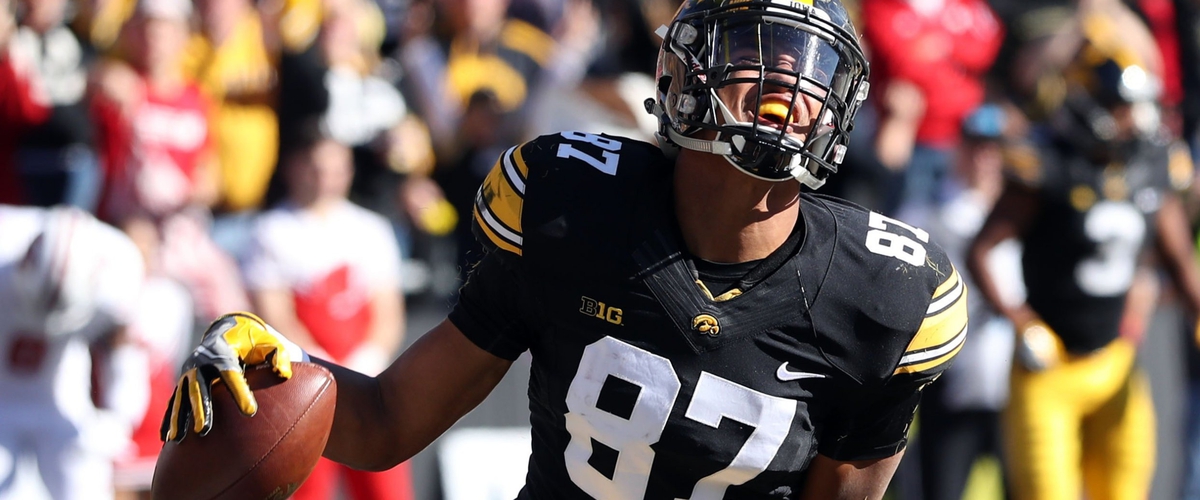 30 Rec, 494 yards, 16.5 YPC, 11 TD
Jason Witten's surprise retirement left the Cowboys with as poor a tight end room as there is in the league. Fant's best skill is his red zone prowess. With 36% of his catches going for touchdowns, Fant's size and hands will translate to the NFL. Coming from Iowa, Fant is a solid blocker as well. Dallas needs a tight end in the worst way, and Fant is someone who could come in and contribute right away.
#23: Jacksonville Jaguars: TJ Edwards, ILB, Wisconsin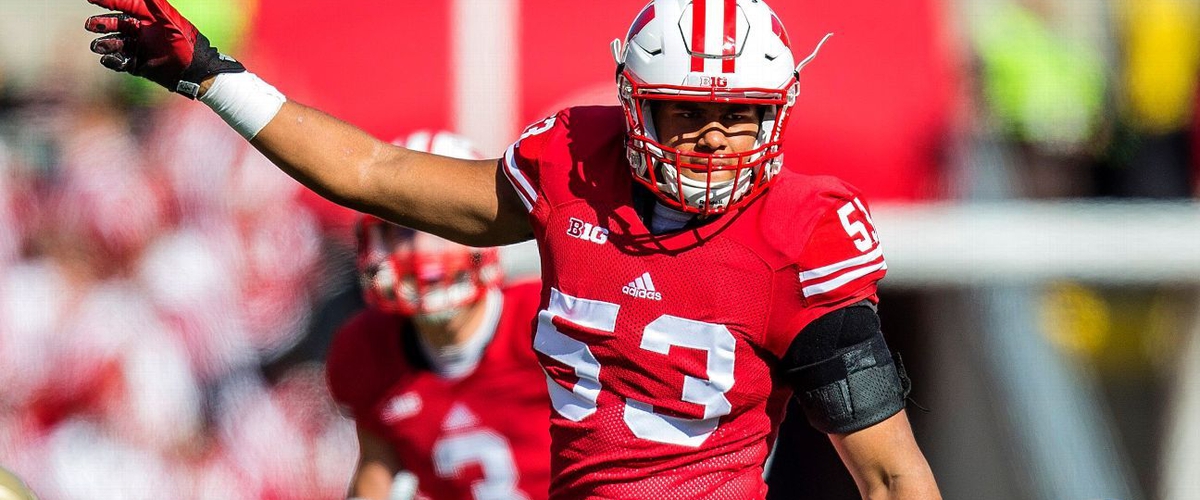 81 tackles, 11.0 TFL, 2 sacks, 7 PD, 4 INT, 1 TD
Before an injury cut Edwards' season short, he was well on his way to becoming a borderline first round pick. A throwback thumper that loves to hit and make plays in the run game, Edwards' four interceptions show a multi-dimensional linebacker that can cover. Paul Posluszny was a major veteran presence in Jacksonville, but he's retired. Edwards is the type of player the Jaguars need in the middle of their defense.
#24: Green Bay Packers: Mitch Hyatt, OT, Clemson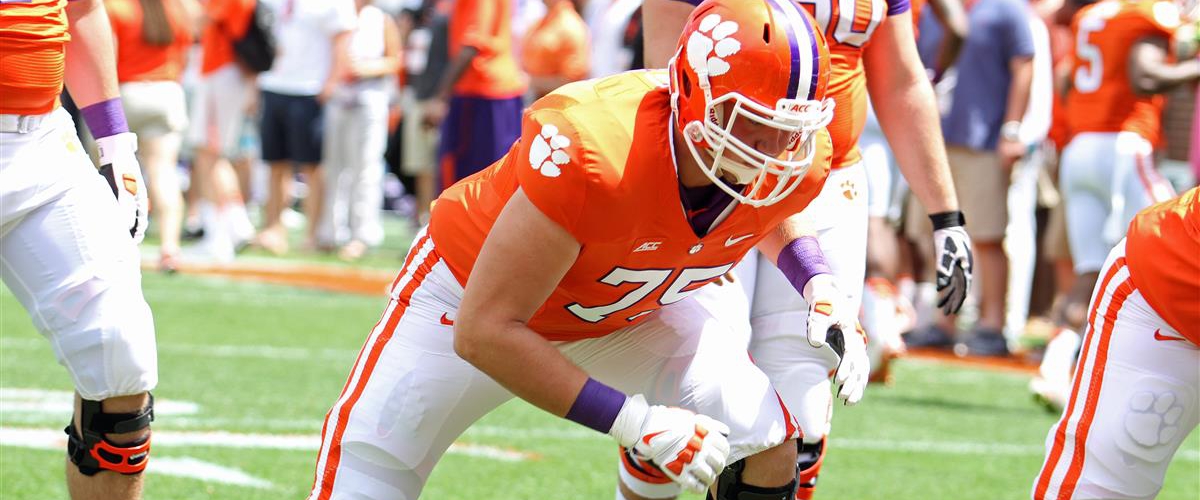 With New Orleans' pick, Green Bay can help reinforce a banged up offensive line. Hyatt is a great pass blocker with nimble, light feet and plus strength. Hyatt stood out when he took on a loaded Alabama defensive line and excelled in pass protection. Green Bay's offensive line used to be one of the toughest in the league, but injuries and age are taking their toll. Hyatt is a bit raw, but could be a solid prospect in a year.
#25: Philadelphia Eagles: Damien Harris, RB, Alabama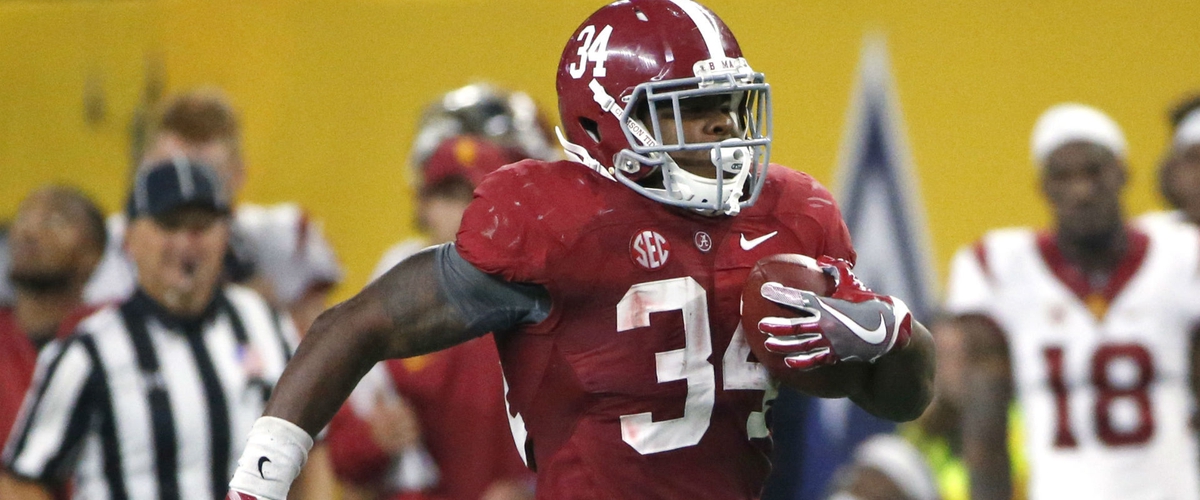 1000 yards, 7.4 YPC, 11 TD
Jay Ajayi, Corey Clement, and Donnel Pumphrey are a solid backfield, but Ajayi's durability concerns leaves the Eagles without a long term plan. Harris has the luxury of not being ran into the ground at Alabama due to splitting carries with Bo Scarbrough. Harris is a quicker, more instinctive runner that is more of a home run threat than Scarbrough. Harris could form a deadly duo with Ajayi in Philadelphia.
#26: Tennessee Titans: Ahmmon Richards, WR, Miami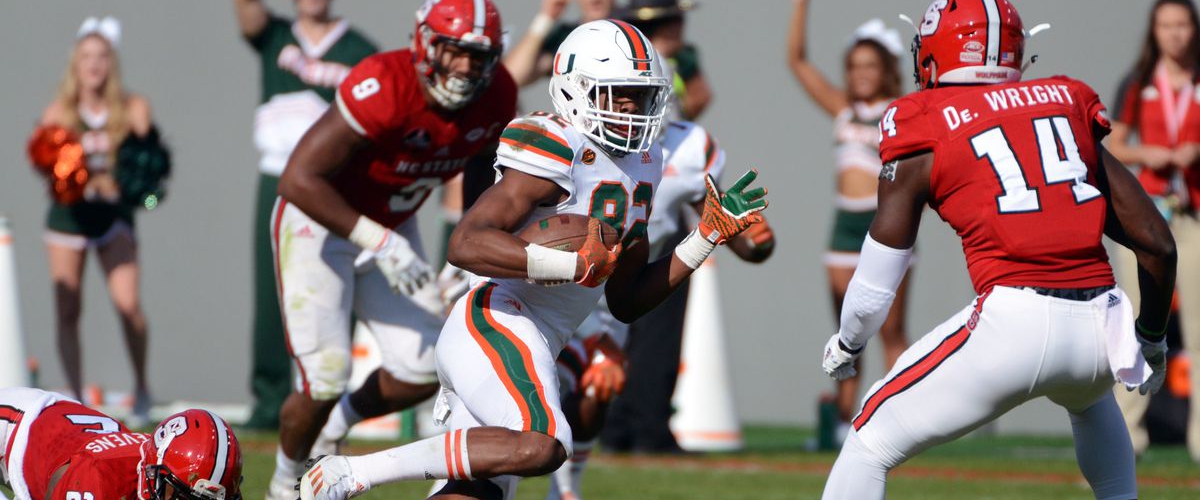 24 Rec, 439 yards, 18.3 YPC, 3 TD
Richards had the misfortune of poor quarterback play and being bit by the injury bug last season. His deep speed will impress, as will his ability after the catch and precise route running. Tennessee impressed last season, but Corey Davis and Taywan taylor by themselves aren't threatening enough as a receiving corps. The Titans adding Richards to Matt LaFleur's offense should be a boon for Marcus Mariota.
#27: Los Angeles Chargers: Jeffery Simmons, DT, Mississippi State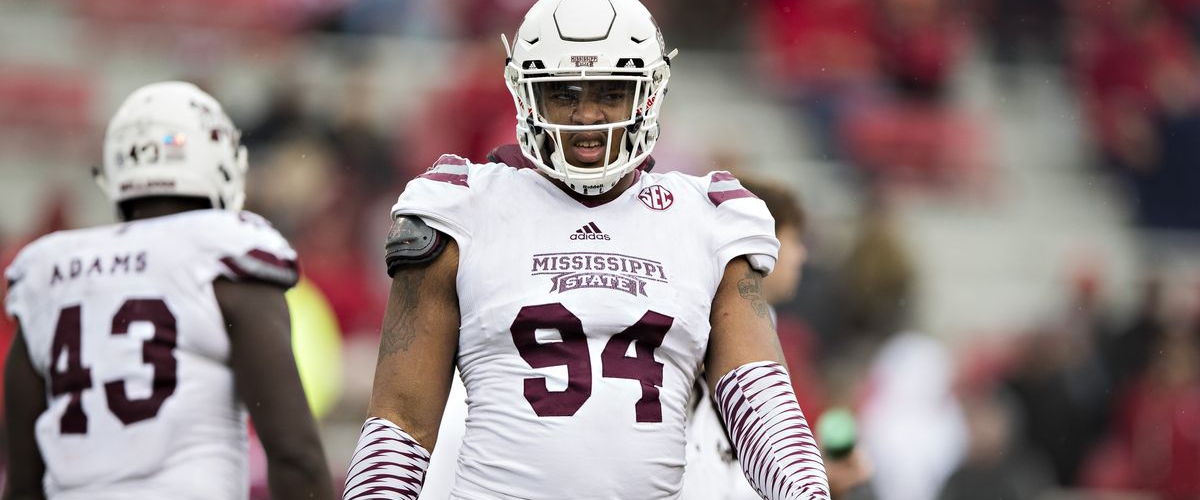 60 tackles, 12 TFL, 5 sacks, 1 PD, 2 FF, 1 TD
Derwin James was too good to pass up for the Chargers at pick #17. In doing so, however, the had to wait until the third round to take a defensive tackle. Simmons is a great pass rusher with heavy, quick hands. He has the size to eat space as a 1 tech. Los Angeles has a need on the inside for someone who can get after the quarterback. Imagine Simmons, Joey Bosa, and Melvin Ingram on the same line.
#28: Green Bay Packers: Joe Jackson, EDGE, Miami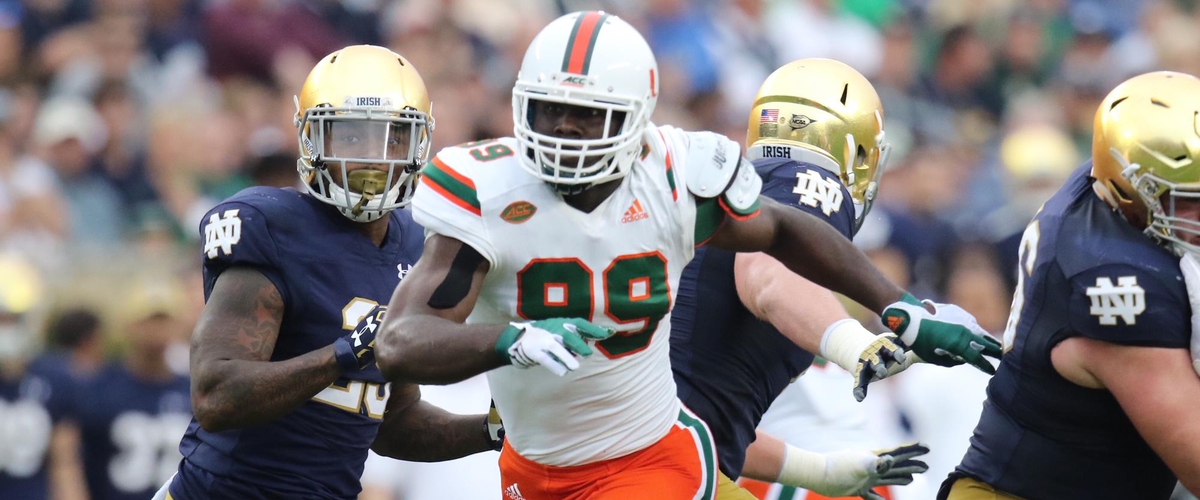 50 tackles, 10.5 TFL, 6.5 sacks, 2 PD, 1 FF
Jackson in the latest in a never-ending lineup of remarkably athletic Miami pass rushers. Jackson can bend the edge with his speed, but has the strength to bull rush weaker tackles. The Packers need athleticism at the pass rush spot, as Nick Perry can't do it all by himself and Clay Matthews is getting old. Jackson might not start Day 1, but his crazy potential should win him a lot of fans in Green Bay.
#29: New England Patriots: Shea Patterson, QB, Michigan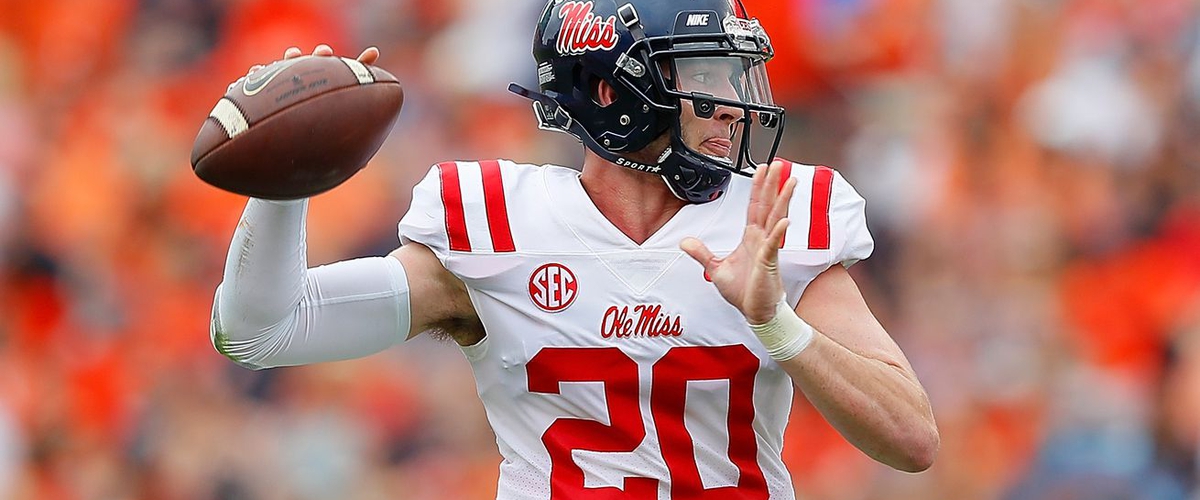 63.8%, 2259 yards, 17 TD, 9 INT
Tom Brady is defying conventional science by playing this well at age 40. Still, he only has a couple years left, and a replacement is needed. A transfer from Ole Miss, Patterson is an accurate quarterback that can make plays on the run better than anyone in this class. An athletic passer, Patterson needs a year to build muscle, but could be Brady's heir apparent in a year.
#30: Minnesota Vikings: Jaquan Johnson, S, Miami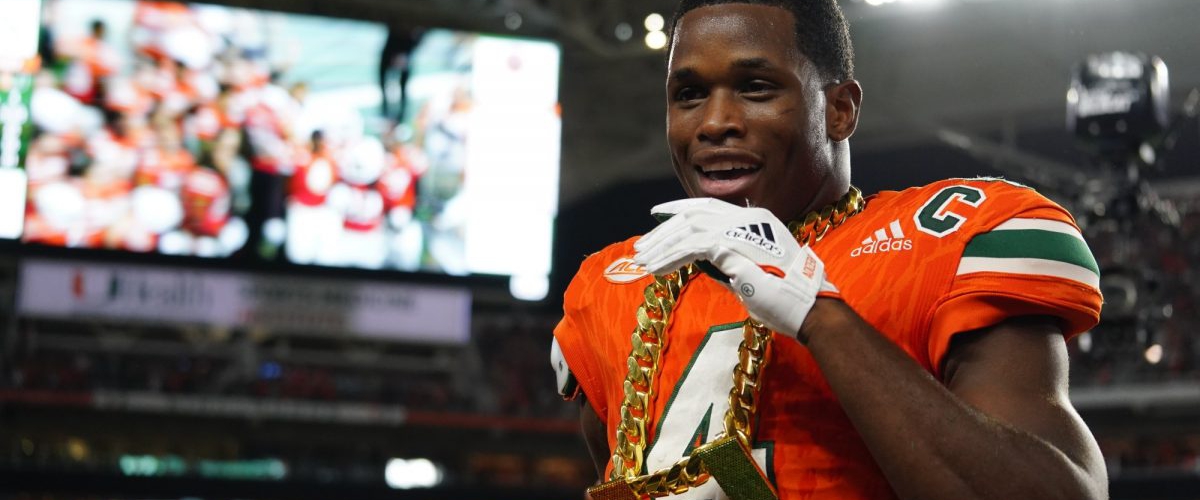 96 tackles, 3 TFL, 1 sack, 4 PD, 4 INT, 3 FF, 1 TD
Minnesota's stacked roster means there isn't a glaring need. Even so, Andrew Sendejo is merely average, and the Vikings could look to the draft for an upgrade. Johnson is a classic ballhawk with great ball skills and leaping ability. With 96 tackles and three forced fumbles, he can stop the run at an above average rate. Johnson is a good all-around safety that provides a plus turnover potential opposite Harrison Smith.
#31: Pittsburgh Steelers: Michael Jackson, CB, Miami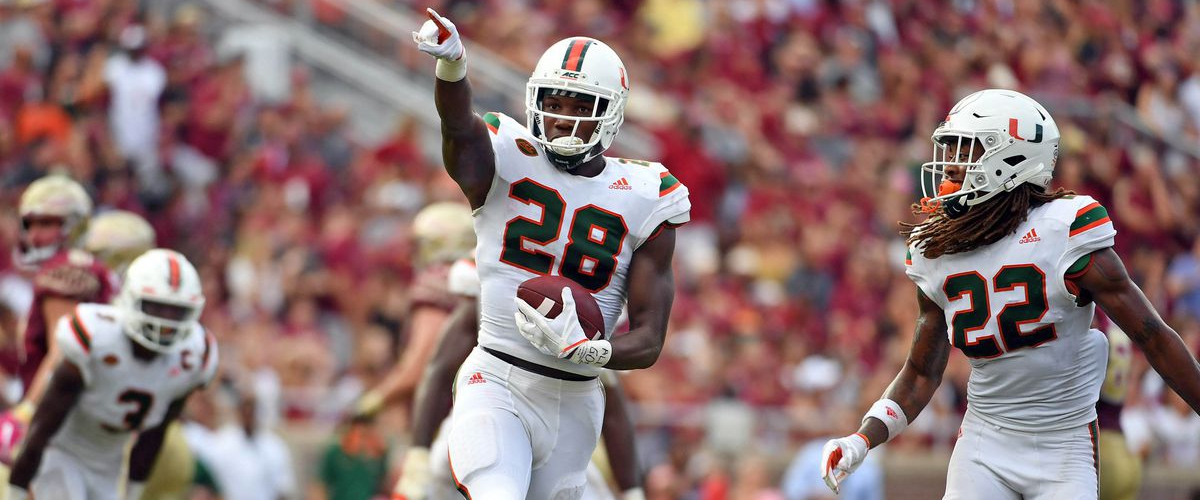 43 tackles, 3 TFL, 1 sack, 4 PD, 4 INT
Jackson found himself sporting Miami's famous turnover chain four times last year, a tribute to how ball skills and instincts at the corner position. Jackson is the best zone cover corner in this draft. The Steelers love to gamble on athletic defensive backs, like former Miami DB Artie Burns and Terrell Edmunds. Jackson would not only fill a need, but fits the mold of what Pittsburgh wants in a defensive back.
#32: Los Angeles Rams: Cameron Smith, ILB, USC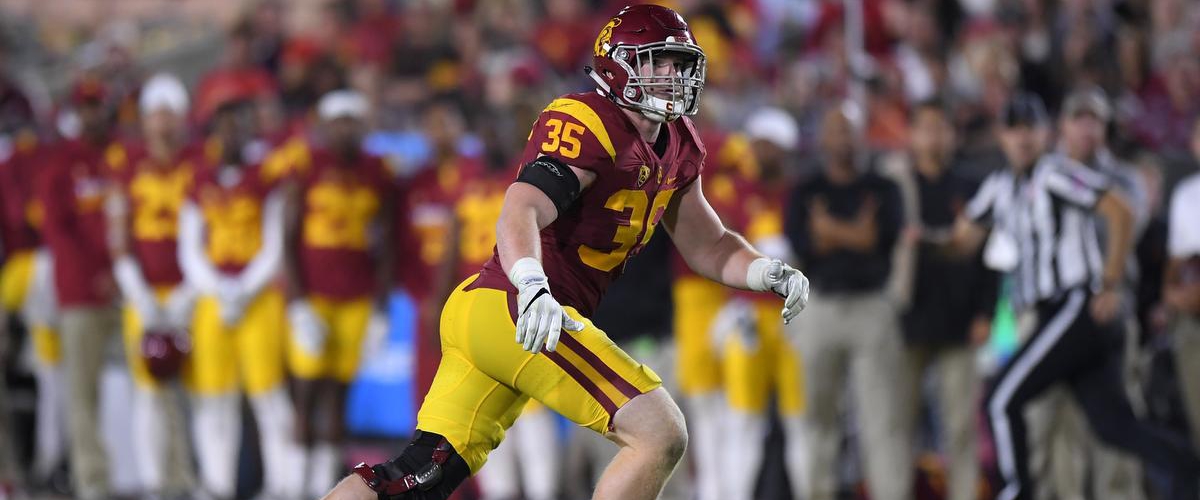 112 tackles, 11 TFL, 0.5 sacks, 3 PD, 1 INT
The Rams have a loaded defense, but their linebacking corps is as shaky as it gets. 5th round pick Micah Kiser and Mark Barron hardly inspire confidence. Smith is a smart, veteran player that always ends up around the football. A great run supporter, Smith showed flashes of a good cover linebacker. Smith could patch up the biggest hole in the Rams defense, who in this hypothetical situation won the Super Bowl.
---