NFL Conference Championship Preview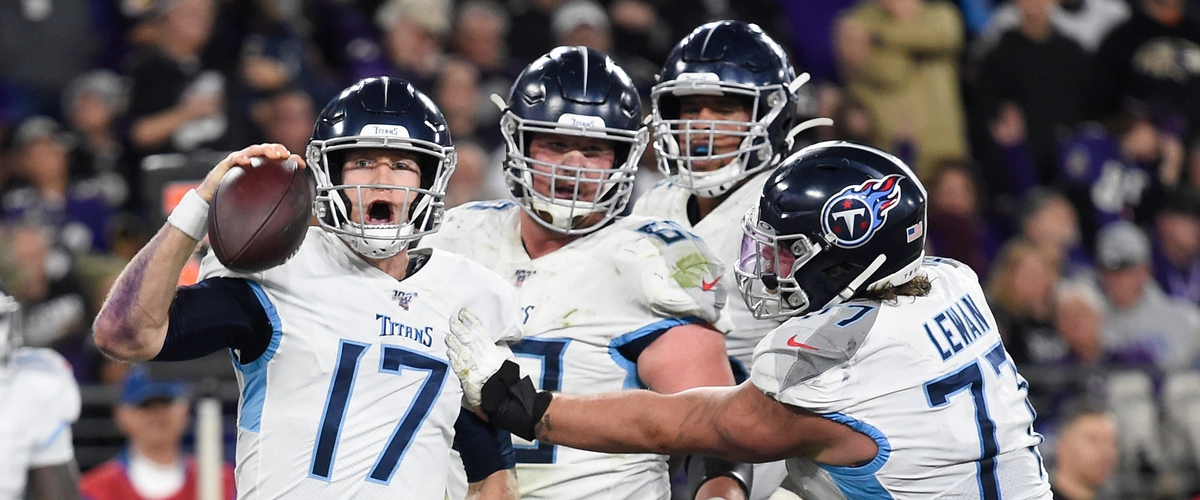 The postseason's 2nd round carried a much different tone then the one prior. While the first was defined by close games and road wins, it's successor was almost the complete opposite. Tennessee was the lone underdog winner. The way that they won could only be described in one word, and that word would be the theme of the weekend. Domination. Five teams had 3-score leads at one point or another in the Divisional round. Kansas City was the only winning team to trail by such a margin before they would begin their utter annihilation of the Texans. It may not have been the most thrilling weekend of football, but it has all set up a great Conference Championship day that we should all be looking forward to.
Titans vs Chiefs
Who would have thought a few months ago, or even just a couple weeks ago, that the Titans would be here? After 3 consecutive 9-7 seasons, the Titans had been the definition of mediocre in the NFL for a while. They were a relatively boring, irrelevant team in many's eyes. Tennessee had some really impressive regular season performances this season, but they could only grab a 6th after yet another 9-7 finish. No one seemed to give them a chance in New England. Then when the rolled past them, no one gave them a chance in Baltimore. Now after their dominant performance against the league's former favorite to win all, people are finally starting to believe in this team.
Kansas City has followed a much different narrative from Tennessee. After playing in this very game a year ago, there was little doubt that they were capable of getting here once again. They proved last weekend that they deserve to be here, although it didn't seem like they would be in the early stages. The score stood at 24-0 through 20 minutes of play. The Chiefs were playing their worst football in years. Then all of the sudden, like the flip of a switch, KC was playing the best football that they have ever played. In less than 10 minutes of game time, they reclaimed their lead as they headed into halftime. And the fun wouldn't stop there as the would eventually score 41 unanswered points. The Texans did eventually respond with a TD, but the Chiefs answered right back with their 7th consecutive TD drive. This was an unbelievable display even for them. In 40 minutes, Kansas City outscored their postseason opponent 51-7. That right there shows you how powerful this team is.
It will be quite a treat to see these 2 teams go at it in Arrowhead this Sunday. What they have done already in this postseason is truly incredible. They have both gotten hot at the perfect time, playing their best football when it matters most. Both teams certainly have what it takes to get 2 more wins and walk away with the Lombardi trophy. I think it's safe to say that most people see the Chiefs as the better team. It's hard not too with such an explosive offense. However, the Titans are showing the type of versatility that is so important in these games. The Chiefs are built to beat you through the air. They do that better than anyone else. If their passing attack falters, they'll have a hard time winning games in other ways. Just in the last couple weeks, the Titans have defensively dominated the smartest team in the league, the Patriots, and the most athletic team in the league, the Ravens. Who's to say they can't figure out how to handle this offense as well? If the Titans can get some early stops and turnovers to take control of the game like they have so far, they will continue to feed Derrick Henry, whom the Chiefs have no answer for. Ryan Tannehill has also shown he can make the big throws when needed. They even have an advantage in the field position battle with their All-Pro punter, Brett Kern. It just feels to me that the Titans can beat you in just about every area of the game right now. And if you ask me, it seems that they may be destined for greatness this season.
Titans win, 28-24
Packers vs 49ers
The Green Bay Packers have been an unusual team this season. On paper, this team should not have won 13 games and earned a 1st-round bye. Their running game has been better than they are used to, but it could still only be considered average. Davante Adams had been great when he's on the field, but if you can stop him, the rest of the receiving group suffers dramatically. Even Aaron Rodgers has had his struggles this year, posting the lowest QBR of his career. All of that contributed to an average score of 23.5, which ranks 11th among playoff teams. The defense has seen significant improvement in 2019, ranking as a top 10 scoring defense for the first time since their Super Bowl run in 2010. That defensive production is huge, but one wouldn't necessarily think it would be good enough to make up for the offensive woes and reach 13 wins. Yet here we are now. Somehow, the Packers have managed to get just enough production out of all areas of the game to win nearly every week. By making every little contribution count and not wasting opportunities, they have done the absolute best they could have done with what they had. There is certainly something to be said for that.
Despite having the same number of wins, it seems clear that San Francisco is the stronger team. Statistically, Jimmy Garoppolo has been on par with Rodgers. San Fran's receiving group has also been more diverse. The 49ers have 11 players with 20+ targets, 11 with 100+ receiving yards, and 13 with at least one receiving TD. The 3-headed monster in the backfield of Breida, Mostert, and Coleman has torn up opposing defenses, rushing for a combined 4.9 yards per carry. On the other side of the ball is one of the league's elite pass rushes, which has helped make this the #1 ranked defense in the NFC. The 49ers never lost a game by more than one score, and they had the best point differential in the conference by over 50 points. This is one great football team, and one of their greatest displays came against their conference Championship opponent.
Back in week 12, San Francisco delivered a romping to the Packers like they have not seen in years. The 37-8 loss was 2nd largest margin of defeat that Rodgers has ever suffered. His abysmal 3.2 yards per attempt was easily the worst of any of his career starts. It all started very early. A fumble by Rodgers on the opening drive would set up San Fran for a 1-play TD drive in the first 2 minutes of play. In the remainder of the first half, the Packers would not score and they would go 3-and-out on 5 of 7 drives. The game was all but over by halftime, but a couple more TD's after Green Bay's lone score would add more insult to injury. For the Packers to return to Levi's Stadium and take a win would be an amazing feat of revenge. The pressure falls on the coaching staff to achieve such a daunting task. If Matt LaFleur could conquer this obstacle, he would make a real name for himself in Green Bay. But asking that much from a rookie head coach is just unrealistic. He has done a lot of impressive things with this team, but I think this asking a little too much. It won't be a total blowout this time around, but the 49ers should trot to the Super Bowl with another great win this Sunday.
49ers win, 30-20