Super Bowl LIV Preview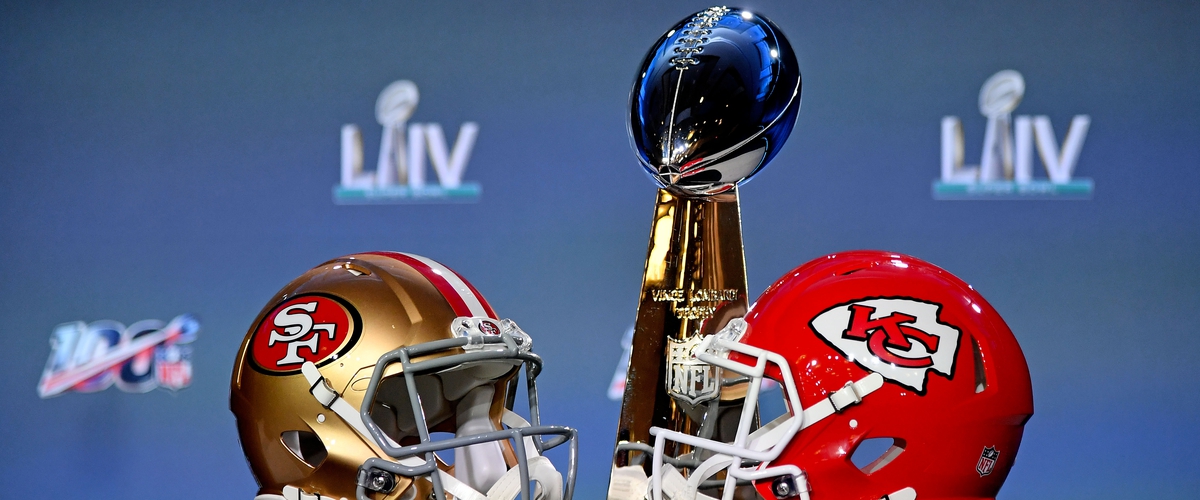 Twenty weeks of NFL action has all led to this, the annual largest television event in North America. While 30 teams in this league are all reflecting on their mistakes and focusing on future improvement, 2 teams remain in a present mindset, fighting for one last win on their season. These teams each have a story that needs to be told. Who are they and how did they get here? Before we can discuss the game itself, we need to answer those questions. Let's take a quick trip down memory lane to remind ourselves of the journey these teams took to become the great teams they are today.
The San Francisco 49ers
Things had been rough in the Bay Area since Jim Harbaugh was fired at the end of the 2014 season. Before his final .500 season, Harbaugh had lead San Fran to three consecutive NFC Championship appearances in his first three years coaching in the NFL. After his departure, the 49ers went on to suffer four consecutive losing seasons with a combined record of 17-47. But all the while, San Francisco was collecting valuable pieces to their roster to get them where they are today. One by one, they acquired RB's Raheem Mostert, Matt Breida, and Tevin Coleman to form a rare, dominant backfield trio. In 2017 they shaped their future passing game by signing Kyle Shanahan, drafting George Kittle, and trading for Jimmy Garoppolo. Many others were added in that span before the final touches were made in 2019 by adding two great pass rushes in Nick Bosa and Dee Ford, as well as WR's Emmanuel Sanders and Deebo Samuel. All these moves came together perfectly to assemble the team we see today.
The 49ers' winning formula is a simple one as old as the game itself. A world class pass rush leads a great, physical defense. A steady running game eats through the defense, while also opening up the passing game. Jimmy Garoppolo and the rest of the passing game has gotten little recognition, but they have made the all the necessary plays needed to win games. There is a reason this formula is seen so often. It works. Once the 49ers gain a lead, it can be very difficult for the opposition make a comeback. If they fall in a hole themselves, that's where the trouble can begin. However, that hasn't been an issue. San Francisco hasn't faced a 3-score deficit all season, and they have never lost by multiple scores all year long. This level of consistency has been unmatched this season, and it is no surprise that that has resulted in them reaching the biggest game of the year.
The Kansas City Chiefs
It's been a long time since Chiefs fans have had something to be really excited about. After winning the Super Bowl back in 1970, the Chiefs would go the next 45 years with a postseason record of 3-13 and no Super Bowl appearance to their name. Things finally took a turn in the 2015 playoff when the Chiefs added another win to snap an 8-game postseason losing streak, but they were still missing something. After another unsuccessful playoff at the end of the 2016 season, the Chiefs knew a change would be needed. They had weapons like Travis Kelce and Tyreek Hill. They had a good running game, just as usual for them. They had a defense that had allowed under 20 points per game in 4 consecutive seasons. They had a legendary head coach in Andy Reid. But where they had faltered was the QB position. Alex Smith was a steady performer under center, but he just couldn't put this team over the edge. In the 2017 NFL draft, Kansas City took a chance by trading up for some kid named Patrick Mahomes, hoping he would be the one to give this team a little something extra. He would stay on the bench his rookie year and soak up any and all knowledge he could from those around. Then, from the moment he took the field to start 2018, the Chiefs' franchise was changed. He wasted no time giving KC rarely seen playoff win before falling victim to New England last season. But in just his 2nd year starting, he has ended a 50-year Super Bowl drought, one of the longest in NFL history.
The Chiefs have gotten all the way here in way, although often tried, rarely breeds results. They have gathered all the perfect pieces to put together to form the most aggressive, dominant passing attack that this league has ever seen. This aerial assault is the foundation of the entire team. The massive leads this offense creates in such a short time causes opposing teams to get aggressive and beat the Chiefs at their own game. As if keeping up with that offense wasn't hard enough, Steve Spagnuolo's defense specializes in terrorizing opposing QB's. With a strong pass rush and the versatile Tyrann Mathieu making plays all over the field, climbing out of a hole against the Chiefs is next to impossible. Even if you can somehow gain an early lead as others have done this postseason, it can be erased in an instant. Throughout the league's history, balanced teams have consistently had the upper hand over such a pass-heavy scheme. By putting all your eggs in one basket like this, you leave yourself helpless if you falter in that area. But the Chiefs have had no such issue. Patrick Mahomes has seemed almost incapable of failure at times. If you can't seriously limit his impact on the game, you cannot beat this team.
Super Bowl LIV Prediction
Both the Chiefs and the 49ers had a good trial run in the Conference Championships. Kansas City was able to hold the most dominant RB in the league to just 69 yards on 19 attempts, forcing Ryan Tannehill to make all the big plays. San Francisco manhandled a legendary QB in Aaron Rodgers by putting him under pressure and eliminating his best playmaker, Davante Adams, holding him to just 7 yards in the first half. These are the same types of challenges that each of these defenses will face this Sunday. Those recent performances show me that they are both capable of handling their assignments in this game. The Chiefs can limit San Fran's elite run game and make Garoppolo do more heavy lifting than he's used to. The 49ers can force Mahomes to get the ball out quick and take away his go-to targets. These things will make life difficult for both offensive units right from the get go, but ultimately, both of these top 5 scoring offenses, and the offensive geniuses that run them, should make the necessary adjustments to get points on the board in the later portions of the game.
Both of these teams clearly deserve to be here. There's no doubt in my mind that this will be a battle from start to finish. In such a game as this on the big stage with two truly great, well-matched teams, there are a certain few advantages that go a long way. Good ball security insures that your opponent won't get any easy scores. A seasoned head coach who has been here before is more likely to stay calm, stick to a plan, and make the gutsy call when his team needs it. Lastly, sometimes a game comes down to the best player on the field doing his thing to make the play at the end of the game. All of these factors favor the Kansas City Chiefs. While San Francisco has what it takes to compete with anyone out there, I believe they lack these key factors that have been winning these games for generations.
Chiefs win, 31-27
---