NFL Week 10 Preview and Predictions
If you haven't already, be sure to check out our NFL Midseason Report.
Week 10 Headlines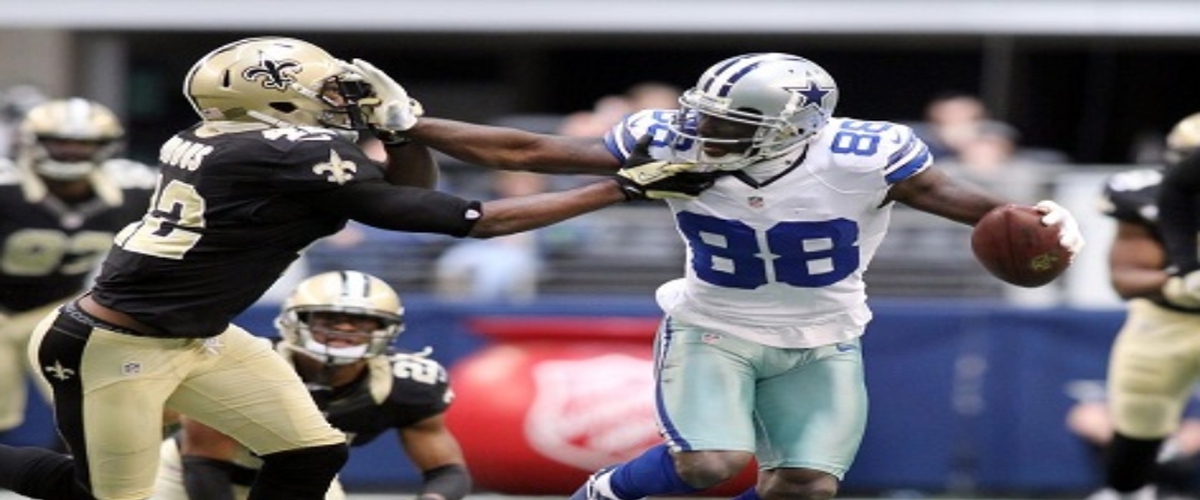 Dez Lands in New Orleans: Former Cowboys Receiver Dez Bryant has finally found a new home. He will join the New Orleans Saints on a one-year deal.
Irvin Joins Falcons: After being cut by the Oakland Raiders, Edge Rusher Bruce Irvin has agreed to join the Atlanta Falcons.
Darnold Out: The New York Jets have ruled out starting rookie quarterback Sam Darnold this week, In his stead, Josh McCown will start for the team.
Fantasy Football Start Em/Sit Em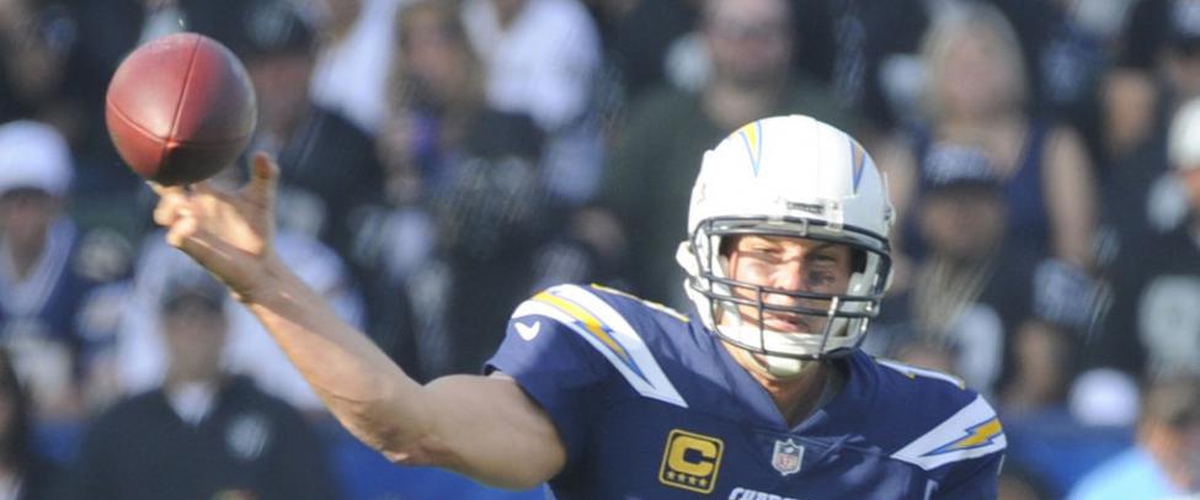 Starting Quarterbacks: Philip Rivers, Carson Wentz, Matt Ryan, Cam Newton, and Ryan Fitzpatrick.
Sitting Quarterbacks: Matthew Stafford, Dak Prescott, Marcus Mariota, Andy Dalton, and Derek Carr.
Starting Running Backs: Tevin Coleman, Nick Chubb, Kenyan Drake, Aaron Jones, and Austin Ekeler.
Sitting Running Backs: LeSean McCoy, Carlos Hyde, Adrian Peterson, Isaiah Crowell, and Doug Martin.
Starting Wide Receivers: Tyler Boyd, Calvin Ridley, Amari Cooper, Jarvis Landry, and Larry Fitzgerald.
Sitting Wide Receivers: Kenny Golladay, Sammy Watkins, Jordy Nelson, T.Y. Hilton, and Randall Cobb.
Starting Tight Ends: O.J. Howard, Jordan Reed, Greg Olsen, Benjamin Watson, and Jack Doyle.
Sitting Tight Ends: Eric Ebron, Gerald Everett, Jared Cook, Geoff Swaim, and Chris Herndon.
Starting Defense/Special Teams: Jets, Chiefs, Chargers, Eagles, and Giants.
Sitting Defense/Special Teams: Seahawks, Panthers, Lions, Cardinals, and Saints
Game Picks (Season Record 82-55-2)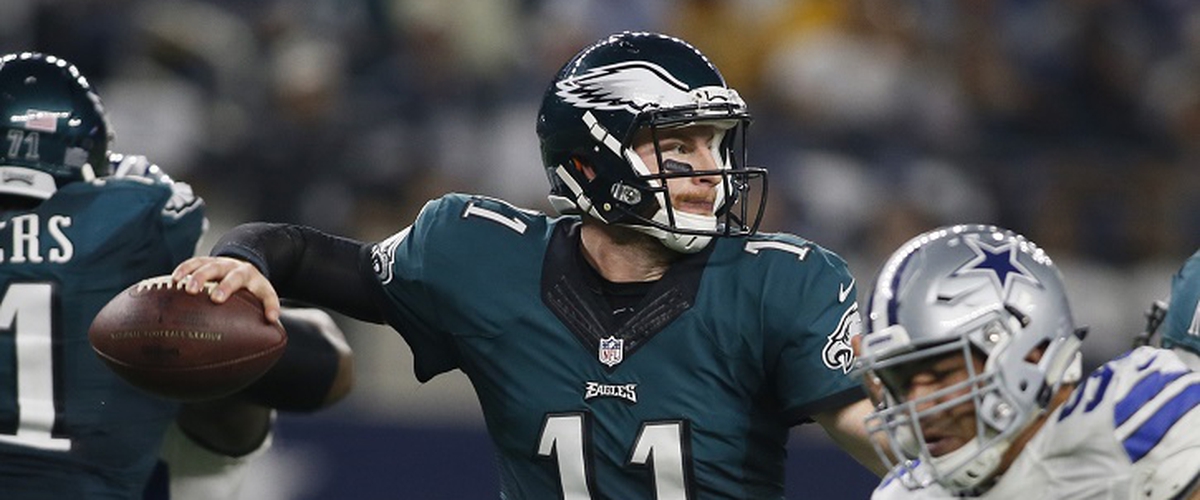 Steelers vs. Panthers: Winners of five of their last six, the Carolina Panthers are one of the hotter teams in the NFL today. Cam Newton is playing some of the best football he's ever played in his career and their 11th ranked defense is still a formidable unit. Their opponent is also one of the hottest teams in the league. Now that the drama has subsided, the Steelers are playing up to expectations. Le'Veon Bell sent out a cryptic tweet that may hint at his return. No one cares because James Conner has pretty much matched his production at a fraction of the cost and a fraction of the drama. The Steelers defense has also improved with their good pass rush and plugging of holes in the secondary. In a close game, I have to favor the home team in this one. Plus, the Panthers don't have anyone that can cover the Steelers receivers for too long. That will prove to be the difference in a very close game.
Prediction: Steelers win 28-24
Buccaneers vs. Redskins: So which Redskins team will we see this time out? Will we see the team with the underrated but good defense? The team with a time-traveling Adrian Peterson and an expert game manager in Alex Smith? Or will we see the team that appeared last week? The Redskins were overwhelmed on both sides of the ball by the walking wounded known as the Falcons. As the NFC East begins to tighten up, Washington cannot afford any more games like that. The Buccaneers offense will certainly show up to the game. When Ryan Fitzpatrick is under center, this team becomes a force on one side of the ball. Unfortunately, their defense can't stop anyone. Expect Smith to be in rare game manager form as the Redskins take this one.
Prediction: Redskins win 30-28
Chiefs vs. Cardinals: Arizona has no offense worth speaking of and has no means to stop the Chiefs. Unless Kansas City plays way down to the competition, I expect the Chiefs to win handily.
Prediction: Chiefs win 37-15
Jets vs. Bills: So which quarterback do you trust more? Will it be Josh McCown or Nathan Peterman/Josh Allen? I don't believe the Bills can be treated to do more than arrive at MetLife Stadium. So in an ugly and borderline unwatchable game, I'll pick the Jets to win.
Prediction: Jets win 21-18
Colts vs. Jaguars: With the Texans winning streak still ongoing, neither team can afford to lose any more ground. Going into the bye week, it looked as if the Colts have begun to figure some things out. Marlon Mack has emerged as their top running back and Andrew Luck has begun to get protection from his offensive line. The Colts defense isn't the flashiest unit out there, but I believe they're better than their 23rd ranking in the NFL. The Jaguars have been the picture of dysfunction since their win over the Patriots earlier in the season. Blake Bortles has really let them down, and that leaves their defense in a tough spot. Fortunately for the Jags, Leonard Fournette is back and that could serve as a much needed offensive boost. I believe the Jags use Fournette as an opportunity to reset their offense. With that, the defense carries the rest of the load for a much needed Jaguars victory.
Prediction: Jaguars win 26-23
Bears vs. Lions: Detroit is another team with questionable consistency. You have to wonder which version of them will show up against the Bears. Matthew Stafford struggles when facing an opposing blitz. But since Khalil Mack isn't at 100 percent, that may leave him some time to make a few throws. The Lions defense will need to force Mitchell Trubisky beyond his first read. According to Pro Football Focus, Trubisky has a league-worst 25.9 passing grade when throwing to his next read. The Bears will have to find a way to get pressure on Stafford. As we saw last week, the Lions can be had on the offensive line. So long as the offense can uphold their end of the bargain, the Bears should win this game.
Prediction: Bears win 26-20
Bengals vs. Saints: New Orleans is the hottest team in the league right now and has an offense that no one can keep up with. The Bengals won't have A.J. Green to try and shoot it out with the Saints, but I doubt they could keep up anyway.
Prediction: Saints win 38-24
Titans vs. Patriots: If you could guarantee me the Titans play as they did on Monday, I would gladly pick them to secure the final AFC wild-card spot. But consistency is key in the NFL, and I don't believe in the Titans until I see it. The Patriots will serve as a good test for them. New England's defense can be scored upon. The Titans have a top-10 defense that can muck up most games. But can Tennessee put it all together for a midseason statement win? No. The Patriots are the worst possible team for them to play. The Patriots rely on minimizing mistakes while exploiting the mistakes of others. When the Titans begin to make their typical mistakes, the Patriots will make them pay.
Prediction: Patriots win 28-16
Browns vs. Falcons: Despite the injuries, Atlanta has been rolling since Week 5. It has become Matt Ryan or bust. When Ryan plays well, the Falcons are usually in a position to win. When he doesn't, they seemingly can't win. The Browns have fallen into their typical dysfunction under interim coaching. They'll be ultra-aggressive and take shots for the heck of it, but it won't matter against the Falcons offense. And if the Atlanta defense can replicate their performance from last week, I don't see how the Browns win this one.
Prediction: Falcons win 30-20
Raiders vs. Chargers: The Raiders were lit up by third-string quarterback Nick Mullens and shut down by the Niners defense. What do you think the Chargers are going to do to them?
Prediction: Chargers win 42-12
Rams vs. Seahawks: After suffering their first loss, the Rams now have a good opportunity to look at themselves with criticism. Their defense isn't living up to the hype anymore. And while their offense is still dangerous, slow starts can cost them against elite teams. The cracks in the armor are showing, and now they lack the tiebreaker against the Saints. The Seahawks will be a good opponent for them to face. The Seahawks will give them a tough game and will do so until the final whistle. The legs of Russell Wilson might give them some trouble as well. If the Rams don't bring their A-game, they may lose this one. But coming off of the loss, I think the Rams will be locked in.
Prediction: Rams win 33-26
Packers vs. Dolphins: Green Bay has to be teetering on the edge of desperation at this point. They're two games off the pace in the NFC North and the NFC wildcard. They struggle to win unless Aaron Rodgers manages to carry them through the fire. Games that should be easy wins all of a sudden turn into struggles. And that's likely what will happen against Miami. The Dolphins are probably an 8-8 football team, but the Packers will make them look better than that. But in the end, I believe Rodgers will work some late-game magic to win the game.
Prediction: Packers win 27-24
Eagles vs. Cowboys: Dallas' playoff hopes took a major blow after they were dominated on Monday Night. Now, on short rest, they will face an Eagles team coming off of their bye week. Despite some question marks in the backfield, the Eagles added Golden Tate to their passing arsenal. And if Carson Wentz continues his upward trajectory, their offense can be dangerous. Their defense will have to pick it up as well. Against the Cowboys 26th ranked scoring offense, that shouldn't be a problem At this point, the Cowboys can't be trusted to stay out of their own way. Changes need to be made. And that's all we'll hear about once they lose to the Eagles on Sunday Night (why are they getting so many primetime games?).
Prediction: Eagles win 27-17
Niners vs. Giants: Just like last Thursday, this game will feature two terrible teams with tanking implications. I think Nick Mullens falls back to earth and the Giants manage to win the game.
Prediction: Giants win 18-14.