TGI FRIDAYS Championship 2016
There were only two serious trivia events left this year on my trivia schedule. One of them was the annual TGI Fridays championship which is held every December. It involves several teams who have qualified since early October by winning the weekly trivia night. The last two years have ended in heartbreak at the Central Valley location. The first time was in Middletown back in 2013 when I was just a trivia rookie. The other serious event is the 10 week Winter League I play in for Let's Go Trivia down in Westchester County. Right now, we're tied for first with four weeks left to qualify.
It took us several attempts to qualify back in October, but we finally did so the night of October 26th.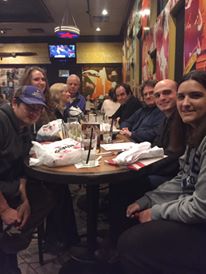 This is the team pic from that night. The people on that team are Paul Lococo, my longtime buddy who I first got into the trivia scene with and Al and Jill Meyer who have played with us since 2014: they know Paul from working with him at IBM. Paul once mentioned to Al that there was trivia night close to them on Wednesday nights and we've been playing TGI Fridays a lot since then. The other players are Ashley Ford who has been playing with us for two years. I met her on reddit when she posted about looking for trivia places in the Hudson Valley. The other three are Nick Nappo, Leah Norris, and Mark. I met them through the POW! Trivia All Stars meetup group, the largest one in the Hudson Valley. Last night, Mark had another obligation so he was replaced with Adrian Candela, another aficionado who I've known since May. This was a team of eight but I felt we needed one more in case we were deadlocked on the final question. So I invited the co-founder of Stir Crazy, William Negron. I've also known William since my rookie year. We won the fake trivia award in the HV for best duo having cut a swath through the nightly trivia scene. That crazy train continued all the way to the National Championships of World Tavern Trivia last May where we came in 2nd place, but I digress.
So last night, we went in with a 9 man squad. Our qualifying team name was 8 is not enough which was named by Mark. Well since Mark was not there, it had to be changed. The early pick was Go Army finally you finally beat Navy, but before the first hand in, I thought this needed to be about US. Because if we won this thing, it would be about US, not Army. This is trivia, way more important than colllege football. So we were the SCOTGIF (Supreme Court of TGI Fridays.)
Round One Questions were as follows:
1. In May of 2000, which country passed the 1 Billion mark.
Initiallly, most of us said India but some of us heard it as 2016 not 2000. China definitely did it first. We wavered and changed the answer from India to China at the last moment. Doom on us, it turned out to be India.
2. What is the Ivy League school located in NYC?
3. How many states end in the letter O?
4. Which fish is lox made from?
5. Who was the only president of the Confederacy?
6. What city is the statue of Christ the Redeemer in ?
7. What is the call sign for the plane that carries the Vice President?
8. Which governmental agency has the motto: Fidelity, Bravery, Integrity?
9. Which author wrote The Joy Luck Club?
10. How many moons does the planet Mars have?
So after one round, we were tied for first with one other team with 90 points. The India question bothered me because we had that as the answer but changed it at the last moment.
Round two we scored another 9 out of 10 questions right.
1. Which musical artist wrote the song "Streets of Phildadelphia" from the movie Philadelphia?
2. That positions in baseball are known as the battery?
3. Which Broadway show was the most expensive, costing 75 Million?
Nick was especially pleased that a Broadway question was asked and he nailed it.
4. Which actor starred as Danny Ocean in the the original Ocean's 11?
5. Who will host the Oscars in 2017?
6. Which muscle is the only one not attached at both ends?
7. Which hashtag on instagram is the most popular? Love, Happy, Me or Food?
There was a spirited debate but we all settled on love.
8. Which football player won the Heisman for 2016?
When Al arrived before the game, I made sure we knew the answer to this. Al and Leah are the sports experts in the group.
9. Which celebrity was the most googled in October of 2016.
Early in the day, I was going over potential questions with Nick. I learned that Trump was the most googled in 2016 so in Oct of 2016, so close to elections, I had to be the same answer.
10. Which show from the 90's was revived in January of 2016? Mike said to pay attention to the date. Mostly every team said Full House but the correct answer was the X-Files.
We tied team Sprinkle for that round so at the half we were in the lead with 180 points.
Round Three was the audio round comprised of TV theme songs and Christmas movie sound bytes. On this round we got a perfect 10. This round was the result of playing trivia at different venues. Last Monday, Nick, Leah, Paul, and I played at Dogwood where we had a brutal TV theme song round where we only got 3 of 10 right. But wouldn't you know it but some of those very songs we had last week were in this game as well.
Themes were Walking Dead, Elf, Stranger Things, Jingle all the Way, Baywatch, Diehard, Grey's Anatomy, National Lampoon's Christmas Vacation, Sons of Anarchy, and A Christmas Story.
Things were starting to look bright for us, we had one every round so far and numerous prizes.
Last round was the picture round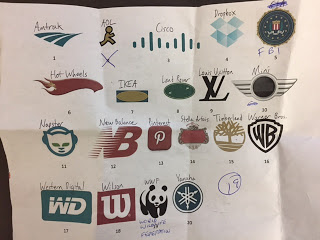 It was all company logos and we got 19 of 20. We put AOL for number two instead of AIM. Notice they were all in alphabetical order though.
So after four grueling rounds, we had a score of 470 points with the second place team having 440. In this contest, it comes down to a final question where you're allowed to wager only HALF of your total points. So in order to win the contest by one point, we had to wager 191 points, guessing the second place team would bet 220. The category was TV shows.
The final question of 2016 was who is the youngest actor to be nominated for an emmy.
We needed clarification. We found out, nominated doesn't necessarily mean he's won. It also could be male or female. The question was when did the Emmys first come out? 1949, so it could be anyone from then until today.
We debated all different child actors, finally settling on Jerry Mathers, Gary Coleman, and one other one. Fred Savage was mentioned, but not a finalist for us.
We went with Jerry Mathers.
Mike came around to grade everyone's final answer at each table. And we got it wrong.
A sinking feeling washed over me and all that was left was the results.
But he announced no team got it right, so the winner was based on how every team wagered. And since we were in the lead, we were able to save the most points.
Third place tie with 210.
Second place was not 279, but a lower number.
So we won despite not getting the dreaded final question.
And I was more relieved than joyous.
Prior to the game, I had told Paul that if we didn't win there was no going back for me. I couldn't keep going back to regular trivia if I couldn't win the big one, so to speak. Because while it's nice to dominate, the thrill of winning a weekly event pales in comparison to the agony of losing the year end championship.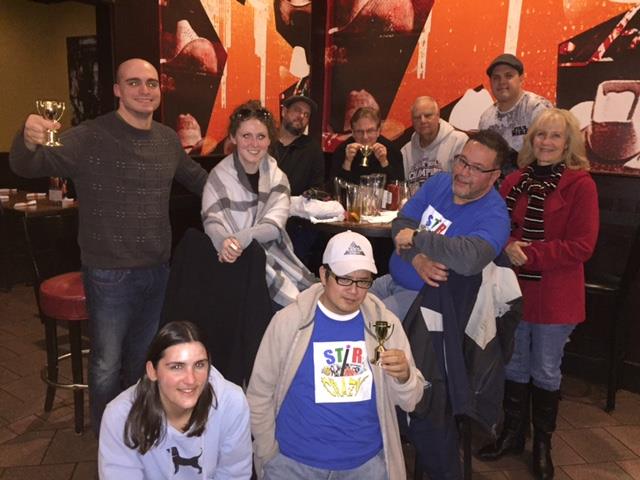 So on the fourth try, we won a title. I can finally exhale and can put to rest the regret of not saying Regis Philbin back in 2013 or Law and Order last year.
It feels good, put now there's The Winter League to qualify for then win. Then we've qualified for World Tavern Nationals again in May.
I look at this picture and I'm most happy for everyone else.
Sometimes It's not just about winning but also who you win with.
---