Week 1 NFL Preview: March to Minneapolis, Playoff Predictions
Welcome to the first blog post of Under The Lights! My focus is to talk sports and provide a coaching perspective along with my opinions throughout the season through weekly previews and weekly recaps. The focus today is on Week 1 of the NFL Season as well as attempting to predict the 12 teams who will continue the March to Minneapolis into January. If you enjoy the content or you just feel like doing something nice today, follow me on here as well as on Twitter at @CoachTylerPauly for more content from a coaching perspective.

Now to the preview!

THURSDAY, SEPTEMBER 7TH
SUNDAY, SEPTEMBER 10TH
JETS AT BILLS
EAGLES AT REDSKINS
RAIDERS AT TITANS
BUCCANEERS AT DOLPHINS
JAGUARS AT TEXANS
CARDINALS AT LIONS
FALCONS AT BEARS
RAVENS AT BENGALS
STEELERS AT BROWNS
COLTS AT RAMS
SEAHAWKS AT PACKERS
PANTHERS AT 49ERS
GIANTS AT COWBOYS
MONDAY, SEPTEMBER 11TH
SAINTS AT VIKINGS
CHARGERS AT BRONCOS
Week 1 brings us a plethora of great games to start out the season. Opening night we get to watch the top 2 seeds from the AFC last year in the Chiefs and Patriots in what should be a great game. I will be watching to see how the Patriots offense looks with Brandin Cooks, without Julian Edelman, and a healthy (yes, completely healthy!) Gronk as well as Kansas City's new lead back Kareem Hunt.

There are 2 early games on Sunday I am very interested in watching. The Eagles start off their season with the newly acquired Alshon Jeffery in our nation's capital against an upstart Redskins team in a divisional matchup that could very well be the highest scoring game of the week (This is partially driven by my prediction that Cousins and Wentz both finish top 10 in passing yards, possibly top 5, as well as top 5 in passing attempts this year). The other game to watch is Oakland travelling to Tennessee where two young QBs have a great opportunity to continue to improve and progress on great statistical seasons last year. Derek Carr will be looking to prove he is fully healthy and Marcus Mariota has an opportunity to prove he belongs with the other top tier QBs in the league. With the newly added Corey Davis and a hungry DeMarco Murray, I think he has a great chance to do just that.

Seattle will head to Green Bay in a matchup of two playoff teams from last year (and possibly a preview of a playoff matchup this year). Sunday night brings us the other two NFC East teams who both have new looks on offense with Brandon Marshall joining the Giants and Zeke Elliot missing from what could a high powered Cowboys offense.

The Monday night double header has (at least for me) the biggest matchup of the week. Adrian Peterson returns to Minnesota for the first time as a member of a different team. Check out my preview of this game below for my thoughts on how I think he will play!

Week 1 Preview Games

Kansas City at New England

This is about as good of a game as you could ask for on opening night (except for maybe an Atlanta/New England rematch). Lets look at New England first. Offensively, the Patriots have as much firepower as they have ever had, even with the Edelman injury. Newly acquired Brandin Cooks was going to be used all over the field but with the injury I expect him to play more out of the slot then originally anticipated. I would expect Chris Hogan and Danny Amendola to see an uptick in plays as well as targets, however, I think Malcolm Mitchell is in a prime position to play a significant role in the offense as the season goes on. At 6'1" he is the tallest receiver on the team and plays fairly physical. With Cooks possibly moving inside more often, the Patriots will be looking for another threat on the outside and I think Mitchell could be that guy. Combine those weapons with a 4 headed Running Back By Committee and this offense looks very scary again. On defense, the Patriots are led by a strong secondary headlined by Malcolm Butler while the rest of the defense is filled with great role players who will make it easy for this defense to succeed this year.

Kansas City also has an explosive offense led by Mr. Do-It-All Tyreek Hill who had a breakout season last year along with the often underrated Alex Smith. With the season ending injury to Spencer Ware, rookie Kareem Hunt has an opportunity to step in and make an immediate impact as well in an Andy Reid west coast offense which has always favored RBs. Defensively, the Chiefs will be strong again with one of the best groups of LBs and DBs in the league led by LB Justin Houston and DBs Marcus Peters and Eric Berry. This was a top 10 defense last year and I predict they will be there again this year. It will be great to watch this back 7 go head to head with all the weapons the Patriots have.

These two teams also have strong special teams units. The Patriots boast one of the best place kickers in Stephen Gostkowski who will certainly play a role in this game. Punter Ryan Allen will look to improve on a sub-par season last year. The Chiefs place kicker Cairo Santos has been up and coming in the league and I believe this year he continues to improve. Punter Dustin Colquitt is a savvy veteran who can play a large role in changing field position, which will be important in this game.

Player to watch: Tyreek Hill
Bold Prediction: No Patriots WR reaches 100 yards receiving in the game.
Game Prediction: Patriots 24 Chiefs 17

New Orleans at Minnesota
An obvious (and clearly unbiased) choice for my second preview game this week. New Orleans brings a new look offense to Minnesota this year with the additions of Adrian Peterson and Ted Ginn Jr. The emergence of Michael Thomas last year was also much needed with the departure of Brandin Cooks to New England. Ryan Ramczyk was drafted as a long term solution at left tackle which I think he certainly can be if he is able to adjust to the speed of the NFL. The 2 headed (or possibly 3 headed) monster in the backfield of Ingram and Peterson (and possibly rookie Kamara) is a scary thought for defenses. As someone who was incredibly frustrated with Sean Payton last year on how he used Mark Ingram, I wish I could say I was optimistic about that changing this year, however, with the addition of Peterson I only see Ingram losing carries, if anything. With Drew Brees under center defenses will be forced to play both the run and the pass which will open up the box for downhill runners like Peterson. I would expect most defenses to play a lot of zone against the Saints (cover 2, cover 4) to try and keep track of Ted Ginn Jr. while still allowing for help in the run game. On defense, the Saints will once again look to improve on a poor season statistically. After finishing dead last in passing yards per game allowed and 31st in points per game allowed, there isn't anywhere to go but up for this unit. The loss of Jarius Byrd in the secondary will hurt but the addition of Alex Anzalone who could start immediately at OLB should give them a small boost and another year of development for Vonn Bell in the secondary will hopefully make a difference.

In Minnesota there is only one thing that has been talked about since the end of last season...How do we address the OL issues? You could have watched any game last year (yes, even weeks 1-5) and it would have been glaringly apparent that the OL had major issues. Combine that with a fragile QB and a running back in Adrian Peterson who likes to hit a hole and go, and you are going to have trouble on offense. However, moving forward, the Vikings did plenty to address this issue in the off season. Starting in the NFL draft, the Vikings selected Pat Elflein to sure up the center position which has been a merry-go-round the past couple of years while also providing depth through drafting Danny Isidora and signing rookie free agent Aviante Collins. Arguably the biggest signings came through free agency with veterans Riley Reiff and Mike Remmers. Both of these tackles are successful veterans who will step in immediately and make a huge difference. With the addition of rookie RB Dalvin Cook and the continued progression of star WR Stefon Diggs and role player Adam Thielen, this offense looks to take a step forward this year. On defense, the Vikings return all of their starters from the unit that carried this team to a 5-0 start last year but were also a big reason for the 3-8 collapse to end the year. Danielle Hunter should continue to be a force to be reckoned with while Anthony Barr and Eric Kendricks will look prove they belong in conversation of elite NFL linebackers. The biggest question mark on defense will be who is going to step up across from All-Pro Xavier Rhodes at the 2nd CB spot? Trae Waynes has all the skills but can he put it together mentally? Only time will tell.

In the special teams battle, both teams have place kickers attempting to prove themselves. Wil Lutz has been pretty consistent for one of the highest scoring teams in the league, while Kai Forbath was signed by the Vikings mid-season last year after the release of embattled kicker Blair Walsh and had a very successful season. He will get a chance to continue that this year. Punter Thomas Morestead was a top 10 punter last year and plays a big role on a team that thrives on good field field position for a QB like Drew Brees. The Vikings were in the middle of the pack last year for punt average and they are trying to address that by bringing in Ryan Quigley for this year who was waived by Arizona last year.

Player to watch: Adrian Peterson
Bold Prediction: Vikings OL doesn't allow a sack
Game Prediction: Vikings 27 Saints 24


Playoff Predictions
Here are my predictions for the 6 playoff teams from each conference for this year and how it will all play out.

NFC
1 - Atlanta
2 - Green Bay
3 - Dallas
4 - Seahawks
5 - NY Giants
6 - Minnesota

AFC
1 - New England
2 - Pittsburgh
3 - Kansas City
4 - Houston
5 - Oakland
6 - Cincinnati

Wild Card Round

NFC
Minnesota at Dallas
NY Giants at Seattle

AFC
Cincinnati at Kansas City
Oakland at Houston

Divisional Round

NFC
Dallas at Green Bay
Seattle at Atlanta

AFC
Kansas City at Pittsburgh
Oakland at New England

Conference Championships

NFC
Green Bay at Atlanta

AFC
Pittsburgh at New England

Super Bowl
Pittsburgh vs. Green Bay

Although it pains me to put Green Bay in the Super Bowl in Minnesota I do believe they are the best team in a somewhat weak NFC this year. However, Pittsburgh is my pick to win the Super Bowl this year as they make it out of a very tough AFC.I believe they have one of the best offenses in the league and Martavis Bryant is going to have a breakout, top 10 WR, type of year. I also believe their defense is going to be sneaky good this year and will carry them in a rematch of Super Bowl XLV!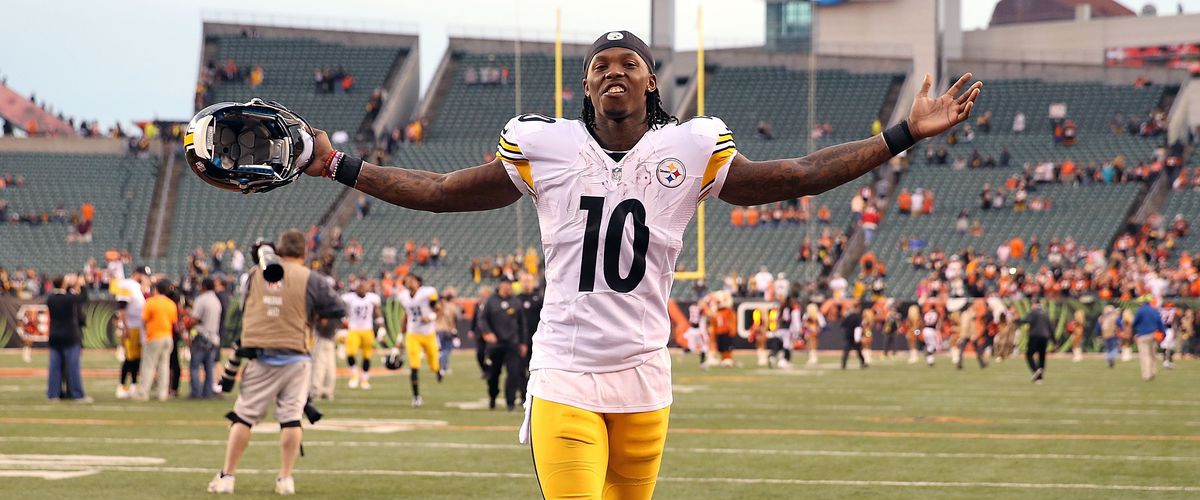 ---