Warsaw takes Seattle
Welcome back friends of Warsaw! We've kicked off our winter term and are excited to dig back into the world of sports business, bringing you new perspective each week from future leaders in the #sportsbiz world.
First order of business as we all came back reenergized after the holidays, having survived an epic ice and snow storm and the world's longest College Football Championship game, was a visit to Seattle to learn from some of the West Coast's most interesting and innovative companies and teams. Over the course of four days, myself and my first-year MBA classmates visited 10 different organizations ranging from up-start running product brands to major league teams. I rounded up a few of my friends to help me dish up the highlights:
What was your favorite moment or visit?
As someone aspiring to a career in fan experience, I loved seeing behind the scenes into how the Mariners, Seahawks and Sounders approach marketing. All three teams emphasized creating unique experiences for the fans in a way that used the sport as a platform for celebrating Seattle. – Aaron Gillette
I loved visiting Microsoft. It was really interesting to see how they're attacking the marketplace now. They're active and inventive, a complete 180 from the old Microsoft. It proves how a change of corporate culture can affect an entire company. – Erich Aguillon
Getting to hang out in Mo Kelly's office. As someone who follows the NFL closely, I've heard about Mo Kelly and how the Seahawks operate their player engagement and development by keeping him involved with their players' lives. It was great to meet him and hear first-hand about what his day-to-day work life is like. Richard Sherman stopping by doesn't hurt either. – Kenden Blake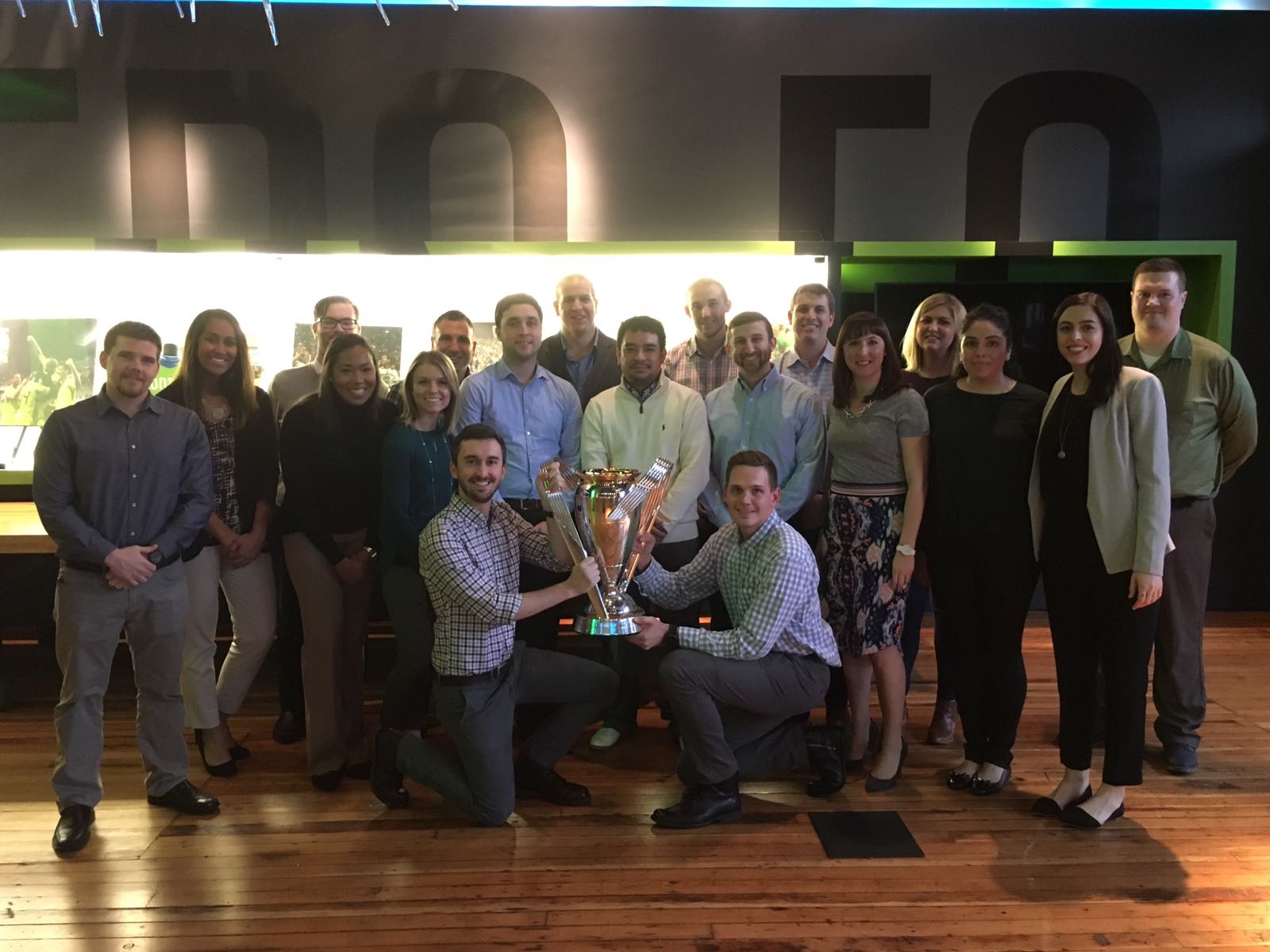 Our visit to the Sounders included some quality time with their recently-won MLS Cup trophy!
Who was your favorite speaker?
Lots of love all around for Sally Bergesen, Duck alum and founder of women's running brand Oiselle.
Overall, I really enjoyed hearing from many successful women from the various organizations. Great examples leading the way, but my favorite speaker on the trip was Sally Bergesen from Oiselle. While I do have an affinity for the brand and an emotional connection to it, it was interesting to hear more about the logistics and background of the business strategy and culture. I enjoyed hearing the entrepreneurial perspective and how she has built the brand while keeping true to her authentic vision and story. – Kelsey Delagardelle
Sally is a total boss. She knows who she is, and exactly what Oiselle stands for. I am confident that nothing will get in her way (not even Rule 40). I was inspired by the path that lead her to create the perfect women's running short, and launch her own athletic apparel company. She spoke with great passion and pride, and I couldn't help wanting to be on the global Oiselle team. Now I need to start running! #whatwouldsallydo - Brooke Halvorsen
My favorite speaker from the trip was Jeff Hansen from Microsoft. Their partnership platform is inspiring for both brands and consumers. Microsoft has found a way to perfectly capture the human emotion that makes us love sports to begin with. In addition, the way that they give back their technology to enhance the sport. – Jeanne Schneider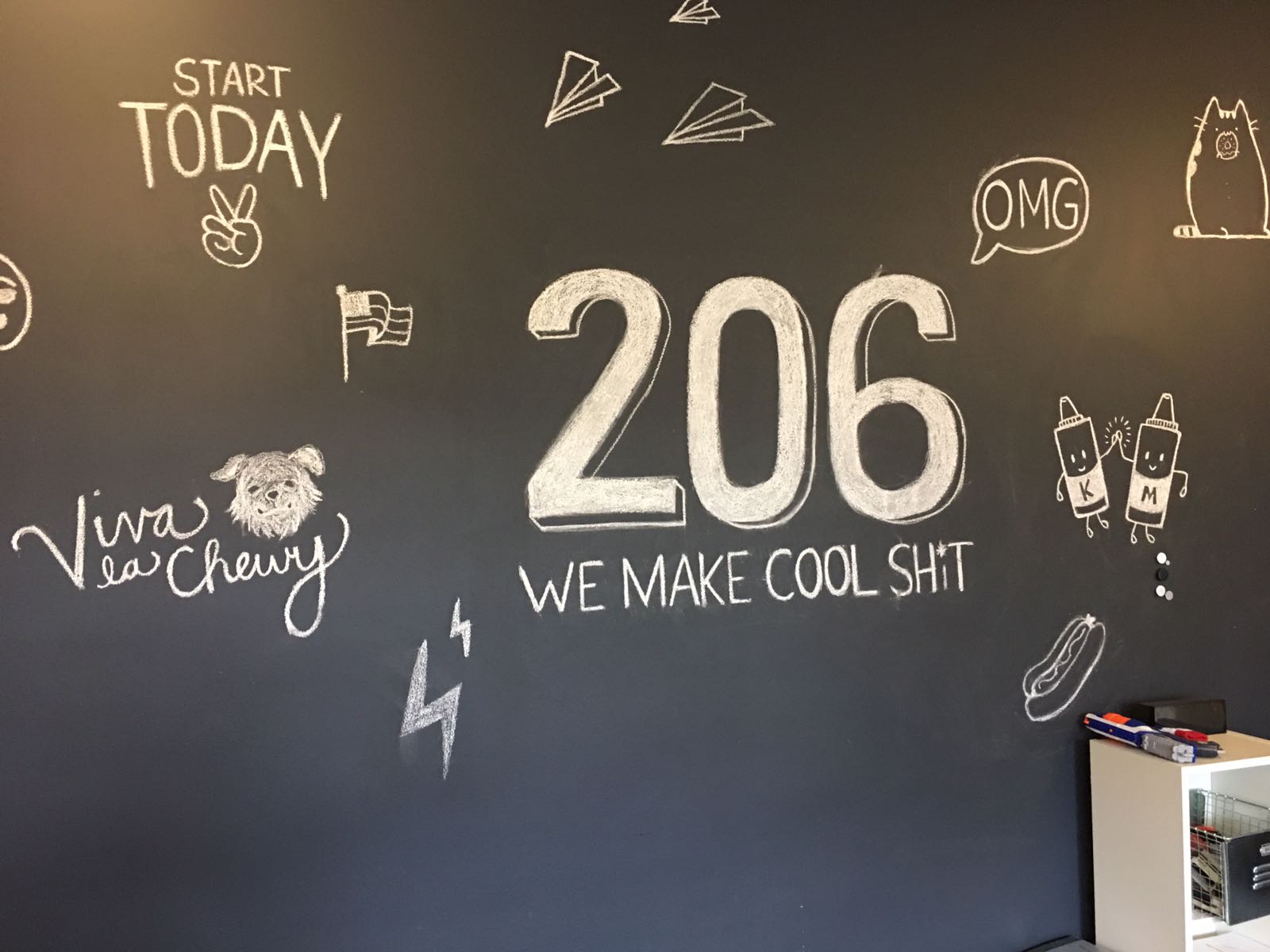 Highlight for many of us: the all-access peek into some of the unique work spaces at organizations like 206agency. Photo cred: Kenden Blake
What was the best piece of career-related advice you heard?
There was a generally trend of authenticity and differentiation that came through across the board in the brands we spoke with. Many of us translated that into a practical application for our own personal brands.
The one thing we heard over and over — Be Authentic. – Kenden Blake
People can see right through you if you are being phony or disingenuous. Being true to yourself and working hard will get you a long ways in this world. – Rob Wangler
Every meeting is an opportunity to practice strategic thinking; not interested in the brand sponsorship presentation? Listen and think about how you would use the information from a business development standpoint. Listening to a team present when you want to be on the sponsor side? How would you take their presentation and incorporate the key aspects into your pitch? Long story short, don't ever waste an hour, or two hours, with opportunities like this. Ask questions, be engaged. You'll never know what you may discover about yourself. – Justin Surber
For me it's something that Bart Wiley, COO of the Sounders outlined in the context of how teams should run their brands, but is so applicable to my personal brand. He called it the "Five Knows." Know WHAT you're getting into, Know HOW MUCH to do (be excellent at a few things, not mediocre at everything), Know WHY you do it, Know you can't predict the outcome (but don't be afraid to try, experiment, take risks), and Know that you're better for it all. – Laura Condella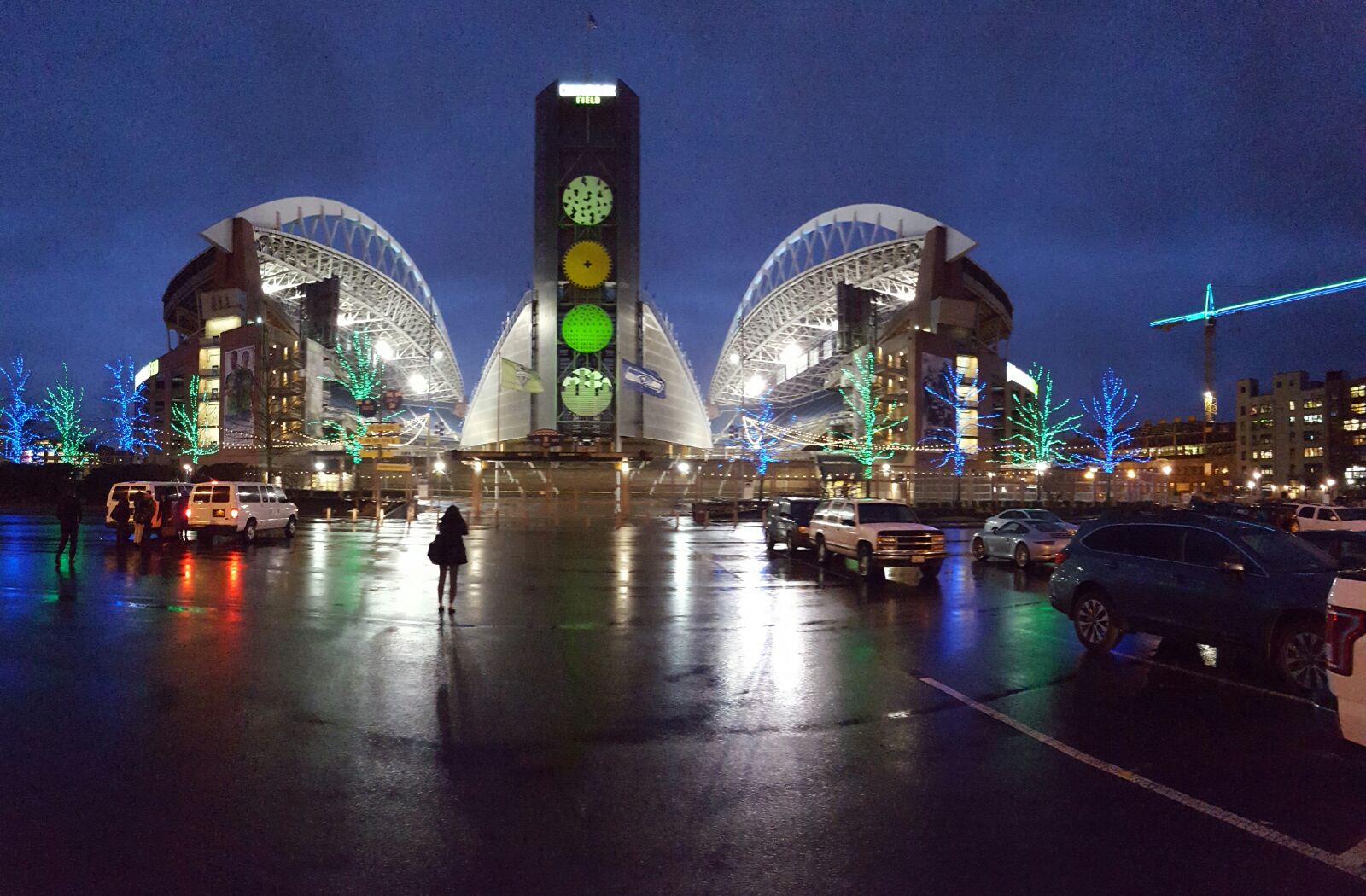 Despite the rain, Seattle is a pretty beautiful city. Phot cred: Aaron Gillette
Did anything surprise you or spark any new ideas?
I didn't expect to hear as much about esports as I did. It came up in several meetings including T-Mobile and Microsoft. This is an area of great expansion and opportunity and it was interesting to hear about because I have limited knowledge on it. I also didn't think that I would be as interested in Brooks running because my lack of interest in working in brand, but hearing about their green initiatives was pretty awesome. – Rob Wangler
I was really surprised by the level of integration and control that the Sounders give to their fan base. They take this idea of Democracy in Sport to a whole new level, and it's winning them intensely loyal fans in their city. – Laura Condella
As a former athlete, I am very lucky in that sport has provided me with so much in life. I have made lifelong friends, I have been challenged and pushed to levels that I did not think were possible, I have travelled all over the world, and the list could go on to infinity. I am at the Warsaw Sports Marketing Center to stay connected to this thing that has been so instrumental throughout my life. The potential to give back to the world through Sports as a platform is something that lights me up inside. This is not a new revelation by any means, but this passion was once again ignited by Maya Mendoza, General Counsel for the Sounders, when she shared with us the RAVE Foundation's vision of "Unifying Through Soccer" and their action plan to empower and inspire Seattle communities. – Brooke Halvorsen
Shout out to all of the organizations that graciously gave us their time and energy.
Seattle Seahawks, Brooks Running, Seattle Sounders FC, Oiselle, University of Washington Athletics, Seattle Mariners, 206agency, T-Mobile, Microsoft
---