Alex Smith is a walking miracle; Can he be more?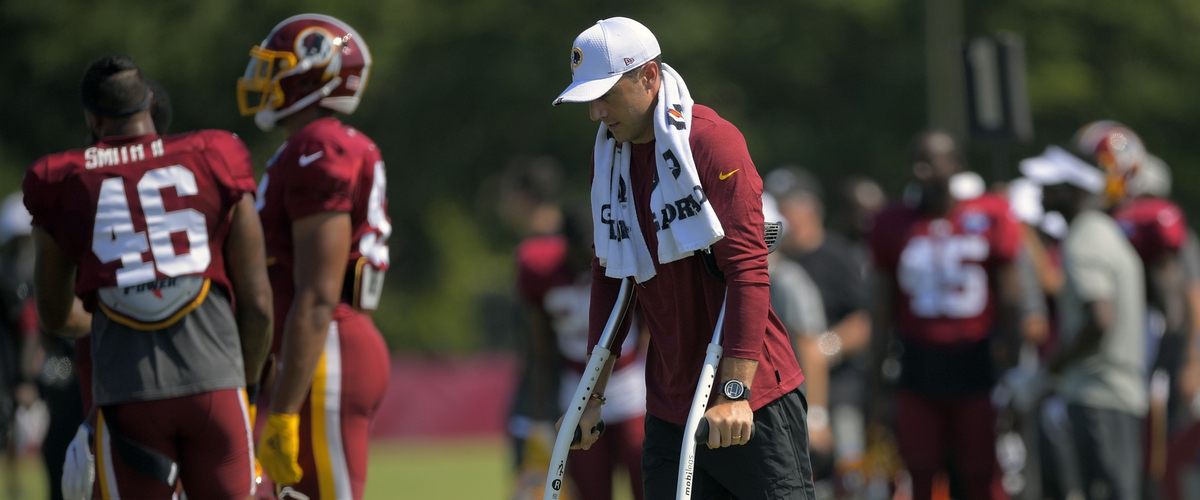 Alex Smith nearly lost his leg and his life following the disastrous injury in November of 2018. It has been one of the greatest comeback stories considering that Smith was told by many of the doctors and the medical experts that he wouldn't even be able to walk again much less throw a football in any form of a game. This week, Smith was cleared to work out in team practices and was removed from the physically unable to perform list (PUP), something that was unthinkable a year and a half ago. When thinking of the career of Alex Smith, one can't think about how like many players Smith had a bad string of luck and was put into many situations that were against his odds. If Alex Smith is able to play this season, what can it mean in the legacy of Alex Smith, can it mean more than just the great comeback story?
For starters, I personally think he should not play this season. I know that Smith was medically cleared to play and if he wants to resume playing the game he has devoted his life for then by all means he should. For someone who almost lost his life in one play, I would take all the precautions and avoid rushing him back on to the field. This would mean that unlike a typical quarterback competition where if one quarterback falters the next one is the starter or if the team is doing poorly they must switch to Alex Smith, Head Coach Ron Rivera has to avoid disaster and be sure that Smith isn't going to run into the same life-threatening situation. If Alex Smith can play and is ready in all ways, then he must be considered as part of a form of the quarterback competition.
Alex Smith can be an underestimated value for the Washington Football Team. Alex Smith as a starter can make the team a good team and even a division contender. One of the big issues Washington has dealt with over the recent years has been the quarterback play, Alex Smith is sure to keep the game well managed. Throughout his career, Alex Smith has been regarded as a "game manager", while not a compliment, that might be just what the Washington Football Team needs.
This is a team that will have a good and possibly great defense this year, with Chase Young having one of the highest ceilings of any defensive player drafted in years in addition to the rest of the defense gaining experience the defense can keep the Washington Football Team in games. All they would need is a quarterback that doesn't turn the ball over and can make a big play once in a while.
Moreover, it is easy to forget the last time Alex Smith had some quarterback competition. What felt like ages ago, in 2017 Alex Smith had a career year as the rookie gunslinger Patrick Mahomes breathed down his neck. Alex Smith as a starter would have another young quarterback (albeit he doesn't look as good as Patrick Mahomes) eager to take his job in second-year quarterback Dwyane Haskins. Alex Smith has multiple reasons to have his best season if he can indeed start, Smith lost his job more than once in his career and if he gets the starting job, it's likely he may not give it up.
Moreover, Washington has to be excited about having Smith on the bench, even if he can't start. Alex Smith can likely have a future as a quarterback coach or even a head coach with the experience he has accumulated. Smith has a good run with his backups that became successors for the teams he started. Colin Kaepernick took the 49ers to the Super Bowl after sitting his rookie season behind Alex Smith, Kaepernick went on the be one of the better starters in the NFL for the next few years (before he ultimately got released and refused to be signed by any team in the NFL). Patrick Mahomes sat his rookie season behind Smith, he has since blossomed into one of the best quarterbacks in the NFL and led the Chiefs to their first Super Bowl Championship in 50 years. This is not to say that Mahomes has the ability all along and didn't learn anything from Smith (Mahomes claims he learned a lot from Smith but we will never know at the end of the day) or would it be accurate to say that every backup of Alex Smith succeeded (think of Chase Daniel or Colt McCoy) but Ron Rivera has to be excited about what Dwayne Haskins can learn from one of the more knowledgeable passers in the game.
Alex Smith has dealt with a lot of bad luck in his career and doesn't have a stellar career in hindsight. Alex Smith was labeled a "draft bust" early in his career and will forever be known as the quarterback taken ahead of Aaron Rodgers (one of the best quarterbacks of this generation). Alex Smith finally found his quarterback whisperer in Jim Harbaugh who made him into one of the better quarterbacks in the league only to have the same head coach replace him for a younger, more promising quarterback in Colin Kaepernick. In case that wasn't enough, Alex Smith was then traded the same off-season he was replaced. Alex Smith once again found his rhythm in Kansas City under another offensive-minded head coach in Andy Reid only to be traded again when a young and promising quarterback was waiting in the wings. Washington DC is where the worst happened; while guiding the team to a promising season he had a nearly career-ending injury when his leg snapped and an infection ensued. Alex Smith is in the twilight of his career, a great season or even a great season at some point in the near future can be an incredible ending to an unfortunate and complex career.
---