"The Stack" 10-12-20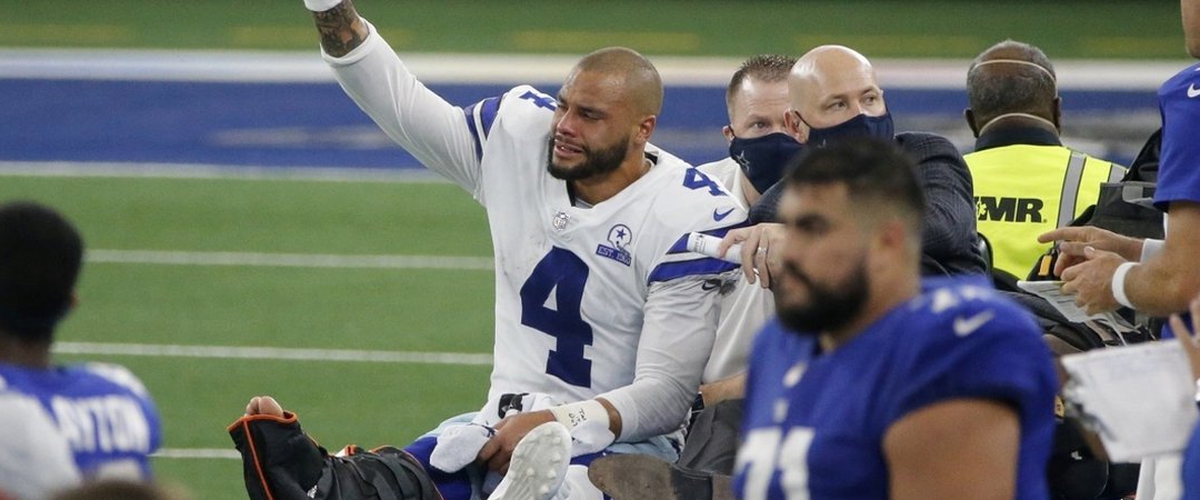 The Stack is back on this Monday and COVID continues to wreak havoc on the NFL. The Denver Broncos and New England Patriots, originally scheduled to play yesterday afternoon, had their game bumped to tonight and after a positive test within the organization Sunday morning, now the game is moved to next Sunday. And that's not the only game that has been forced to change. The NFL has made a number of changes to the schedule over the coming weeks affecting nine teams. We'll list those changes in a little bit and have more analysis and thoughts on the schedule changes on Tuesday. Now though let's get right to some recap & reaction in "the stack" for today, Monday, October 12th:
Rams 30 Washington 10
The weather in this game got worse as the remnants of Hurricane Delta made their way into the region. Jared Goff and the Rams were impressive. Aaron Donald was great on defense, but the real story in this game was the return of Alex Smith. Washington quarterback Kyle Allen had to leave the game with an injury and into the game came Alex Smith getting into game action for the first time since that gruesome knee injury he suffered against Houston in 2018. It's a phenomenal story. Smith should be the comeback player of the year and he definitely deserves everyone's respect for how he's handled himself through everything. What a tremendous thing we got to witness in this game.
Steelers 38 Eagles 29
I would like to give the Philadelphia Eagles some credit. Given all of the guys they had out on offense, I didn't think they would be able to do much of anything against the Pittsburgh Steelers defense, but Carson Wentz and company did very good. Miles Sanders had a big touchdown run and Travis Fulgham had another big game with over 100 yards and a touchdown, but the day and the game belonged to Pittsburgh rookie wide receiver Chase Claypool. The rookie from Notre Dame had himself a day with 110 yards receiving and three touchdown catches and added a touchdown run. What a day for him and he was a big reason why the Steelers won the Battle of Pennsylvania and keep the Steelers undefeated.
Cardinals 30 Jets 10
Joe Flacco got his chance again under center for the New York Jets. It didn't go very well. Kyler Murray and the Cardinals offense was just too good and the Jets simply don't have the weapons to be competitive. Who knows when they will pull the plug on head coach Adam Gase. A week after they were largely uncompetitive against the Carolina Panthers, the Cardinals had a much better game in this one to get back on the winning track.
Raiders 40 Chiefs 32
Definitely one of the more surprising if not the most surprising result of the day. Derek Carr outplayed hall-of-famer Patrick Mahomes. The Chiefs looked a little out of synch on offense and their defense, which had been very good through the first quarter of the season, could not stop the deep ball that the Raiders offense threw at them. This was quite impressive for the Raiders who said they needed to get back on the winning track. Mission accomplished. Nothing to be too concerned about with the Chiefs, but with the Bills coming up, they definitely need a better effort next week.
Texans 30 Jaguars 14
No Bill O'Brien? No problem for the Houston Texans who, with the guidance of Romeo Crennel, got their first win of the season. It helped that Jacksonville missed a couple of field goals, including one from 24 yards, that changed the way they had to call the game on offense. Brandin Cooks had himself a game for the Texans. Their problems aren't completely solved, but they got a win and that's all that matters right now.
Bengals 3 Ravens 27
Joe Burrow was bound to have a day like what he had on Sunday. The Ravens jumped on him early and kept up the pressure all game long. Burrow had under 200 yards passing and the Bengals were shut out until late in the fourth quarter. Tight end Mark Andrews had a successful day for Baltimore, constantly exploiting Cincinnati's defense. It wasn't a great day for the Ravens offense, but it was more than enough to get the win.
Panthers 23 Falcons 16
With all of the injuries the Atlanta Falcons had in the secondary and with Julio Jones not playing, you knew the Carolina Panthers had a pretty decent chance to win. Teddy Bridgewater had a great day throwing for over 300 yards and running back Mike Daniels also contributed with a good day catching and rushing as the Panthers won their third game in a row. The Falcons are still winless and as a result they fired head coach Dan Quinn and GM Thomas Demitroff. The writing was on the wall. It's going to be a tough time for the Falcons unless they get some guys back and healthy here soon.
Dolphins 43 49ers 17
What an absolutely shocking score. Jimmy Garoppolo came back from his injured ankle, but was not effective. He wasn't accurate and threw a couple of interceptions and got benched at the start of the second half for C.J. Beathard. It didn't matter. Fitzmagic was just too good and the Dolphins played easily their best game in the Brian Flores era. Things are looking up in South Beach. Not so much in the Bay Area.
Giants 34 Cowboys 37
The Giants jumped out to a 14-3 lead and you thought, "Oh boy. Same old story with the Cowboys." But the Cowboys came back and had a lead, but we're going to focus on Cowboys quarterback Dak Prescott. Prescott suffered a severe ankle injury in the third quarter. It was gruesome seeing it on TV and you could tell he knew immediately it was a bad injury. He got carted off and he had tears in his eyes. He reportedly had surgery on the ankle last night. We'll see how long the road to recovery is for him. He's a very likeable guy so everyone is rooting for him. Andy Dalton came in and the Giants eventually took a 34-31 lead, but Dalton led the Cowboys down and tied the game and eventually drove them down to win the game after a couple of really nice passes to Michael Gallup. They won it for Dak and they'll have to win a lot more games the rest of the season with Dalton under center.
Colts 23 Browns 32
Did you know that the Cleveland Browns are 4-1 for the first time since 1994 when some guy named Bill Belichick was their head coach and some other guy named Nick Saban was the defensive coordinator. Wonder whatever happened to those guys. Baker Mayfield and the Browns offense were great in the first half. Not so much the second half, but the defense helped out with a pick six and then forced a safety after Philip Rivers got called for intentional grounding. The Colts are a good team, but it may be time to start believing in this Cleveland Browns team.
Vikings 26 Seahawks 27
The first half of this game could not have gone any better for the Minnesota Vikings, dominating the time of possession and being up 13-0 at half. Turnovers in the third quarter though by Kirk Cousins and an injury to running back Dalvin Cook, Russell Wilson and the Seahawks woke up and were up 21-13. The Vikings battled back though and eventually had a 26-21 lead after two Adam Thielen touchdowns. They were in prime position to win the game after linebacker Eric Wilson intercepted Wilson and the Vikings just ran the ball down the Seahawks' throats. But on 4th and inches from the 6 yard-line and the Vikings needing only a half yard to ice the game, the Vikings went for it instead of kick the field goal to put them up by 8 points. They didn't get and Wilson did what Russell Wilson does and lead the Seahawks down the length of the field and throwing the game-winning touchdown with only seconds to spare. He converted on a 4th and 10 and 4th and goal. It's a heart-breaking loss for the Vikings who will have plenty of fans question Zimmer for going for it on fourth down. Tough call.
1-3Los Angeles Chargers @ 2-2 New Orleans Saints 8:15 PM ET ESPN MNF
Justin Herbert and the Chargers get a chance to take down Drew Brees and the Saints. Really it's Alvin Kamara and the Saints. Wide receiver Michael Thomas will not play in this game, but not because of his injured ankle. He is not going to play because he got in an altercation with a teammate. The Saints are still good enough to beat the Chargers even without Thomas. They'll show that on Monday night.
Prediction: Saints 30 Chargers 16
NFL Schedule changes
We'll have much more thoughts on this tomorrow, but after a positive test in New England on Sunday, the NFL opted to move the Broncos-Patriots game from Monday night to next Sunday. This meant that there had to be other games changed as well. Below is a list of all of the games that were changed yesterday:
· Denver @ New England (switched to week 6 at 1 PM ET CBS)
· Buffalo @ Tennessee (switched from yesterday to Tuesday 7 PM ET CBS)
· Kansas City @ Buffalo (switched from Thursday night to Monday at 5 PM ET on FOX)
- New York Jets @ L.A. Chargers moves from Week 6 to Week 11.
Jacksonville @ L.A. Chargers moves from Week 8 to Week 7.
L.A. Chargers @ Denver moves from Week 11 to Week 8.
L.A. Chargers @ Miami moves from Week 7 to Week 10.
Miami @ Denver moves from Week 6 to Week 11.
We'll look at what this does for each of the nine teams affected and what their old schedule was like before all of the changes and what it looks like now, but once again, COVID continues to make things difficult for the NFL.
Coming up Tuesday: MNF recap & reaction, college football weekend reaction, baseball playoffs & NFL schedule thoughts
---