Why it is (nearly) impossible for Patrick Mahomes to fail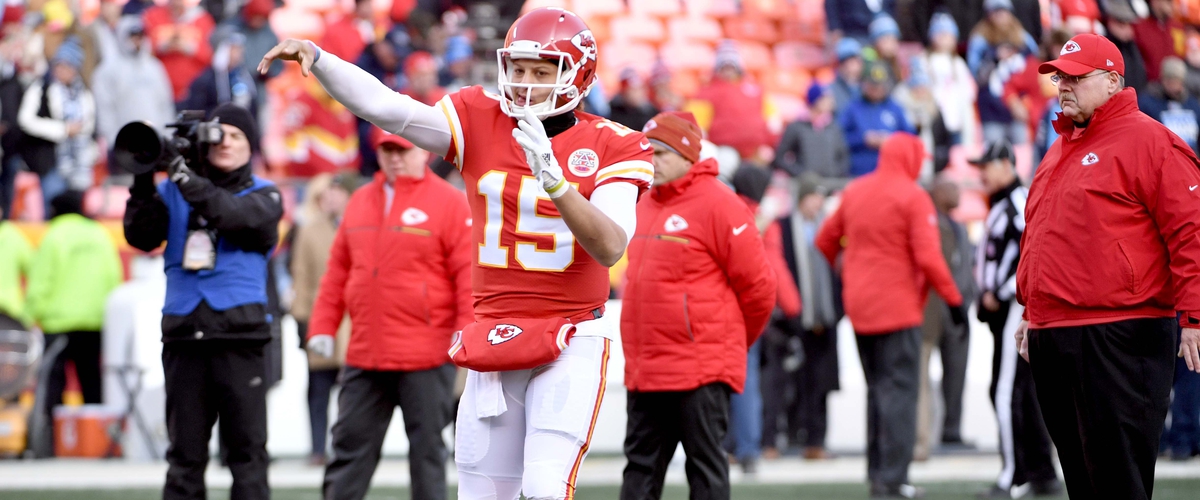 Patrick Mahomes is entering his first full season as starting quarterback of the Kansas City Chiefs. There are many reasons for optimism surrounding the young signal caller.
Ah, Patrick Mahomes. I have lived around Kansas City my entire life, and been entrenched in professional sports for as long as I can remember, I can safely say I have never seen the hype around a young player quite as strong as it is around Mahomes. From your Top-tier NFL reporters, to your simple bloggers such as myself, everyone is eagerly awaiting the display of Mahomes in action.
With all of this hype however, comes some uncertainty, a fear, if you will, that the Chiefs franchise quarterback may not live up to the pedestal Kansas-citians have already placed him on. This is a post intended to put you at ease, Chiefs Kingdom. This is why I believe Patrick Mahomes cannot fail.
The Alex Smith Standard
In my mind, the definition of failure for this incarnation of the Chiefs would be to take a step back from where they have been the past couple of seasons.
In five years as the Chiefs starting quarterback, Alex Smith won a ton of games, 50 to be exact, and put up some good numbers. On the surface, it would seem that Mahomes has some very big shoes to fill. While that is true to an extent, there are a couple of stats that should shed some light on what I expect out of Mahomes.
In four of Smith's five seasons in KC, the team endured a tough loosing stretch that featured some serious offensive ineptitude. Last season was particularly brutal, as Kansas City went 1-6 after starting the season 5-0. In four of those six losses, they failed to eclipse 19 points. The Chiefs were never blown out, Alex Smith had opportunities to win each game at the end. They mostly ended like this:
I mean, it can't be any worse, right?
Mahomes will take his lumps, as all young players do, but he will make up for it by lighting up the scoreboard. The Chiefs lost 19 games with Alex Smith in which they failed to score 20 points. That is not likely to happen with Patrick Mahomes.
A plethora of weapons
This subject has been well covered, so I won't get into it too deeply. I think it's safe to say that no young quarterback has ever stepped into a better position than Pat Mahomes. His offense includes the best tight-end in the NFL, the league's fastest duo at wide receiver, and last year's league leading rusher. Aside from the obvious weapons, guys like Spencer Ware and Chris Conley make some very nice complementary pieces for the young QB. I could be wrong, but I doubt this offense would loose to 6 Chris Boswell field goals...
Andy Reid
The old Andy Reid debate never truly dies does it? Despite 50+ wins since he arrived in Kansas City, many fans are still calling for Reid's head as the playoff losses pile up. Andy Reid is one of the greatest coaches in NFL history, but his name will always carry an asterisk until he hoists the Lombardi Trophy.
Long regarded as one of the greatest Quarterback coaches in the game, Reid is exactly the kind of guy you want grooming your young signal caller. Reid has consistently gotten the most out of each quarterback he's coached, and he has never coached anyone nearly as talented as Mahomes.
There is a good chance the offense Kansas City sports this fall will be unrecognizable in comparison to the offense Alex Smith ran. As Reid implements an array of plays more well suited the the strengths of Patrick Mahomes, the speed and efficiency of the offense will likely improve as well.
Andy Reid is a mastermind, to deny that is foolish. I have no doubt he has some surprises up his sleeve.
What we have considered here are just three reasons I believe Patrick Mahomes cannot "fail", that is, take a step back this year. Time would fail me if I were to go on about his unmatched arm talent, mental fortitude, and even the defensive additions the team this spring. All of this adds up to a successful and exciting inaugural season for our young quarterback.
Mahomes is not perfect, he will no doubt struggle from time to time. But he will wow us much more than he disappoints. Kansas City is excited, and with good reason, the Patrick Mahomes era has begun.
---