One player on every team that is likely to be traded this season (NFC Edition)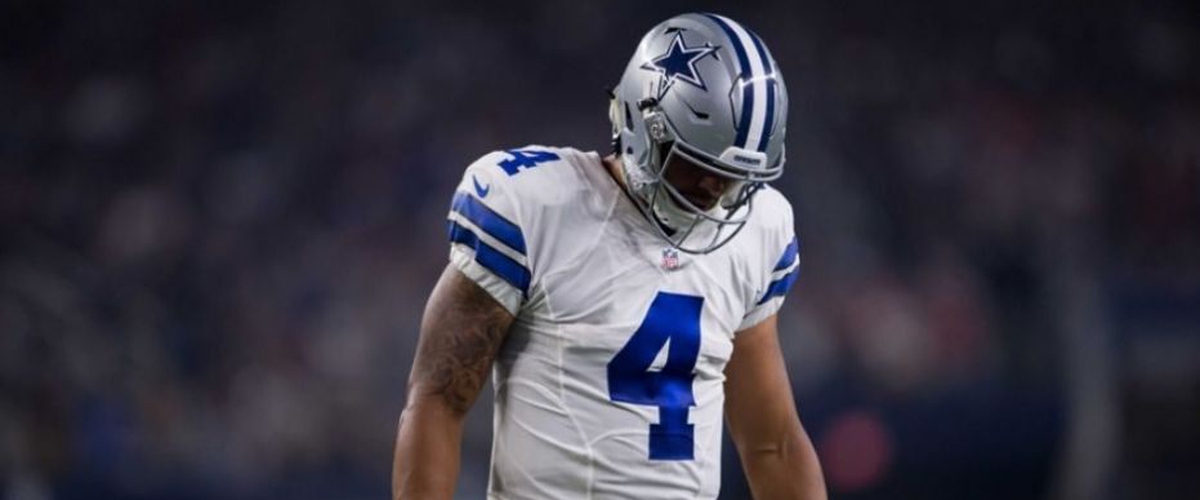 Note: Most of these players won't be traded at any point this season but it is important to keep these names in mind as the season develops. Many of these players become free agents at the end of this season or next season so even if they aren't traded, they will be available for the rest of the league unless they are extended. Bolded players are one to watch out for more so than the usual.

Dallas Cowboys
Dak Prescott: This is a reach and certainly not an ideal scenario for Dallas. Trading Dak Prescott is still possible if the two sides can't come to an agreement on a deal. While very unlikely, it can happen over this off-season but don't expect a trade if Prescott is at training camp or the pre-season programs (however they may be happening). A team that does trade for Dak will have to make the move sooner rather than later since he will have to learn and lead a new offensive system.
Honorable Mention: Xavier Woods is a pending free agent and with the Cowboys drafting a few players in the secondary, don't be surprised if they see Woods as expendable.
Philadelphia Eagles
Desean Jackson: Jackson is a Philly fan favorite and can still perform with his killer speed. At the same time, the Eagles did acquire Marquise Goodwin (another speed threat) this off-season and with the team drafting wide receiver Jalen Raegor, Desean Jackon can be on the trade block. Trading Jackson is more likely if the Eagles are doing poorly and aren't leading the division but the Eagles are expected to compete for the NFC East and possibly the Super Bowl.
Washington
Ryan Kerrigan: Washington has drafted defensive lineman in the first round each of the past four drafts. Some may see the team as adding depth to one of the most valuable positions in the league, others may see the team as just hoarding defensive linemen. Regardless, Kerrigan is one of the older D-Lineman and has a contract expiring soon. Kerrigan can be the veteran presence needed to help future stars like Chase Young and Montez Sweat but the pro-bowler possesses a lot of value on the trade block. Kerrigan can be an elite pass rusher for a competing team and likely only cost a second round pick in the process.
New York Giants
Nate Soldier: I was surprised the Giants didn't release Nate Solder earlier in the off-season. It's still possible they cut him before the season starts but with the Giants drafting offensive tackle Andrew Thomas, it's a head-scratcher that the Giants still have Soldier around. The Giants might be looking for a team willing to trade for Soldier but he won't get a great return with his age and contract. It's possible that the Giants keep Soldier around for the season to see what he has left, if he has another poor season, expect the team to move on.
Green Bay Packers
Jamaal Williams: We'll have to wait a year to see how the Aaron Rodgers-Jordan Love story unfolds. Until then, Jamaal Williams is the most expendable. Aaron Jones has emerged as one of the best running backs in the NFL and the team drafted AJ Dillion in the second round. Williams can become a starter somewhere in the league and can give the Packers a third or fourth round pick in return.
Detroit Lions
Taylor Decker: The Lions exercised Taylor Decker's fifth-year option but has yet to work on a long-term deal. With his rookie contract expiring at the end of the season, it's possible the Lions don't intend to re-sign him. Taylor Decker is interesting as a tackle, while Decker has never been to a pro-bowl, he is consistently a viable starting lineman that would be tough to replace. Decker can be a solid blindside blocker for many teams and like Laremy Tunsil last season, can be traded to a team with constant offensive line problems.
Minnesota Vikings
Kyle Rudolph: Unlike most players on this list, Rudolph is locked into a long-term contract with the Vikings. The Vikings did get out of a difficult cap situation this off-season by releasing Xavier Rhodes, trading Stephon Diggs and not resigning many of their free agents but might want to use the $9 million a year elsewhere. The emergence of Irv Smith also pushes the cause to Trade Kyle Rudolph as they are getting a younger and more valuable tight end and possibly a more productive one as well. Rudolph is the fourth highest paid tight end in the NFL but hasn't been playing like it, the Vikings might have to make a difficult decision with the veteran tight end, if they can't trade Kyle Rudolph they may end up releasing him.
Chicago Bears
Allen Robinson: Allen Robinson has been expensive, costing the Bears $14 million a year. When the Bears are competitive, the cost of Robinson is worth it but when the Bears are playing poorly then Robinson becomes a liability and a piece worth shopping. Many teams would be interested in a receiver like Allen Robinson, who has shown he can be a match-up problem for many defensive backs. I would expect the Bears to trade Robinson halfway through the year if the Bears aren't in the playoff mix. The Bears have had little draft capital over the past few years and might want to earn some picks in case they want to rebuild.
New Orleans Saints
Marcus Williams: The Saints had an incredible draft a few years ago which made them Super Bowl contenders. Unfortunately the Saints have to start paying some of those players thus having to let others go in free agency. Marcus Williams looks like the next in line, he's been the best safety on the team since joining New Orleans despite many remembering him for the missed tackle he had in the 2018 NFL divisional playoffs. Williams is a pending free agent at season's end and with the Saints already paying Michael Thomas and in line to make Alvin Kamara the highest paid running back in the league, they won't be able to afford Marcus Williams. The Saints might want to trade Marcus Williams before the season starts but Williams brings a lot to the defense and will likely force the Saints to keep him around for another Super Bowl run.
Tampa Bay Buccaneers
OJ Howard: With Rob Gronkowski joining Tom Brady in Tampa Bay, the Buccaneers have three tight ends on the roster. Between Cameron Brate and OJ Howard, the Bucs will have to trade one of them for roster space and future cap space. OJ Howard can bring in a greater return since he is younger and a better target than Brate. Between Howard and Brate, Howard is a free agent in 2022 while Brate is locked into a deal that keeps him under contract until 2024, meaning it might be worth it for Tampa to trade Howard instead of letting him walk away in two years.
Atlanta Falcons
Takkarist McKinley: The Falcons look like they have finally thrown the white flag on competing and have started to rebuild. McKinley is a valuable player to trade away whose contract is up at the end of the season. McKinley hasn't lived up to the expectations since entering the league but a new setting and a new system can be just what Takk needs.
Honorable Mention: I think the Falcons can trade Julio Jones and get enough draft capital to rebuild immediately but the Fan Base would be outraged seeing Julio in another uniform and want to see him retire as a Falcon.
Carolina Panthers
DJ Moore: The Panthers overhauled almost the entire roster this off-season as a new coaching staff is in place. DJ Moore has been the number one receiver in Carolina in his two seasons and will probably be one of Teddy Bridgewater's top target's this season. That being said, if the Panthers are in the midst of a disappointing season, DJ Moore can be traded to a team competing for a Super Bowl in exchange for a first or second round pick. If the rebuild is going to continue in Carolina, the Panthers should consider trading Moore as part of that rebuild.
San Francisco 49ers
Jerrick McKinnon: It's easy to forget that the 49ers signed McKinnon two years ago for 7 million a year. McKinnon hasn't played a down in San Francisco as he has been injured each of the past two seasons. The 49ers have one of the deepest running back units and have shown from this past season that they don't need Jerrick McKinnon to reach the Super Bowl. McKinnon might still be able to be a starter somewhere and can provide the 49ers with much needed draft capital (something they were lacking this past draft).
Seattle Seahawks
Jacob Hollister: Like the 49ers, the Seahawks don't have many needs and have some positions that possess expendable players. The Seahawks signed Greg Olsen in the off-season and drafted Colby Parkinson so it's clear they have an overabundance of tight ends. Hollister is a pending free agent that is clearly expendable and to create space on the roster, Seattle might want to trade him to a tight end needing roster.
Honorable Mention: Will Dissly can also be traded for the same reason as Jacob Hollister except Dissly has another year on his contract.
Arizona Cardinals
Patrick Peterson: Patrick Peterson has been in trade rumors for years and like AJ Green, the more the Cardinals defer to trade Peterson, the less his value becomes and this is the final year on his contract. Peterson can still be an elite shutdown corner and if the Cardinals underachieve this season, Patrick Peterson can solidify a secondary for a team looking to compete for the Super Bowl. Patrick Peterson may not bring a first round pick in return but he can still help a Cardinals team that while trying to be competitive, is also trying to build a promising future around Sophomore quarterback Kyler Murray.
Honorable Mention: Budda Baker has been one of the best special teams players in the NFL, something that is underappreciated in the NFL (by the fans at least). Like Peterson, Budda Baker is set to become a free agent at the end of the season.
Los Angeles Rams
Robert Woods: The Rams have started to dismantle the corp that brought them to Super Bowl 53. Part of that corp was wide receiver Robert Woods. Costing the Rams $6.8 million a year when they aren't going to be competing for the Super Bowl gives the Rams all the more reason to trade Woods. Robert Woods has shown that he can be one of the best slot receivers in the NFL and could be the extra weapon that a competing team is looking for to put them over the top.
Honorable Mention: Cooper Kupp also falls into this category as did Brandin Cooks. Expect the Rams to dismantle their receiving corp as well as the rest of the roster.
---