Ducks Ink Lindholm for Pennies on the Dollar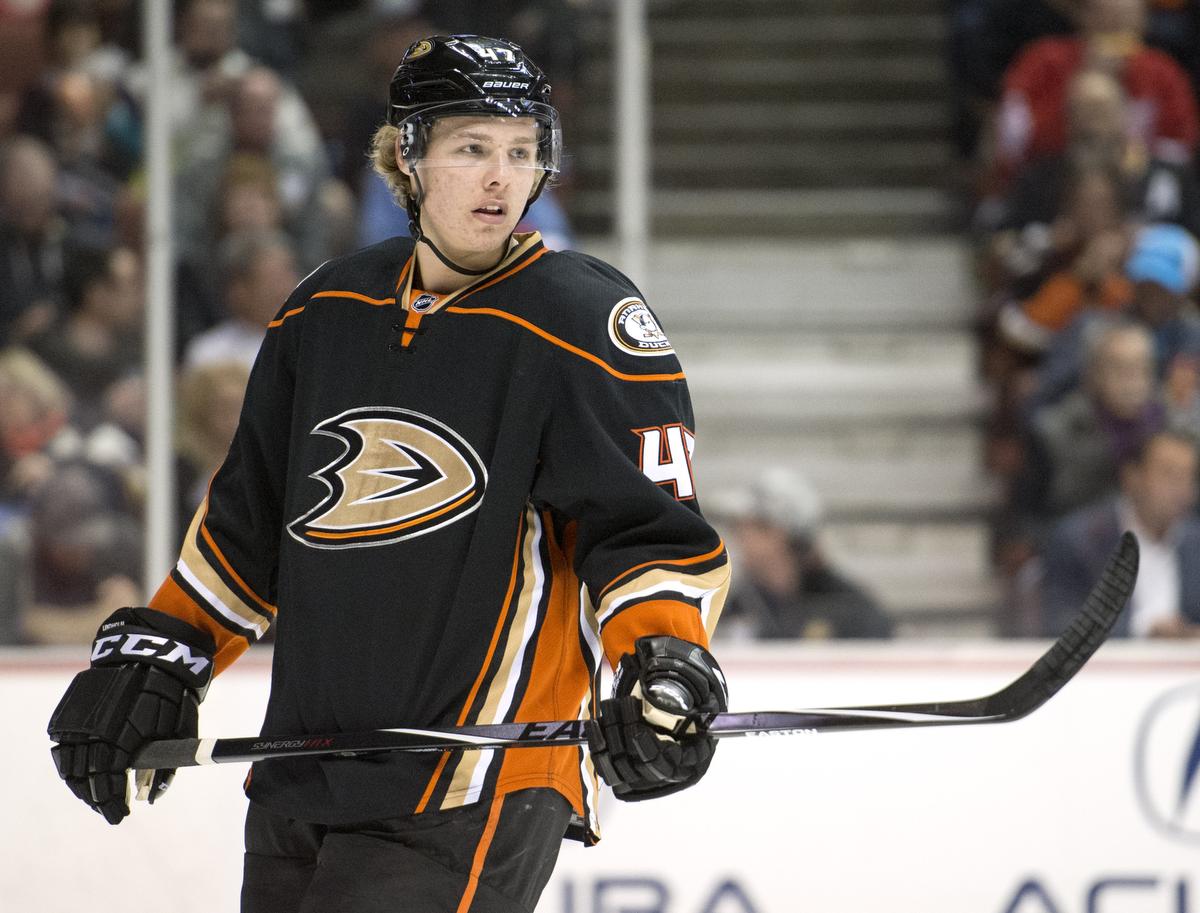 The Ducks have stumbled out of the gate this season. They currently sit 5th in the Pacific division at 3-3-2, and it can be attributes to a few things. They no doubt have a talented roster, and a hybrid composition of grit, skill, youth and veteran impact players that make them a very dangerous team to play against, and one who will almost certainly heat up as the season progresses. They currently sit 13th in the league in CorsiFor% (according to Corsica hockey) at 51.22%. The Ducks control roughly half of the shot attempts at even strength, and this number slips further to a very pedestrian 50.69% of shot attempts in all situations play- hardly ideal for such a talented squad. While no single cause should be to blame for the Ducks average possesion play to date, they've been missing a key piece of their puck possession puzzle- rising star Hampus Lindholm.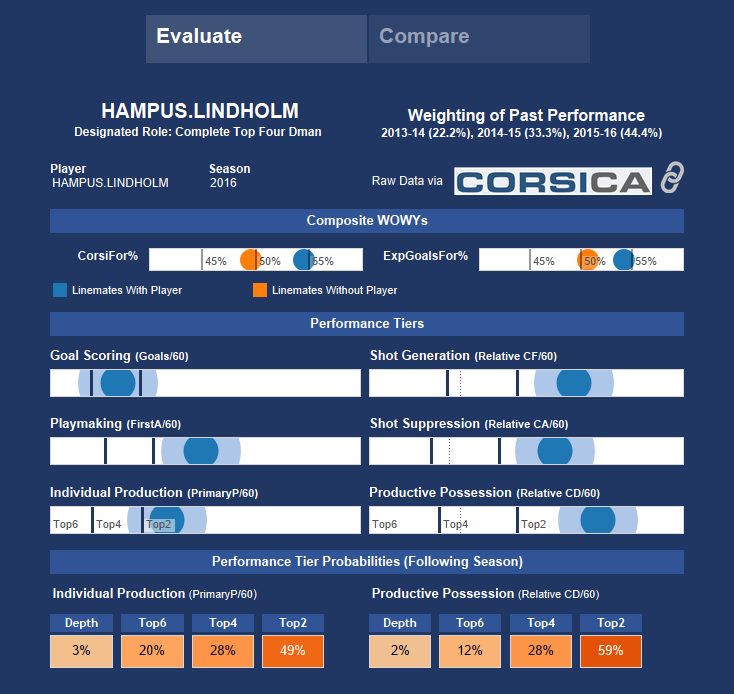 HERO chart from Own the Puck
If you've read any of my articles from this past Summer, you already know how high I am on Hampus Lindholm. He is without a doubt the Ducks best defenseman and at 22 years of age, he's probably still several seasons away from reaching his full potential. The former 6th overall pick has lived up to his draft status as well as anyone in the league and his return to Anahiem's blueline can only mean good things for the Beach-dwellers.  Two things should jump out right away looking at his HERO chart. First and foremost, Anahiem's CorsiFor% leaped from an even 50 (right where it is this year all-situations) to nearly 55%. Lindholm has an unreal ability to move the puck up the ice, and smother his opponents in his own zone. Considering he routinely faces his opponent's top players night after night, that is truly a tremendous statistic for the young Swede.  The second statistic here worth mentioning is the Ducks expected GoalsFor% which jumps about 3% with Lindholm on the ice. Not only does he excel in a shutdown role, he's capable of finding the back of the net too. I wrote this summer that I would basically provide a blank check to the man in exchange for a max contract of 8 seasons. While that didn't come into fruition, Lindholm's temporary contract holdout was rewarded with a six year, 31.5$ million dollar extension. That's a pretty number, for sure- but it is far below market value and Ducks GM Bob Murray deserves praise for getting it done.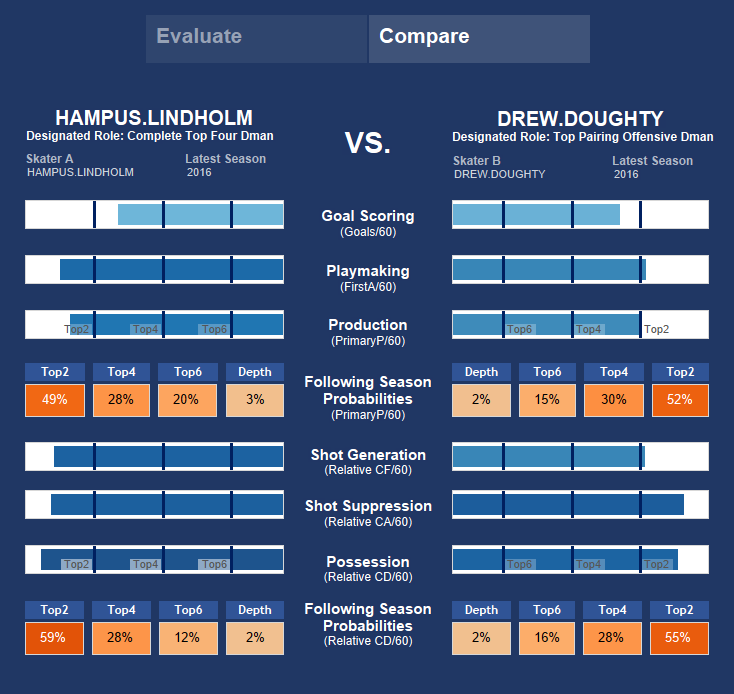 Last year's Norris trophy winner was questionable to me, but for arguments sake let's compare the two. Notice anything? Is it that Hampus Lindholm is better? You'd be correct. So is Erik Karlsson, Kris Letang, and Brent Burns..but that's besides the point. Fact of the matter is Lindholm was, for all intents and purposes, one of the leagues best defenseman last year. He's only 22 (!!!!!) and the sky is the limit for this kid. It wouldn't surprise me one bit to see him take home the Norris hardware someday soon. 


He is currently attempting to clear up some VISA issues and has been training solitary to stay in game shape. The Ducks should get their top defender back this week at some point and he will immediately help alleviate some of pressure on the back end. The Ducks may have hired one of the worst coaches in hockey (again) and might not always make the best personnel decisions, but they locked up a top defenseman in the NHL for a shade over what Rasmus Ristolainen makes.
Hampus Lindholm-ANA stalemate continues. ANA wants 6-yr deal at less than Ristolainen's AAV of $5.4M. Lindholm seeking a shade more.

— Bob McKenzie (@TSNBobMcKenzie) October 18, 2016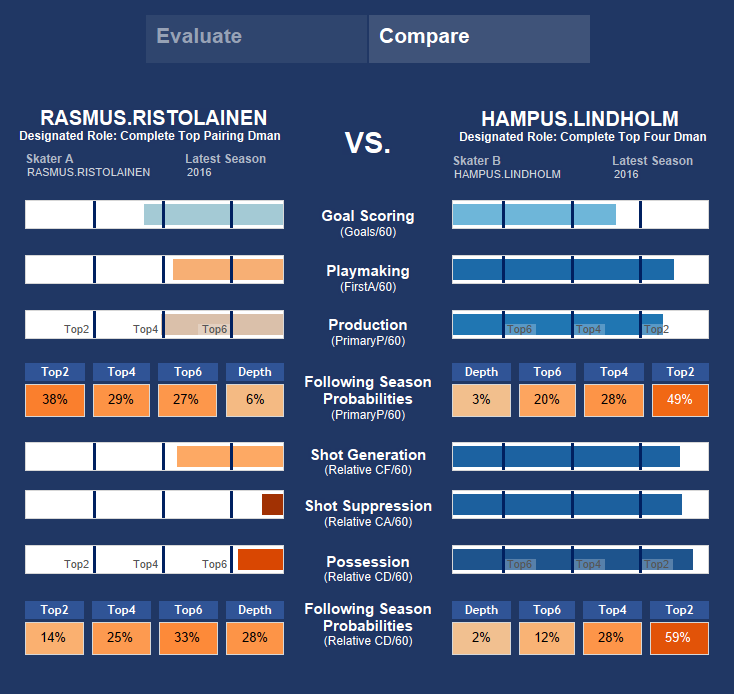 That's about how fair that contract is. I'll sum this up really easy. 

If Hampus Lindholm needs a new agent (he really does), I'm available.

— Dimitri Filipovic (@DimFilipovic) October 27, 2016




Thanks for reading!
---