Toronto Maple Leafs have golden opportunity this week in California
Remember that time the Toronto Maple Leafs lost to a Zamboni driver?
In a roller coaster of a season in which they fired their famous coach and seemingly have yet to dress their full lineup due to injuries, the Feb. 22 loss to David Ayers and the Carolina Hurricanes certainly looked like rock bottom for the Maple Leafs.
And yet, in uncharacteristically mature fashion, the embarrassing defeat seems to have galvanized the Boys in Blue, who responded by winning three straight games, including a big win over the red-hot Tampa Bay Lightning and a critical victory over the Florida Panthers, with whom the Leafs are currently battling for third in
the Atlantic division and a playoff spot.
The three-game win streak has opened up a five-point gap between Toronto and the Panthers in the Atlantic, granting the Leafs control over their own destiny.
Just in time for a trip to California.
The Maple Leafs will spend the next week on the west coast with six points in the sights, six points that could make-or-break their playoff bid.
I'd be safe and warm if I was in L.A.
While three road games against three lowly teams in the opposing conference would not normally seem critical to an Eastern Conference playoff race, in such a tight playoff race every point matters no matter who the opponent.
And games against basement dwellers are points that a team like the Leafs cannot afford to give away.
The Los Angeles Kings, Anaheim Ducks, and San Jose Sharks are currently the bottom three teams in the Western Conference. While not mathematically eliminated, the playoffs look like a long shot for all three. The Ducks and Sharks both sit 12 points back of Nashville for the second wild card spot. The Kings trail by 16.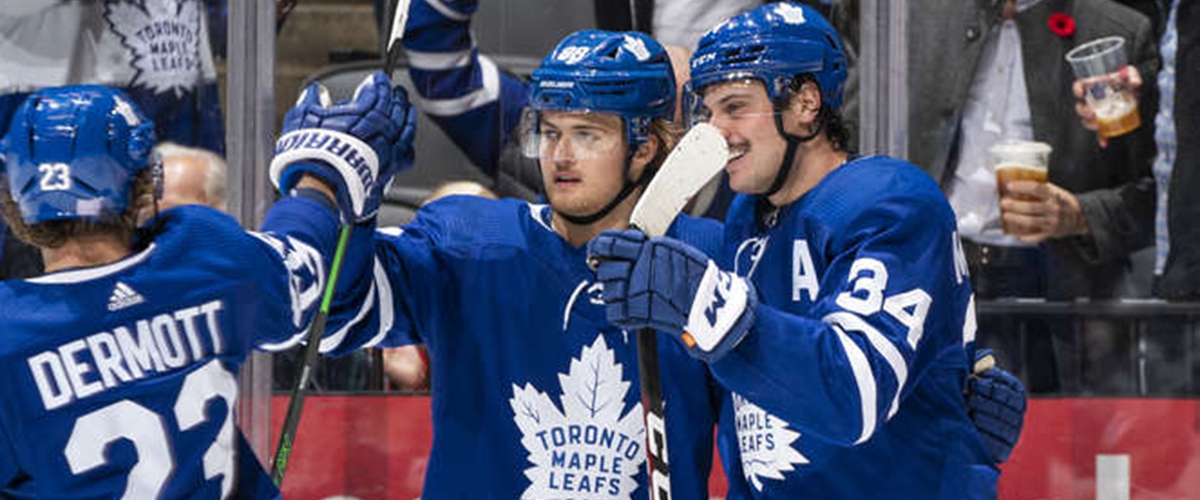 William Nylander (centre) and Auston Matthews (right) celebrate a goal against the Kings in Toronto on Nov. 5, 2019 (Kevin Sousa/NHLI via Getty Images)
Moreover, all three teams have already paid a visit to Scotiabank Arena this season. All three were defeated. San Jose was crunched 4-1 back in October. The Kings fell 3-1 in November.
The Ducks did grab a point, falling 5-4 in overtime last month in Jack Campbell's debut in blue between the pipes.
Three opponents well out of the playoff race that the Leafs have already beaten this season? Opportunities this late in the season don't come much better.
That being said, it's a bit deceptive.
First of all, San Jose will come into Tuesday night's game having won their last two. The Kings are even hotter, having won three straight and will be rested as they don't play until hosting the Leafs on Thursday.
The Ducks host the last of the three games on Friday night, when the Leafs will be on the second half of a back-to-back and will be tired.
At least in net, that's less of a problem than it was earlier in the season. Jack Campbell has been rock solid since being acquired in early February. The only question is which game will he play: round two vs. the Ducks (who he's already beaten as a Leaf), or revenge against his former team the Kings?
California Dreamin' on such a winter's day
Road trips to the opposite coast are never easy and having to do it in March, late in the season in the middle of a playoff race, is not ideal.
However, the Leafs have plenty of reasons to feel confident as they head out west.
California trips have not always been kind to the Leafs, but in the Matthews-Marner-Nylander era, they've actually been decent. Over the last three years, Toronto has a 4-4-1 record in California.
But that number is deceptive. Last season, the Leafs swept their California road trip, with regulation wins over the Kings and Sharks and an OT win over the Ducks, outscoring their opponents 17-5.
All three California teams do have winning records at home this season, but barely. In fact, including overtime losses, the Sharks and Kings have lost as many on home ice as they've won. The Ducks have lost four more.
There was a time when a three-game stand against the California teams was a gauntlet where just getting one point was an accomplishment. But all three of these teams are getting old and are past their days as contenders.
The Leafs have momentum, they're playing against teams they've already beaten this season and these are not good teams. There is no reason why the Buds shouldn't expect to take six points away from this road trip. An opportunity like this doesn't come around very often.
He knows I'm gonna stay
A big reason why grabbing maximum points over these weak teams is crucial for the Leafs is that their current five-point lead over the Panthers is by no means safe.
The Leafs could get cold again. They've had a number of three-game winning streaks all year only to go on a losing skid. The Panthers may be struggling now, but there's still time to turn things around. Both teams have 16 games remaining, so 32 points available. A five-point lead is nothing so the Leafs need to grab every free point that they can to keep the Panthers at arm's reach.
As well, Florida will get a game in hand back (again) this week as they don't play until Thursday. So for example, a loss to the Sharks on Tuesday would essentially mean the Leafs lead is down to three points since the Panthers will have the extra game.
A California sweep could give the Leafs a cushion of as much as 11 points, should Florida lose to both Boston and Montreal this week. That's right, the Bruins and Canadiens of all teams could help the Leafs take a stranglehold on a playoff spot this week.
11 points with only 14 games remaining for the Panthers would be an extremely difficult task. Even seven, should the Leafs sweep California and Florida sweep Boston and Montreal, starts to look tough.
Another fortunate outcome of the Leafs hot run is that they are now in contention for a wild card spot should Florida bump them out. Previously, when Florida moved ahead, Toronto fell right out of a playoff spot. But today they would be ahead of the Columbus Blue Jackets who currently hold down the second wild card spot.
That safety net would be huge to have. So taking full advantage of this swing against three weak opponents is even more critical for the Leafs.
This late in the season, opportunities cannot be missed. It's rare to get a road trip against three opponents at the bottom of their conference. Especially considering their momentum, the Maple Leafs could not have asked for a much better break.
Then again, it is the Leafs. If there's a team that would go 0-3 on this road trip, it's them.
Follow on Twitter @PeteB_93
---