Scotiabank Rookie Tournament: London, ON (TOR, OTT, MTL, PITT)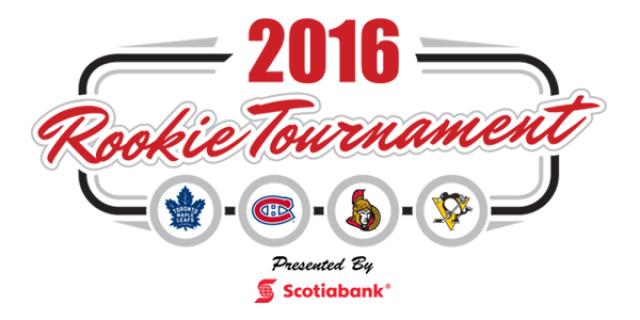 I had the great pleasure of attending the 2016-17 Scotiabank rookie tournament in London, Ontario a couple weeks back which featured the future Toronto Maple Leafs, The Montreal Canadiens, the Ottawa Senators and the Pittsburgh Penguins. I'm not a scout and don't claim to be, but here's some notables on what I thought of the action: 


Toronto Maple Leafs: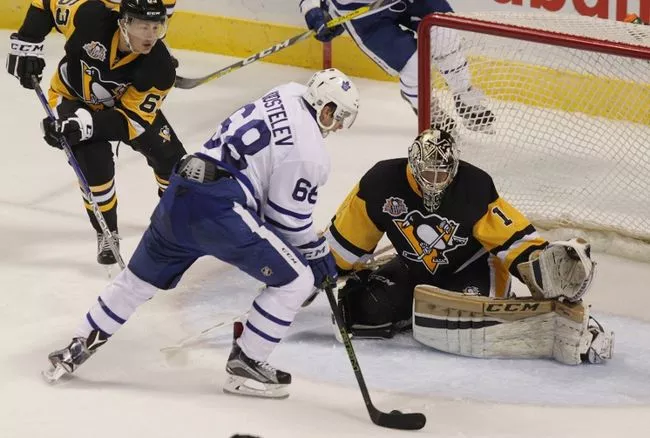 One of the most hyped teams young squads entering the competition (because obviously), the Leafs did not disappoint. They won all three games they played, and in two of the three they really looked to be a whole world better than their competition. A few things stood out. First? Mitch Marner. 


The kid is an absolute stud and was by far the best player in the tournament. He's as fast as they come and can handle the puck at full stride with ease, and has great vision. At one point, Marner cut from his off-wing side into the high slot, picked up his trailer behind him and made a nifty, no look pass to a wide open teammate. The Canadiens defense unravelled in it's entirety, and if not for a huge save by Zach Fucale, the baby Buds would've had themselves one for the highlight reel. I had the pleasure of briefly meeting this year's squad, and Marner definitely seemed to be everything the Leafs want him to be- polite, a leader amongst his teammates, and is exceptional on the ice. Leafs fans, get excited for this guy. 

He wasn't he only standout on the team though. I thought Kasimir Kaskisuo was excellent, and Antoine Bibeau was far from a liability. Dmytro Timashov played well in the attacking zone, but appeared to find himself kind of lost in defensive zone coverage. A handful of Toronto's future bottom-six type players made up for those lapses though, by the likes of Tobias Lindberg and Zach Hyman. Fredi Gauthier also stood out; the forward acted like something of a veteran amongst his teammates, never shying away from contact and getting his huge frame to the front of the net. 

I was however, kind of disappointed in the Leaf blueline. Travis Dermott made a few silly plays with the puck down below his own goal-line that had me second guessing the pedigree. He did, however always manage to scramble back into position well enough to prevent any real damage. He was great at moving the puck though, and that he deserves full points for. Rinat Galiev was another player who I was mildly let down by for similar reasons. That being said, I really liked 2016 4th round pick Keaton Middleton- he's a mountain of a man and plays a physical game. I could see him in the NHL someday as a 6th defenseman. 


PS: Bonus points for Antoine Bibeau punching Will Bitten in the face during a netfront battle: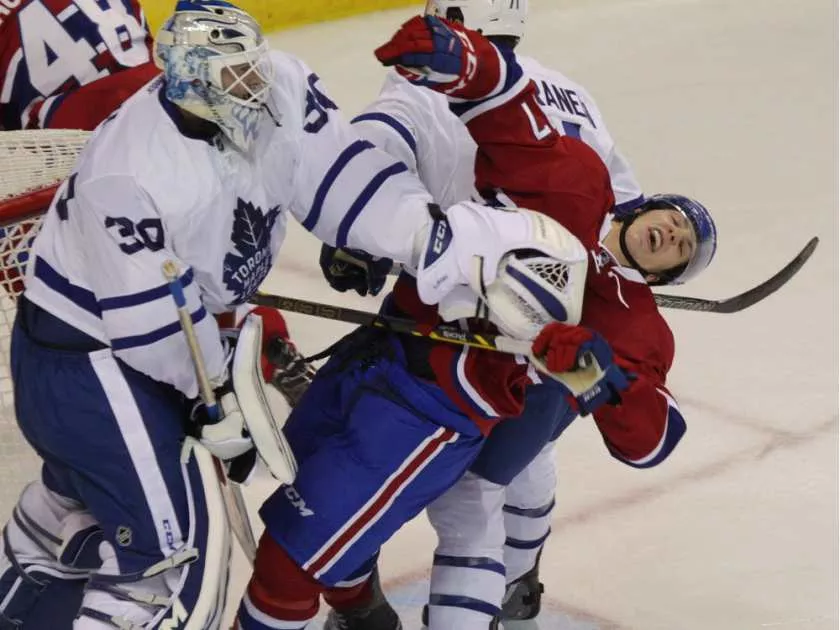 Overall grade: A


Montreal Canadiens: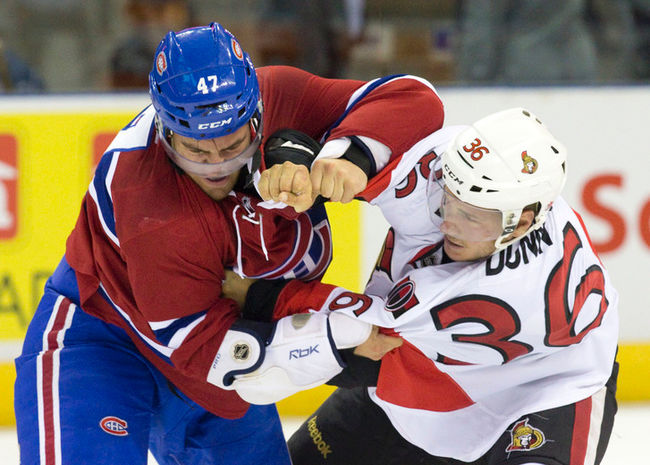 Montreal impressed me more than anyone in the tournament with their physical play. Most of the Habs top prospects in the tournament were 6'0 plus, and all of them had a meanstreak about them. The first game of the tournament was Montreal vs. Pittsburgh, and it was a bloodbath of a game. Montreal walloped a far inferior Penguins squad, and on more than one occassion to the two teams exacted a pound of flesh on one another.

Nikita Sherbak was awesome, and managed to score a gorgeous goal early to cripple the Penguins.
Nice moves, kid. 

Michael McCarron wore the "C" for the squad and deserved it. He played well in all three zones, and it was easy to see why he's already seen time in the NHL. He's a virtual lock to be a successful top-nine forward in the National Hockey League. One player I really liked was gritty forward Jeremiah Addison. Selected in the 7th round, 207th overall- Addison was seemingly all over the ice, playing a tenacious two-way game. I could see him seeing at least some NHL action in his career if due to nothing but his work ethic. Arturri Lehkonen was a bright spot for the Bleu, Blanc et Rouge too- wearing an "A" in some of his first North American hockey. He was much more talented offensively than I expected, and clearly he's respected as a leader as well. He is a talent worth keeping an eye on. 

The best part of the Canadiens though came from inside their own blueline. The top pairing for the Canadiens was exceptional, and featured Noah Juulsen and highly touted rookie Mikhail Sergachev. Juulsen impressed right away with several huge hits, something I didn't expect from him. He's not the biggest guy on the ice, and that type of physical domination forced opposing forwards to think twice before crossing the blueline. Sergachev is every bit as good as advertised. He features elite passing for a defenseman and found his man with seemingly every look. His skating was beyond his years and he doesn't shy away from physical play. Take a look at the following; an old-school hipcheck from the abyss. 
Some scouts believe he could be NHL ready as early as this year, and it's easy to see why. Sergachev will overtake Nathan Beaulieu in Montreal, and help ease the passing of the now-traded P.K Subban. Unfortunately, Sergachev was injured on a brutal retaliatory hit by  Senators forward Vince Dunn and was forced out of the tournament on just the second day of action. Very short video here, but keep an eye on the bottom left of your screen.
The puck is nowhere near Sergachev and that is a dirty hit if ever I've seen one. It's a shame to see such a highly-touted player go down that way. 

The Habs goaltending was head-and-shoulders the best in the tournament, and the prospect pedigree of Zach Fucale and Charlie Lindgren is well deserved and yet under-appreciated at the same time. The future appears to be bright in Montreal. 

Overall Grade: A-



Ottawa Senators: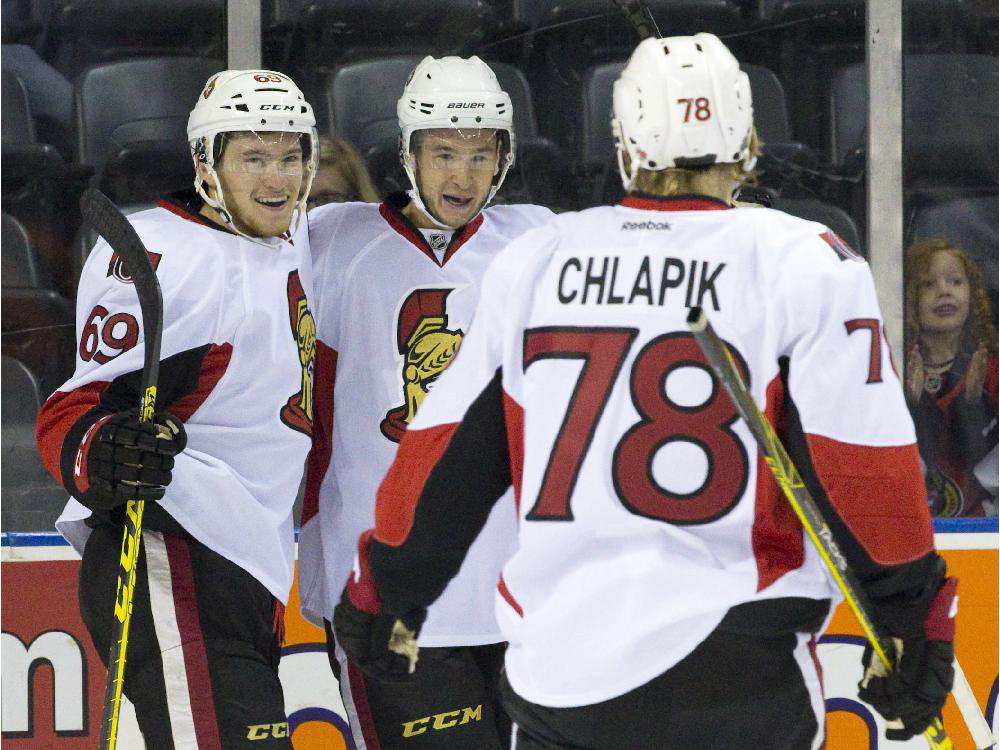 The Senators have had a difficult time drafting capable NHLer's to deploy around arguably the league's top defenseman in Erik Karlsson and the London rookie tournament didn't show much worth anticipating. The Senators top pick in this years draft, 6'6 center Logan Brown is a mountain of a man and certainly impressed. He is capable in the faceoff dot uses his huge frame to out-muscle his competition and drive to the net. He has particularly soft hands for a kid his size and his excellent passing was noticeably improved on the powerplay. Brown is an exciting prospect, and the Joe Thornton comparisons make him even more so. If there's one knock on Brown, it's that he sometimes tries to pass too much. I can recall one odd-man rush, with 3 senators bearing down on Charlie Lindgren and just one man back for the Habs, Brown was perhaps 6-8 feet from the net with enough angle to pick a corner, but attempted to pass instead. The lone Hab defender was able to break up the play, and thus ruining a golden opportunity. All in all though, there's much to like about Logan Brown. 

Francis Perron played tremendous offensive hockey, finding the back of the net several times and looking like one of the better players on the ice. His scouting reports reflect relatively limited professional potential, but he played very well and is deserving of commendation for it. 

One player I had my eye on virtually the entire tournament was former 1st round pick Thomas Chabot. He was openly called out by Senators management for lack of effort at previous camps with the Senators, and vowed to move forward with his best foot this year. I thought Chabot did a great job on the Senators top pair, particularly defensively. He seemed to hang back an extra step at times, while still managing to jump up into the play when the situation called for it. His puck-moving skills were displayed when he quarterbacked the Sens man-advantage from the top of the umbrella, where he scored on a cannon of a slapshot on the final day of play. Chabot looks like he needs more seasoning, but there's definitely a top-four defenseman in there, and he looks determined to show us just what kind of player he can be. 

Matt O'Connor and Chris Driedger did a great job between the pipes for Ottawa and it's plain to see that both guys have professional experience. They appeared calm and cool between the pipes, and remained square to as many shots as possible. They shut out the Penguins on day two, despite losing O'Connor to injury. They were among the best in the tournament, and should see some NHL action in the near future. 

The biggest drawback the Senators was former 5th round pick Vince Dunn. He was the only true "enforcer" brought to the tournament by any of the teams and seemed to lack hockey ability in almost every sense. He seemingly started every shift with someone's number in mind and tried to run that guy into the parking lot. He likely doesn't belong in the AHL, nevermind in Ottawa. 

Overall Grade: C+

Pittsburgh Penguins:


If the Senators don't exactly have a cupboard full of talent, the Penguins have....well.....this. 



Pittsburgh lost top prospect Daniel Sprong to a shoulder injury he sustained while on the Stanley cup champ's "taxi squad" , thus losing him for the tournament. Beyond him, Pittsburgh is thin in true, highly talented players. The team was supposed to be headlined by Penguins forward Oskar Sundqvist, but they scratched him from the tournament late (which tells you what Pens management thought of the tournament as a whole). As a result, the Black and Gold sent players like Ryan Segalla (above). Segalla is an unsigned 4th round pick out of UConn, and will likely remain that way. He has shown almost no development, and displayed mixed levels of play at the tournament. He is known for his meanstreak, and so were most of his teammates. Pittsburgh lead the tournament in both fights and penalty minutes by a wide margin, and that lack of discipline will keep most of these guys from ever reaching the NHL. 

The Pens have a "the good, the bad, and the ugly" review from me because they deserve one. The good news is? Jake Guentzel. Guentzel is a former 3rd round choice of the Pens and signed his ELC last spring. He exploded in his first taste of AHL action, posting 14 points in 10 games and leading the Wilkes Barre/Scranton Penguins in post-season scoring. Not bad for ten games in the pros, eh? He is undersized, but very fast and incredibly smart. He finds his way to soft spots in the defense and seemingly always reads the play before it happens. Some scouts believe that Guentzel has the tools to become a top-six forward in the NHL, if he can get around the size differential. There is a distinct possibility he goes on to become a rare, 3rd round impact player at the highest level. 

Goaltender Tristan Jarry had an awful first game, but made 26 saves on 27 shots in his second and final tilt of the series. He is a former 2nd round pick and has great lateral movement, but has trouble controlling rebounds and with his angles. Nevertheless, he is a promising prospect in what is a very secure net in Pittsburgh. 

Lukas Bengtsson was awesome in first North American action, and scored his first goal on the continent just 21 seconds into his first period here. His wicked wrister beat Charlie Lindgren through traffic, and that was just the beginning. He is a tremendous skater and great with the puck, and considering he was undrafted, the 22 year old blueliner could very well be a key cog in the Pittsburgh machine in the near future. He also wore an "A" for the squad, and could be seen running plays and directing teammates on the ice. He looks like a capable player to me, but time will tell what he is truly capable of. 

I also liked Thomas DiPauli, who signed as a UFA from the Capitals this Summer. The former 4th round pick played both center and the wing, and is a high energy player with bottom-six potential. He never gives up on a play, and though he isn't always rewarded, he certainly never stops trying. Honorable mention to Ethan Prow, a fellow NCAA product- who didn't shine the way I'd of liked him to, but certainly didn't flounder either.

Beyond that though, it kind of goes downhill- quickly. 

The bad: 

The fights. Pittsburgh seemingly had one per period, which isn't at all a characteristic of their parent club. Grit is sometimes a welcome addition but you need to be able to score to win. That is something that Penguins prospects struggled to do with regularity. In addition, if you're going to fight often, you have to win them often- more often than not the Penguin's scrappers were the losers.

Goaltender Sean Maguire, coming over from a highly decorated NCAA career did not play in the tournament due to lingering concussion issues. This is a major concern as Maguire has always had health issues, and a concussion that hangs around 4 months after you last set foot on skates is not a good sign for a player who's yet to turn pro. Certainly, I hope the best for Maguire in his recovery.

The ugly: 

Connor Hall was terrible. He was torched in his first game, and did not appear again at all in the tournament. It's possible that he was injured, but equally likely that he was scratched. Trading Beau Bennett for New Jersey for a third rounder made sense, spending that third rounder on Connor Hall does not. He will need to have a much stronger camp next year to impress Pens brass. 

Casey DeSmith's SV%/GAA

DeSmith had a Cinderella run with with WBS last year, but he was unable to carry on the magic at camp this year after getting shelled in both appearances. DeSmith is 26, and almost certainly doesn't factor into Pittsburgh's crease situation, but it still wasn't pretty. 


Overall Grade: D+

All in all, it was a great tournament filled with good fun and some great young talent. As I said in the intro, I'm no scout- but these are some things that stood out to me. 



Thanks for reading!


---