Thanksgiving Notes: Russell/Pavelec/Waiver Wire
As a Canadian, I'll spend the better part of today multiplying my body weight in what could very well be my favourite day of the year. Dinner's been cooking for what feels like eons, and the anticipation feels like fatality in the making. Trying to take my mind off of the delicious feast to come is the perfect excuse to talk hockey. 



Oilers Sign Kris Russell: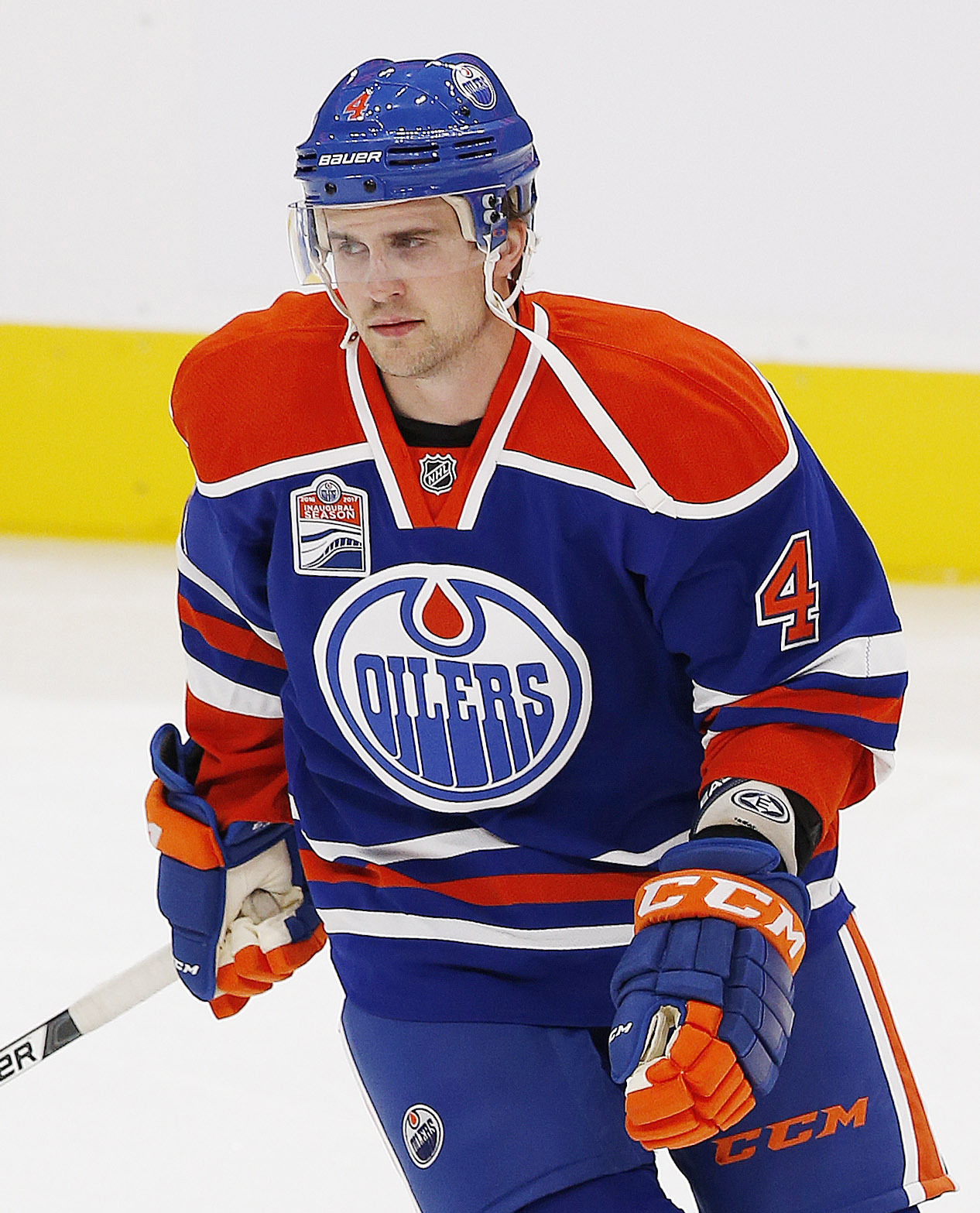 Perry Nelson-USA TODAY Sports
This Summer I wrote an article on Russell, more specifically, the Leafs interest in him. Rumor had it Russell's camp was looking for $5 million across 5 seasons. I'm kind of wondering if the Edmonton Oilers executive staff (looking at you, Peter Chiarelli) might sit around all day playing the EA Sports: NHL series, and using those player ratings (woefully inaccurate ones) to make actual, real life decisions with their roster. My second thought on the matter is what Chiarelli is actually being paid by the Buffalo Sabres, who seek revenge for being robbed of Connor McDavid. This is the Oilers third ridiculous move of the Summer, and they're falling further and further behind as the days go by. Russell's contract demands were never realistic, but I reasoned that he'd likely land himself a healthier payday than his work suggests he's worth. I reckoned that a team coming off a bad move or two would panic and offer Russell a good chunk of change in an effort to calm a fanbase in uproar. I imagined that team would be either Montreal (post Subban) or Edmonton (post everything they've done not named Lucic). 

Whelp, here we are- and that's exactly what's happened.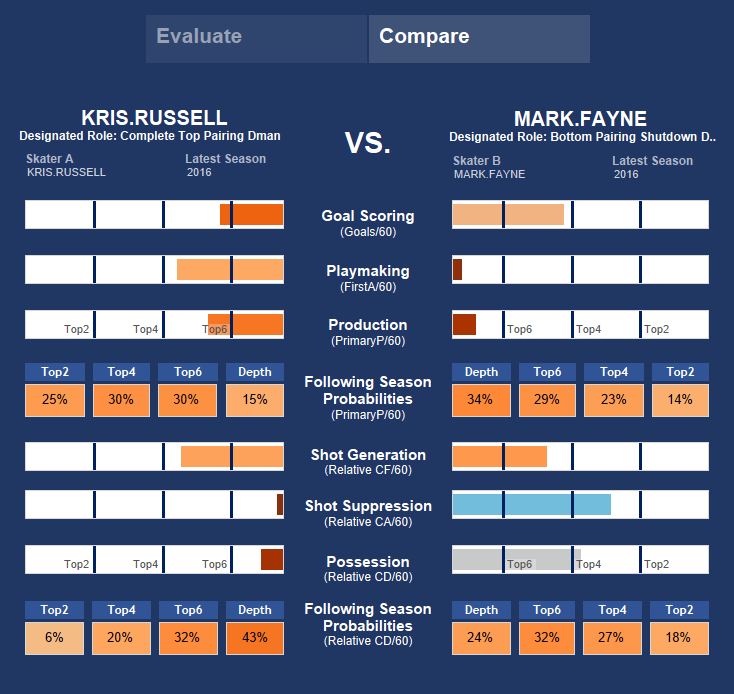 Mark Fayne spent last season split between the Oilers and their AHL affiliate Bakersfield Condors, and was used as a third pairing shutdown defender. He was waived more than once and despite having cleared, still saw 69 games of NHL action last season. He isn't excellent, but he's a good roster plug who does a good job suppressing shots and posts solid possession stats. This the kind of defender that Edmonton has been coveting, as players like Darnell Nurse continue to develop in a top-four role. Kris Russell is hardly a serviceable NHL defender, and is only truly good when sheltered from his opposition's top players. Russell is a great shot blocker but not good at much else. He's not a top-four, he's barely even a top-six- aaaaaaand then there's this.


How very "Oilers" of them.

Chiarelli apparently believes he's landed a top-four defenseman in October, less than a week prior to the start of the regular season. Remember when I said this move was compensation for the debacle that is the Hall-for-Larsson pact?



Kris Russell wears No. 4 in Edmonton. Taylor Hall's former numeral.

— Mark Spector (@SportsnetSpec) October 8, 2016
Irony. Irony everywhere. If Edmonton actually ever decides to start fielding a competitive team, they'll fire Chiarelli and replace him with literally anyone. Edmonton should have been looking at Jake Nakladal, who inked earlier this week with Carolina. Carolina has quietly built a solid core, and will make the playoffs before Edmonton- I'd bet money on it.


Jets Waive Pavelec: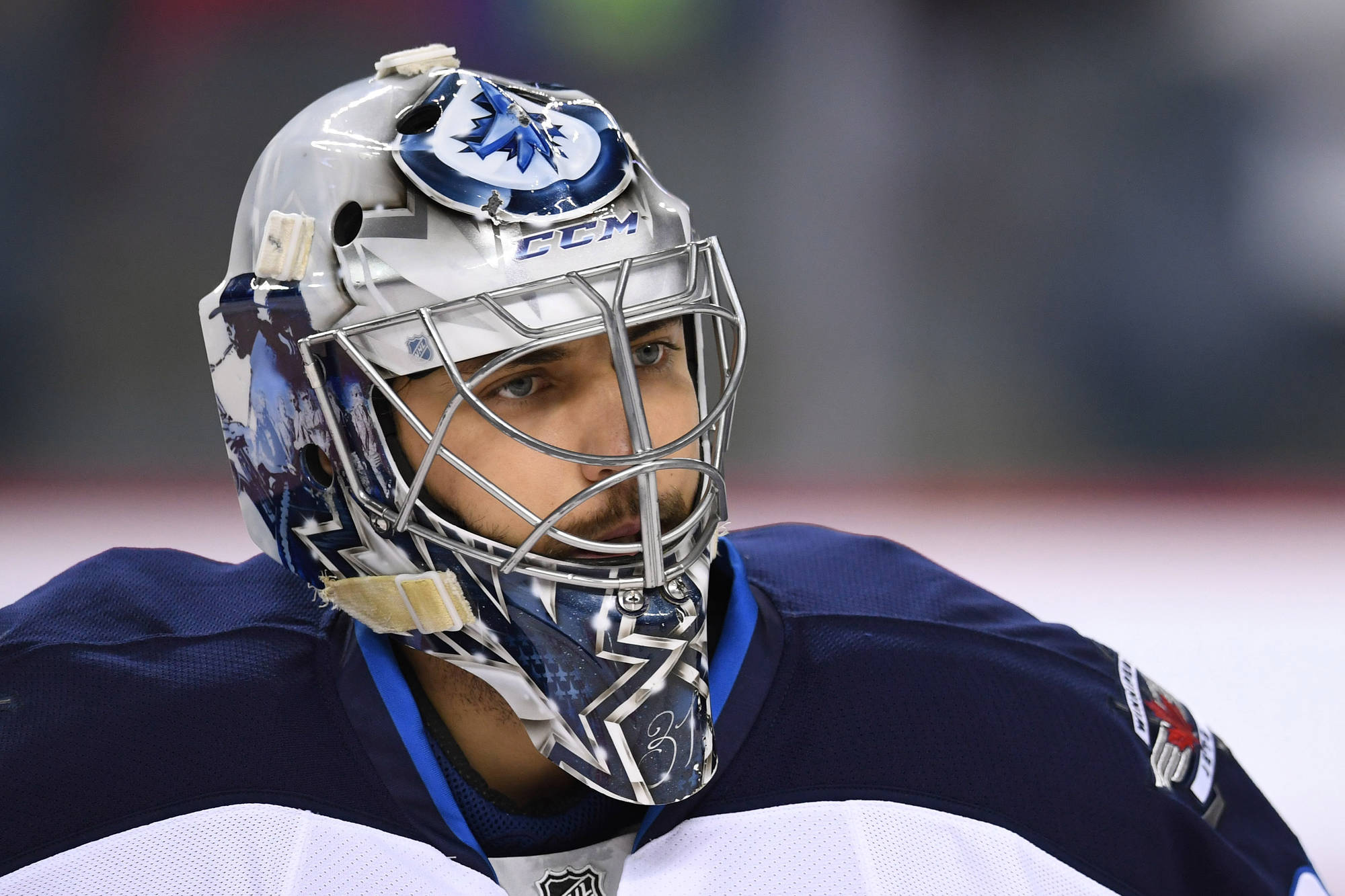 Candice Ward-USA TODAY Sports
I first heard this rumor just prior to the weekend, and it both surprises me and doesn't. Pavelec is not a starting goaltender in the NHL, but I don't think he's completely useless. I think he's better than Hutchison, but the Jets may have had another reason for cutting their long-time starter. 


Bottom line: waiving Pavs was only move that would ensure Hellebuyck gets NHL TOI he deserves while also protecting him from expansion.

— Nick Mercadante (@NMercad) October 10, 2016
There's a real possibility that the Jets cut Ondrej Pavelec to preserve their goalie of the future in Connor Hellebuyck. According to NHL.com, the rules for the expansion draft are as follows:


Protected Lists
* Clubs will have two options for players they wish to protect in the Expansion Draft:
a) Seven forwards, three defensemen and one goaltender
b) Eight skaters (forwards/defensemen) and one goaltender
* All players who have currently effective and continuing "No Movement" clauses at the time of the Expansion Draft (and who to decline to waive such clauses) must be protected (and will be counted toward their club's applicable protection limits).
* All first- and second-year professionals, as well as all unsigned draft choices, will be exempt from selection (and will not be counted toward their club's applicable protection limits)

Hellebuyck made his pro debut with the St. John's Icecaps of the AHL during the 2014-15 season, and the 2015-16 season was his third in that capacity. This means that, like Pittsburgh's Matt Murray, the Jets will have to protect him from Las Vegas during the expansion draft. Pavelec's high price tag means that he becomes something of a Jimmy Howard- and overpaid backup. Hutchison makes more sense than Pavelec because he is more cost-effective and nothing more.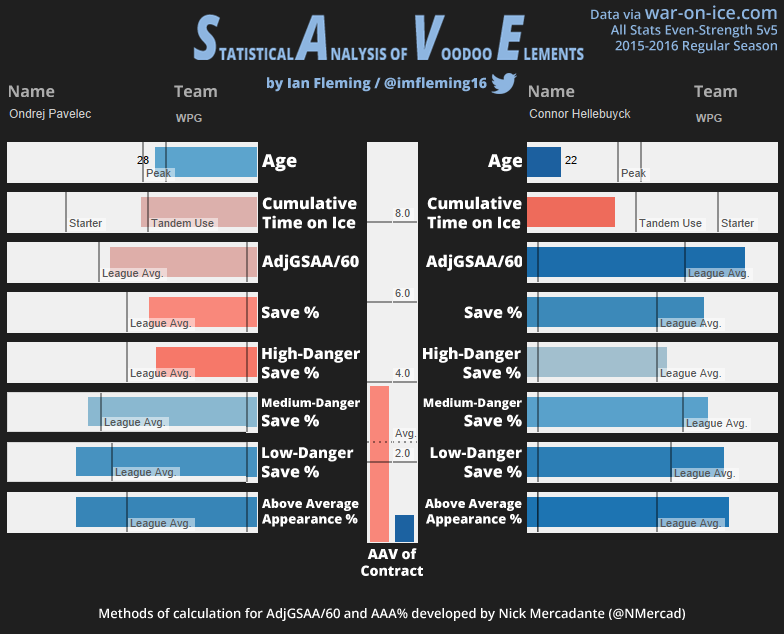 The choice for the goalie of the future in whiteout country is obvious- Hellebuyck is one of the best young goalies in the league and has the potential to be a star, all the while costing less than his counterpart. Pavelec is a decent backup goaltender, but his cap hit of $3.9 million is simply too steep to ride the pine. According to cap friendly, waiving Pavelec does not alter his current caphit. Pavelec will be an unrestricted free agent at season's end.



Waived: Stuart Percy, Martin Frk, Stanislav Galiev


Waivers are an integral point of every training camp, and some legitimate talent to fill that nagging whole in a team's roster can be had for free. Some notable prospects were exposed this past week, and at least one of them found himself in a new uniform. Pittsburgh has a crowded blueline at the NHL level, and is returning a nearly identical roster to their Stanley Cup squad. Top prospect Derrick Pouliot appears to be set as the 7th defenseman, meaning several players were assigned to AHL Wilkes-Barre/Scranton. One of the notable cuts from camp was the former first round pick of the Leafs Stuart Percy. Percy no longer projects as a top-four defender, but has been capable as a top-six filler in recent years. Percy ultimately cleared waivers, but could have been an interesting choice for a team in need of defenseman like the Oilers. Also from the Metropolitan waiver wire, Stanislav Galiev was cut from camp after struggling with the big club. Galiev is an interesting talent talent but seems to have hit a wall in his development. It'll be interesting to see where he ends up in the near future. Martin Frk has been claimed from the Red Wings by Carolina, and projects as a top-nine scoring forward. A late bloomer, Frk has progressed every year as a scorer and is described by his teammates as one of the hardest workers in the building at all times. Frk could very well make the team out of camp and immediately play a bottom-six role for the 'Canes.

More important waiver news according to Rotoworld.com

Zbynek Mihalek- Arizona Coyotes
Brandon Bollig- Calgary Flames
Greg Campbell-Columbus Blue Jackets
Teemu Pulkkinen- Detroit Red wings
Anton Lander- Edmonton Oilers
P.A Parenteau- New York Islanders



I'm surprised to see two names on this list. The first is Teemu Pulkkinen, the second is P.A Parenteau. Both are solid players, and should be worth a look from any team looking for help on the wing.


These are two excellent possession players, which I am a huge fan of. Parenteau fared well last year on a bad Maple Leafs team, while Pulkkinen has offensive potential but appears to be a bid snakebitten in that regard. These are two players that should be claimed but GMs are seemingly scared of taking a flier on the waiver wire. These two are top-nine forwards, one in the twilight of his career and one who's just beginning- but both are useful NHLers. 


Happy thanksgiving, and thanks for reading!
---