Yakupov Finds Greener Pastures in St. Louis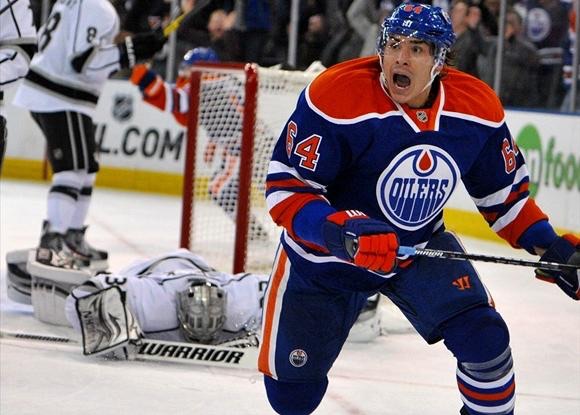 I attended an exhibition game between the Toronto Maple Leafs & Detroit Red Wings at FirstOntario center in Hamilton last night, which was nothing shy of an embarrassing performance by the Leafs. Babcock decided to play his AHL reserves, and left everyone we wanted to see (not named Kasperi Kapanen, Kerby Rychel or Jonas Enroth) out of the lineup. It ended after what felt like years of neutral zone turnovers and minimal offensive pressure, but it wasn't all bad. My buddy had headed downstairs to the concourse, only to come running right back up.

"Yakupov got traded!"

What?! To who?!

I figured it had to be Chicago considering the bushel of rumors swirling around the two teams for the better part of the week. I was wrong however, as their division rival St. Louis Blues swooped in to rescue the embattled winger for a broken lawn chair and a ketchup stained Guns 'n Roses T-shirt your cousin Trevor gave you. Peter Chiarelli has now traded two first overall picks this summer and has a 2nd pairing, (albeit, right-handed) shutdown D-man in Adam Larsson and an ECHL prospect to show for it. Can you feel that heat wave? That's Connor McDavid's temper flaring all the way in Edmonton.

Before I absolutely skewer Edmonton for their second baffling trade of legitimate talent in recent months, let's talk about what they did well. First and foremost, Yak had to go. It came out as public news last Spring that Nail wanted out of Edmonton, and who can blame him? He never seemed to catch on there and his career year was the lockout shortened 2012-13 season, which saw him net 17 goals and 31 points across all 48 contests. He never came close to that kind of production though, and the pedigree of being the first overall pick made him an easy target for the Edmonton media. Yakupov has continued that trend of mediocrity throughout his stay in Western Canada, but in his defense he's spent more minutes playing with 4th line talent than anything else.




Yakupov's Centers
| | |
| --- | --- |
| Player | TOI (Time on ice) |
| Sam Gagner | 596:14 |
| Derek Roy | 534:15 |
| Ryan Nugent-Hopkins | 426:05 |
| Mark Arcobello | 296.34 |
| Mark Letestu | 215:51 |
Stats above are from HockeyAnalysis.com

If you're more of a casual hockey fan than a die-hard, you may not even recognize some of the names on this list. He's often been utilized in a bottom-six role, which is hardly the place for a prolific-scoring winger like he was in his major junior days. Edmonton clearly felt that they wanted to see him dominate on his own. They must have felt that their former top pick should have been able to sustain offense single-handidly, and in their defense, they're probably not wrong to think so.



Yakupov Compared to Other 1st Overall Picks
| | | |
| --- | --- | --- |
| Year | Player | PPG |
| 2015 | Connor McDavid | 1.07 |
| 2014 | Aaron Ekblad | 0.47 |
| 2013 | Nathan MacKinnon | 0.70 |
| 2012 | Nail Yakupov | 0.44 |
| 2011 | Ryan Nugent-Hopkins | 0.71 |
| 2010 | Taylor Hall | 0.86 |
| 2009 | John Tavares | 0.92 |
| 2008 | Steven Stamkos | 0.99 |
| 2007 | Patrick Kane | 1.01 |
| 2006 | Erik Johnson | 0.42 |
| 2005 | Sidney Crosby | 1.33 |
| 2004 | Alex Ovechkin | 1.15 |
This is the last generation or so of first overall picks at the NHL entry draft. Yakupov is second last in points per game over his career among these players, only Erik Johnson (a defenseman) is worse. The Oilers were correct to want more from their first overall pick, but when you consider who his top linemates were in Oil country, it's not hard to see why things were so hard for him compared to say, Patrick Kane. Trading Yak also frees up roster space for someone like Kris Versteeg or Jesse Puljujarvi in the top-nine, which obviously benefits the team as both players are good offensively. Unfortunately for Oilers fans, this is pretty much where I can't defend them any longer.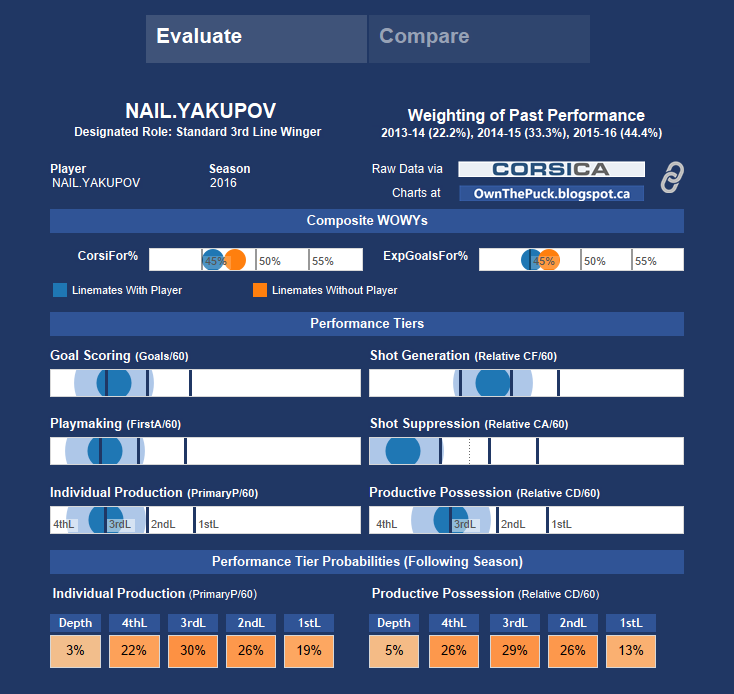 Yakupov is by no means the top-six forward he should be at this stage in his career, but he's also not a complete liability. He posts reasonable possession numbers and definitely doesn't get any credit for it. His offensive production isn't there, but as I mentioned earlier, he hasn't been given much opportunity to prove himself with the puck on his stick. Yakupov was drafted as a scoring winger and he should be utilized that way.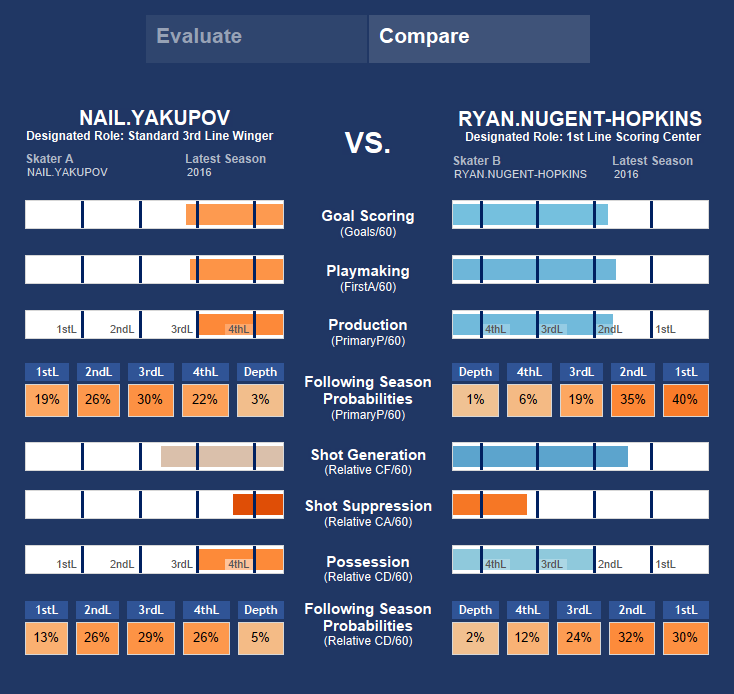 Rumors were flying earlier this summer that a Ryan Nugent-Hopkins trade might be in the works, popular opinion mentioned Minnesota Wild defenseman Matt Dumba as a suitable target. My problem with this is that Nugent-Hopkins isn't in a league of his own. There's no doubt he's better than Yakupov, but he's hardly elite. His 0.71 points-per-game average over a career isn't anything to write home about (relative to his draft pedigree) and considering he's had quality linemates in Taylor Hall and Jordan Eberle for the better part of it. If RNH could be enough to pry a young, top-four defenseman from a competitive team- why settle for a conditional (!!!!) 3rd rounder and an ECHL prospect I can't even find a scouting report on? Simple, perception. Yakupov is seen as a bust by Edmonton and has been for years. I have to think that they could've landed themselves something more to their need, perhaps a bottom-pairing D. Obviously Oilers brass has seen enough of their one time top prospect and is eager to perhaps change the culture in the locker room. This is in part accomplished by shipping out perceived negative personalities, and with Nail requesting a trade, he was no doubt on their hitlist. Taylor Hall also suffered in this regard, as he may have posed a threat to McDavid's new leadership position.


On the topic of Taylor Hall, there's the other reason this deal is so numbingly ridiculous. Peter Chiarelli is the worst executive in the game, beating out Jim Benning and Jarmo Kekalainen for the dubious honor by a countrymile. Chairelli has traded Tyler Seguin, Taylor Hall and Nail Yakupov and all his teams have left to show for it is Joe Morrow (Boston) and Adam Larsson (Edmonton) accompanied by a conditional 3rd rounder. This is complete lunacy and proves that literally anyone, anywhere can be a pro hockey executive. If the Oilers were poorly run in recent years, they're a total dumpster-fire now.

The good news here is that we might finally see something tangible come out of Yakupov, and I for one am excited about that prospect. Yakupov will probably never be the elite player he was drafted to be, but if he even becomes a regular in St. Louis' top-nine this deal is a win for St. Louis. Third round choices in the NHL entry draft have something like an 11.7% (don't quote me on it) chance of ever becoming an NHL regular, so the pick they've traded away likely would've netted a player worse than what they're getting. If Yak scores 30+ points in the Blue and Gold, Missouri will be laughing- but Edmonton? Not so much. In addition, as much as Yakupov has struggled in the NHL, there's always the chance that the talent we all know he has kicks into high gear, and he does begin to produce at the top-six level. In that case, we could one day look back on this trade as the Nail in Chiarelli's NHL career coffin.


Thanks for reading!
---