Breaking Down The AAC Game of the Year: Cincinnati Travels to Houston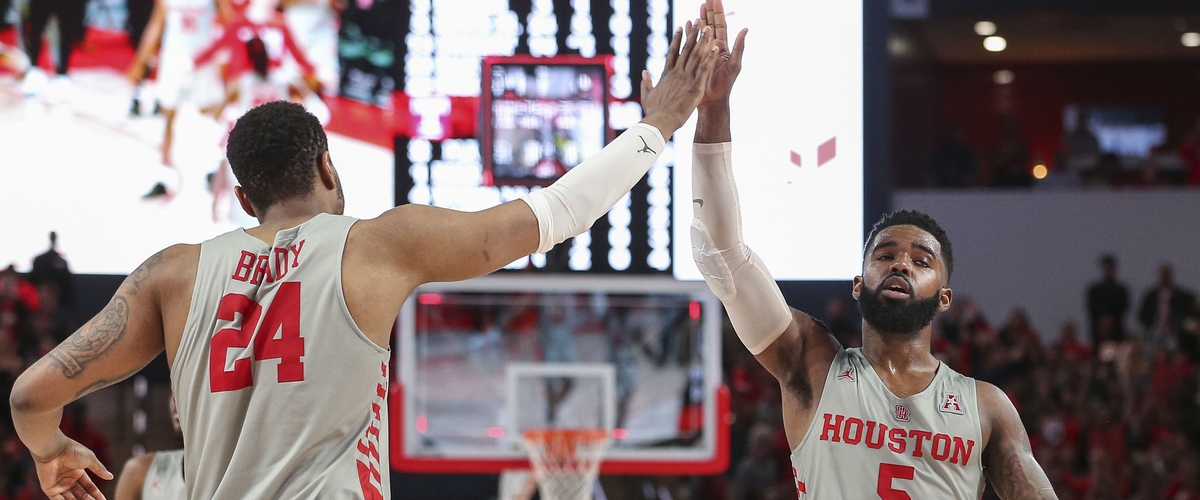 Houston and Cincinnati will battle for first place in the AAC on Sunday in national televised game on ESPN. Both teams enter at 9-1 in the AAC and both are easily inside the field of 68. Mick Cronin and Kelvin Sampson both do a lot of things right and are very similar teams. Here are some things they both excel in this year.
Rebounding
Both teams do a great job getting on the ground after a loose ball. Their bigs are good rebounders, but they also have guards that crash the glass as well. Houston ranks first in the AAC in rebounding margin at +7.9 RPG, while Cincinnati ranks second in the conference coming in at +6.7 on the glass per game. Both are top 20 in the nation in rebounding right now.
I am a little concerned about Cincinnati's inside game right now. Tre Scott and Nysier Brooks have struggled the last couple of games and they have beaten some teams by being able to own the glass in the 2nd half of games. Cincinnati won't be able to just bully Houston on the boards like they have other teams this year. So it's important for Scott and Brooks to play consistent and not fall behind early like they have done the last couple times out.
Stellar Guard Play
Both teams have some of the best guard play in the nation. Houston is led by Corey Davis Jr who can make just about any shot on the court, and can get the basket pretty easily. Armoni Brooks can kill you from three and also leads the team in rebounds at 6.3 a game. Galen Robinson can score the ball to, but he is more of a passer who loves to find the open man, and then you have a do-it-all freshman in Nate Hinton who can take over a game if you need him to. The Cougars are a guarded oriented team and they will play most the game without a true center. Forward Cedrick Alley is the main big man and will play as the team's center.
Cincinnati has Jarron Cumberland, who I think will win AAC POY (barely edging out Corey Davis). Cumberland can drive to the bucket with his physical build very easily, and also second in the conference in three point shooting and leads the conference in scoring at 18.6 points a game. Justin Jenifer leads the conference in three point shooting at 44.1% and is second in the entire nation in assist to turnover ratio averaging more than 5 assists for every turnover. Keith Williams, who Mick Cronin continues to call "the best shooter he has ever recruited." A potential X – Factor is Cane Broome who is having a sub par season, but has shown the ability to score in big numbers as he did against Tulsa this year. Before he transferred to Cincinnati he averaged 24 points a game at Sacred Heart.
Defense
Cincinnati is usually one of the best teams in the nation on the defensive end, but this year they aren't as intense as they usually are. They still rank in the top 50 in scoring defense and it is hard to create anything inside, but there three point defense has been pretty bad this year. If the Cougars can drive at all, Cincinnati has been caught over helping this year and leaving the open man on the three point line. Overall, you won't get to many easy looks inside the three point line, but Cincinnati has made average three point shooting teams like great one's this year. Houston is statically just that, an average three point shooting team at 34%
Houston ranks 6th in the nation in scoring defense, mainly due to their rebounding. They don't allow you to get multiple chances so most possessions are one and done. Houston has also forced a lot of turnovers this year, but Cincinnati has done a great job of taking care of the ball mainly due to Justin Jenifer's court presence. Cincinnati ranks 14th in the nation in taking care of the ball so I think this should be a pretty clean game.
KEYS TO THE GAME
Who Will Be Cincinnati's "Other Guy"
Cincinnati is going to need someone to step up and score the ball tomorrow besides Jarron Cumberland. We know he will get his 15-20 points, but someone else is going to have to score big time. Whether it's Jenifer, Williams, Scott, Brooks, Broome, or even Trevor Moore someone has to because we know Houston will have to guys that get to double figures at least in Corey Davis and Armoni Brooks.
Early Lead
For as dominant as both have been in the league this year, believe it or not both have struggled with some sluggish starts to conference games. Cincinnati more so than Houston, but both have been able to comeback with their rebounding. Whichever team can hit some shots first and jump out to an early lead has a big advantage.
Who Will Take Over
This game will be close. Whenever Cincinnati plays a quality opponent the games are always close. The question will be who will take over for their team in the final minutes of the game. Corey Davis for Houston or Jarron Cumberland for Cincinnati.
Game Details
#25 Cincinnati @ #13 Houston
4:00 ESPN
Commentators: Mike Corey & Tim Walsh