"The Stack" 2-3-20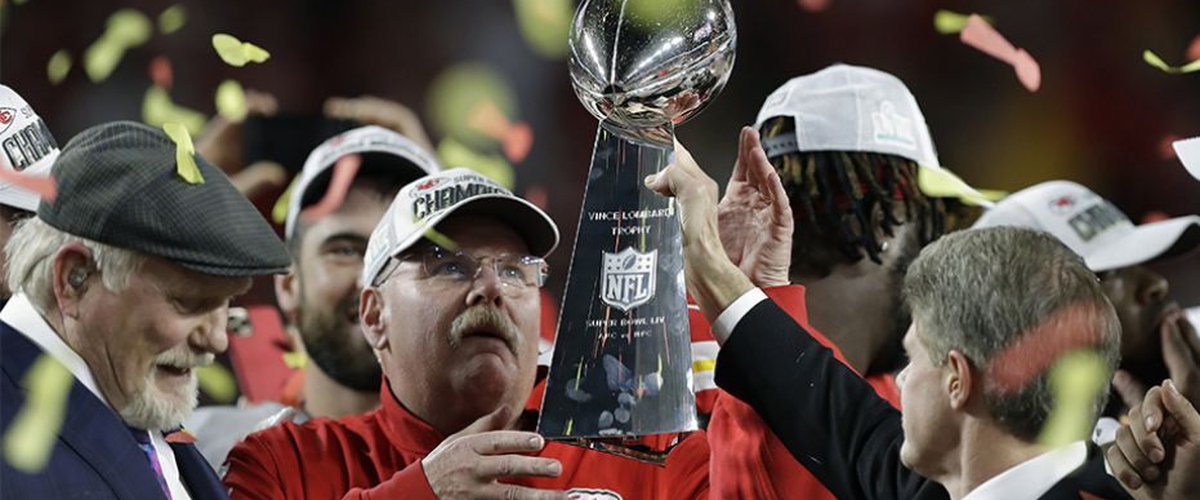 Andy Reid, Patrick Mahomes and the Kansas City Chiefs are Super Bowl champions. They completed the 4th quarter comeback, thanks in part to some questionable decisions by 49ers head coach Kyle Shanahan, to win 31-20 for their first Super Bowl victory in 50 years.
The Stack is back on this Monday after the Super Bowl and can we ask one thing? Can we please make the Monday after the Super Bowl a national holiday? Because after games like what we saw last night, the part lasted long into the night. Kansas City and the surrounding area is still partying and no one will be working today after the Chiefs mounted the second largest comeback in Super Bowl history by beating the San Francisco 49ers 31-20 to win Super Bowl LIV. Plenty of reaction to the Super Bowl and all that came with it so let's get right to "the stack" for today, Monday, February, 3rd:
Super Bowl LIV (Miami Gardens, FL)
Chiefs 31 49ers 20
Some of us expected a shootout in this Super Bowl. That didn't seem like it was going to happen when the teams went at halftime tied 10-10. And while the Chiefs did score 21 points in the final eight minutes as if they were shot out of a cannon, the game still came in on the under for total points.
Where to begin, where to begin? Well, the Chiefs didn't begin well, going three and out on their first possession. The 49ers went down and got a field goal. The Chiefs responded with a touchdown on their next possession on a nifty little option play that Patrick Mahomes kept and got into the endzone. That happened only after Chiefs head coach Andy Reid went for it on fourth down and the pirouette that the Chiefs did with the players in the backfield looked as though you were watching a boy band. Reid went for it an NFL low ten times on fourth down in the regular season (really, did he even have to with that lethal offense?) He went for it twice in this game and it worked both times.
The 49ers responded with a touchdown of their own to the guy we all thought would score their first touchdown, fullback Kyle Juszchyk. And San Francisco had a lot of success running the wide receiver run play with Deebo Samuel. The Chiefs had no answer for it. Late in the first half though, 49ers head coach Kyle Shanahan and his time management reared its ugly head when he chose not to call one of the 49ers three timeouts after they had stopped the Chiefs and forced them to punt. The 49ers would have had a minute-and-a-half left to go down and try and get a field goal. Instead, they ran a couple of times and only after they got a first down did they try a deep pass to tight end George Kittle. It was completed, but only one problem…Kittle was called for interference. Yes his arm was extended, but I would not have had a problem with it if it hadn't been called as I didn't see a pushoff. The worst part is is that he didn't need to do it. As such it 10-10 going into half.
The 49ers came out on the first drive of the second half and got a field goal. Give the Chiefs defense credit. They bent, but they did not break when the 49ers drove down the field. Mahomes would throw an interception towards the latter stages of the third quarter and the 49ers went down and scored a touchdown to take a 20-10. The very next possession, Mahomes threw a very ill-advised pass that was intercepted with roughly eleven minutes to go in the game and it seemed like that would be it. Mahomes just wasn't going to win the big one this year. He was playing his worst game of the year.
But like the greats, Mahomes shook off how terrible he was playing and made the plays when they mattered. He was helped in part by Shanahan once again giving the game away with terrible play calling. What do the 49ers do well? They run the freaking ball. And I get where Shanahan was coming from to a degree. Throw some and keep the Chiefs defense guessing. But when your quarterback is Jimmy Garoppolo and he threw only eight passes in the NFC Championship game because your team was running the ball so well, why wouldn't you run it and run the clock out?! WHY?!! You don't just abandon your identity when it matters most. And if this was Shanahan's first time screwing up in a Super Bowl, I wouldn't have a huge issue with it. He wanted to be aggressive and that is fine. But when you remember that he was the offensive coordinator with the Atlanta Falcons when they blew a 28-3 lead against the New England Patriots and they should have ran the ball instead of thrown it, the criticism of him rightfully needs to happen. It's inexcusable.
Back to Mahomes, though. It's third and 15 after his previous pass to Tyreek Hill that was ruled a catch was overturned after the 49ers challenged it. It was the right call. I don't know if it was a busted coverage or just the absolute perfect call, but Mahomes threw across to Hill for a 44-yard completion. Soon after, Mahomes found Travis Kelce on third and goal and the momentum swung fully with the Chiefs. A few minutes later, the Chiefs got the ball back and drove down the field again. Mahomes was playing like Mahomes. Mahomes found Damien Williams on a swing pass and he just got the ball across the goal line as his foot stepped out. Had the officials called Williams out, the call wouldn't have been overturned. But the Chiefs had the lead. Time to see what Jimmy G had and what he was made of.
The 49ers started moving the ball down the field and got to midfield. That's when the drive stalled. But the 49ers had a perfect plan drawn up on third down. Emmanuel Sanders ran a post route and was wide open. Garoppolo overthrew him. Had it been placed where it needed to be, it would have been a touchdown. That is going to be a play that Garoppolo and the 49ers will think about for years to come. Williams would run in from 38 yards out to ice the game and the Chiefs won their first Super Bowl in 50 years, 31-20. Mahomes was named MVP and while I have no problem with it, Williams probably deserved it more. He became the first running back in Super Bowl history to run for over 100 yards and have a receiving touchdown. Yeah, it probably should have been him, but Mahomes made the plays when he needed to. Even on his worst day, he was still able to make the big plays when they mattered. He is remarkable and a joy to watch.
This was huge for Coach Reid. Widely regarded as one of the best coaches to have never won a Super Bowl, Reid finally got the monkey off of his back. He is so well liked and well respected within the NFL community and if you're a football fan in general, there is nothing about this guy that makes you not want to root for him. I am very happy for him. And I think this is the first of many. The Chiefs are on the verge of a Patriots-like dynasty run, but Baltimore and Houston may have something to say about it. And not to toot my own horn, but I did pick the Chiefs to win the Super Bowl this year. Not the right opponent, but I sense that this won't be the only Chiefs Super Bowl victory we will be talking about over the next 50 years.
Now to the non-football portion of the Super Bowl blog. There are a lot of opinions on the halftime show with J-LO and Shakira. There are a lot of people that didn't like it because of the promiscuous dancing. I had no problem with it. It was one of the better halftime shows that I have seen in recent years. It's for entertainment purposes, people. No need to be too outraged over it.
As for the commercials, I will need to go back and view them again. I did like the Bill Murray Jeep one and was it Hyundai with all of the Boston accents? It was good. The Google commercial was a tearjerker. Overall, a decent batch of commercials I thought.
And with that the NFL season is over and another 100 years is just beginning. Here's hoping that we continue to see more good games and that the NFL doesn't get too big for itself.
Coming up later: Reaction to the top stories and headlines in the sports world
---