Do the Chiefs have the cap space to compete with Mahomes signing the record-breaking deal?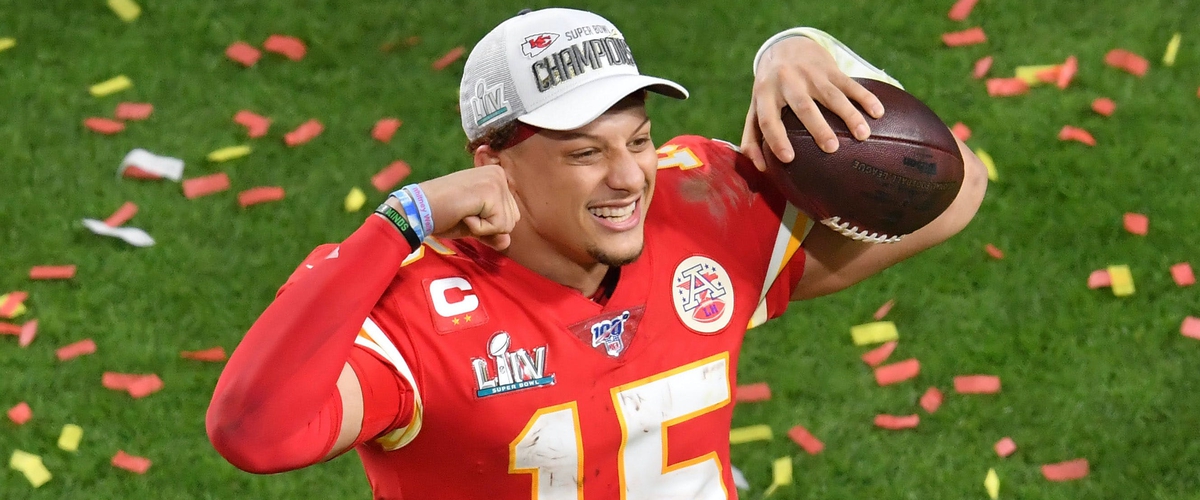 The short answer is yes. The more thought out answer requires us to look at the significance of Patrick Mahomes, Andy Reid, the league as a whole and the Chiefs current cap situation.
Patrick Mahomes signed a record deal that will keep him in Kansas City for the next 12 years. The deal gives Mahomes 45 million dollars a season making him the highest paid quarterback by at least 10 million (Russell Wilson is making 35 million per season). It's a lot of money and some might be skeptic that the Chiefs are overpaying their quarterback. Mahomes has proven that he is one of the best quarterbacks in the game since entering the league in 2017, the question is if this contract is going to hurt the Chiefs roster as they won't be able to pay other key contributors when their contracts expire. Can they still remain a Super Bowl contender?
It's easy to think that with Mahomes at quarterback, Kansas City by default is going to be a contender every season. There is reason to be nervous. In recent years, teams that have given their quarterbacks contracts that have been cap hits sacrificed their roster depth and had to let go of key players that helped bring the team to success in the first place. The Seahawks, Rams, Steelers, Vikings, Lions, Eagles and Falcons all gave their quarterbacks expensive extensions in recent years and all have either constantly failed to make the playoffs or have failed to make a deep playoff run, much less win a Super Bowl which all teams aspire to do prior to every season. While the Green Bay Packers reached the NFC Championship game this past season with Aaron Rodgers costing the Packers 33 million per season, the overall roster doesn't have much room to sign or pay their key players and the NFC Championship game might have displayed the gap they had as the 49ers blew out the Packers 37-20 (the 49ers had one of the deepest rosters last season as they were able to pay their key players or still have them on rookie contracts).
Moreover, in 2018 the four of the top five highest paid quarterbacks failed to make the playoffs. The bottom-line is when a team pays their quarterback, they are spending money that could go towards other key positions but instead are devoting it all to one player (granted the most important player on the field). Patrick Mahomes is getting paid more per year than his starting offensive line and those players are usually the second highest paid on a team. The Chiefs are putting a lot of their salary cap into one player, it happens to be the best player the team has had in years and possibly of all time.
So what does this mean for the Chiefs current roster? Star defensive lineman Chris Jones was franchised tagged this off-season but has made it clear that he wants to play for more money than the tag. With Mahomes being paid, the Chiefs will likely have to trade Jones or even rescind the tag. The Chiefs will have to let go of many notable names in the near future, don't be surprised if they have to release star players like Tyreek Hill, Travis Kelce, Tyrann Mathieu, Frank Clark and/or Daniel Sorensen. All these players were pivotal to their recent Super Bowl run, one that gave Kansas City it's first Super Bowl in 50 years.
The fortunate news for the Kansas City fans is that the Mahomes contract is most damaging in the earlier years, with many of these players still under contracts. It's important to keep in mind how much the salary cap has gone up in recent years and will continue to do so in the foreseeable future (assuming that we as a society eventually overcome Covid-19 and have returned to a normal society). Matthew Stafford was the highest paid quarterback a few years ago (for a few weeks) he is now the 13th highest paid quarterback, that contract looked mind-boggling but now looks like a normal deal (the same can be said about Jimmy Garoppolo's 27 million per year). By the time Patrick Mahomes is in his third or fourth year of this contract, all the young good quarterbacks in the NFL will be making at least 45 million per year (think about Lamar Jackson and in case Joe Burrow or Tua Tagovailoa become stars or Trevor Lawrence and Justin Fields). Over time, the contract will become more team-friendly and will continue to allow Kansas City to make moves to keep star players or bring some in.
The final thing to consider with the Chiefs extending Mahomes is Andy Reid's ability to replace players. Since arriving in Kansas City, Reid had found a way to replace star players at every position including quarterback. Reid came to Kansas City in 2013, the only starter that remained from when Reid arrived to the recent Super Bowl run was Eric Fisher and he was drafted by Reid with the number one pick in that subsequent draft. Reid has been able to replace Jamaal Charles with Kareem Hunt and Hunt with Damien Williams, Dwyane Bowe with Jeremy Maclin and Maclin with Tyreek Hill, Anthony Fasano with Travis Kelce, Brandon Albert with Eric Fisher and so on. The biggest replacement Reid was able to find was Patrick Mahomes and seeing how Andy Reid is able to evaluated talent, it would come as no surprise if he can build around Mahomes once again.
The Chiefs drafted Patrick Mahomes in 2017, the last time the Chiefs drafted a quarterback that threw a touchdown for them was Todd Blackledge in 1987 (drafted in 1983). The Chiefs don't draft quarterbacks often and when they do, they aren't nearly as good as Patrick Mahomes. When you have the best quarterback in your franchises history and possibly in the NFL, you don't let him go. The Chiefs should be expected to remain contenders for years to come and signing Mahomes is part of the reason why.
---