Lakers Rumors: Los Angeles Remains Top Landing Spot For Paul George This Summer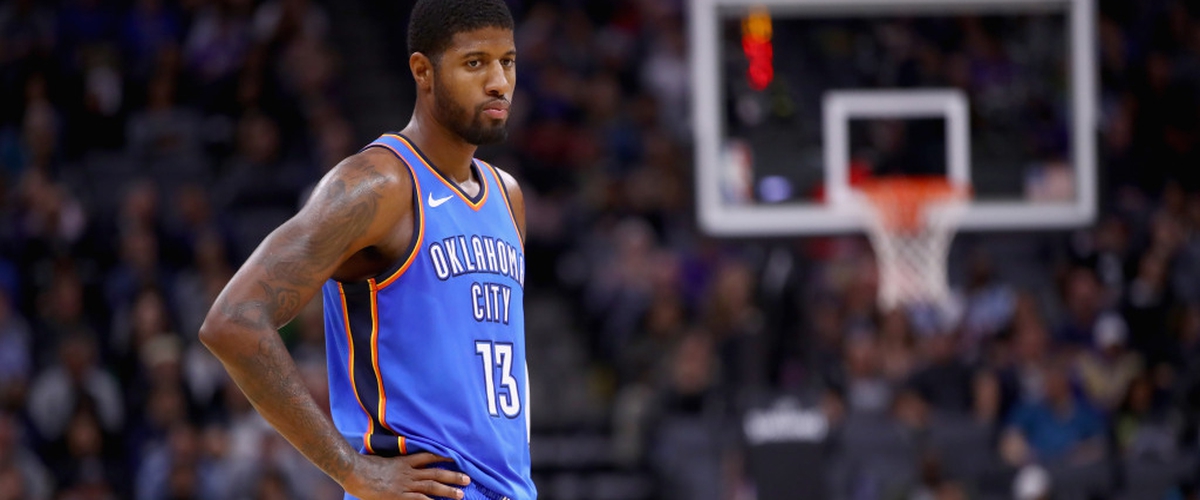 (Photo by Ezra Shaw/Getty Images)
Paul George-to-Lakers rumors have immediately intensified after the Oklahoma City Thunder lost their first-round series to the Utah Jazz last Friday. The five-time All-Star enters unrestricted free agency in July, and the Los Angeles Lakers are expected to approach him as soon as it is allowed.
Lakers president Magic Johnson and general manager Rob Pelinka had been vocal about their desire to sign max salary players this summer. The franchise have actually paid for it, most famously the $500,000 tampering fine for Johnson's comments about George.
The time will come soon, specifically on July 1st, when talks are over and the two sides sit down to negotiate.
In his exit interview on Saturday, George expressed enjoyment about his time with the Thunder this season. Despite the disappointing conclusion, the former Fresno State standout said OKC is a great organization and he wanted to stay.
However, George also said that it was "too soon" to make any comments about his final landing spot. This sparked rumors that a move to Los Angeles is still in play for the former NBA Most Improved Player.
The Washington Post's Tim Bontemps reported that the Lakers "remain the favorites" to sign George in the upcoming free agency period. The reporter noted that it would be "a long shot" the Thunder could convince him to stay in Oklahoma City.
When Thunder General Manager Sam Presti traded for George last summer, it seemed like a long shot that George would choose to stay in Oklahoma City. Remember, he had been set either on staying with the Indiana Pacers or going to the Los Angeles Lakers.
Ask people today – particularly in the wake of this first-round exit – and they'll say the Lakers still remain the favorites to get him this summer.
George has been one of the best two-way players in the modern NBA. With his amazing combination of size, speed, and skills, he can play and guard multiple positions on the court. Any team with cap space is expected to line up and make a pitch, especially his hometown team Lakers.
The Thunder, particularly Russell Westbrook, had the chance to make his stay in OKC a sure thing. Instead, Westbrook took 43 shots, sinking 18, and assisted only five times in Friday's Game 6 loss. George was left waiting on the side almost the whole game, finishing with only five points on 2-for-16 shooting. Clearly, something is not right about the duo's chemistry and George should be well-aware of it by now.
With his options open for the first time in his career, only time will tell if George does take advantage of this control. He had long been frank about his desire to play more regularly in front of family and friends. Next season may be the first of many years to experience just that.
---