Preview and prediction for Oklahoma vs Alabama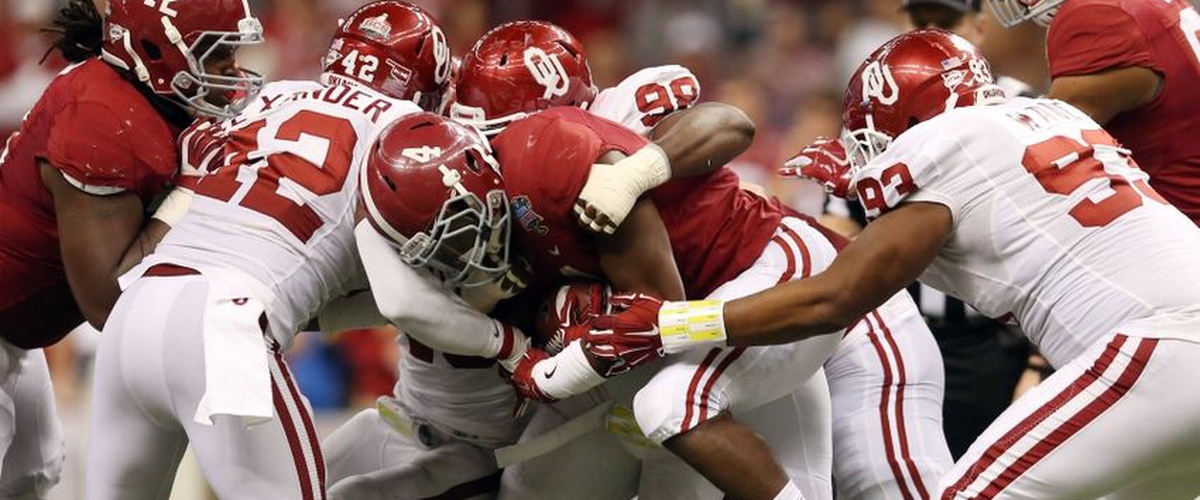 Two of college football's greatest programs will meet tomorrow at the Orange Bowl in Miami to paint the town crimson. The crimson bandwagons have arrived from Norman, Oklahoma and the crimson tide has rolled in from Tuscaloosa, Alabama to compete for the chance to advance to the national championship game. Alabama has arrived to this point from a well balanced offense lead by Tua Tagovailoa and one of the nations best defenses. Oklahoma made the playoffs on the strength of what many say is the best offensive line in the nation and Heisman Trophy winning quarterback Kyler Murray.
Here are the probable starting lineups with their recruiting star rating according to 24/7 Sports. Alabama has the 2nd ranked roster while Oklahoma has the 11th ranked roster.
Alabama offense;
QB - Tua Tagavailoa, SO, 5 star
RB - Damien Harris, SR, 5 star
WR - Jerry Jeudy, SO, 5 star
WR - Henry Ruggs III, SO, 4 star
WR - Devonta Smith, SO, 4 star
TE - Irv Smith Jr, JR, 3 star
RT - Jedrick Wills, SO, 4 star
RG - Alex Leatherwood, SO, 5 star
C - Ross Pierschbacher, SR, 4 star
LG - Lester Cotton, SR, 4 star
LT - Jonah Williams, JR, 5 star
Alabama defense;
DE - Isaiah Buggs, SR, 4 star
NG - Quinnen Williams, RS SO, 4 star
DE - Reakwon Davis, JR, 4 star
JACK - Anfernee Jennings, JR, 4 star
SLB - Christian Miller. SR, 4 star
MLB - Mack Wilson, JR, 5 star
WLB - Dylan Moses, SO, 5 star
DB - Saivion Smith JR, 4 star
FS - Deionte Thompson, JR, 4 star
SS - Xavier McKinney, SO, 4 star
DB - Patrick Surtain Jr, FR, 5 star
Oklahoma offense;
QB - Kyler Murray, JR, 5 star
RB - Trey Sermon, SO, 4 star
WR - CeeDee Lamb, SO, 4 star
WR - Grant Calcaterra, SO, 4 star
WR - Marquise Brown, JR, 4 star
HBACK - Myles Tease, SR, NR
RT - Cody Ford, JR, 3 star
RG - Dru Samia, SR, 4 star
C - Creed Humphrey. RS FR, 4 star
LG - Ben Powers, SR, 3 star
LT - Bobby Evans, JR, 4 star
Oklahoma defense;
DE - Kenneth Mann, JR, 3 star
NT - Neville Gallimore, JR, 4 star
DE - Amani Bledsoe, JR, 4 star
JACK - Ronnie Perkins, FR, 4 star
MLB - Kenneth Murray, SO, 3 star
WLB - Curtis Bolton, SR, 3 star
CB - Tre Norwood, SO, 3 star
FS - Robert Barnes, SO, 4 star
SS - Jordan Parker, SO, 4 star
CB - Tre Brown, SO, 4 star
NB - Brendan Radley-Hiles, 4 star
With the two most explosive and efficient offenses in the nation facing off against each other most think that the game will be won on offense. The fact is these two offenses will score a lot of points because they are both that good. In reality this game most likely will be won or lost on defense. The defense that can show up, force the most negative plays and force the most turnovers should be the one that helps lead their team to the national championship game. That leaves Alabama with a huge advantage as Alabama is ranked in the top ten in most defensive categories. Oklahoma has been awful on defense giving up 40 plus points five times this year. That is the biggest reason Alabama comes into the game as a two touchdown favorite by Vegas odds makers.
When you have 4 weeks off and a chance to go through film and tendencies with a fine tooth comb the two coaching staffs will know everything about each others team. Coach Saban and Coach Riley will be very familiar with the opposing team by game time. Both teams will not change who they are but will simply try to disguise what they are doing on offense with new formations and shifts but still their basic offenses. Expect Oklahoma to be very aggressive on defense with stunts and blitzes to try to create negative plays. On the other hand Alabama will likely play their typical cat and mouse game on defense and make adjustments to what they see at the line of scrimmage and try to disguise their coverages. The one change we may see from the Alabama defense is the way they try to put pressure on Kyler Murray when he steps back to pass in the pocket. They will likely be putting more emphasis on making Kyler uncomfortable in the pocket and getting guys in his face to throw off his vision and timing to make him less efficient, not going as much for the sack. He is just too good athletically and smart to try to blitz him and go for the sack.
On offense Alabama is great at taking what the defense gives them. Expect to see Oklahoma guessing wrong a few times on stunts and blitzes and giving up some quick scores. The Sooners defense may get a couple of negative plays and a turnover but they will need much more than that. For Oklahoma's offense they should be able to have five or six successful drives that will result in points. They just spread defenses out so much and with their tempo and they have the athletes that are very difficult to cover in open space. In the end look for the Alabama defense to pressure and confuse Kyler Murray enough to keep them below what they normally average per game. The Oklahoma defense has not shown that they can keep mediocre offenses below their average so don't expect that to change Saturday. Alabama wins the expected high scoring game. Prediction, Alabama 52 Oklahoma 31.
---