Milwaukee Bucks' Future Outlook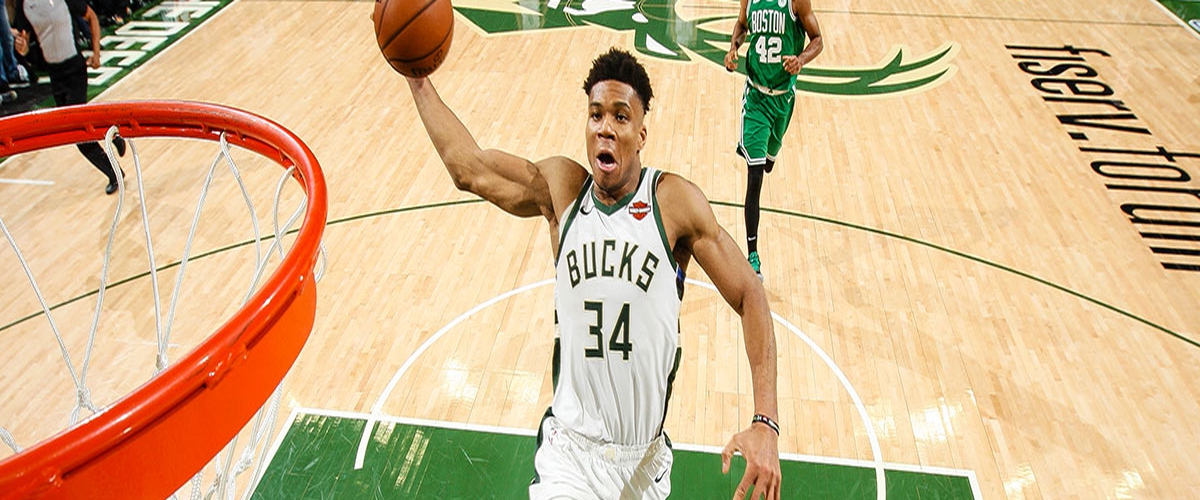 After discussing what the lottery teams are going to be facing going into the future, it's now time to discuss the postseason teams prematurely. However, I feel that doing this now also explains a bit about what is possibly at stake for teams. Will the Bucks' results actually affect Giannis' decision? If Philly fails, do they trade Embiid or Simmons? Does the small-ball experiment in Houston actually work? All of these are examples for the remaining NBA teams (and the Warriors, who likely will return next season to a much better standard of basketball) and why their future will be impacted by the playoffs.
Why should we care about the future outlook when the Bucks currently are 52-8 and will cruise to home court advantage throughout the playoffs? Because, that guy on the cover, the MVP Giannis Antetokounmpo, still hasn't signed the super-max contract that won't let him be a free agent after next season. Until that happens or the Bucks win a championship, the future stays in question. Let's see what they can do to help their cause, because the future definitely depends on the Greek Freak.
WHO'S GONE: G/F Kyle Korver, G Pat Connaughton, G/F Sterling Brown, PF Marvin Williams
Robin Lopez and Wesley Matthews could decline their player options and ask for more money, I just don't think they will do that. Lopez loves Milwaukee and got a pretty nice deal himself this off-season. Matthews took a minimum deal to come to Milwaukee, and is likely at that point in his career where he won't. Korver will either retire or give it one more go, and that's likely true with Marvin Williams, although I'm not as sure on that. Connaughton and Brown are the biggest potential losses, especially with how Connaughton defends and his energy. He likely will out price the Bucks. Brown also hasn't had a huge role this season compared to his first two, but will be a nice piece for a young team looking for a friendly deal.
WHO'S LEFT:
C-Brook Lopez, Robin Lopez
PF-Giannis Antetokounmpo, Ersan Ilyasova, DJ Wilson
SF-Khris Middleton, Thanasis Antetokounmpo
SG-Wesley Matthews, Donte DiVincenzo
PG-Eric Bledsoe, George Hill
The Bucks are such a deep team that even if they lose all four of those guys they will still easily be 9-10 deep. They also have a draft pick from Indiana coming in, and will likely be able to get another Korver or something of that sort. They still have enough of their roster to make another championship run in 2021 should Giannis leave.
WHAT'S NEXT:
I want to do a hypothetical. We know that either Giannis will stay and the Bucks will have a chance at a championship (or have one already) or all hell will break loose in Milwaukee. I want to explore the 2021 off-season, when Giannis signs elsewhere and see what happens to the Bucks.
The Bucks would have Khris Middleton, Eric Bledsoe, Brook Lopez, George Hill and Donte DiVincenzo under contract for sure heading into 2022 (they'd actually still be paying Larry Sanders and Jon Leuer too which shows how bad this franchise was just 8 years ago). Those five players put the Bucks at about $80 million, so they wouldn't have room for another max player to put next to Middleton. Only DiVincenzo is under 30 at this point, but they would have the next two drafts under contract so about four more players. That puts them at say, $90 million, with about $30-50 million before hitting the luxury tax.
They likely would be able to bring in more guys around, would still have coach Mike Budenholzer and a great GM in Jon Horst, so this would still be on track to make the postseason. But is pushing for 50 wins and second round playoff appearance going to be enough post-Giannis?
Trading Middleton won't happen, partially because of how much he will cost and partially because of his age, so the Bucks might as well try and win without Giannis. Bledsoe and Lopez will be on the team for two more years as well, so they will still have some talent here and be a playoff team in the East. This isn't as bad of a supporting cast that LeBron James had, imagine more like what Toronto has now. Eventually, though, Middleton's skills will fade, Bledsoe will be too old to play the way he plays and Lopez will be a shell of himself. Should Giannis leave, this group could theoretically be a playoff team for another year or two, and then it would be time to tear it down. It actually makes me wonder what would the Bucks try to do with their aging players and big contracts if they keep Giannis. That's why the Bucks probably have the most pressure of anybody in this postseason.
---