San Antonio Spurs' Future Outlook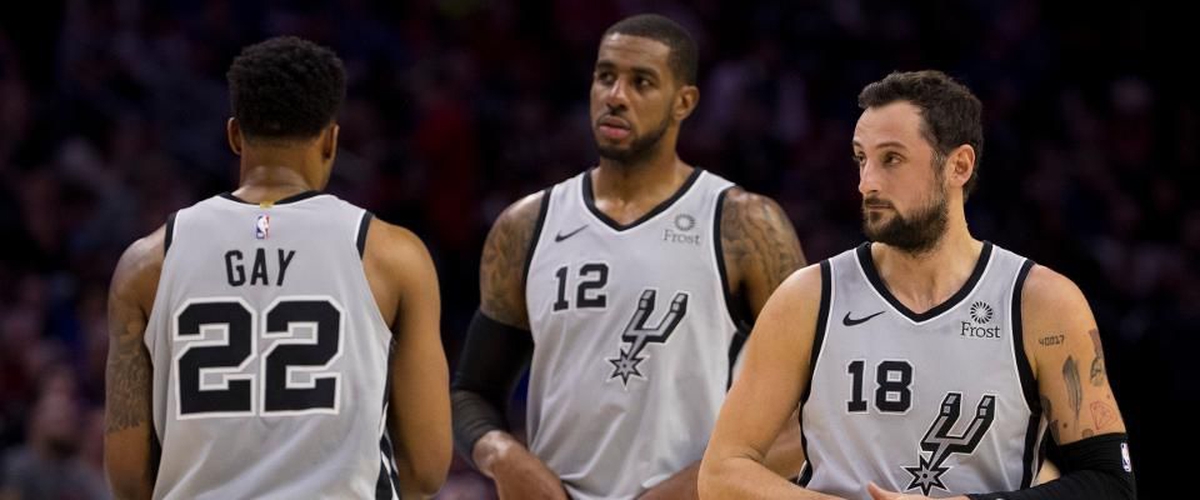 After being the dynasty of the NBA since the late 1980's, the Spurs are finally starting to look like their time is winding down. Kawhi Leonard, Tony Parker and Manu Ginobili have been gone for two years now, and Tim Duncan for more. This team looks nothing like the teams of even the early 2010's, only with guards Patty Mills and Marco Belinelli remaining from the 2014 NBA Champs. This team is not young, with five players over thirty, and have no obvious players to "pass the torch" to. They have two former All-Stars in LaMarcus Aldridge and DeMar DeRozan, and while both are having good seasons they are starting to trend downward. Head coach Gregg Popovich is likely to retire soon, being the oldest coach in the NBA, and also because his team just isn't the same anymore. Here is an outlook for the San Antonio Spurs.
WHO'S GONE: SG Marco Belinelli, G/F Bryn Forbes, C Jakob Poeltl
I mean who is gone from this current roster, not all of the retirees and departures from previous championships. DeRozan has a player option which he will likely exercise, unless he believes he can make more than $25 million in his next contract elsewhere. Forbes is their leading scorer under the age of 30, but he's not much more than a younger Danny Green in my eyes. Belinelli is the oldest Spur, and probably has a few years left of being similar to what Kyle Korver is for Milwaukee. Poeltl is a mystery, but likely can make it as a backup big man for a few more years at least.
WHO'S LEFT:
C-LaMarcus Aldridge, Chimezie Metu
PF-Trey Lyles, Luka Samanic
SF-DeMar DeRozan, Rudy Gay
SG-Lonnie Walker, Keldon Johnson
PG-Dejounte Murray, Derrick White, Patty Mills
Mostly the same roster is remaining, and the roster has a good amount of youth around the periphery. The Spurs are currently four back of the playoffs with what they currently have on their roster, and that makes them in the lottery for the first time in a long time, possibly since they drafted Tim Duncan (maybe once in between then and now). The two first rounders they do have, Samanic and Johnson, have barely played this season and their growth is going to be key for the Spurs' future, as well as the continued development of Walker, Murray and White. Aldridge is still a very good player, but he, as well as Rudy Gay, are on their last legs and won't be part of the long-term plans.
WHAT'S NEXT:
Aside from Dejounte Murray, Lonnie Walker, Keldon Johnson and Luka Samanic, everybody is a free agent by 2021. In fact, the Spurs will only have at most $40 million committed if everybody signed gets a one year contract this off-season. That gives them plenty of room to work in the summer of 2021, with Aldridge, DeRozan, Gay and Mills taking $80 million off of the books at once. That's a lot of flexibility, but with that comes a lot of tough decisions. None of those players are going to be worth big contracts, or probably even Dejounte money ($16 million), so it might be a big makeover coming soon in South Texas.
Despite all of that cap room, the Spurs likely aren't going to land any "big fish" like Giannis Antetokounmpo or Victor Oladipo, but could go after a couple of second level guys to complement what they already have. There aren't a ton of great unrestricted free agents, but Josh Richardson, Will Barton or Jerami Grant could be decent pickups. They just don't have a lot of good options going this route.
Re-signing Derrick White would be a good move, but a roster of those four, a couple of decent lottery guys and White isn't scary. I honestly don't see a way the Spurs get a player better than what they currently have, but just two years in the future. I think a rebuild is the way the Spurs need to go, and making some trades before the 2021 off-season is the best way to do it.
---