Novak Djokovic has always been the villain, but this is uncharted territory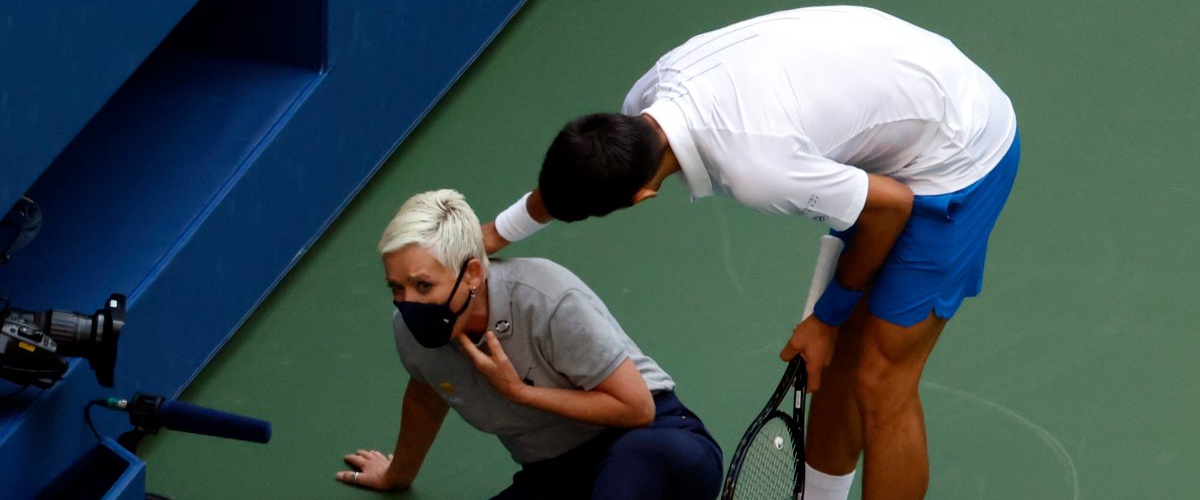 Novak Djokovic was supposed to win the 2020 US Open handily. With no Roger Federer or Rafael Nadal to compete with, Novak was a shoe-in to win his 18th major tournament and yet another US Open.
That all came crashing down Sunday afternoon when 20th seed Pablo Carreño Busta broke Novak's serve to take a 6-5 lead in the first set. Djokovic - out of frustration - turned and hit a ball from his pocket to the back wall.
That ball struck an unsuspecting line judge in the throat and the world number one was defaulted from the tournament for harming an official. Novak clearly felt awful and did not mean to hit the line judge (she had not made a controversial call or upset either player before the incident) and was quick to rush over to check on her.
After helping the lines person and speaking with a US Open official, Djokovic was disqualified from the tourney and was later fined $267,500 as well.
Djokovic's coach, Radek Stepanek, said the following about the incident:
"I know he is very sad inside himself and he is in pain. He is in pain because it was unintentional and, in that moment, the pain is bigger. And it's hard for him because we know how hungry he is to become the player with the most grand slams. I believe he felt -- everyone felt -- this one should be for him, reachable."
Novak has always been a bit of a hothead. He has his fans across the world, but more often then not, he does something on the court (thumping his chest, yelling at his box, creating a scene, and more) that rubs neutral fans or recreational tennis players the wrong way.
Add in the off-court incident a couple of months ago where Djokovic held a tournament and ended up getting COVID-19 along with several of the participants and his track record is rather disturbing.
Right now, Novak Djokovic's stock is very, very low. Should he have been disqualified from the tournament? Yes! Without a doubt!
Those saying that it was an accident and it was wrong for him to be kicked out are kind of right. Yes it was an accident, but look at how bad the accident was!
Novak is a great player and will be remembered for his incredible win streaks and major tournament wins, but when he does retire, he will be remembered as a villain because of his roller coaster of emotions and consistently poor behavior on the court.
---