Who is worse? Daniel Jones or Sam Darnold?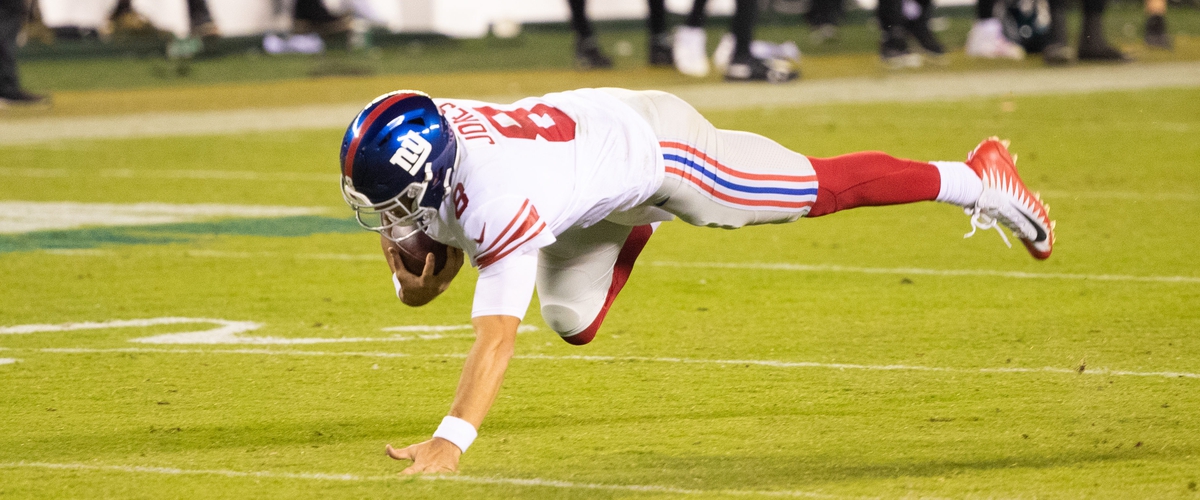 If you are a New York football fan, I applaud your perseverance and determination in supporting the Jets and the Giants.
The two teams that share MetLife Stadium are a COMBINED 1-11 this season and the two quarterbacks in charge – Daniel Jones for the Giants and Sam Darnold for the Jets – are playing devastatingly horrible football at the moment.
I mean so bad that Daniel Jones was jaunting scot-free to the endzone last night against the Eagles on what should have been a touchdown before faceplanting five-yards short. The Giants lost by one and if that doesn't sum up Jones' short time in the NFL, I don't know what else could.
When a quarterback starts drawing Ryan Leaf comparisons, you know something is seriously wrong.
Jones' record as a starter in 19 NFL games sure adds a whole lot of bad to the already bad. The former Duke QB is 4-15 at the helm of the G-Men and the days of Eli Manning, Odell Beckham Jr., and quality football have long since been forgotten.
The only help Jones gets is from his "rival" who plays for the Jets, Darnold. The USC man was a star in college, but the coaching he has received since he entered the league and his lack of production has rumors swirling that Trevor Lawrence is bound to be the first overall pick and the new starter over Darnold.
Hell, Darnold has dealt with several injuries already and has been absent the last two weeks with Joe Flacco starting in his place! And we all know how average Flacco has been since he won the Super Bowl with the Baltimore Ravens several years ago.
Sam at least has double digit wins in his NFL career, but in 30 starts, he is completing just 60 percent of his passes and is 11-19.
You like interceptions and low scoring games, you will love watching these two play! Jones and Darnold have combined to play in 50 NFL games thus far in their careers'. During that time, they have combined to throw 51 interceptions and 68 touchdowns.
So, which QB is in fact worse?
Choosing which quarterback is "better" is like choosing whether to eat Vegamite or Marmite. Neither passes the eye test, neither is appealing, and neither leaves you feeling satisfied.
It is about time for both franchises to tear down everything - again - and build through a "career" QB. These two will not be competing for playoff positioning for several years, no, they will be competing for the first overall draft pick.
Oof.
---