Criticism of NBA finals loses is unfair to LeBron James.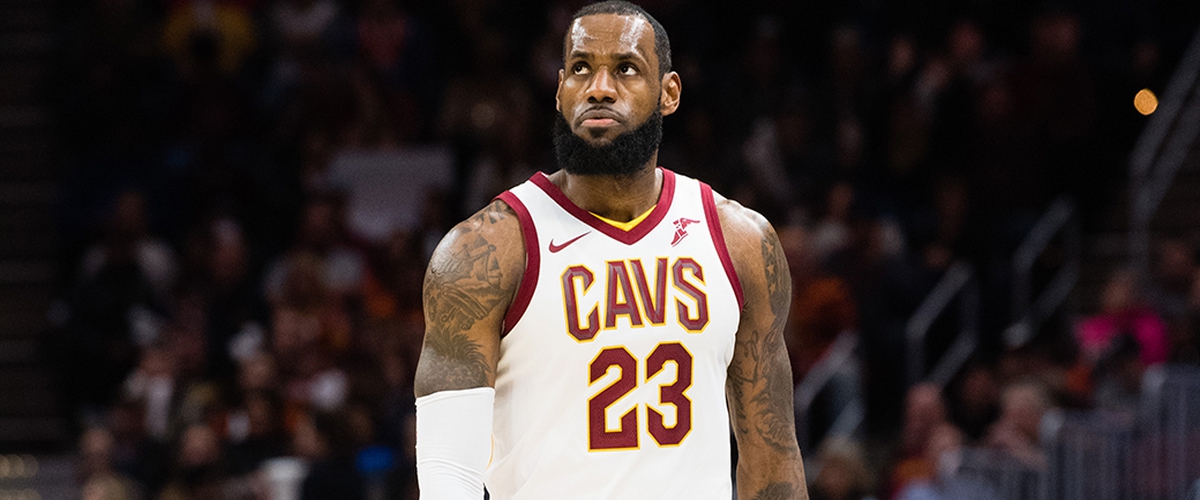 The Cleveland Cavaliers are back in the finals yet again for the fourth straight year and the eighth straight for the king himself LeBron James. LeBron has three NBA titles on his resume, winning two in Miami and his third title two years ago that gave the city of Cleveland It's first major sports title in 52 years. But his finals record is at 3-5, loosing the NBA finals five times. Two to the Spurs, two to the Warriors, and one to the Mavericks in 2011. Critics like to say jokes about how LeBron has lost in the finals five times and back in 2011, they made jokes about how LeBron choked in the 4th quarter. Honestly, I expect the Golden State Aarriors to beat LeBron and the Cavaliers yet again. But than LeBron would losing his sixth finals in his career and the critics are going to say that he lost six finals, yes LeBron would have lost six NBA finals but to receive criticism for It is so unfair.
First of all, when he lost his first NBA finals in 2007, he was much younger and the team he had was no match for Tim Duncan and the San Antonio Spurs in their primes. When he lost the finals in 2011, we all had every right to be crictical of him then, he choked up 4 consecutive 4th quarters. When LeBron and the Heat played the Spurs for the second year in a row in 2014, It would have been one thing to lose the finals but how LeBron and the Heat lost after losing two games at home was very embarrassing and yeah they deserved to be criticized. When LeBron lost the finals to the Warriors in 2015, he had no Kevin Love and no Kyrie Krving and was outmatched despite how great he played in that series. But losing last year and losing again this year, It is unfair to criticize him because he went up against a Golden State Warriors team with Kevin Durant and two of the greatest shooters ever in Stephen Curry and Klay Thompson and the Warriors are just a force to be reckoned with.
I know that many of us like to compare him to Michael Jordan, Jordan went to the finals six times and never lost, though I think he should have lost against Charles Barkley's Phoenix Suns in 1993 after that lucky three point shot by John Paxson. And he should had lost the Utah Jazz in his final year in Chicago accept he was able to steal the ball from Karl Malone and shoved Bryon Russell for the game winning shot that sealed his sixth title. Truth is, if Michael Jordsn went up against a team of Magic Johnson, Charles Barkley, Karl Malone, and David Roninson, no way Jordan would have gotten passed them altogether.
It is time that we stop the LeBron to Jordan comparisons, LeBron was not mean't to be Jordan or go 6-0 in the finals. I once called him the next Michael Jordan but after he choked 4 consecutive 4th quarters in the finals in 2011, I stoped calling him the next Jordan. At the end of the day, he's just LeBron James. Besides even if he loses six NBA finals, at least he's won three titles and still has a great career. Magic Johnson has lost maybe two or three finals, he has won five titles and is one of the greatest point guard ever, he still had a great career. Larry Bird has lost two NBA finals and won three NBA titles going 3-5 in the finals, he is one of the greatest shooters ever and still had a great career. Shaquille O Neal one of the most dominate big man in NBA history win four NBA titles and lost two NBA finals in 1995 and 2004, he still had a great career. Kobe Bryant lost the finals twice to the Pistons and Celtics, he won five NBA titles, he still had a great career. So to crictize LeBron James losing in the NBA finals is unfair, no NBA player is ever like Michael Jordan that went 6-9 and got lucky a couple of times and to become honest, Jordan was just as vanurable losing the finals as other star players were, again he just got lucky. LeBron isn't a machine, he isn't perfect, but to go up against a force like the Warriors, you can't guaranteed that he'll beat them and win the championship again on his own.
---