Derrick Rose a superstar again? Drops 50 points against the Jazz.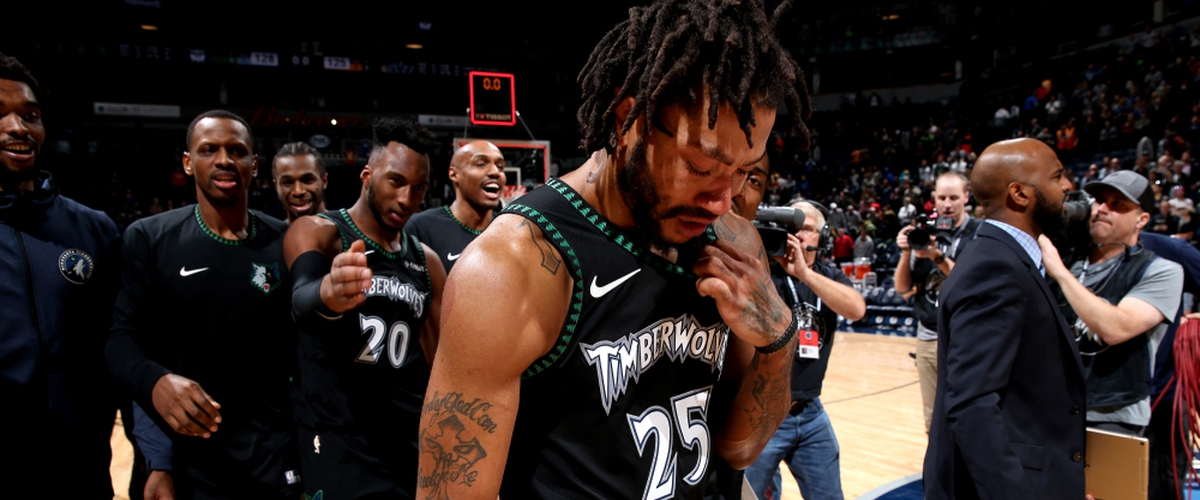 Derrick Rose was once a number one overall pick, league MVP, three time all star and one of the elites but missed two seasons after suffering two torn ACL's on both of his knees and his career sort of went down hill. After 8 seasons with the Chicago Bulls, one season with the New York Knicks, and half of a season with the Cleveland Cavaliers, no one was sure if Derrick Rose was going to be able to play in the NBA any longer until the Minnesota Timberwolves took a chance on him.
Derrick Rose signed with the Timberwolves back in March of last season and reunited with teammates Taj Gibson and Jimmy Butler and head coach Tom
Thibodeau from
Chicago. Rose averaged 14.2 PPG in the playoffs as the Timberwolves were eliminated by the Houston Rockets.
Derrick Rose resigned with the Timberwolves in July and despite the ongoing saga with Jimmy Butler, Derrick Rose is playing decent averaging 18.8 PPG. On Wednesday night, Derrick Rose had the biggest game of his career when he scored 50 points against the Utah Jazz going 19-31 and shooting 61% from the field. Rose turned back the clock and scored more than 40 points in his career since March 18th of 2011.
The basketball world completely were excited to see Derrick Rose have the game of his life, NBA players and legends had nothing but praise for the former league MVP. Miami Heat guard Dwyane Wade stated that the basketball world should feel good for Derrick Rose, Rose has gotten praise from other players in the NBA such as Damien Lillard, CJ McCollum, Evan Turner, Trey Young, former teammates JR Smith and Tristan Thompson, Chris Paul, Nikola Vucevic, Evan Fournier, teammates Andrew Wiggins and Karl Anthony Towns and former Chicago Bulls forward and six time champion Scottie Pippen.
Derrick Rose may no longer be an elite superstar but his career is far from over and he is proving every night that he can still play in this league. Coming back from two torn ACL's is not easy and I don't think anybody has ever come back from that. If you look at guys like Penny Hardaway and Grant Hill, they went down with foot injuries and were never the same. Guys like Tracy McGrady struggled with injuries and Zydrunas Illguaskas had a foot injury that almost ended his career but both of them were able to still play in the league and contribute but T-Mac never returned to that all star level as his career was winding down. But if you look at Stephen Curry and how great he is now, a three time champion and two time MVP, many forget that curry struggled with multiple ankle injuries and no one ever thought that he was going to be the superstar that he is, Stephen Curry in my opinion had one of the greatest career turnarounds ever. So after the 50 point performance by Derrick Rose, if Stephen Curry can turn his career out after everything he went through, why not Derrick Rose? After two torn ACL's and the performance he had Wednesday night, why not Derrick Rose?
---