Jim Riggleman Is Not the Manager Reds Fans Want, but He Is the One the Reds Need.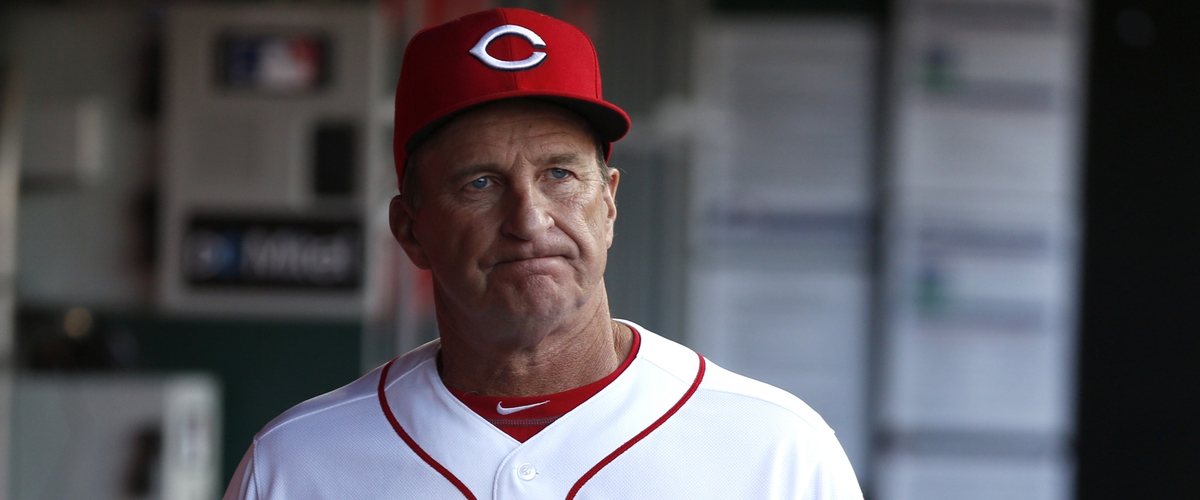 Jim Riggleman is not the manager Reds fans want, but he is the one the Reds need. You heard me correctly, Jim Riggleman is the perfect manager for the Reds right now. Since Riggleman has taken over as interim manager for the Reds the team has gone 11-12. Below .500? Yes, but it's much deeper than just record.
The Reds have remained competitive in nearly every game Riggleman has managed, losing by more than 3 runs only twice. The Reds average margin of loss under Riggleman is 2.5 runs compared to that of the average of 3.7 runs under Bryan Price. Riggleman has this team playing more competitive games, and with that comes more wins. However, keeping games more competitive is not the only thing Riggleman has done. He has the team winning games at a higher margin than Price too, a Reds team managed by Riggleman is winning games by an average of 3.6 runs vs. 3.3 runs under Price (who only won 3 games as the Reds manager this season).
I've heard the argument that the Reds pitching was starting to get hot at the end of 2017, and that's just carrying over now and that now the lineup is healthy that's the only reason they're winning, not Riggleman. As for the four starting pitchers that have remained in the rotation under both Price and Riggleman, three of their ERA's have gone up since Riggleman took over as manager. As for the injuries, let's not forget Suarez played seven full games for the Reds under Price this season before landing on the DL, the team averaged 3.5 runs per game in those seven games. Once Suarez came back from the DL the Reds have averaged 4.9 runs in seventeen games, all managed by Riggleman. A near one and half more runs per game is not purely due to Suarez, so there goes the argument lineup wise. Pitching wise? The only two pitchers that were on the projected to be on the Opening Day roster that have pitched this season are reliever David Hernandez and Brandon Finnegan. Hernandez has been impressive, with a 2.00 ERA compared to a 3.11 ERA in 2017. So Hernandez is pitching statistically better under Riggleman this season than he did last season for the Angels and Diamondbacks. As for Finnegan, he sucked so bad he got sent to Triple-A, so he actually hurt the Reds instead of helping them. Essentially what you're getting under Riggleman is a lineup average 1.4 more runs per game than they did under Price, improved performance out of Hernandez, and no help from FInnegan. No matter how you slice it and dice it, performance has picked up since Riggleman took over and it's not only due to a healthy roster.
The last week under Riggleman has been phenomenal for the Reds, as they have gone 6-1, winning six straight. The bullpen just earned Bullpen of the Week honors with a 0.95ERA, 32K's, and four saves (credit: https://www.mlb.com/reds/news/bullpen-of-the-week-reds/c-276667974). Hmm, it's almost as if that didn't happen when Price managed this season. Oh wait, it didn't.
Riggleman has the Reds riding their longest win streak of the season, pitching their best, hitting better than they have all season, playing in more competitive games everyday, and has improved the performance of the team. The Reds do not need a World Series type of manager right now, they're nowhere near a World Series quality team. However, they need to start developing these young players and getting them to play well at the major league level, which they are doing under Riggleman.
If I have yet to convince you Riggleman is the right manager for the Reds, I don't think I ever will. A lot of Reds fans are set on the thought of former Reds Shortstop and Hall of Famer Barry Larkin managing the Reds in the future. Having lived in Cincinnati my whole life and having seen first-hand how Cincinnati sports fans act, there are a ton of fans who think they'd be great GM's. I wish some of these fan GM's would swallow their pride and admit Riggleman has done a good job with this Reds squad. Riggleman is not the manager Reds fans want, but he deserves to manage this team until they are at least ready to be a postseason contenders. Riggleman is what the Reds need.
---