10 Mid Major Players You Need To Know For The NCAA Tournament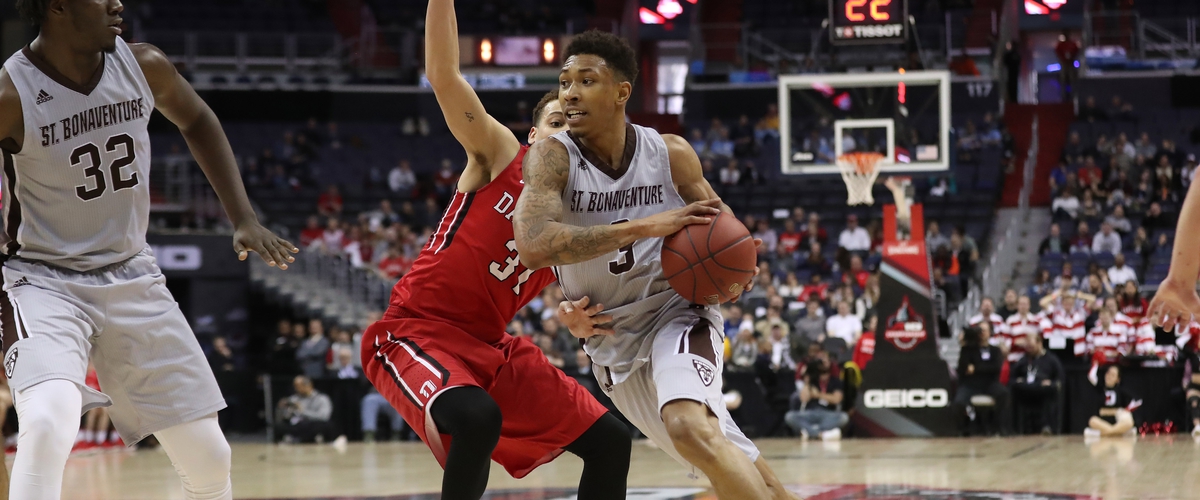 Every year there are one or two mid major teams that pull a huge upset and have the eyes of the nation on them. These teams are usually led by one or two superstars who steal the show for a few days. Here are 15 studs who can play that role this year.
1. Jaylen Adams, Guard, St. Bonaventure
St. Bonaventure has a tough road to a Cinderella run, having to make a stop in Dayton on their way to the first round, but if there's a guy who can lead his team through the extra road block its Adams. Averaging 19.8 and 5.4 per game, the Bonnies offense runs through Adams, who led St. Bonaventure to its best season ever. He's a scoring machine, dropping 20 points twelve times this season, including a 5 game 20+ point scoring streak that included back to back 40 point games. I don't like to throw around drastic comparisons but he could very well step into the Curry role and leave his mark on the sport forever.
2. Mike Daum, Forward, South Dakota State
Mike Daum is a threat to takeover the game any time he steps on the court, averaging a double-double of 23.8 and 10.4 each game. He can attack you in the paint, or from behind the 3 point line and will dominate the glass in any game he plays. Daum can undoubtedly lead an upset bid, he averaged 26.5 ppg against ranked teams this year, and the pieces around him and SDSU's style of play can lead to a run in this tournament for the Jackrabbits.
3. Peyton Aldridge, Forward, Davidson
Davidson has been on an incredible hot streak, winning 8 of its last 9 games with wins over Rhode Island (twice) and St. Bonaventure on its way to the A-10's autobid. A large part of that is due to Peyton Aldridge, who's only been on the bench for 14 minutes throughout that 9 game stretch. Aldridge averaged 21.5 and 7.8 per game, getting him co-A10 POY honors this year. Davidson is really hot right now and could give Kentucky a legitimate fight in their first round matchup.
4. The Martin Brothers, Nevada
Now this might be considered "cheating" since this is supposed to be the top 10 players, but its not every day you see a pair of twins lead a team to the NCAA Tournament. Caleb is more of a scoring focused player, averaging 19.1 points on his way to the MWC player of the year awards, while Cody is more of a do it all guy averaging 13.6/6.3/4.6 to land him on the 2nd team all-MWC. Nevada isn't technically an underdog as they are a 7 seed, but they are a mid major with very real Sweet Sixteen potential
5. Jared Terrell, Guard, Rhode Island
Rhode Island is in a situation exactly like Nevada as a mid major expected to make a run to cap off their best season in school history. If Rhode island makes a run in this tournament it will likely be due to their balance as a team, but Terrell could very well carry the Rams squad. He averaged 17 ppg and led the Rams in free throw and 3 point percentage to find himself as a first team all-A10'er. With Terrell in the lead role, Rhode Island can easily make a run similar to last season's.
6. Jonathan Stark, Guard, Murray State
Stark is exactly what everyone in the media is looking for in a mid major success story. An unrated recruit who turned himself into a pure scorer who averages 21.8 per game and can takeover a game at will. Murray State has a tough matchup against West Virginia, but behind the 2018 OVC Player of The Year anything is possible
7. Garrison Matthews, Guard, Lipscomb
Now this might be a surprise, as it doesn't seem like Lipscomb has much of a chance against UNC, but Garrison Matthews can flat out ball. Matthews averages 22.1 per game and had 33 points with 7 threes in the ASUN championship game. The Bison may not make it to the round of 32, but Garrison Matthews will certainly put on a show trying to get there.
8. D'Marcus Simonds, Guard, Georgia State
D'Marcus Simonds has maybe the most potential of any mid major player in this tournament. He already averages 21.1/5.8/4.5 this year, and he's ONLY a sophomore. There have been a few consistency issues, but he stepped up when it was needed against UT Arlington, and this could be the coming out party for a future star.
9. Jon Elmore, Guard, Marshall
Elmore took the CUSA tournament by storm yo earn the Thundering Herd the conference's autobid. In three tournament games Elmore averaged 22 points per game, which matches his regular season total, and only sat out for 1 minute. With a favorable matchup for Marshall and unreal range from behind the arc, Elmore can easily become one of the most fun guys to watch in this tournament.
10. Zach Thomas, Forward, Bucknell
Bucknell dominated the Patriot League thanks in large part to Thomas, who nearly averaged a double-double with 20.3 points and 9.2 rebounds per game. The Bison have a tough matchup against Michigan State and Thomas struggled the last few games of the Patriot League tournament, but the upsets that happen always seem to be the ones you don't expect.
Who did I miss? Tweet your thoughts and potential upset situations to @CollegeSportsCV
---