"The Stack" 9-18-18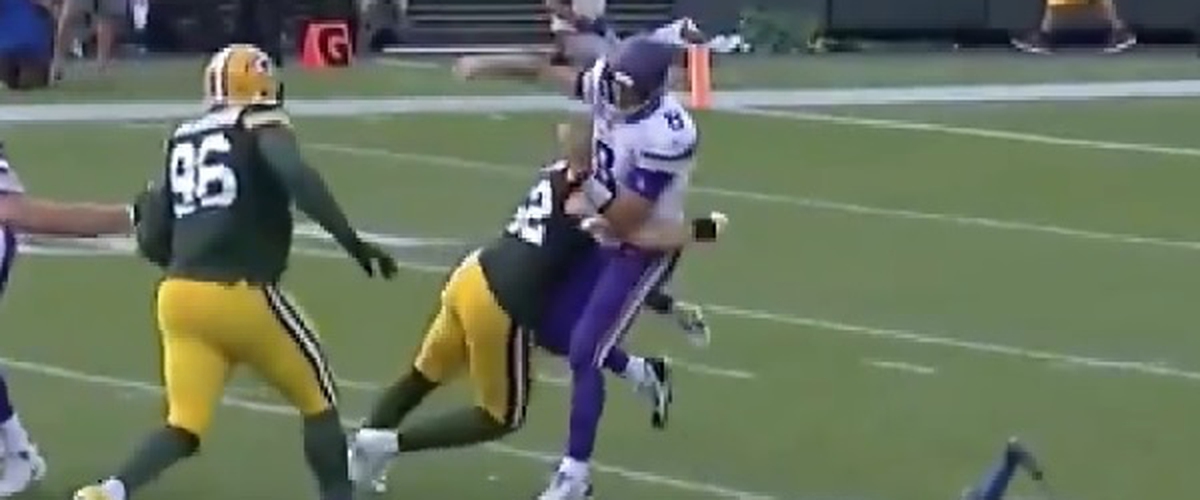 Packers linebacker Clay Matthews got called for a roughing the passer penalty on Sunday that negated a Packers interception and eventually led to a 29-29 tie with the Vikings. The call has left the whole football world perplexed.
The Stack is back on this Tuesday and my apologies for not getting a blog post out yesterday. Camping over the weekend and didn't have the best of internet connectivity. I would have picked the Chicago Bears though last night. Just saying for full transparency. 9-6-1 for the week giving us a two week standing of 16-14-2 on the year. Definitely room for improvement. There is plenty of reaction to get to from all of the week 2 NFL games in "the stack" for today, Tuesday, September 18th:
Panthers 24 Falcons 31
The Panthers were pretty sloppy in this one. Cam Newton got hit by Falcons safety Damontae Kazee and since it was targeting, Kazee was ejected. Newton was okay though. Matt Ryan really rebounded from his pathetic week one performance with four touchdowns, two of which were rushing touchdowns. When have we ever seen that from Ryan? The answer is never…at least not in his NFL career. Ryan was a big reason why the Falcons won on Sunday.
Chargers 31 Bills 20
New QB, same result for the Buffalo Bills. They looked pathetic against the Chargers. Josh Allen was better than Nathan Peterman, but he was not great. Melvin Gordon had himself a day for the Chargers with two receiving touchdowns and one rushing touchdown. It was 28-6 at half. The biggest story out of this game though was that Bills safety Vontae Davis abruptly retired at halftime and left the stadium. What a classless act. Selfish, immature and a lack of commitment to your teammates. Most of the NFL world is looking at Davis a little lower today than they did before Sunday.
Vikings 29 Packers 29
What a game. So many different ways to approach this. Aaron Rodgers played pretty well all things considered playing on one leg. The Vikings played pretty lackluster through three quarters, but Kirk Cousins turned it on in the fourth quarter leading three touchdown drives including the game-tying one and game-tying two point conversion with 31 seconds left. The touchdown pass to Adam Thielen in the waning seconds came only after Clay Matthews was called for a roughing the passer penalty that has been denounced just about everywhere other than the NFL offices as being a terrible call. Vikings linebacker Eric Kendricks also had roughing the passer penalty in this one. The Vikings would have won this game in overtime though if not for the issues of rookie kicker Daniel Carlson. He missed two field goals in overtime, one on the first possession and one on the team's final possession in overtime. A 35-yard field goal!! Are you kidding me? He's out of a job and Dan Bailey is now in. A tie at least not a loss.
Browns 18 Saints 21
Speaking of woeful kicking, Browns kicker Zane Gonzalez (I guess that is former Browns kicker now at this point) missed two field goals and two extra points that cost the Browns a chance to tie the game, but he missed the kicks to the right. The Browns are so close, but seem cursed. Now that Gonzalez is gone, we'll see if the Browns can get that first win of the season. The Saints. Something is off with them. They need to figure it out and quick.
Dolphins 20 Jets 12
That savior Sam Darnold didn't have quite the outing that Jets fans were hopeful for on Sunday and as a result they lost the game. They fell behind by 20 and couldn't rally late. Not sure yet what to make of the Dolphins, but this is an impressive 2-0 start to the season, no doubt about it.
Chiefs 42 Steelers 37
The Pat Mahomes bandwagon is filling up or has already filled up. Man, what a performance against the Steelers Sunday. Six touchdown passes. This Chiefs offense is incredibly difficult to defend. Tyreek Hill has blazing speed, Kareem Hunt is difficult to bring down and Travis Kelce is a huge mismatch. The Steelers tied the game up 21-21, but never could take the lead and now Antonio Brown is upset because who knows why. He was targeted some 17 or 18 times. This could be a very long year in Pittsburgh while the sky if the limit in KC.
Eagles 21 Bucs 27
When you score a touchdown on the first play of the game, you have to like your chances. The Buccaneers did just that when Ryan Fitzpatrick hit Desean Jackson for a 75-yard touchdown. Fitzpatrick would finish with over 400 yards passing for the second straight game and the Bucs would hang on to win. With Fitzpatrick playing like this, how can you let Jameis Winston come back in week four? Most likely you can't. The Eagles got good news Monday in that Carson Wentz has been cleared to play and will start on Sunday against the Colts.
Texans 17 Titans 20
Someone needs to tell the Houston Texans a) they are better than this 0-2 start b) they should never lose to Blaine Gabbert c) Watch out for fake punts that result in touchdowns d) the Texans can't get off to slow starts or e) all of the above. E should be the correct answer. Amazing to think that the Texans are struggling this much, especially Deshaun Watson considering that he was so dynamic last year. The struggle is real in Houston.
Colts 21 Washington 9
It was nice of Indianapolis to show up for this game. Washington seemed to not be there at all. In front of a stadium that had between 20 to 30 thousand empty seats, Washington played uninspired and lost. Have to feel good for Andrew Luck though to pick up the win after all he's been through.
Cardinals 0 Rams 34
If the Bills are the worst team in the NFL, the Arizona Cardinals are a close second. They had under 150 yards of total offense on Sunday. The Rams defense is scary good, but that good? No. The Cardinals just don't have much going for them on offense right now. Sam Bradford does not look comfortable. It's ugly in the desert. Todd Gurley had three rushing touchdowns in this one.
Lions 27 49ers 30
The San Francisco 49ers had a big lead in the fourth quarter and the Detroit Lions played uninspired football for three quarters, but came roaring back in the fourth quarter and had a chance to win it after they picked off Jimmy Garoppolo, but a penalty on the interception return took away their great field position and that was all she wrote. Good learning experience for the 49ers.
Raiders 19 Broncos 20
The Oakland Raiders looked like they had this one comfortably, but Case Keenum helped lead the comeback in this one including setting up Brandon McManus for the game-winning field goal. Extremely tough loss for the Raiders. The Broncos meanwhile are playing with fire a little bit here. Fourth quarter comebacks will catch up to them eventually.
Patriots 20 Jaguars 31
When Jacksonville Jaguars running back Leonard Fournette was declared inactive for the game, I think just about everyone wondered how the Jaguars offense would be able to score enough points to top Tom Brady and Rob Gronkowski. Blake Bortles silenced his critics at least for one game with a four touchdown performance that left everyone practically speechless. And the defense rose to the occasion limiting Gronk to two catches for 15 yards. That just doesn't happen. This was a big win for the Jaguars.
Giants 13 Cowboys 20
I can't pick the Giants much longer. Their offensive line is an absolute joke. They let the Dallas Cowboys get to Eli Manning six times in this one. All the Giants can do is really dink and dunk. Saquon Barkley had 14 catches for 80 yards. That is not what they drafted Barkley for. Dak Prescott had one big play through the air, but the Cowboys offense was largely held in check after that. Not a great game. We'll see just how much of a factor either of these teams will be in the NFC East.
Seahawks 17 Bears 24
While I am still not a believer in Trubisky, the Chicago Bears defense is something to be feared. They sacked Russell Wilson some six times and had a pick six returned for a touchdown in the fourth quarter to put the game out of reach. The Seahawks have issues with their offensive line as well. Trubisky threw two touchdowns for the first time in his career, but had two interceptions as well. Not terrible, but not great.
Coming up Wednesday: College football reaction plus reaction to other top stories in the sports world
---