Penn State football continues to roll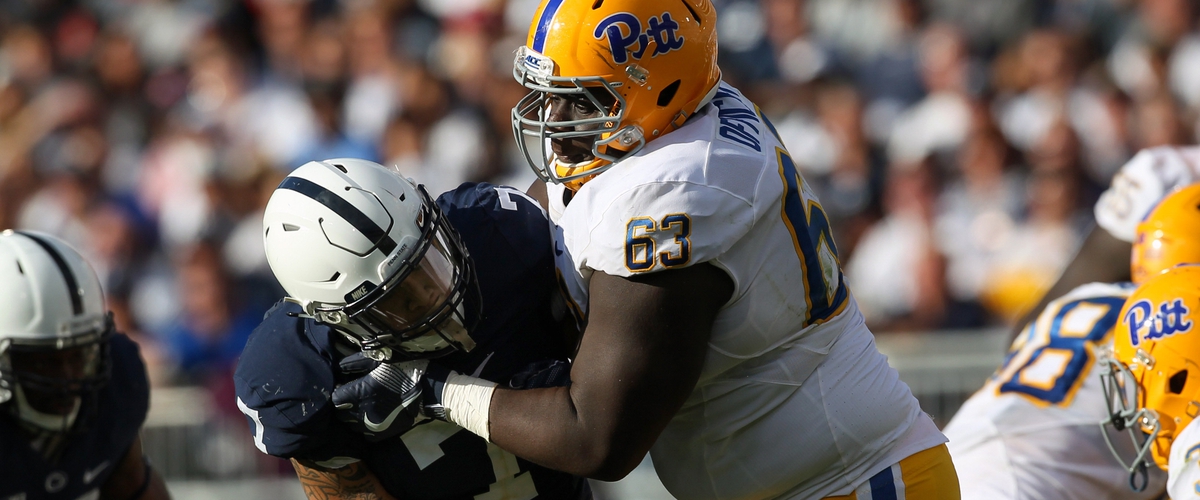 As the Big 10 heads into conference play, Sports Talk From Top To Bottom takes a look at the nation's fourth best football conference, ranking it's league members from top to bottom. We are using GamePlan Magazines power ranking system to come up with our standings. In some cases, a team's opponent was not included in GamePlan's power ranking system so we gave those programs a 110 power ranking each week in order to calculate the power ranking of those programs that are included.
Feel free to throw your thoughts in on these rankings. A team's power ranking is a season-long accumulation of points, so these standings may change dramatically from week to week. On the first line next to 'Big Ten Conference' is the league's collective won-loss record and the average power ranking of the school's that compete for the conference.
On the second and third line in italics we posted the same numbers as they pertain to each division. For example, next to the 'East Division' is the collective won-loss record of the schools residing in the east division and the average power ranking of those schools. On the line next to each school is that school's league record, overall record, power ranking and which division they reside in.
Enjoy!
Big Ten Conference 30-9 121.4
East Division 14-4 123.0
West Division 16-5 119.9
1. Penn State 0-0 3-0 134 East
The Nittany Lions are rolling along once again with easy triumphs over Akron (52-0), Pitt (33-14) and Georgia State (56-0). But now it starts to get real. James Franklin's squad plays @Iowa, @Northwestern, Michigan and @Ohio State in four of the next five weeks. Quite a step up from the competition Penn State has faced to date. Saquon Barkley (38 carries for 307 yards and 3 touchdowns, 11 catches for 241 yards and a couple of more scores) and Trace McSorley (51 of 76 passing for 753 yards and 9 TDs to just 2 INTs) are legitimate Heisman Trophy candidates. Shareef Miller already has five tackles for losses and a pair of sacks. The Nittany Lions have the No. 2 scoring offense in the Big 10 and the top-scoring defense.
2. Wisconsin 0-0 3-0 133 West
Just like the rest of the power schools nationally, Wisconsin has rambled through a lite schedule, overpowering Utah State (59-10), Florida Atlantic (31-14) and Brigham Young (40-6) through the first three weeks of the season. Up next for the Badgers is a home date with 2-1 Northwestern Saturday. Jonathan Taylor leads the conference's No. 2 rushing offense with 438 yards on 53 carries for 5 touchdowns, so far, and Alex Hornibrook is the league's most efficient passer through the non-conference portion of Wisconsin's slate. T.J. Edwards has a pair of picks so far, landing him atop the Big 10 with three other guys.
3. Ohio State 1-0 2-1 131 East
The Buckeye's tag as conference favorite may have taken a slight hit with its 31-16 home loss to Oklahoma. But do not count Urban Meyer and the Buckeyes out. Ohio State already leads the league in the standings with its 49-21 win over Indiana and bounced back from its loss to the Sooners with a 38-7 trouncing of Army. J.K. Dobbins leads the always potent ground game with 425 yards and 3 scores on 55 carries, while J.T. Barrett is the league's No. 3 passer with 757 yards on 64 of 103 aerial attempts and 5 touchdowns. Parris Campbell is in the Big 10 Top 10 in both receptions per game (5.0) and yards receiving per game (72.3). Denzel Ward has broken up 5 passes to date and picked one off to sit second in the conference in passes defended.
4. Michigan 0-0 3-0 128 East
The Wolverines claimed a pretty big win for the Big 10 on opening weekend when Jim Harbaugh's squad upended the Florida Gators 33-17. After bumping Cincinnati (36-14) and the Air Force Academy (29-13) to move to 3-0, Michigan now gets to travel to Purdue, one of the Big 10's surprise teams, to open Big 10 play. While the Wolverines do have plenty of offensive weapons, kicker Quinn Nordin is the standout there so far. The sophomore leads the Big 10 with a 14.0 scoring average after connecting on all nine of his PAT attempts and 11 of 13 field goals through three games. Donovan Peoples-Jones has been giving the Wolverine special teams unit another shot in the arm with his 16.3 yard average on 10 punt returns, while Devin Bush leads the league with 4 sacks and is second with 6 tackles for losses.
5. Maryland 0-0 2-0 121 East
Idle last week, the Terrapins are one of the Big 10's grand surprises so far. Maryland went on the road Sept. 2 and took down Texas, one of the nations top programs historically, 51-41. A week later the Terrapin offense erupted for a 63-17 win over Towson at Maryland Stadium. The Terps host Central Florida Saturday before opening Big 10 play at Minnesota Sept. 30. Junior receiver DJ Moore leads the league in receiving yards per game, and is second in scoring, after having reeled in 14 catches for 230 yards and 3 scores in the two Terrapin wins. Jermaine Carter, Jr. sits atop the league's tackles for losses charts with 4 in two games and is second in sacks with 3.
6. Minnesota 0-0 3-0 121 West
With wins over Buffalo (17-7), Oregon State (48-14) and Middle Tennessee (34-3), the Gophers are poised for a big season. Idle this week, Minnesota faces two of the conference's surprise teams in Maryland (Sept. 30) and Purdue (Oct. 7) next. Kicker Emmit Carpenter (12 of 12 PATs), the Big 10's No. 6 scorer with a 9.0 points per game average, is one of the league's best after connecting on 5 of 7 field goal attempts through three games. P.J. Fleck boasts the Big 10's No 2 scoring defense through a couple of games.
7. Purdue 0-0 2-1 120 West
The Boilermakers nearly shocked the nation on opening weekend before falling to No. 16 Louisville 35-28. Since then, Purdue doubled the score on Ohio University 44-21 and cruised over the SEC's Missouri 35-3. Are the Boilermakers for real after three weeks? Purdue gets the opportunity to make that statement this weekend when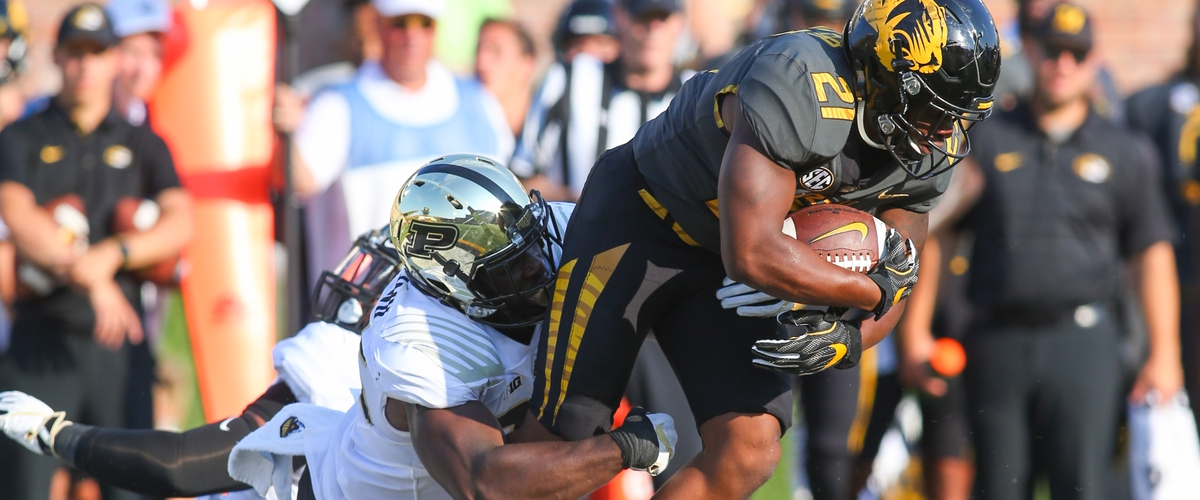 Michigan comes calling. Jackson Anthrop has made the most of his opportunities catching the football. The redshirt freshman has scored 4 touchdowns on just 17 catches for 157 yards. David Blough ranks third in passing efficiency in the league after connecting on 51 of 67 passes for 597 yards and 6 touchdowns to just a pair of interceptions.
8. Michigan State 0-0 2-0 119 East
After struggling to a 3-9 mark a year ago, the Spartans are off to a 2-0 start in 2017 following wins over Bowling Green (35-10) and Western Michigan (28-14). This weekend we find out if the 2-0 Spartans are for real, or if their record may look more like last season's when Notre Dame comes calling. Sophomore linebacker Joe Bachie is averaging more than 10 tackles per contest, sitting second in the Big 10 through two games. The Spartans have not allowed a red zone touchdown as enemy offenses have made just two trips inside the Michigan State 20-yard line. Michigan State tops the conference in opponent's third-down conversions after allowing just three conversions in 28 attempts. As usual Michigan State is strong on defense leading the Big 10 in total defense (203.5 ypg), pass defense (112.0 ypg) and pass defense efficiency (63.5 efficiency).
9. Iowa 0-0 3-0 119 West
The Hawkeyes are off to a 3-0 start after wins over Wyoming (24-3), Iowa State (44-41 in OT) and North Texas (31-14). Heading into this weekend's home contest against Penn State, Iowa can boast that it is 8-4 against the Nittany Lions since the turn of the century. But it can also be said that the Hawkeyes haven't upended Penn State since 2010 and have lost the last three contests against the Nittany Lions. So you can bet that the Hawkeyes will be juiced up this weekend. Credited with 6 passes broken up and a pair of picks, junior Joshua Jackson leads the conference in passes defended through three games. As a defense, the Hawkeyes have been rather stingy on third down, allowing just nine enemy conversions in 38 tries – second best in the conference.
10. Northwestern 0-0 2-1 119 West
After bumping Nevada 31-20 on opening weekend, Northwestern fell to Duke 41-17 on Sept. 9. That 24-point loss was not the outcome the Wildcats had in mind. However, Northwestern bounced back to knock off Bowling Green 49-7 last weekend. Following an idle week, Northwestern will travel to Wisconsin a week from Saturday. A win there could vault Northwestern to a special season. Clayton Thorson is the only Big 10 signal caller to top 800 yards passing to this point in the season and leads the conference by averaging more than 280 passing yards per contest. Paddy Fisher sits atop the league's tackle charts with a fourth best average of 9.7 stops per game through three games. Warren Long is in a three-way tie for first in the conference with 2 forced fumbles. The Wildcats sit first in the Big 10 with a net punting average of 46.2 yards.
11. Indiana 0-1 1-1 116 East
Having fallen to Ohio State already, Indiana may officially reside at the bottom of the Big 10, but don't write them in there just yet. Tom Allen's club bounced back with a nice 34-17 win over Virginia. Next up is a home game against Georgia Southern Saturday. Simmie Cobbs Jr. and Luke Timian sit 1-2 in the Big 10 in receptions per game with averages of 8.0 and 7.0 catches respectively. Cobbs Jr. is second in the conference in receiving yards per game with an average of 105.5 and 3 scores. J-Shun Harris, meanwhile, sits atop the conference standings with an average of 21.8 yards per punt return and a touchdown. Through the first two games Tegray Scales is averaging 10 tackles per game good for third in the conference.
12. Nebraska 0-0 1-2 116 West
The Huskers began the season by getting by Arkansas State (43-36) before coming up just short in a second half comeback at Oregon (35-42). But, by now, everybody in the national football community has heard about Nebraska's 21-17 loss to Northern Illinois, who is 6-6 in their last 12 games against the Big 10. Nebraska faces Rutgers to open Big 10 play at home Saturday. Tanner Lee is second in the Big 10 in passing yards per game with an average of 263 yards per game on 63 of 120 passing and 5 touchdowns to 7 interceptions. Stanley Morgan is averaging 99.7 receiving yards per game and has a pair of scores on 18 catches for 299 yards through three games. Freshman J.D. Spielman leads the league with a 46-yard average on four punt returns and a touchdown. Nebraska is second in the Big 10 with an average of 36.0 yards per kickoff return on six attempts.
13. Rutgers 0-0 1-2 112 East
After falling to Washington (30-14) and Eastern Michigan (16-13) to open the season, Rutgers bounced back with a dominating triumph over Morgan State (65-0) last weekend. The Scarlet Knights now head to Nebraska Saturday to open Big 10 play. Kiy Hester is in a three-way tie for second place in the Big 10 with 6 passes defended, while Darnell Davis sits atop the fumbles forced standings with 2 in three games. Kemoko Turay already has two fumble recoveries. Rutgers is solid in the red zone having scored on 12 of 13 attempts, good for third in the league. The Scarlet Knights also sit third in opponent third-down conversions, holding enemy offenses to just 11 conversions on 46 attempts.
14. Illinois 0-0 2-1 111 West
The Illini opened the season with wins over Ball State (24-21) and Western Kentucky (20-7) before falling to South Florida (47-23) last weekend. Following an idle week, Illinois will host Nebraska Sept. 29. Junior linebacker Del'Shawn Phillips is the Big 10's leader in tackles with 32 through three games and an average of 10.7 per contest. Bobby Roundtree has 3 sacks to date, good for the conferences third best average per game. To date Illinois already has eight sacks as a team.