Why A's Fans Have Little to Fear from WBC
It's that time of year again, when football mercifully releases it's grip on the American sporting world, and those of us more partial to the boys of summer than the behemoths of fall can joyfully begin to cross off the days until the green and gold return to the field.
2017 is a unique year however, (Yea, ya think?) in that it brings us the 4th edition of baseball's most prominent international tournament, the World Baseball Classic. Celebrated by the baseball world over…well, not quite. While the tournament draws raucous crowds in Asia and renews the spirited rivalry of the Caribbean nations, the country that invented the game and is far and away its biggest ambassador, still doesn't really know what to think about the WBC.
The Asian professional leagues interrupt their regular seasons in order to accommodate the tournament, but many MLB organizations are reluctant to put their multi-million dollar investments on a competitive field and in the path of potential injury any sooner than they absolutely need to. Fans get nervous too, biting their nails that all of their home team's players will return from "the front" intact and ready for when it really counts.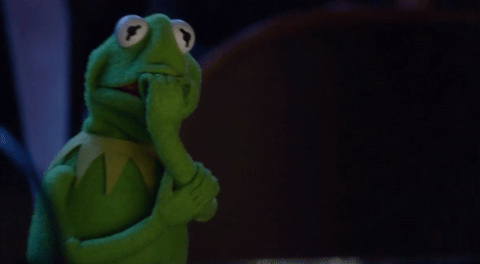 "Just pretend you're sick or something, please don't go!"
This March the A's will have a whopping nine members of their organization represent their respective countries in the WBC, including five from the big league roster: John Axford, Santiago Casilla, Khris Davis, Sonny Gray, and Liam Hendriks. Pitchers are usually the players that lead to hang wringing from front office personnel and fans alike, and Oakland will be sending not only three front line bullpen arms but the ace (we hope) of the starting staff.
So let's just bust out our rosaries now, right?
Not so fast. To begin, no one to this point has been able to provide definitive proof that the WBC increases a participant's chances of injury during the MLB regular season. As sabermetrician Bryan Cole pointed out in a 2014 study, the "regressions" of some players, particularly pitchers who have participated in a WBC prior to the season were likely to happen anyway, as they followed career seasons that merited the selection to their respective national teams.
Second, the WBC does not toss players fresh from the couch in mid December on to a competitive playing field. Most pitchers will take somewhere between 5-8 weeks off from throwing following a season, and by the end of December are already beginning their offseason programs. The WBC kicks off on March 6th, meaning the pitchers participating will have at least 6-8 weeks of prep before they let it fly. Unless a pitcher is returning from injury, that's plenty of time.
Finally, the quadrennial tournament isn't taxing on pitchers in terms of innings. In the 2013 tournament, just eight pitchers threw more than 10 innings, and none made more than three starts. In 2009, nine threw more than 10 innings, and again no pitcher made more than three starts. The vast majority of participants will throw somewhere between 3-8 innings. Break that down to approximately 15 pitches per inning, and its safe to expect a pitcher to throw between 45-120 pitches over a 16 day span. That's routine work for a starting pitcher (who are rarely extended deep into games during the tournament anyway), and light to medium duty for most relievers.
Now let's take a look at which big leaguers will be representing the Oakland contingent. John Axford will represent his native Canada for the second consecutive WBC, and will attempt to escape a first round pool that includes the star studded roster of the defending champion Dominican Republic, as well as a Team USA roster that looks to be the best it has ever sent to the tournament. Axford threw a whopping 1 2/3 innings in the 2013 WBC, and barring an unlikely series of events will be heading back to Arizona to rejoin the A's following Canada's first three games.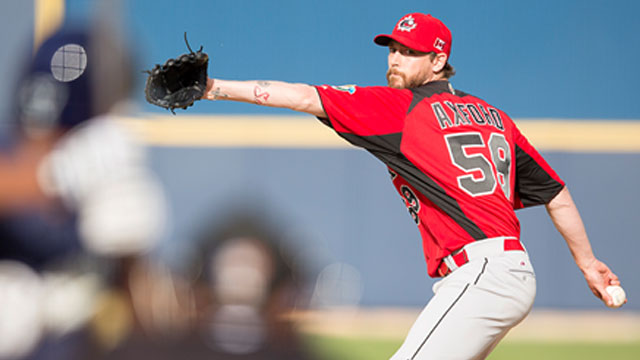 Things will have to get weird for Axford to make more than two appearances in red this March.
Liam Hendriks will also return for his second straight WBC as a headliner of an Australian team that frankly doesn't have the roster to compete with the countries rife with major league talent. They've gone 1-8 in their three appearances, and are grouped with the always formidable Japanese and Cuban teams in Pool B. Chances are high he'll also be returning to big league spring training within a week of departing for Tokyo.
When it comes to Santiago Casilla and Sonny Gray however, things get a bit more interesting. It's no secret how much the A's success in 2017 will depend on Gray returning to form, and he's coming off an injury plagued season. Fortunately for Oakland, Gray will not be participating in the first round for Team USA. As part of a new system put in place for the very purpose of protecting MLB arms, teams can now elect to have a DPP, or designated pitcher pool.
The DPP is essentially a group of 10 alternate pitchers a team can choose from, but may have no more than two from the pool on the roster in any round. Should the US stumble in the first round Gray won't pitch at all, and if they do advance there is no guarantee Gray will be brought on for round two, or how much action he'll see if he is.
Santiago Casilla however, is not within the Dominican's DPP, and is a full active member of the pitching staff who could stay with the team throughout the tournament should the DR advance beyond the first round (guess what, they probably will.) Casilla threw five spotless innings in five appearances for the Dominican during their 2013 championship run, and no doubt will be his fiery self as the DR attempts to repeat.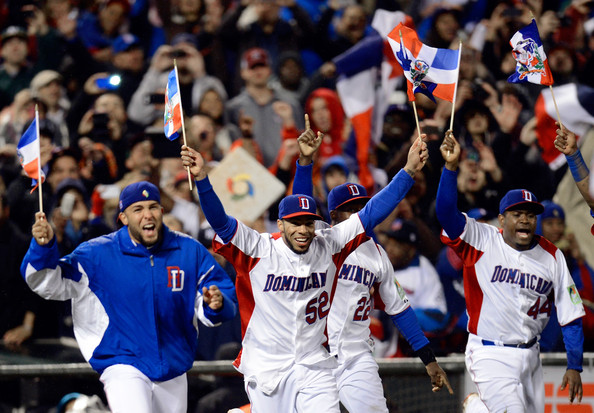 The US may be a little slow to catch on, but national pride means everything to many Caribbean born big leaguers.
Casilla does have some injury history in his career, although it's been almost exclusively lower body injuries. Still, at his now advanced age of 36, one might look to Casilla as the one A's representative to be a little nervous about.
As for Khrush, I think that guy can swat bombs and hang out in left field with his eyes closed. Fingers crossed.
-AC
---