My 2017 Fantasy Football Sleepers
2017 Fantasy Football: The Early List for Quarterback Sleepers
With the start of the NFL season just around the corner, it's time to start thinking of which Quarterback sleepers you will target. I know you've heard before that Quarterback is the deepest position in fantasy, and it truly is. In current mock drafts, you can draft great fantasy players like Kirk Cousins, Jameis Winston, or Marcus Mariota in the last few rounds. Even though big name players like Aaron Rodgers, Tom Brady, and Andrew Luck are all very appealing and will have strong seasons, it's not worth reaching for them in drafts. Just look at Kirk Cousins, who was the fifth best Quarterback in fantasy last season, continue to be underrated on draft day. Even though these Quarterbacks might not be the best at getting wins in the NFL, their fantasy points will be incredibly valuable this season.
Now with all of the free agent moves and draft picks, it's important to reevaluate which are the best Quarterbacks to pursue. One theme you'll notice among many of these Quarterbacks is youth, with Stafford being the oldest at age 29. The older Quarterbacks not named Tom Brady and Drew Brees were disappointing last season. These older quarterbacks that I'm avoiding here in 2017 are Ben Roethlisberger, Eli Manning, Carson Palmer, and Philip Rivers. Look to youth this season to put up tons of passing attempts in offenses with some great weapons. Below are my Quarterback sleepers for 2017.
Kirk Cousins (pick 105)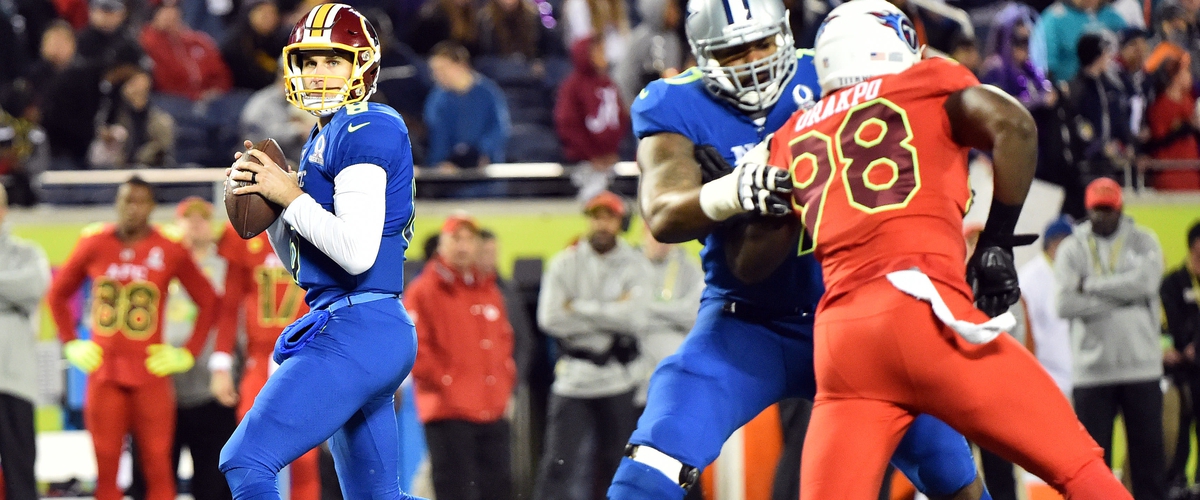 Despite being a top five Quarterback in fantasy last season, Kirk Cousins is going as a very late pick in most 2017 mock drafts. I can understand that players are concerned with Washington losing both Pierre Garcon and DeSean Jackson in free-agency, but Washington still has a solid receiver corp. The Redskins have brought over Terrelle Pryor from Cleveland, who had 1,000 yards last season with a slew of inexperienced Quarterbacks throwing to him. They also still have a previous first round pick in Josh Doctson, and another 1,000 yard slot receiver in Jamison Crowder. Considering that the Redskins defense hasn't gotten much better, this offense will have to put up lots of points to win games. If you want to wait at the Quarterback position, Cousins is the best pick you can make.
Jameis Winston (pick 119)
Even though Winston was a breakout candidate last year, a heavy running game with a lot of interceptions kept his value down. However, after adding the speedy DeSean Jackson to pair up with the big Mike Evans, Winston's fantasy value has never been higher. Tampa Bay also has an excellent pair of tight ends to help all around the field, in Cameron Brate and first round pick O.J. Howard. All these weapons with Doug Martin being out for the first three games makes Winston a great sleeper at Quarterback in 2017.
Matthew Stafford (pick 128)
Don't let the hand injury at the end of the year fool you, Stafford was a very valuable fantasy asset. Even without Megatron on the field, Stafford finished as the seventh best Quarterback in fantasy. With upgrades to the offensive line, Stafford looks to have some of the best pass protection he has had in years. All of this should help Stafford to continue to play well this season, and yet again be undervalued.
Tyrod Taylor (pick 147)
Despite only throwing for 17 touchdowns and having a receiver corp wrecked by injuries, Taylor still managed to rank 11th in fantasy points at the Quarterback position. Taylors production in your league largely depends how rushing yards and touchdowns are scored for Quarterbacks. In standard ESPN leagues, rushing yards and touchdowns are scored the same for running backs as they would be for Quarterbacks. This is what will help keep Taylor as a very ownable Quarterback in fantasy, and if he gets help from his receivers who knows what can happen.
Marcus Mariota (pick 149)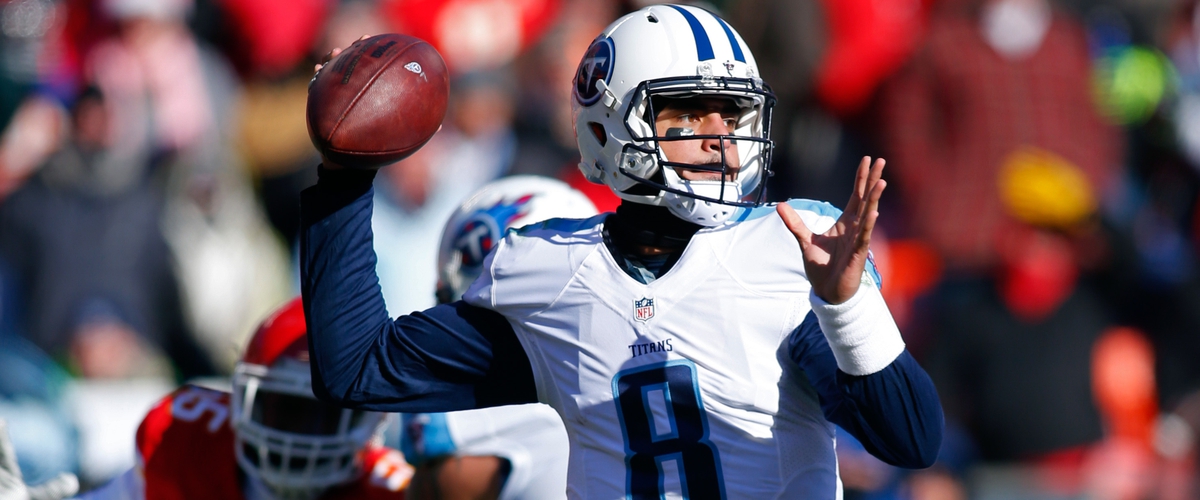 Even though Mariota had a bit of a slow start, and poor ending due to injury, Mariota was a fantasy stud. In weeks 5-12, Mariota was the best Quarterback in fantasy, and he has had some major pieces added. With adding Eric Decker in free agency and drafting Corey Davis fifth overall, Mariota will have even more weapons around him. Even though this will still absolutely be a run first offense, Mariota's red zone efficiency with these new weapons will make this offense a force. Look for Mariota to finish as a top ten Quarterback easily if he stays healthy.
Carson Wentz (pick 168)
The second year product for Philly has gotten a lot of new toys to play with this offseason. Philadelphia had a poor receiving and running back corp, both of which have been upgraded. With Alshon Jeffery and Torrey Smith now in town to pair with Jordan Matthews, this receiving corp should be able to make it much easier on Wentz. LeGarrette Blount will also help take pressure off the offense, by churning for yards and helping in the redzone. Look for Wentz to continue to take strong strides here in 2017.
Andy Dalton (pick 197)
Even though Andy Dalton continues to be an unsexy option, he continues to produce at the Quarterback position. The biggest concern to me looks to be the Bengals' offensive line, who lost two elite players in free agency. However, 2017 should bring back a healthy A.J. Green, Giovani Bernard, and Tyler Eifert, to go along with first round speedster John Ross. All these weapons on a team that doesn't look likely to make the playoffs will provide great fantasy value throughout the season.
Blake Bortles (pick 210)
Even though Bortles performed subpar to his draft position in 2016, he still managed to rank as the 11th Quarterback in fantasy. We know that Bortles didn't play well at all last year and was hard to watch, but he seemed to always get some fantasy points. Whenever he didn't pass for 300 yards, a touchdown, and two picks, he would run in a touchdown, salvaging his day. With Fournette now in Jacksonville to help support this offense, hopefully Bortles will not have to Bortle his way to fantasy fame, and he will improve on a poor 2016 campaign.
2017 Fantasy Football: Early Running Back Sleepers to Target
With the immense numbers of options at the running back position, we need to nail down our ideal running back sleepers. It's no secret that running back has become a tougher position to nail down in recent years. A vast majority of offenses utilize a committee of running backs, and even though it's good for offenses, it's not good for fantasy players.
There are only a few running back situation where the snaps are dominated by one player, and these are often in the cases of elite backs who will be drafted early. This year more than ever, we will all have drafts where we jump at receivers first, and miss out on a strong RB1 or even RB2. This list is to help those who are looking for depth at the position, and need sleepers to target. It's still early, and training camps and the preseason will still help to decide a lot. Below are my early running back sleepers to target here in 2017. Here are my running Back Sleepers Target
Mike Gillislee (pick 77)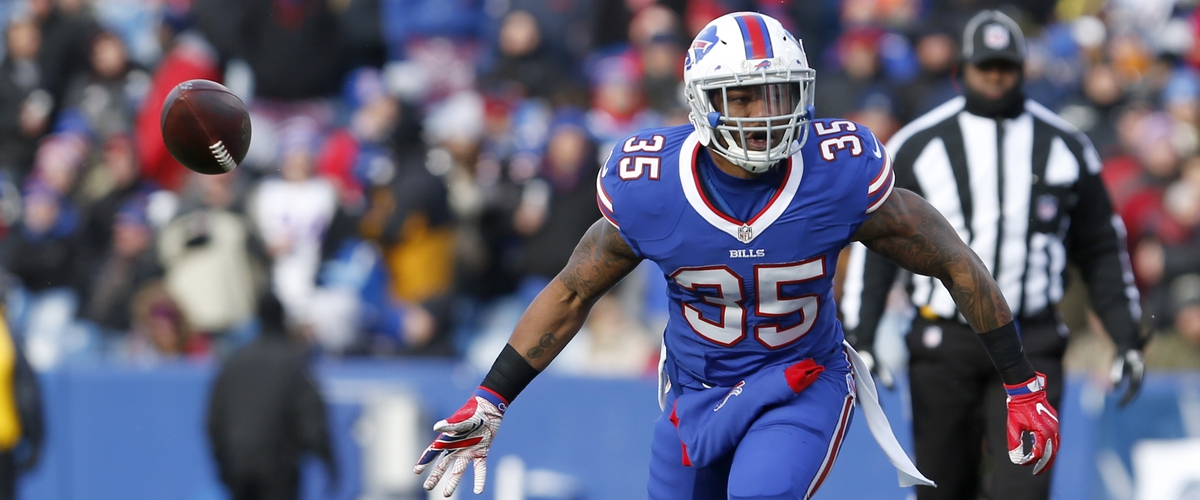 Even after posting excellent numbers as a backup to LeSean McCoy last season with Buffalo, Gillislee will now be the touchdown vulture in New England. Since the Patriots didn't want to resign LeGarrette Blount, they got Gillislee for two years and 6.4 million dollars. Last season, Gillislee posted 577 yards on 101 rushing attempts and eight touchdowns. Even though New England has always been a mess when it comes to running backs in fantasy, the roles seemed to stabilize last season. With Gillislee plugging in right into Blount's role, he is a good bet to get a large share of goal-line work on one of the best offenses in the league.
Paul Perkins (pick 79)
Look we all know the Giants' offensive line is not the best, but Perkins is in for a solid role this year. With Rashad Jennings finally gone, Perkins has the full support of his coaching staff to be the main back. Even though he will lose out on most passing downs to Shane Vereen, opposing defenses will obviously try to stop this elite receiver corp of Odell Beckham Jr., Brandon Marshall, Sterling Shepard, and Evan Engram. All these weapons on the outside will help to make Perkins' job easier, and he will produce in this offense in 2017.
Kareem Hunt (pick 107)
Everyone in fantasy right now is predicting Kareem Hunt to have a breakout season, and it makes good sense. With Jeremy Maclin and Jamaal Charles now gone from this Kansas City, the weapons are small and scarce for the Chiefs. Spencer Ware started in 2016, but was incredibly inconsistent, and Charcandrick West had no success last season. Depending on how Hunt does here in the offseason, I would be surprised if he wasn't at least involved in a committee. This will be an important story to follow this offseason, and could pay out big dividends.
Derrick Henry (pick 125)
It seems like every year fantasy experts are just waiting for DeMarco Murray to break down. Even with Murray healthy, Henry is still good for ten to fifteen touches in this ground and pound offense. Obviously is Murray goes down early in the season, the floodgates open for Henry to rush for 1,000 plus yards easily. Derrick Henry will be a big name to track before the season, and we will absolutely cover him and where to draft him thoroughly.
Jacquizz Rodgers (pick 136)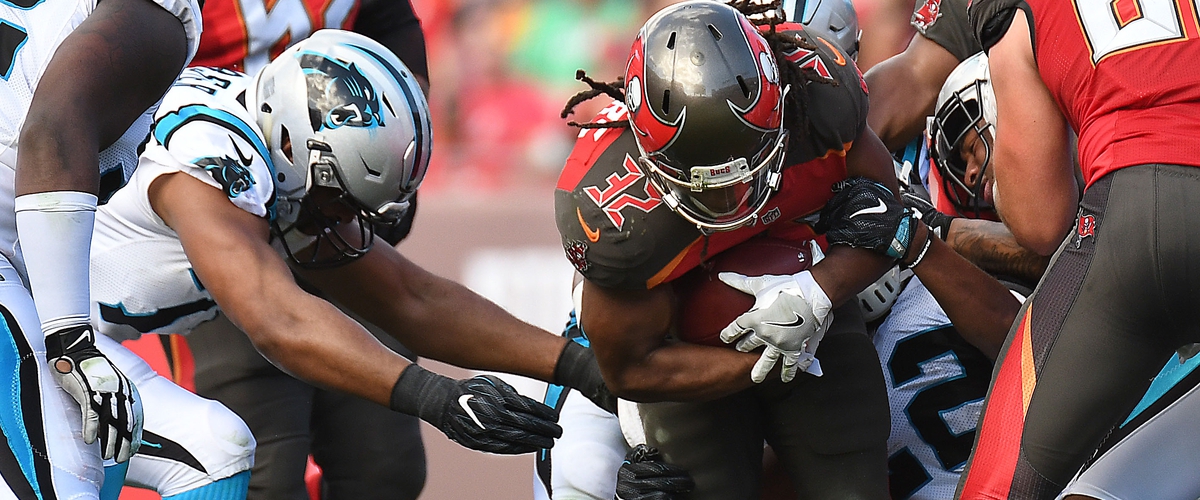 One of my favorite waiver picks ups last season, Quizz burst onto the scene with injuries to both Doug Martin and Charles Sims. With Doug Martin suspended for the first three games, Quizz should look to feast for the first three weeks, like what DeAngelo Williams did for Pittsburgh through week three last season. With the number of passing weapons in Tampa Bay, and the addition of O.J. Howard, the running game should be fairly open for this offense. Look for Quizz to win some matchups early on, and get you off to a hot start.
Jalen Richard (pick 173)
As excited as I am about Marshawn Lynch in an Oakland Raiders' uniform, Jalen Richard will be one of the most important handcuffs in fantasy. Marshawn Lynch has been out of football for a year, and is also getting up there in age. Even though beast Mode could very well rush for 1,000 yards and 10 touchdowns, Richard is a more than capable backup, with good pass-catching abilities. With Latavius Murray out of town, Richard should already be getting ten-fifteen touches even with Lynch healthy, and twenty-five if Lynch gets injured. This handcuff value for Richard makes him a great fantasy sleeper here in 2017.
Marlon Mack (pick 218)
For a deep sleeper handcuff, Marlon Mack presents a lot of intrigue in deeper leagues. Mack will be the primary backup behind the Colts' Frank Gore. Now I understand the Colts' offensive line is nothing that gets me excited and Frank Gore is one of the most durable running backs in NFL history, but he was drafted for a reason. Not trying to hate on Gore's durability, but he's a 34 year-old starting running back in the NFL, this might be the year where we see a fall off. If he does, Mack will be in line for a major amount of work in rushing, receiving out of the backfield, and pass blocking. In very deep leagues, Mack will be a smart handcuff, as he could likely be a good flex or even borderline RB2 if starting.
2017 Fantasy Football: Sleeper Wide Receivers to Target
Even though the wide receiver position is one of the more consistent positions, there are always wide receiver sleepers worth targeting. Obviously the receiver landscape has changed after the release of Jeremy Maclin and Eric Decker. With Maclin now in Baltimore and Decker in Tennessee, the sleeper landscape has definitely changed. Baltimore used to have multiple receivers that were considered to be sleepers, and now it's just Mike Wallace in my opinion. Even though these moves are great for their Quarterbacks, this has hurt the fantasy value of these receiving corps.
However, there are still lots of great sleepers at the position that warrant consideration. One of my favorite sleepers I have listed here is Marvin Jones, who is in one of the pass-friendliest offenses and is a 12th round pick. Even though the best teams will have their receivers way before the 12th round, it's important to know that anything can happen. Injuries in fantasy football can happen in the blink of an eye, and it's important to have backups that are in good positions to produce. Fantasy football is all about opportunity and situation, so target the receivers who are in the best of both worlds. Below are my favorite Fantasy football wide receiver sleepers here in 2017.
Martavis Bryant (pick 73)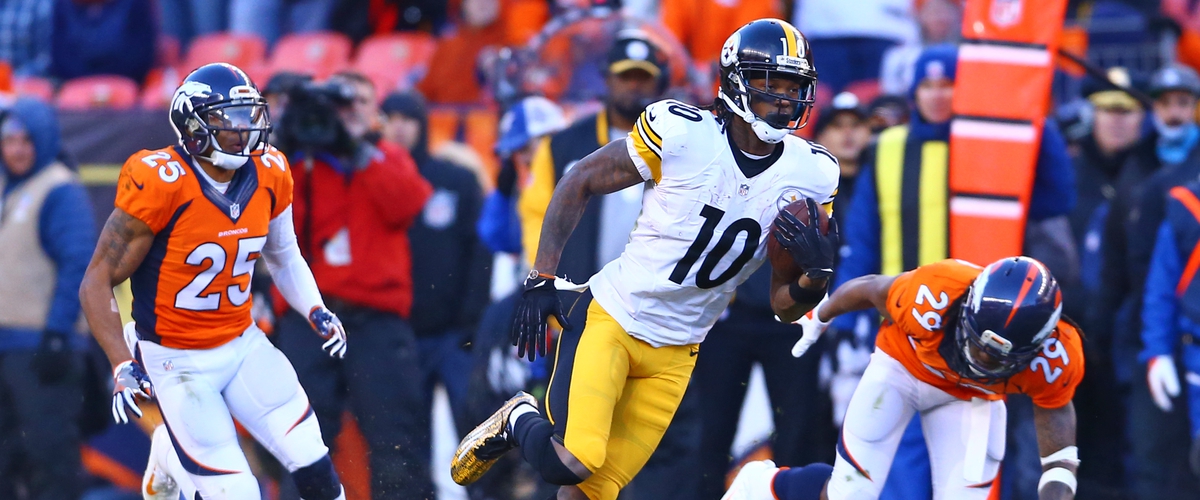 Even though a seventh round pick isn't exactly a sleeper, he should return great value on being drafted here. Last season, all Steelers receivers not named Antonio Brown accounted for 102 catches, 1481 yards, and 11 touchdowns. This is a huge stat for Bryant to eat into, and Antonio Browns' double teams will help Bryant produce as well. I'd say even though Bryant might have more value in standard leagues, he should still get a ton of targets, as Roethlisberger struggled to trust any pass catchers not named Antonio Brown and Le'Veon Bell. My biggest concern is actually Roethlisbergers' struggles on the road last season. However, Bryant should be a great receiver in fantasy, as long as he stays off the drugs.
Mike Wallace (pick 75)
The surprising releases of Eric Decker and Jeremy Maclin have put an asterisk by these wide receiver fantasy sleepers. If Baltimore stays away from both of these talents, Mike Wallace will look to be the biggest sleeper of the season. Baltimore as an offense passed more than any other offense in the league in 2016. The Ravens have also lost Steve Smith Sr. to retirement and Kamar Aiken to free agency. This opens the door for Wallace and Breshad Perriman to run the show, and Wallace clearly has the better track record. Again keep careful track of the current free agent receivers, but Wallace could be the biggest sleeper in fantasy.
Adam Thielen (pick 82)
Breakout receiver Adam Thielen had a very successful year in a subpar passing offense as the WR2. Thielen finished with 69 catches for 967 yards and five touchdowns, and was a main member of the pass catching trio in Minnesota. He clearly has earned the trust of Sam Bradford, who looks like he'll be the starter for at least the majority of the 2017 season, depending on Teddy Bridgewater's recovery. This pick all depends in your confidence in Laquon Treadwell's role this season, but I think Thielen has solidified himself as the WR2 in this offense.
Eric Decker (pick 91)
Even though this move has lowered the fantasy value of other Titans' receivers, I personally love this move for Decker. Throughout the last few years, Decker has been one of the most efficient red zone targets in the league, and he is pairing with one of the most red zone efficient Quarterbacks in the league. Make no mistake about it, this will still be a run-first offense, but having Decker to pair with tight end Delanie Walker in the red zone will make this offense great. All of this requires Marcus Mariota to heal from his fractured right fibula, and all reports look incredibly promising.
Breshad Perriman (pick 118)
The other Ravens receiver also makes this list easily. Perriman has a lot of fantasy value right now for the same reason as Wallace does: he's in a pass-heavy offense that has lost three of the top five pass catchers from last season. The former first round pick is due for a breakout season, and he has every opportunity to do it this year.
Zay Jones (pick 120)
The rookie may be also be subject to falling down the depth chart of the bills sign Jeremy Maclin and Eric Decker. However, since buffalo got rid of WRs 2-4 on the roster this year, plus with Sammy Watkins' injury history, Jones could easily have a big season. Again, we'll have to track any wide receiver free agency signings before camp, but Jones could be the most valuable rookie wide receiver in fantasy this year.
Marvin Jones (pick 124)
After the first four weeks, Jones was pacing all receivers in fantasy last year. As a Lions fan, I'm still not sure what happened with Jones. I think fantasy owners expected him to continue to be a WR1, but Jim Bob Cooter's offense works best when the ball is spread to as many players as possible. However, ESPN has him hidden somewhere in the twelfth or thirteen rounds of drafts, way to low for the WR2 in a pass-heavy offense with seemingly always injured running-backs. Marvin Jones will be a great sleeper this season if he remains this low on draft boards.
Kevin White (pick 134)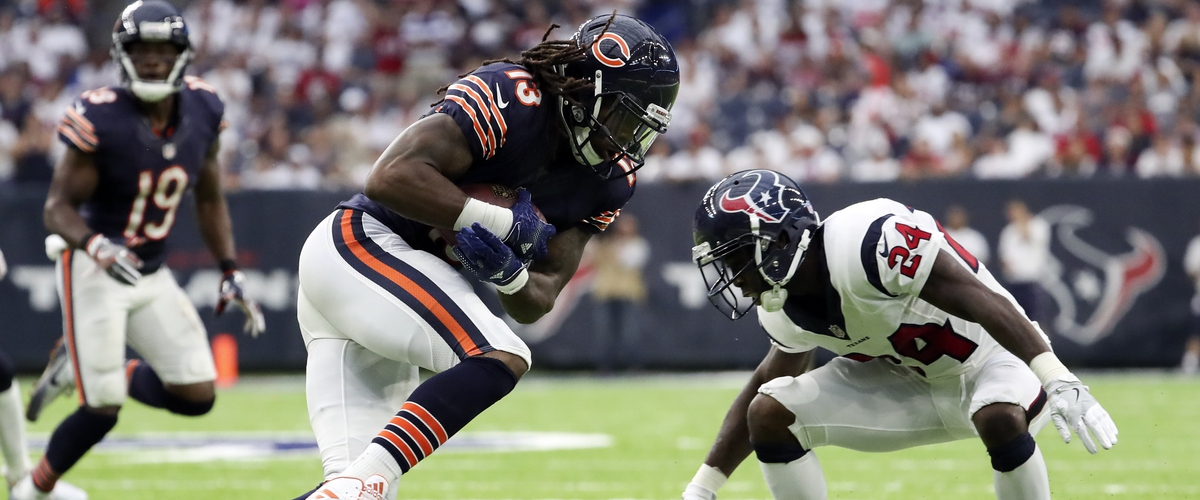 After starting to make progress in 2016, Kevin White went down with another injury, bringing his year to an ending after four weeks. Even though as a Lions fan this makes me laugh, White will clearly have fantasy value this season. White, Cameron Meredith, and Zach Miller will be the primary targets for both Mike Glennon and Mitchell Trubisky. I know asking for White to stay healthy seems like a longshot, but he could be a very valuable sleeper in the thirteenth or fourteenth round in deeper leagues.
J.J. Nelson (pick 160)
For standard leagues, J.J. Nelson is the ultimate boom or bust sleeper, just because of how he is used. Even though Nelson only had 34 catches and one game with over five catches last season, he exploded for 568 receiving yards and six touchdowns. These bursts can definitely help you win you week, as he looks to be one of the best deep threats in the league. Even with John Brown back, I think Nelson will have a very similar role, and is an intriguing flex in deeper standard leagues.
Jeremy Kerley (pick 191)
Even though the WR2 for a poor San Francisco 49ers team doesn't excite everyone, I'm certainly interested in him. With Brian Hoyer now at the helm of this offense, the 49ers will have more fantasy value than last year, even without Colin Kaepernick and Torrey Smith. When Hoyer was healthy last season in Chicago, he was a top ten Fantasy quarterback on a week to week basis. Despite catching just three touchdowns last season, Kerley had seven games with over 10 fantasy points in PPR scoring. With a lack of talent behind Kerley, he looks to be a great sleeper pick for deeper fantasy leagues in 2017.
Chris Conley (pick 232)
With Jeremy Maclin now in Baltimore, Conley now looks to be the WR2 in this offense. Even though he's the third pass catching option in this offense, he still will provide good value in deeper fantasy leagues. As the 4th option in this offense last season, Conley still caught 44 passes. Even though his lack of touchdowns last season is disappointing, fantasy value is all about opportunity, and Conley should be on the field a vast majority of snaps. Look for Conley to be a solid sleeper in deeper leagues this season.
2017 Fantasy Football: Tight End Sleepers to Target
One of the tougher positions to draft in fantasy is tight end, so I've listed my favorite tight end sleepers. Every draft is filled with two kinds of rosters, those where tight end is addressed early, and those where a committee is used. There's no correct way to do this every year, just ask Gronkowski owners last season. They likely used a second or third round pick on him, and got waiver claim production at best.
Traditionally, I like to wait on tight ends and address other positions earlier on. I then spend most of the year playing the waiver wire, and giving very little leash to the players I have at the position. This year, I hope to get Travis Kelce in the fourth or fifth round of drafts. With Jeremy Maclin now gone and a bunch of no name receivers other than Tyreek Hill, Kelce should be a dominant tight end in PPR leagues. If I can't get to Kelce, I'll likely address the position later in drafts, and this is where these sleepers come into play.
You'll notice that I haven't listed any rookies here on the list, as rookie tight ends usually struggle. The Tampa Bay tight end situation will be a headache for fantasy owners all season between O.J. Howard and Cameron Brate, so I'm avoiding that. Even though I think both David Njoku and Evan Engram can have fantasy success, I'll want to see it first. Below are my tight end sleepers for this season:
Martellus Bennett (pick 122)
You might not figure that giving Aaron Rodgers one of the best tight ends he has had in years is a sleeper pick, but it sort of is. Martellus Bennett suffered injuries on and off through last season, and really only had two or three big games. Aaron Rodgers hasn't traditionally used tight ends a lot, but considering Randall Cobb struggled to get separation over the middle, Bennett will at least be a big target for him. However, fantasy owners need to be wary, as we all acted the same way with Jared Cook last season. I recommend holding expectations in check, and not reaching on Bennett, but if he falls, grab him.
Jack Doyle (pick 141)
After signing an extension, Doyle is now the main tight end in this offense, and will reap the benefits in 2017. With Dwayne Allen now in New England, Doyle will be in line for a breakout year with lots of red-zone targets. Considering that the only other red-zone target is Donte Moncrief, who seems to consistently suffer injuries for parts of the year, Doyle should be a very consistent pass catcher in this offense.
Zach Miller (pick 194)
Before going down with an injury in week 11 last season, Miller was a top ten tight end in PPR leagues. With two new Quarterbacks in town, having a big tight end as a safety net to these young Quarterbacks will help tremendously. Since the rest of this receiving corp is below average, Miller should be a consistent pass-catcher in this offense. I like Miller more in PPR than standard leagues, as he should be good for a consistent five or six catches a game.
Austin Hooper (pick 205)
With Jacob Tamme still unsigned, Hooper looks to be the main tight end in this high-powered Atlanta offense. Even though Atlanta has lost Offensive Coordinator Kyle Shanahan to San Francisco and has plenty of pass catchers, tight ends and fullbacks were definitely valuable players in this offense last season. Even though tight end can be a tough position to predict sleepers in, Hooper is definitely an interesting option in deeper leagues.
Jared Cook (pick 251)
For all those #06010 fans out there, we all know how much Matthew Berry doesn't like Jared Cook. However, Cook is an athletic tight end, and an excellent pass catcher. Oakland's offense utilizes every offensive position in the pass catching game, much like Atlanta's offense does. This could help Jared Cook rove to be a mismatch, as defenses will focus in on stopping Amari Cooper, Michael Crabtree, and Marshawn Lynch. Even though my confidence isn't super high in Cook this season, he is definitely a name to watch out for.
2017 Fantasy Football: My Sleeper Fantasy Defenses and Special Teams
Even though defenses are one of the last positions to address, they alone can help you win weeks. We all know the elite defenses in fantasy, and I strongly believe they are worth taking. However, last year I played in a 12 team league with two defense starting spots, so I figured an article like this might be helpful. Whether you're at the end of a snake draft and get one of the last picks on defense, or are in an auction draft with no money left at the end, this article is for you.
Now even though defenses like Denver, Minnesota, Kansas City, New England, and Seattle are still the elite options, there are many other defenses that warrant draft consideration as back ups. I personally like the start with two defenses, unless I get an elite defense. I will rotate through defenses based on matchups and injuries, to get the most out of the position. These defenses below are all smart waiver additions, or very late round picks to jump on. Don't forget all these options at defense on draft day.
Jacksonville Jaguars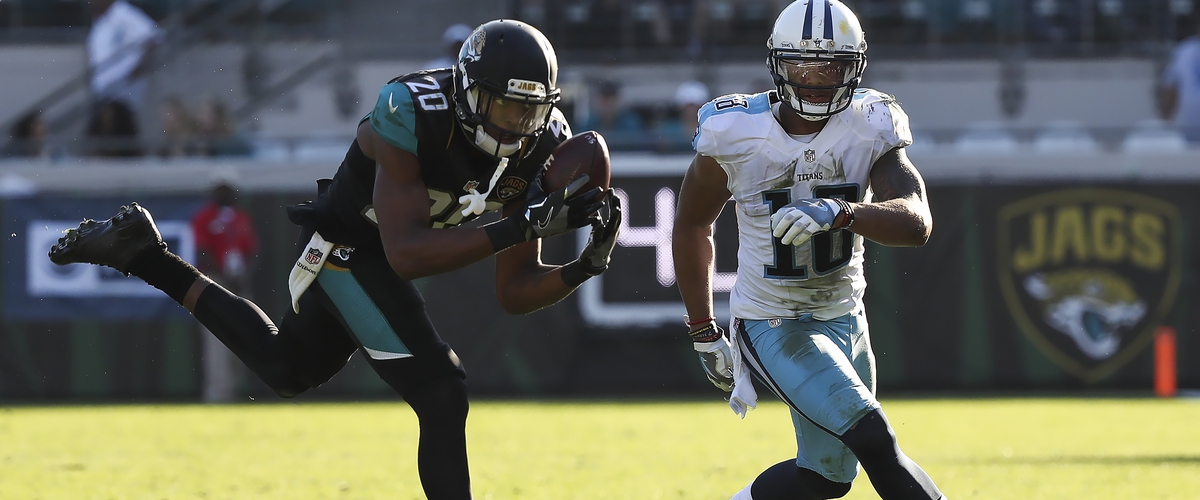 Even though Jacksonville played some great defense last season, Blake Bortles and their offense played so poorly that the defense never got the credit they deserved. The Jaguars ranked in the top ten in both pass defense and run defense in 2016. Now they've signed even more talent, like Calais Campbell and A.J. Bouye, and are getting a healthy Dante Fowler jr. back. As long as Blake Bortles keeps the turnovers down a bit from last season, this defense could very well be top five.
Tennessee Titans
The Titans are definitely more of a sleeper option here in 2016, but their strides on defense can't go unnoticed. Even though the Titans' pass defense struggled last season, their run defense did pretty well. After drafting Adoree Jackson and signing Logan Ryan in free agency, this should be an improved defensive unit. Even though I think this defense is still a year away from being a fantasy top ten defense, the strides are clear, and will be worthy of consideration in deeper leagues.
Baltimore Ravens
The Ravens always are in position to play good defense, and are consistently a top special teams unit in this league. Even though the defense has changed a bit with Elvis Dumerville heading to San Francisco, they've added Tony Jefferson and Morris Clayborne to solidify their secondary. Even though they might not be the sexiest defensive choice, this unit will get the job done in fantasy.
Los Angeles Chargers
The last few years have just been tragic for the Chargers considering how many injuries they've suffered. Last year they lost both starting corner, multiple linebackers, and lineman on defense for much of the season. And yet the defense still ranked tenth in fantasy last season. With the skill in their secondary between Jason Verrett and Casey Heyward, this defense should continue to take the ball away. Look for the Chargers to be a great sleeper defense or waiver add here in 2016.
Pittsburgh Steelers
Even though the offense is clearly the main unit in Pittsburgh, the defense has been making good strides last season. Pittsburgh only allowed 327 points last season, but what hurt was only one defensive or special teams touchdown. I just can't see this number being this low again, and their defense still forced 23 turnovers. The Steelers is another good sleeper pick to play each matchup with, especially in the AFC North.