2019 Fantasy Football Sleepers and Steals WR Edition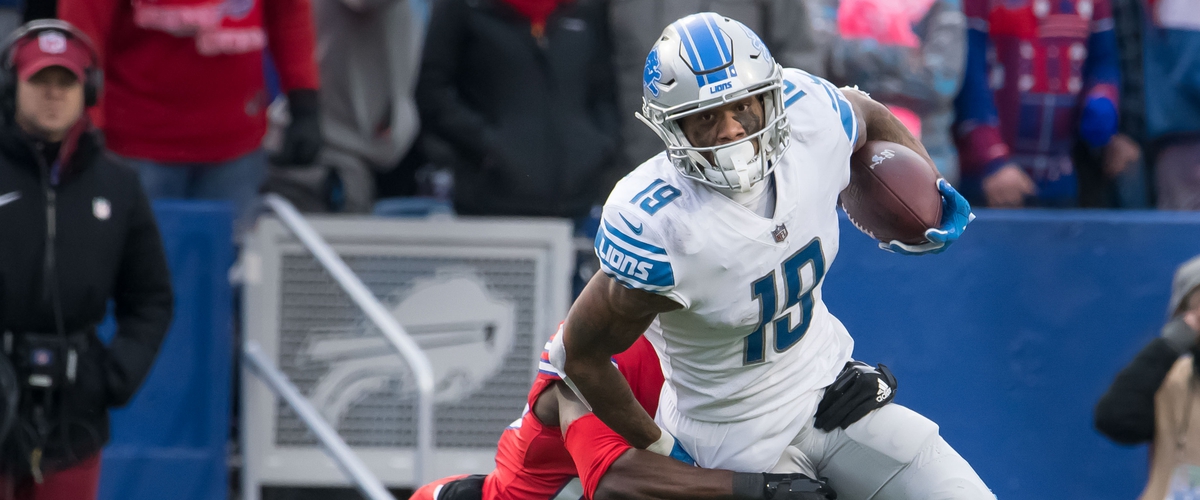 This year is going to be full of breakout wide receivers. At this point in the off-season there are so many young and talented receivers who can have fantastic seasons. Today's article will focus mainly on players who will be better than their ADP (average draft position) in the 2019 fantasy football season.
Kenny Golladay, WR DET (ADP 40-45, WR 15-20)
This is a common one among the fantasy community and for obvious reasons. Golladay is the Lions' #1 WR, leading the team with 119 targets, 70 receptions for over 1,000 yards and 5 TDs. All of this was done with 2 other good receivers for some of the season. When Tate was traded and Jones Jr. went down with an injury, Golladay dominated the targets and had all but one of those games below 8 half ppr points. What makes Golladay breakout potential so much higher is having Matthew Stafford as his QB, who in 2018 had a down season and Golladay still finished as the 21st best WR in half ppr scoring.
Overall: I project Golladay to be a solid pick up in the middle of the 3rd round as a player who can easily be a WR2 if you select a WR in the first 2 rounds or he can fit in as a low-end WR1 if you decide to go RB heavy early. I'd expect Golladay to finish in the WR 8-14 range for 2019.
Chris Godwin, WR TB (ADP 70-75, WR 27-35)
This is another common one heard in the fantasy community. Godwin is a great talent in TB and is in a favorable spot opposite Mike Evans (If DeSean Jackson is gone), who is a clear #1 receiver and will draw most of the spotlight from opposing secondaries. Another advantage to Godwin's upcoming season is the new head coach, Bruch Arians, who typically likes to throw the ball down field. Godwin displayed his ability to make plays in 2018, as he ranked the 25th WR in half ppr scoring. One last positive that Godwin has going for him is the team he plays on, and more specifically the TB defense which is sub-par and the NFC South division which is full of high scoring offenses that will typically lead to shootout games (and Godwin will play in 6 of those games). Therefore, it should be pretty obvious that Godwin beats the current draft projection of WR 27-35, as it is likely that he will see at least the same amount of targets, if not significantly more.
Overall: I project Godwin to be a semi-inconsistent WR2, who will provide week-winning performances but will also be detrimental in other weeks. I would select Godwin slightly ahead of the projected ADP (60-65) and somewhere around the 20th WR of the board.
Will Fuller V, WR HOU (ADP 75-80, WR 30-35)
Fuller is a great player for the Houston offense, as he takes the top off the defense for a team that has a great QB and a very good group of receivers that include: Hopkins, Fuller and Coutee. This has less to do with Fuller taking the next step as it does that the Houston offense should see significant improvement by fixing up their very poor offensive line and give more time for DeShaun Watson to throw the ball down the field. This is similar to what the Colts did over the last year or so. They rebuilt their offensive line allowing for Andrew Luck to go through his progression and make good throws (a big reason why he was 2nd this year in TD passes, and was one of the top fantasy quarterbacks). In addition, the Texans also have the of the most dominant receviers, DeAndre Hopkins, who is consistently double covered and still is a fantastic player. Hopkins will allow Fuller to see single coverage a majority of the time and with Fuller's excellent speed will be a reason why Fuller will see a good amount of success in 2019.
Overall: I project Fuller to be in the same boat as Godwin, a boom-bust WR2, who can win you weeks and can also lose you some weeks. I would take Fuller around the same area as Godwin as well around ADP (55-60), just slightly ahead of Godwin simply because DeShaun Watson is a better QB than Jameis Winston. He will be around WR 16-19.
Mike Williams, WR LAC (ADP 75-80, WR 30-35)
This may be one of the biggest WR steals of the 2019 fantasy season. Williams is a great WR, with great size (6' 3"). He also plays in a great offense, with a QB who was been consistently good for the past decade. Williams was a redzone threat for the Chargers in 2018, catching 10TDs which tied him for 6th most in the league. Half of those TDs came in the last 6 games of the season. I think Williams is progressing into a great outside receiver to pair with Keenan Allen and TE Hunter Henry.
Overall: I have Williams as a high-end WR2 who will be more consistent than he was in 2018, because of the expected departure of Tyrell Williams and the connection the he has created with Phillip Rivers. In the biggest game of the Chargers season, the Divisional game vs. the Patriots, Williams saw 11 targets and caught 5 of those passes (although they were down and had to throw the ball, this shows the trust the Rivers has in Williams to make plays). I would draft Williams near the end of the 3rd or early 4th round (ADP 35-40) and be around WR 12-15.
Robby Anderson, WR NYJ (ADP 80-90, WR 32-40)
Another player that could be one of the biggest steals of 2019. Anderson is the Jets top WR who has been solid for the past 2 seasons. Anderson began his 2018 season looking like a bust for fantasy with one 10+ half ppr point game through the first 13 weeks, and large part of that was due to rookie QB Sam Darnold. However, Anderson's last 5 games saw him 46 targets which he converted into 27 receptions for 384 yards and 3TDs. Which was good for 14 half ppr points per game. This new found connection between Anderson and Darnold is the reason for the optimism in Anderson being a solid fantasy recevier in 2019.
Overall: I would put Anderson in the 5th-6th round discussion (ADP 60-75) because he has shown signs of inconsistency and his good game spurt was only 5 games long. He is a risky mid-tier WR2 and is the reason for him sliding down the draft. However, with new Jets coach Adam Gase i think Anderson can maintain that large role he saw at the end of 2018. I would have him around WR 20-25.
Christian Kirk, WR ARI (ADP 95-110, WR 40+)
Kirk is a player that I think has tremendous upside in this upcoming draft. Kirk has the speed and agility to make plays, however being a shorter WR he may be more suited for a slot role (which is likely to be occupied by Larry Fitzgerald). However, Kirk has shown the ability to play very well as an outside reciver. In 12 games this season, Kirk scored 102 half ppr points which is 9.5 points per game. However, I think Kirk has the ability to become the next Antonio Brown (A shorter receiver who performs excellently on the outside) although, he probably won't be quite that good. (Maybe a Stefon Diggs). Kirk is also in a good position right now, with new coach Kliff Kingsbury who I personally think is a fantastic coach and will significantly improve this offense, although the offense only has one way to go and that up. I think the new coaching staff will put their best players (Johnson, Fitzgerald and Kirk) in advantageous positions to make plays.
Overall: Kirk has one of the highest upside of any of the young receivers in the league currently although I doubt we see his best season in 2019. I think it will be a very good season, particularly in fantasy. I would project Kirk to be a late 6th or early 7th round pick (ADP 70-75) and will finish as a mid-tier WR2 (WR 23-28). Kirk likely won't win you your league but he will be a solid player for your team next season.
Some honorable mentions:
Calvin Ridley (will likely take another step forward and be a solid WR2).
Dante Pettis (another player like Kirk and may have a good breakout in 2019, but probably not a overall great season).
Courtland Sutton (will likely be the #1 receiver in Denver, but his QB situation will have a huge impact on his 2019 performance).
James Washington (may be in-line for a huge season if Antonio Brown leaves the Steelers).
Quincy Enunwa (Sam Darnold's security blanket this season, will likely continue to see consistent targets).
---