Ezekiel Elliot the RB 1 in Fantasy 2019?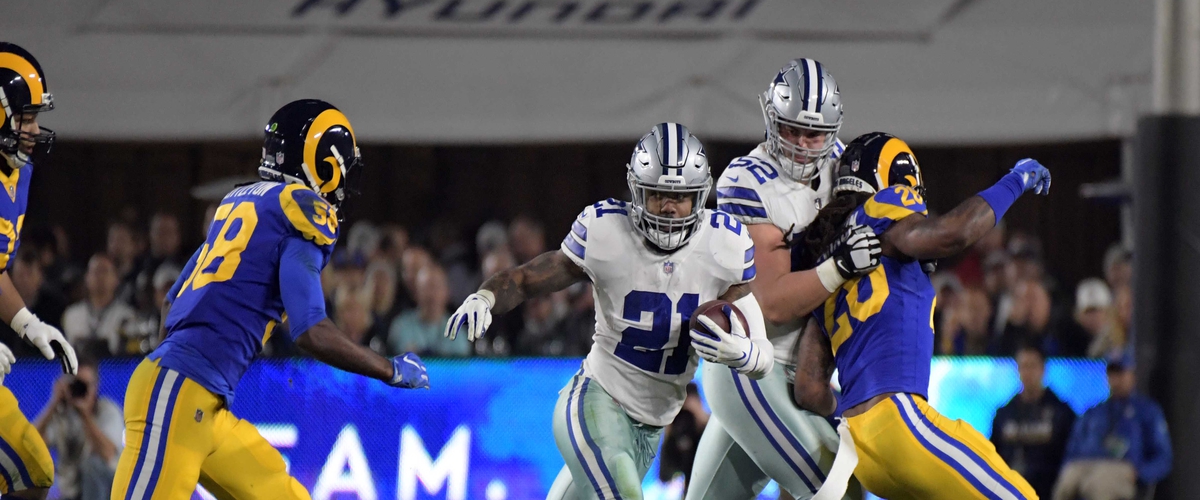 With the conclusion of the NFL free agency period and the NFL draft it is the time to start preparing for the 2019 Fantasy Football season.
Many will consider there to be 4 main players who can be the 1st pick in fantasy: Ezekiel Elliott, Saquon Barkley, Christian McCaffrey, and Alvin Kamara. I will make a case for and against all of these players at the 1.01, starting with obviously Zeke.
The Case for Zeke:
Zeke has been one of the most used RBs in the league, averaging around 25 touches per game over the first 40 games of his career. Zeke is also efficient with the touches he gets as he has led the league in rushing yards in 2 of his first 3 years. The only season he didn't lead the league in rushing he missed 6 games due to suspension. Zeke has averaged 101 yards per game on the ground, 3.3 receptions per game, 30 yards per game through the air and .85 TDs per game. All together that's around 21.5 points per game in PPR formats, which would perennially put him in the top 5 of RBs each season. Therefore, taking Zeke at the 1.01 doesn't pose much risk; however he has the upside to easily be the RB 1. For example, in 2018 Zeke took a major step forward in his game adding the passing role. In 2018, Zeke had 95.6 rushing yards per game, 5.1 receptions per game, 37.8 receiving yards per game and .6 TDs per game, all adding up to 22.04 fantasy points per game, which isn't much higher than his career average, but if his TD numbers return to his career average of nearly 1 per game, he will average nearly 25 points per game. Finally, in Zeke's first 2 seasons he had an elite offensive line centered by Travis Frederick; however, Frederick sat out 2018 because a condition. Now, it looks as if Frederick will be able to return in 2019 which should Zeke return to his average of 105 rushing yards per game in the first 2 seasons, compared to the 95 rushing yards per game he averaged last season. All together, Zeke has the potential to have around 400 fantasy points, with a floor of around 325 fantasy points per game. Therefore, Zeke can easily be the RB 1 and has one of the safest floors as a top 5 RBs.
The Case against Zeke:
There are a few reasons why Zeke may not be the RB 1, including: Zeke's TD numbers are down and may continue to be down with the addition of Cooper to the team, Zeke may not be able to sustain his increased receptions per game that he showed in 2018, and the Cowboys added 2 RBs in the draft and they may be there to take some volume away from Zeke. As for the TD situation, Cooper may take away in the redzone that typically would go to Zeke, however; Zeke did score 5 TDs with Cooper on the team and 4 without Cooper, so I don't see this as being much of an issue. The reception issue could be an actual problem if Zeke's numbers at the end of 2018 were inflated because of increased attention to Cooper. I do expect the numbers to not live up to that pace, but I do think they'll be higher than his previous pace and Zeke will finish with around 4-4.5 receptions per game and end his totals around the same total as 2018. Finally, the Cowboys added 2 RBs in the draft in 2019, but I again don't see this meaning much because the Cowboys have used Rod Smith to spell some volume away from Zeke and that hasn't impacted his fantasy value much. I think the rookies are there for insurance if Zeke decided to leave the Cowboys when his contract is up.
I currently have Zeke just ahead of Barkley as my 1.01, and will have no issue drafting him in 2019.
---