Analyzing the Best Cases for Jay Cutler...
Despite a very underwhelming era for Bears football, it seems like forever since we've been able to confidently say: the Bears are done with Jay Cutler. The last eight years have been able as average as it can get. After compiling a record of (51-51) over the course of 102 games, as well as throwing for 23,443 yards, 154 TDs, and 109 INTs, it appears the Cutler era in Chicago is done. For good. We've heard this story before - nearly every season as a matter of fact - but even the strongest of Jay Cutler's thinning supporters - myself included - seem certain that this time in the Windy City is over.
Throughout the entire sequence, I can honestly say that there are not 32 QBs in the National Football League that are better than the 11-year vet. Comfortably, it seems safe to say that Jay Cutler will be a starting quarterback somewhere. As long as there are the teams like Cleveland, Buffalo, Houston, teams that have had just as long of a drought as the Bears have, there's going to be a chance. It seems as though as quick as a team steps up as a reported suitor, they quickly back away. To be honest, I couldn't blame them. It's hard to take a shot on a guy who's driven out as many coordinators, coaches, and players as Cutler has. He's been dubbed as the next Jeff George - the guy with the million dollar arm with the ten-cent brain. All that being said, let's take a look at some of the most realistic spots for Cutler to be under center next season, if he doesn't consider retirement.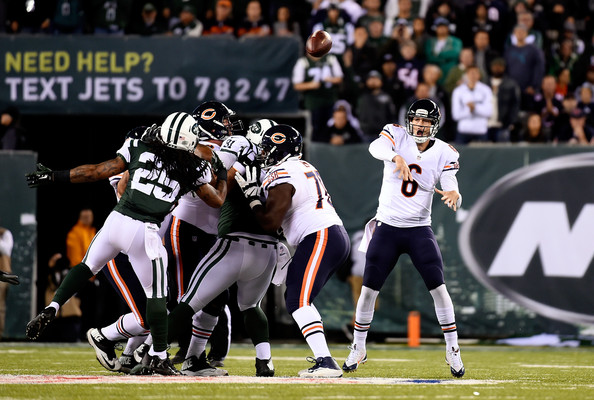 Jay Cutler to the New York Jets would certainly be an enticing reality.
• Jay Cutler to the New York Jets - Cutler's ties to the New York Jets would obviously be strong. He would've been paired back up with his mercurial former friend/foe turned teammate in Brandon Marshall (set to be released), as well as former backfield mate Matt Forte. For the life of me, I still don't understand how this group didn't have more success, but it'd certainly be exciting to see Cutler back alongside them as a member of the Jets. Here's the kicker though - we all know of Cutler's reputation and the perspective the media painted for him in Chicago. Under the bright lights of the East Coast, it's ten times worse, especially if Cutler doesn't win. Everything involving the former 2008 Pro Bowler represents a huge gamble, and this time, it's high-risk, high-reward.
Cutler also has strong connections with the Jets newly-hired QB coach, Jeremy Bates. Bates actually helped guide Cutler to his best season as a pro in 2008, when Cutler passed for 4,526 yards and 25 touchdowns for the Denver Broncos, and then the two reunited in Chicago in 2012, when Cutler helped lead the Bears to a (10-6) finish. The thing is, the Jets saw exactly how the one-and-done situation turned out in Chicago, and to reignite a potential dumpster fire in East Rutherford, well that'd certainly be perilous. Obviously, the connection of bringing Cutler and Forte is one of the biggest forces behind it, and Ryan Fitzpatrick's poor 2016 season didn't help. This is a scenario you'd love to see if it goes good, and hate to see if it goes bad. Final Take: Cutler might represent too much of a risk, but then again, he's sure to work out better than Fitzpatrick. Nothing surprises us about the Jets, but the New York media might be enough to shy Cutler away from another tumultuous situation.
• Jay Cutler to the Denver Broncos - Hey, the NFL is all about comeback stories, right? Cutler going on a redemption tour down the Mile High would make for quite the story. Pro Football Talk's Mike Florio brought out that the idea is plausible, but not likely. Similar the situation with Cutler and former teammates reuniting, we all saw how it worked out the first time. And for a team in need of a leader to replace 'The Sheriff' in Peyton Manning, the smart situation would be to run with their first-round pick in Paxton Lynch or even Trevor Siemian, who had a solid 2016 campaign. It'd certainly be exciting to see Cutler paired with an elite defense, but this is a scenario that seems like a pipe dream. Final Take: Denver's probably not going to get insomnia here. With the assets they have, they want to move toward the future, not the past.
• Jay Cutler to the Cleveland Browns - If Chicago is where wide receivers go to die (Muhsin Muhammad quote), then Cleveland is where quarterbacks go to set up the funeral arrangement. As the old saying goes, "Desperate times call for desperate measures", and that sentiment could ring true here. The Cleveland Browns haven't had a legitimate, consistent QB since Bernie Kosar in the mid-1990s. Derek Anderson was decent for a time, but plummeted after a solid 2007 season. That means that Cleveland, Ohio might be headlined by LeBron James and Jay Cutler next year. Of all the scenarios thus far, this seems like the most likely.
Make no mistake, though. Cutler won't be what gets the Browns to the Playoffs. His time in Chicago proved that. Jay's biggest fans could point to the fact that Cutler was the "best QB in franchise history, aside from maybe Luckman and McMahon", but after all that talk, only a single Playoff appearance and win subsided. He'd certainly have a chance to be the best Browns QB of this generation, but it won't mean much for his already underwhelming legacy. The chances of that happening are slim at this point, given that the Browns just traded for Brock Osweiler. Thank goodness. Final Take: This would've been a realistic scenario, and he'd create an interesting battle with Cody Kessler, but in the end, the signing of Osweiler pumps the breaks on this idea.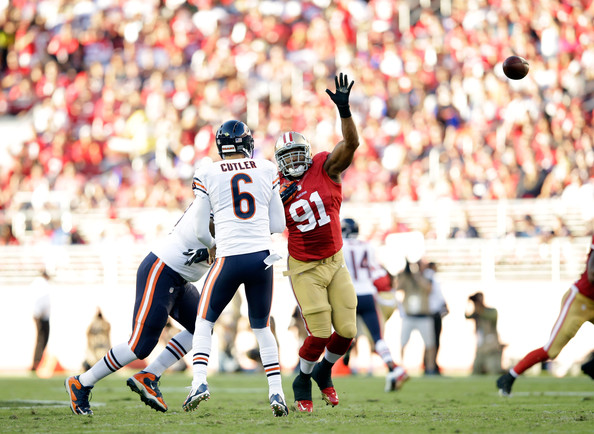 Cutler has plenty of football left, but how much of it will be meaningful?
• Jay Cutler to the Houston Texans - Out of all the possible scenarios, this is perhaps my favorite. Cutler's success when paired with an elite defense is obviously impressive. Grouping him with a slew of offensive talent, including DeAndre Hopkins, Will Fuller V, Lamar Miller, and others could be what Cutler needs to get back into the Playoffs. It became more obvious with every snap that Brock Osweiler wasn't going to be worth the money he was signed for, and the same could be said for Cutler. One thing, though, that can't be said is that he doesn't get a lot out of his weapons. Jay consistently guided his top targets toward elite seasons, be it Brandon Marshall, Alshon Jeffery, Martellus Bennett, etc. After seeing the chemistry (or lack thereof) of Osweiler and Hopkins, the temptation to pull the plug could be massive.
What makes the situation even more interesting is that this is where Cutler wants to play. The options are slim, but the include: Jay Cutler, Tony Romo, and a few other castoffs. It's suffice to say he's an enticing option. While he'd be heading south, there's a chance Cutler could get his career trending north with a move to the Texans, a proven squad. Final Take: Here's the assumed best-case scenario for Cutler and his legacy. If he can add a few Playoff trips and wins to his resume, he can shut the haters up before retirement.
• Jay Cutler to the San Francisco 49ers - Call me crazy, but I believe that Colin Kaepernick performed pretty well last year. Even with all the drama that came along with it, the former Pro Bowler posted an impressive 16-to-4 TD/INT ratio behind the worst defense in the NFL. Still, the team plans to move on, and that opens up a spot for Blaine Gabbert, or some upcoming free agents, if they decide not to go for it in the draft.
Here's the worst-case scenario for Cutler in my opinion. The 2014 Bears season paints a clear-cut picture for how this would turn out, in my mind. Behind one of the worst defenses in the league, Cutler throws picks trying to lead his team back, forcing the inevitable end of Cutler's career. He'd be a decent fit, and the chance at redemption is always there, but this would be potentially setting the Vanderbilt product up for failure. Final Take: If Cutler wants to win - and only he knows how bad - this is not the place for him. A team in a flux at the front office and coaching positions, another new head coach and system with poor pieces put in place, it wouldn't turn out well.
• Jay Cutler to the Buffalo Bills - The first thing that catches my eye is Cutler's ties to Rick Dennison, the Bills offensive coordinator, who guided Cutler to his best season as a pro in 2008. Similar to Jeremy Bates, the Jets QB coach, this helped guide him toward a Pro Bowl berth. Just like Cleveland, this is a team starved of Playoff success. During Cutler's younger years in Denver, I always imagined the legendary duels he'd have with the likes of Tom Brady and the top teams in the AFC. I no longer want to see it. This is another group without an established coaching staff, which Cutler needs at this point.
Cutler would obviously be a short-term piece, but it'd certainly be interesting to see how he'd do with LeSean McCoy, Sammy Watkins, and a good group of weapons in Buffalo. There's just too much uncertainty and not enough commitment on both sides to see this as a legitimate deal, similar to Arizona with Bruce Arians. Final Take: This doesn't seem likely, but pairing Cutler with a slew of solid players could certainly be interesting.
• Jay Cutler to the Chicago Bears - Does this look familiar? Believe it or not, after eight underwhelming years in Chicago, there's a chance that Cutler could be back in the Windy City. Ryan Pace, the general manager of the Chicago Bears has spoken positively about Cutler, and there's always a chance that the 9th year of this marriage could lead to success. Cutler's familiar with the system, showed flashes of his 2015 encore during the 2016 season before injuries slowed that, and of course, keeping him with Jordan Howard for a full year could be interesting. The play of Matt Barkley and Brian Hoyer were a mixed bag, leading to inevitable skepticism in Chicago.
As of March 9th, the Bears plan to release Cutler in favor of Mike Glennon, who was rewarded a three-year deal. The smart thing for Chicago to do would be to move on from the inconsistent, 34-year old, and it's looking more and more likely that this will be the case. Consider the Cutler era in Windy City over, at least for now. Final Take: It seems like it's been forever since it's been the case. For the first time in eight years, it seems certain to say that #6 won't be suiting up to start next season. It remains to be seen if that's a good or bad thing, though.
---