Why Allen Iverson is the Greatest Player of All-Time...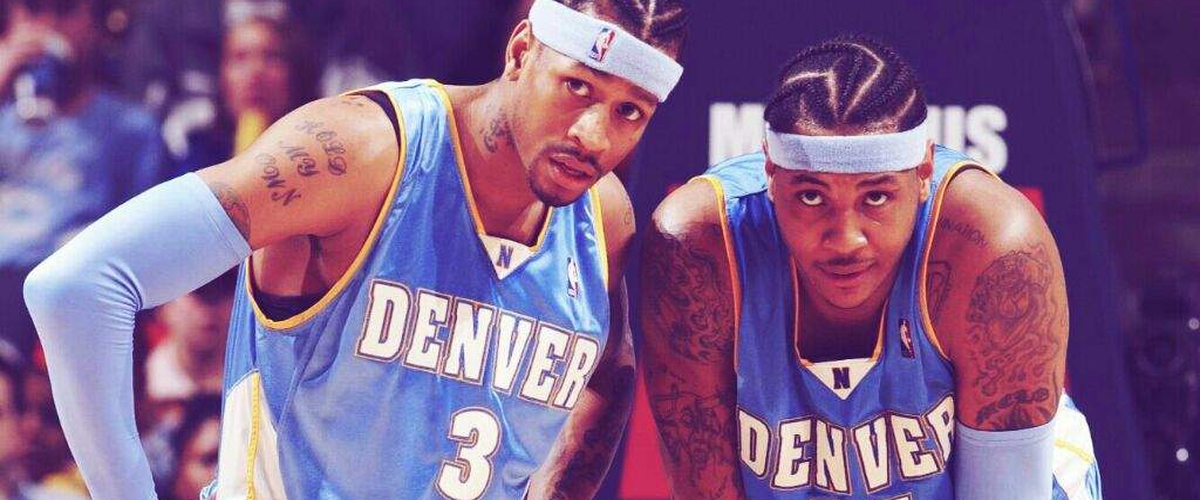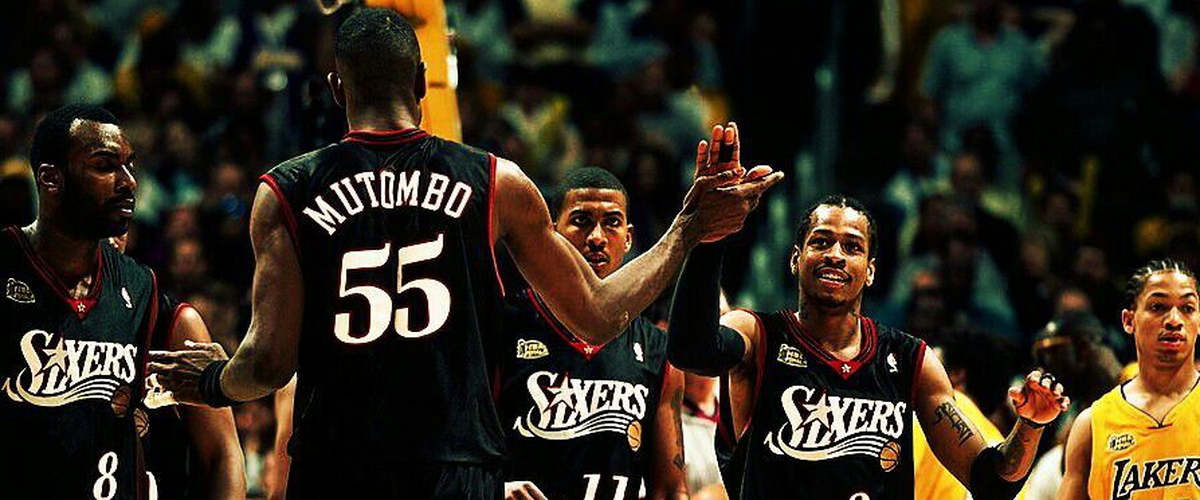 What's up Hardwood fans! It's your guy, Melo Ferg here, signing my own death warrant. Before I even begin to write what would be my most controversial blog, I just want to say, I'm extremely excited for this. The disagreements and disgust that comes along with writing a blog like this, I'm ready for it. Keep in mind that I'm probably one of the few people on the planet who considers this to be true. But, at the end of the day, let this be a lesson to the young readers: don't be afraid to say what you believe. I'm confident my mind will never be changed, and I just wanted to finally get this blog through.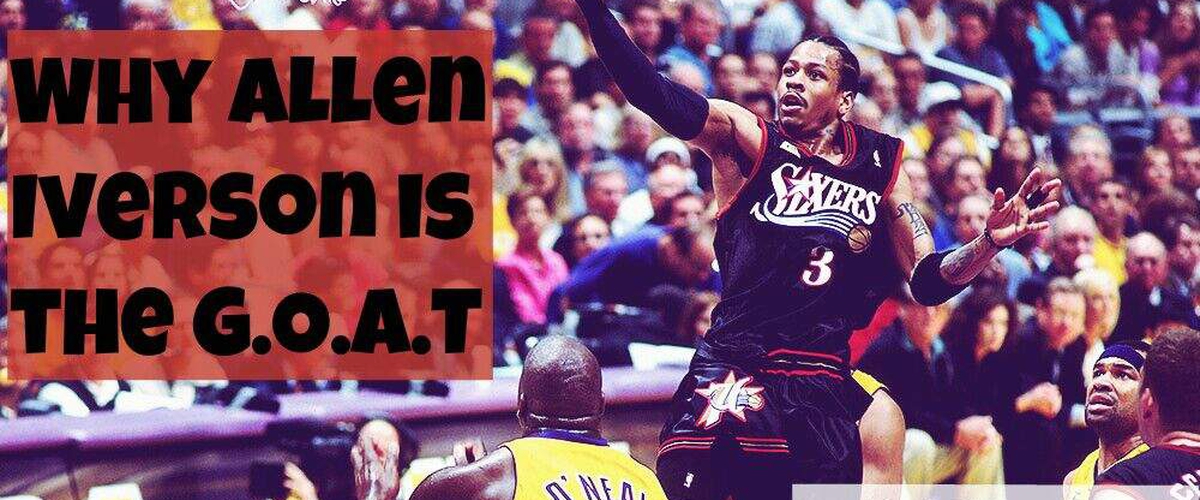 Allen Iverson is the greatest player of all-time...'
- Detractors to Iverson's legacy have quite a bit of ammunition, if I had to say so myself. One could point to his inefficiency, but it's important to remember the circumstances of Iverson's era. For starters, Iverson starred in an era based on 'hero ball'. The notion at this time was to put the ball in the hands of your top guy night-in, night-out, and no matter what the stats said, as long as your club got the win, that's what mattered.
And to be clear, Iverson's team got wins. In just his third season, "The Answer" was able to guide the 76ers past the first round for three straight seasons, culminating in a trip to the NBA Finals in 2001. And to talk more about his efficiency: during the pre-hand check era prior to 2004-05, Iverson shot the ball at a 41.6% clip (5,104-of-12,247), whereas his percentages increased massively almost immediately.
AI jumped to a 44.2% shooting percentage once defenses weren't given incredible advantages. This was highlighted by what I believe to be Iverson's finest season in 2005-06, when Iverson averaged 33.0 PPG, 7.4 APG, and 1.9 SPG on a solid 44.7% FG. The year prior, just 30.7 PPG, 7.9 APG, 4.0 RPG, and 2.4 SPG. These are right on par with his 2001 MVP season. All he was missing was a solid supporting cast.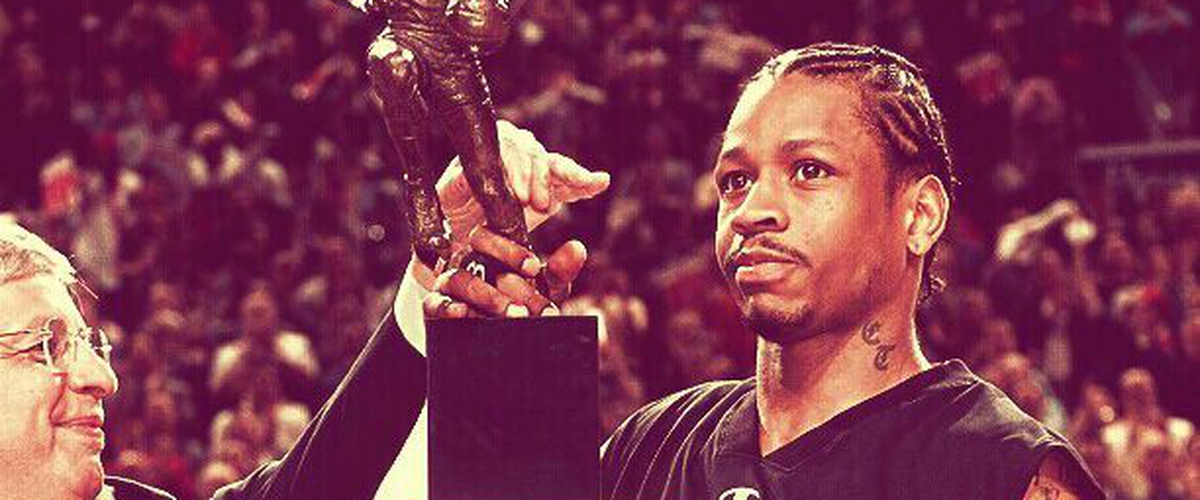 Additionally, Iverson's inefficiency is overrated for a few reasons. When comparing Iverson to other elite SGs such as Kobe Bryant (who shot just 2% better than Iverson), Dwyane Wade, or even Michael Jordan, it's important to consider the circumstances. On a night-to-night basis, each of the aforemented SGs could count on the offensive pressures being alleviated in the case of an off-night.
- Kobe Bryant, played hand-in-hand with the most dominant center of this generation in Shaquille O'Neal. Should he have an off-night (which he had plenty of in the Finals), he could rely on Shaquille O'Neal and Pau Gasol on a nightly basis to help. This isn't to throw Iverson's off-nights under the rug, for he had many of them as well. But notice the help that Iverson got, in comparison to Kobe Bryant, or say Dwyane Wade. To go further into detail with that, take a look at the 2014 NBA Finals.
- Dwyane Wade - 15.2 PPG, 3.8 RPG, 2.6 APG on 43% FG shooting.
- LeBron James - 28.2 PPG, 7.8 RPG, 4.0 APG on 57% FG shooting.
If Iverson had partook in a series and averaged a measly 15-3-3 line in the NBA Finals, he'd have been crucified. He consistently had to take over games each and every night, knowing the negatives that'd come along with an off-night. One thing that I don't believe that Iverson gets credit for is his ability to impact games in other ways, which you'll see below. For his 6'0 stature, he was a strong rebounder, an underrated passer, and a decent defender. Now, let's take a look at an instance with Kobe Bryant in the 2004 NBA Finals, ten years earlier.
- Kobe Bryant - 22.6 PPG, 2.8 RPG, 4.4 APG on 38% FG.
- Shaquille O'Neal - 26.6 PPG, 10.8 RPG, 63% FG.
Two things to point out here - in the midst of his prime, Iverson never had series as poorly played as the one Bryant had in the 2004 Finals. Certainly, I'll give Bryant the benefit of the doubt - the chaotic atmosphere that surrounded Bryant, be it the criminal case and the teammate chemistry (or lack thereof), it's understandable. The thing is, Iverson isn't given the benefit of the doubt, for whatever reason. He's never had a player that could provide a 26-10 series at his side. If he did, I'm almost certain that Iverson would be a multi-time NBA champion.
- Even in the case of Michael Jordan, the most popular vote for greatest of all-time, he had a spectacular team at the time. During the 1990s, Jordan absolutely ruled the NBA, leading some of the greatest teams in the NBA's history. But, recall 1994-95, the season that Jordan retired, the Bulls still managed a (55-27) season, and they came a few possessions short of an Eastern Conference Finals trip. The same can't be said for the 76ers, who've had little to no success since AI's departure in 2006. With only a single Playoff series win (in 2012, which likely wouldn't have happened if Derrick Rose didn't tear his ACL), the best days for Philly have come in the form of Iverson's prime.
Now, that's not to throw any shade on Iverson's teammates, but when you're trying to win a championship, is it in the realm of possibility with Aaron McKie as the third option? Tyrone Hill? Eric Snow? Exactly. Iverson's haters don't consider this whatsoever when looking at Iverson's resume. He could ill-afford an off-night, even with his laundry list of injuries. And it's worth bringing up that Iverson did have Dikembe Mutombo, but that was very short lived, and even less noteworthy when you consider he was 34-years old. This wasn't the prime, Denver Nuggets' Mutombo.
Teams for Iverson were built around strong defense, but at some point, if you're going to knock off the mid-2000s Detroit Pistons, the Kobe and Shaq led Lakers, or the Celtics, you're going to need a legitimate second-option. Philadelphia's management somehow assumed that the likes of Keith Van Horn, Derrick Coleman, and a past his prime Chris Webber would be the answer, and that simply wasn't the case. While it's on my mind, let me clear something up: there's going to be "that guy" that says, "Iverson didn't practice!". Nonsense, you don't win MVPs, make the Hall of Fame, and become a legend without practice. Thinking logically is the best thing to do here.
Anyways, this was what Iverson took to the 2001 Finals. To the cusp of knocking off Kobe and Shaq. A team with a presumed third-option that averaged 8.0 PPG on 31.3% shooting. On the other hand, Iverson thoroughly outplayed Kobe Bryant, averaging a 36-6-4 line on 40% compared to 24-8-6 on 41% shooting. To add to that comparison, let's take a look at head-to-head games between Iverson (Philadelphia and Denver) and Bryant from 1996 to 2008, when both players were at their apex.
- Bryant: 24.0 PPG, 5.8 APG, 5.4 RPG, 0.9 SPG; 45% FG, 32% 3PT, 85% FT (14-12)
- Iverson: 27.1 PPG, 7.8 APG, 3.8 RPG, 2.6 SPG; 39% FG, 30% 3PT, 75% FT (12-14)
Compare Iverson to Jordan throughout their careers - it's almost unfair to compare the two from 1999 and beyond, as Jordan was past his prime in Washington. Still, it's worth noting that Iverson efficiently dropped 30+ on Jordan routinely. For the sake of fairness, let's compare from 1996 to 1998, in which Jordan was still, give-or-take, in his prime and won three straight titles.
- Iverson: 27.1 PPG, 3.0 APG, 3.0 APG, 1.8 SPG; 47% FG, 44% 3PT, 79% FT (1-6)
- Jordan: 24.4 PPG, 5.4 RPG, 3.0 APG, 2.7 SPG; 45% FG, 38% 3PT, 74% FT (6-1)
Two more things worth considering here - it's funny how that efficiency came back here, in my opinion. Against a prime Jordan - a team that managed three straight titles, Iverson arguably outplayed Jordan, and an inferior team is the only reason for the record. Iverson went on to win the last five in this series once his team had more help.
Finally, let's take a look at Iverson vs. Wade, given that Wade is one of the greatest of all-time, and plays the same position as Iverson. It wouldn't be fair to base this in 2003, Wade's rookie year. Therefore, the following sample comes from 2004 to 2008, during both players respective peaks (although Wade's went until 2011).
- Iverson: 31.1 PPG, 7.0 APG, 3.3 RPG, 2.3 SPG, 43% FG, 38% 3PT, 80% FT (5-6)
- Wade: 27.1 PPG, 8.2 APG, 5.3 RPG, 1.5 SPG, 50% FG, 31% 3PT, 79% FT (6-5)
I must admit, Wade's stats are in some cases better than Iverson's. He facilitated the ball better than Iverson, outrebounded him, and shot more efficiently. This is definitely the closest of the three, and hardest to argue. Recall that this was in the midst of Wade's 2005 (ECF run) and 2006 (NBA Title) campaign, so he had more to work with. That being said, I know who I'm taking, all things considered.
It goes without saying how big Iverson is in big games. Let's take a look at just a few of the games from AI:
- 44 points, 7 assists, 6 rebounds, and 2 steals on 52% shooting during a 108-91, Game 7 win in the 2001 Eastern Conference Finals.
- 52 points, 7 assists, 8 three-pointers, and 4 steals on 66% shooting during a 121-88, Game 5 win in the 2001 East Semi-Finals.
- 54 points, 5 rebounds, and 4 assists on 54% shooting during a 97-92, Game 2 win in the 2001 Eastern Conference Semi-Finals.
- 48 points, 5 rebounds, 6 assists, and 5 steals on 44% shooting during a 107-101 win in the 2001 NBA Finals.
- 30 points, 7 assists, and 5 rebounds in NBA Playoff debut during 1999.
- 55 points, 4 rebounds, and 8 assists on 65% shooting in Game 1 victory over Hornets in 2003 East First Round.
- 36 points, 11 rebounds, 5 assists, and 5 steals during a season-saving Game 4 win against the Detroit Pistons in the 2003 East Semi-Finals.
- 38 points, 16 assists, 6 rebounds, and 3 steals to clinch a final Playoff spot against Miami in 2005.
I could've gone on all day. To add to that, he's second all-time in PPG in the Playoffs with 29.7 PPG, and owns a top-five average in elimination games with 29.8 PPG. Quite simply, Iverson has a prime that almost no players can compare to. From his third season in 1998-99 to his Denver days in 2007-08, Iverson averaged 29.7 PPG, 5.9 APG, 4.0 RPG, and 2.4 SPG per game. Did I mention that of the top 20 single season usage rates, Iverson owns four of them, higher than any player on the list? With consistently underwhelming supporting casts, Iverson was forced to deliver every night, and he certainly did.
Check the resume. No one played with more heart and desire than Iverson (except maybe Westbrook), and you'd be hard-pressed to find a better scorer. At 6'0, in the land of giants, AI always stood tall. And for that, I'm willing to say that Allen Iverson is the greatest player of all time.
Even off the court, his legacy is only matched by Michael Jordan and LeBron James. He made it cool to do things your way. To say what you want to say, and go against the norm. From the cornrows to the gold chains, Iverson was a different breed. The mixture of the hip-hop and basketball really came into play with Iverson. He revolutionized the game as much as any player in history aside from Jordan. And I can say so on a personal level that he was of the most inspirational superstars of all-time. All things considered, I personally believe that AI was the best to lace them up.
Melo, out.
*edit: still getting accustomed to the new layout, and the way the pictures are set up. I'll edit them as I learn to do so. Sorry about that, but thanks for the support, and hope this argument was enjoyed.
---