2018 NFL Draft by Position: Running Backs (2/11)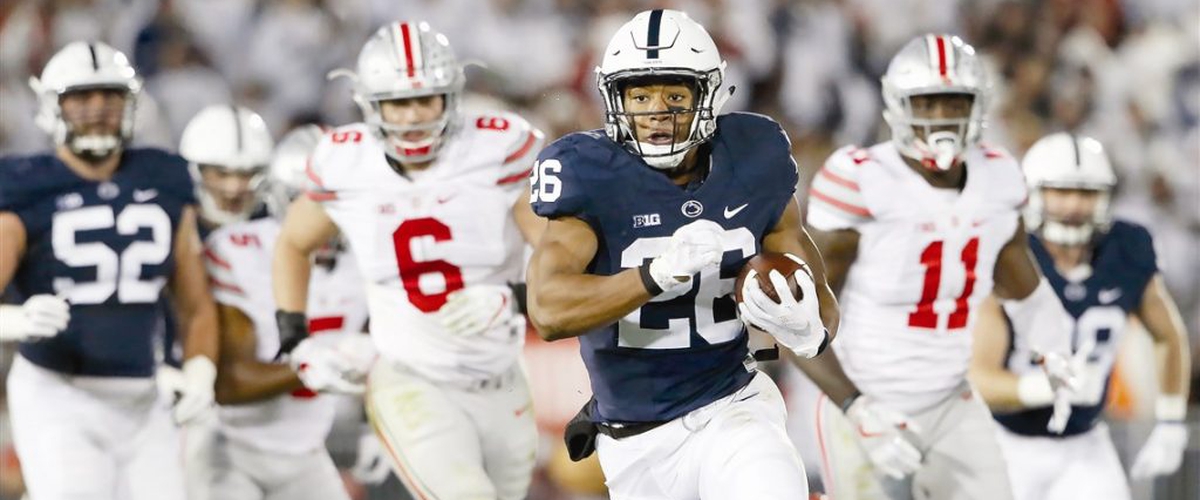 The second position I'm grading is the Running Backs, and the picture I included is Saquon Barkley pulling away from everyone while running for a Touchdown against Ohio State. Why? Symbolism: Saquon Barkley is just on a completely different level than the rest of these recruits. This is considered to be a relatively deep class with some potential sleepers, so scouts doing their homework on Running Backs is as important as ever.
1. Saquon Barkley, Penn State - Top 5 Pick
If it wasn't for every rebuilding team in the league suddenly wanting to trade up and grab their next shot at a franchise Quarterabcks, Saquon Barkley would be as likely as any prospect to be the #1 overall pick. Many scouts are tagging him with an "Ezekiel Elliott but without character issues" comparison, and that's high praise. First it was Ezekiel Elliott as "the best prospect since Adrian Peterson", then Leonard Fournette right after him, and both players rushed over 1,000 Yards in their rookie season. If Barkley is given the same amount of reps Elliott and Fournette got their rookie years, It's safe to assume Saquon would be the newest 1,000+ Yard Rookie rusher.
2. Derrius Guice, LSU - Late 1st/Early 2nd Round
Injuries nagged Derrius Guice throughout his 2017 campaign, and his production suffered because of it. However, looking at tape when he shared a backfield with Leonard Fournette shows exactly how dangerous he is. Guice is the perfect combo of speed, power and balance. He cuts well, and it's game over when he gets open field. A 4.49 40-yard-dash at a 5'10", 212 pound build might just push him into the first round. He has a realistic upside of Marshawn Lynch in his prime - if he can stay healthy.
3. Sony Michel, Georgia - 2nd Round
When watching tape on Sony Michel, you immediately see great ballcarrier vision, bursts of speed after nice cuts, and overall physicality to go with his impressive 5'11", 220-pound frame. He simply gets more yards per carry than your everyday back, and his 7.9 yards per carry (for over 1,200 Yards in 14 Games) is a testament of that. He's not a creative back, and his lack of agility and hip tightness keep him from being a Round One selection, but his Alvin Kamara comparison are deserved and a quality every-down starting NFL running back is a realistic ceiling.
4. Ronald Jones II, USC - 2nd Round
Ronald Jones flashed speed and elusiveness throughout a great Junior campaign at USC. He's light on his feet and almost never fumbles. Unfortunately, he also has a frame that's far too light. He'll be an extremely limited as an interior runner, and it's hard to see him getting more than 15-ish touches a game. He'll develop into a very nice weapon for any team as a split-time outside runner.
5. Nick Chubb, Georgia - Mid 2nd/3rd Round
There isn't one thing that Nick Chubb is great at, but he's pretty much above average at every aspect of a Running Back. His lack of second-end speed prevents him from being an every-down back, which hurts his draft stock, but assuming he stays healthy, he can quickly develop into a decent early-down starting NFL Running Back.
6. Rashaad Penny, San Diego State - Late 2nd/3rd Round
At first look, Rashaad Penny is built like a prototypical every-down NFL Running Back. He's as light and quick on his feet as any back in this class. He lacks long speed and explosiveness, both of which could prevent him from being a great back, but his high motor and size make him a future decent every-down Running Back for any team.
7. Kerryon Johnson, Auburn - Late 2nd/3rd Round
Kerryon Johnson was a difference maker running both in between the Tackles and outside of them. His skill sets also translate as an every-down back, something every team desires when drafting. Johnson's build, however, isn't ideal. His thin frame, especially his hips, should keep him from possibly seeing high touch totals, thus hurting his draft stock. He still has an upside of a poor man's Tevin Coleman.
8. Nyheim Hines, North Carolina State - 3rd/4th Round
Nyheim Himes can cut and bust in re-directs as well as anyone in this class. Hines can also catch well enough to instantly become a dual-threat back. Once he gets into the open field, it's game over. His 5'8" frame and issues filling lanes and following blockers keep his usability mostly as an outside back, and he should develop nicely into a third-down specialty back.
9. Royce Freeman, Oregon - 4th/5th Round
Royce Freeman has the most rushing yard in Oregon history for a reason: pure talent. He's a muscular guy with consistent speed and is more than willing to earn yards inside. Some scouts have noted they're concerned with his high usage in college, with some claiming he doesn't look as fast as he did a few years ago. Still, he's a balanced workhorse that could earn sizable reps as a decent second option right away.
10. Mark Walton, Miami - 4th/5th Round
Mark Walton's production was limited with ankle problems all season, but his combination of quickness and power make him an immediately valuable combo-back prospect. He really struggles with decision-making and vision, and his horrid football IQ is something to consider. Overall, he has the upside of a quality shared-reps back like James White.
11. Kalen Ballage, Arizona State - 4th/5th Round
Kalen Ballage looks really tough on tape. His 6'1", 227 pound frame paired with a sub-4.5 40-yard-dash make him a noticeable candidate. His decisiveness and vision are both very poor, and his overall playing style is a bit inconsistent. He can be used on all downs, and possibly as a returner, but it's hard to see him developing into anything more than a secondary option with how bad his mental intangibles are. You can't really teach instincts.
12. Akrum Wadley, Iowa - 4th/6th Round
Akrum Wadley has a very entertaining highlight reel packed with jukes and cuts for days. He also flashed his ability to catch passes and return kicks, something scouts should definitely note. What they already have noted is major questions in his size (5'9", 191 lb.) and durability at the next level. He'll be relegated to a backup role for probably his entire career, but he has the upside of a versatile committee back and special teamer. Think Marlon Mack plus better returning ability.
13. John Kelly, Tennessee - 4th/6th Round
With how tough John Kelly runs, you wouldn't think he's just 5'9". His sturdy 200+ pound frame leads him to extra yards on every carry, and he can catch more than well enough to earn every-down consideration. What Kelly lacks is that burst of speed, both inside and outside the Tackles. If he doesn't have that now, it's hard to see him suddenly developing it at the next level. Kelly has the upside of a Corey Clement-like Running Back: one who definitely will split reps, but can be used on any down.
14. Bo Scarbrough, Alabama - 5th/7th Round
Bo Scarbrough has some quality highlights resembling a runaway crazy train, but if you look closely, you see he needs plenty of time and blocking to get to that Marshawn Lynch-like beast mode. His power to simply run over people is a plus, but he also isn't escaping any tacklers anytime soon. His lack of catching ability and outside running game limit him from ever becoming a starter in the NFL, but he still boasts the upside of a decent power back.
15. Jaylen Samuels, North Carolina State (FB) - 5th/7th Round
Jaylen Samuels is one of the most confusing prospects in this entire draft. Some scouts see his versatility to play Running Back, Fullback, Wide Receiver and Tight End as a major plus for their roster, while other scouts see an inability to be good at any one position. He needs to block better if he wants to see reps as a Fullback or Tight End, probably his two best positions, and he needs better vision as a runner and more consistent hands as a receiver. All in all, he'd be great for disguising packages, and his ability as a special teamer is a valuable asset Week One.
16. Josh Adams, Notre Dame - 6th/7th Round
Josh Adam's biggest asset is his size: 6'2", 220 pounds and proportioned well. However, he doesn't quite use it as well as he should. His tape shows he needs quality blocking and time to get to his running potential - neither of which are guaranteed in the NFL. Sure, he'll add yards after contact, but he lacks any speed or agility to elude anyone. He'll make a roster, but it will take a lot of work for him to turn into anything more than a fringe one-trick pony.
17. Ito Smith, Southern Miss - 6th Round/Undrafted
Ito Smith is a workhorse who produced big time in Conference USA. However, he lacks size (5'9", 195 lb.) and acceleration to be a preffered choice on any down. His best chance is to demonstrate his usability through his pass-catching abilities. It may be the only way he makes it onto a 53-man roster come September.
18. Roc Thomas, Jacksonville State - 7th Round/Undrafted
Roc Thomas' speed, agility and elusiveness is what made him one of the best high school recruits in his class. His horrible decision-making, injury history and inconsistency in every mental aspect of the game led him to finishing his collegiate career at Jacksonville State. He has undeniable running intangibles, and that alone might lead to hearing his name on Day 3, but whoever he ends up in camp with will have to put in a LOT of work if they want him to see the field in a non-special-teams capacity.
19. Dimitri Flowers, Oklahoma (FB)- 7th Round/Undrafted
At 6'2", 245 pounds, Dimitri Flowers is straight-up built to be a tradition Fullback. Unfortunately, that not a player profile most NFL teams keep on their 2018 rosters. Overall, he's a great run blocker and pass blocker who doesn't drop balls and runs in the short game as well as any Fullback would. For a team looking for a young, complete Fullback, Dimitri Flowers is your man.
Other Running Backs with training camp chances: Chase Edmonds, Fordham; Phillip Lindsay, Colorado; Justin Jackson, Northwestern; Nick Bawden, San Diego State; and Jordan Chunn, Troy.