2018 NFL Draft by Position: Wide Receivers (3/11)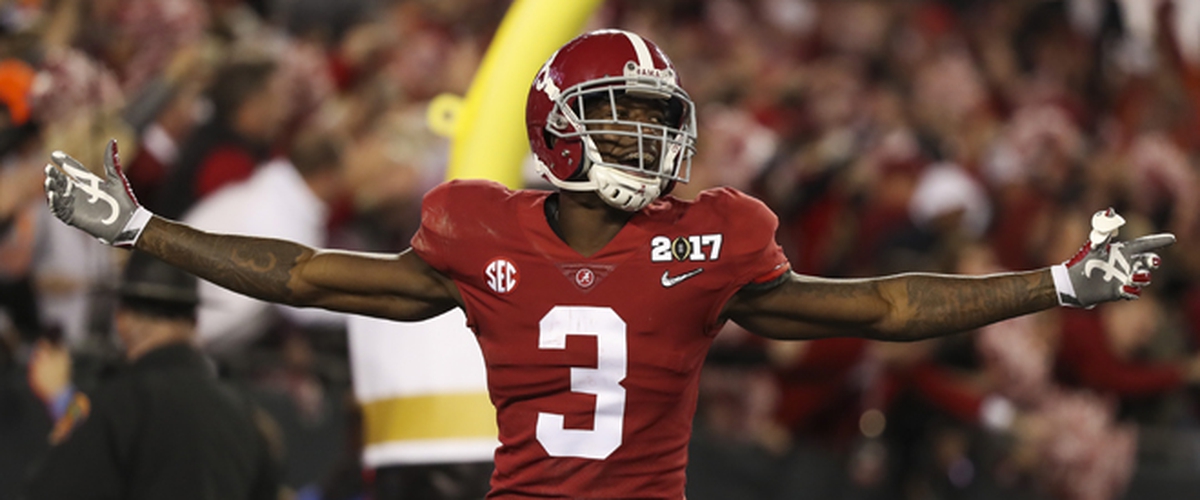 The Wide Receiving class is deep, but there's really only one unanimous first-round lock: Alabama's Calvin Ridley. At one point, he was projected to be a Top 10 pick guaranteed, but throughout the combine process, his stock fell to the middle of the first round. Wideouts like Maryland's D.J. Moore and LSU's D.J. Chark used the combine to significantly boost their stock, whereas other hot prospects like SMU's Courtland Sutton and Oklahoma State's James Washington slightly trailed off. In my most recent three-round mock, I had a whopping 14 receivers going in the first 100 picks. While the real number may not be that high after the first two rounds of the draft, this class is deep enough to see more than a dozen pass catchers making an impact as rookies. Let's start with the favorite...
1. Calvin Ridley, Alabama - Mid 1st Round
Calvin Ridley has the incredible combination of highlight-reel speed and outstanding route-running ability. He's dangerous anywhere on the field and is both physically and mentally ready to start right away. Ridley's made a couple too many drops, and he may have some difficulties beating press corners at the next level. His incredible speed and separation ability running any route makes him an incredibly dangerous weapon for any team. Ridley had earned the Marvin Harrison comparisons, standing alone as the best receiving prospect in the draft.
2. Courtland Sutton, SMU - Late 1st/Mid 2nd Round
Courtland Sutton is a tall (6'3"), sturdy possession receiver. He's a hard worker who's unfazed by contact and can block as well as any receiver in this class. He'll need to show his route running has developed well, becuase his lack of top-end speed and average-at-best separation skills give are concerning scouts. He's a great throw-it-up-and-get-it type receiver who will win nearly every contested pass, making him an immediate second or third option in the NFL. Sutton stands as a solid target who can handle any workload, but he may just simply lack the speed and separation ability to develop into anything more than a WR2.
3. D.J. Moore, Maryland - Late 1st/Mid 2nd Round
D.J. Moore looks a lot like former Maryland wideout Stefon Diggs, with his athleticism and short-range quickness making up for his lack of height and length. Moore's route-running needs to me more consistent and quicker overall if he wants to develop into anything more than a rotational target. His 4.42 40-yard-dash, consistent catching ability and flashiness after the catch makes his upside of a talented Pierre Garcon-like WR2 a realistic one.
4. Christian Kirk, Texas A&M - Late 1st/Mid 2nd Round
Christian Kirk's odds of landing in the first round are boosted by the fact that he's the best slot receiver option in the draft. His 5'10", 200-pound frame pairs well with his toughness out of the slot. He lacks length as well as height, and he doesn't have the stand-out speed many teams are looking for out of the slot. What Kirk does have is quick feet, decent pace, solid hands and consistent route-running ability. He may not have desirable speed, but he still flashed big time returning skills at Texas A&M that should carry over at the next level. Kirk should develop into an above-average NFL slot receiving option in the near future.
5. James Washington, Oklahoma State - 2nd Round
Once James Washington gets a head of steam going, it's hard to stop him. His ball-finding abilities and pace in the open field make him a dangerous deep-threat option right out of college. Washington's route running and hands are above average, and he doesn't win any points in height (5'11") or short-range speed (4.54 40-yard-dash). He's fast, but he's not quick. He looks a lot like Corey Coleman coming out of the Big 12, and scouts see him developing into an average WR2 with field-stretching, home-run prowess.
6. D.J. Chark, LSU - Mid 2nd/Early 3rd Round
D.J. Chark was a mid-round nobody until he put up an astonishing 4.24 40-yard-dash at the combine. Suddenly, teams went back and looked at his tape, where they found Chark utilizing his desirable size and speed combination for big yardage plays. His route-running abilities are limited, and there's a good chance he struggles with pressing Cornerbacks at the next level, but if he improves his routes, his average hands and his mediocre ball skills, Chark should develop nicely into a speed-first WR2.
7. Anthony Miller, Memphis - 3rd/4th Round
Anthony Miller is a hard worker, and his 22 Bench Press reps show he can work with his 5'11", 190-pound frame at the next level. He can play both on the outside and on the slot, something Memphis utilized frequently, and that versatility should make him an attractive option for package-based offensive sets. Miller doesn't have incredible speed or quickness, but he consistently finds a way to get open on every route level. He drops far too many passes, a concern for many scouts, but if he can break that bad habit, he's any team's WR3 option in no time.
8. Antonio Callaway, Florida - 3rd/4th Round
Antonio Callaway has put together a nice offseason, and he has all the tools to be a successful receiver at the next level. His biggest drawback is major character issues, something that's derailed far too many NFL careers. He's extremely athletic with long arms for a 5'11" frame, and his 4.41 40-yard-dash proves he can hang with most Cornerbacks speed-wise. Callaway's dangerous on slants and crossing routes, and find his way to any ball on the field. He's also one of the most dangerous returners in the entire draft class. For how talented he is, he should have better production, and that's the second-biggest concern. If Callaway gets his act together, he could develop into a formidable second or third option for any team, especially in man coverage.
9. Jordan Lasley, UCLA - 3rd/4th Round
Jordan Lasley has the size (6'1", 210 lb.), athleticism and explosiveness to make big plays at the next level right away. He also drops passes at a red-flag rate. Some teams might not care how often he drops the ball, as long as he's consistently a deep play threat. Lasley needs to learn discipline and focus before he can be a consistent anything at the next level, and his off-the-field issues make that a hard sell already. The potential to be a dangerous down-field WR2 is there, but it's up to him to get his act together and give teams a reason to look past his red flags.
10. Dante Pettis, Washington - 3rd/4th Round
Dante Pettis is a 6'1" incredible route runner with evidence of ball-hawking ability at every level of receiving. However, for being 6'1", his physicality is a big concern at the next level. Paired with mediocre acceleration from the line of scrimmage, it's easy to see Pettis struggling against press corners, relegating him to a WR3 at best. He's a great returning option, and he should see special teams consideration right away, but he's going to need to toughen up and battle out cornerbacks if he wants to develop into more than an extra roster option.
11. DaeSean Hamilton, Penn State - 3rd/4th Round
As far as leadership is concerned, DaeSean Hamilton has more than any other receiver in the class. At 6'1", he's also one of the most sizable slot receivers. His discipline and route-running abilities made up for his lack of separation and average-at-best athleticism. For teams that like big receivers in the slot, Hamilton's already an attractive option, but for all other teams, it would take a major boost in speed and separation for him to develop into anything more than a bench option.
12. Michael Gallup, Colorado State - 3rd/5th Round
When looking at Michael Gallup's tape, you want to look at what he CAN be, not what he actually showed. Gallup stands at 6'1", 205 pounds with above-average speed and athleticism to match. As far as what he can actually do on the field, he's still very raw. Teams that don't mind developing a project receiver will see his upside as a well-rounded second or third option, but for teams looking for an immediate impact, Gallup is still a long ways away from being a factor on the field.
13. Deon Cain, Clemson - 4th/5th Round
Deon Cain has a desirable size (6'2") and speed (4.43 40-yard dash) combination. He also runs smooth routes with a high IQ, making him suitable against most, if not all, NFL coverage packages. Cain's spead automatically makes him a long-ball target, but he showcased his ability to attack at every level at Clemson. His drops may be more of a mental lapse than catching ability concern, but it's a major concern for scouts nonetheless. He's unlikely to ever be a WR1, but if he boosts his separation ability and stops dropping easy balls, he should develop into a quality WR3 with an upside of a decent WR2.
14. Cedrick Wilson, Boise State - 4th/6th Round
Cedric Wilson was a Quarterback before he made the switch to Wide Receiver his freshman year at Boise State. His development was off the charts his senior season, and he utilized his 6'3" frame well both outside and in the slot. His ceiling is very limited, as he doesn't have any other stand-out abilities, but his usability on all three level as well as his height and reach could help Wilson become a quality backup, match-up-based option for any franchise.
15. Tre'Quan Smith, Central Florida - 4th/6th Round
Tre'Quan Smith is only 6'1", but he plays more like he's 6'5" with his exceptionally long arms. He has the ball skills and athetic ability to win most one-on-one aerial battles, making him an instant threat at the next level. Looking past his measurables, he lacks consistency in catching and finishing beyond his frame. Smith's release needs work, but his instant burst of speed he possesses creates an early mismatch for most Cornerbacks guarding him. He should be most team's fourth-best option, but it's hard to see him developing into anything more than a rotational backup reliant on size mismatches for reps.
16. Marcell Ateman, Oklahoma State - 4th/6th Round
Marcell Ateman's 6'4" frame and ball skills made him a nightmare to guard in Big 12 play. He should fit into any West Coast offense relatively quickly as a rotational option. His hands are innately good and he can run any route, but he didn't do himself any favors running a 4.62 40-yard-dash at the combine. Still, he's a ready jump-ball, red zone threat and while he'll start off down on the depth chart, his undetermined ceiling gives him a chance to develop into a consistent WR4. If he boosts his athleticism and beats press corners, a WR3 spot is possible.
17. Equanimeous St. Brown, Notre Dame - 5th/6th Round
If a Quarterback finds a window of opportunity for Equanimeous St. Brown, he'll take advantage of it. He's 6'5" with a sub-4.5 forty time, making him an instant target for any offense. Despite his frame, he gets beat by press corners far too frequently. St. Brown just doesn't play tough. He's also never been a volume target and never will be, critically capping his potential. His measurable will earn a roster spot, but it's unlikely St. Brown develops into anything more than a match-up-based backup receiver.
18. Auden Tate, Florida State - 5th/7th Round
Auden Tate caught scouts' eyes when he measured in at 6'5", but many of the quickly looked away when he ran a 4.68 40-yard-dash. That's the story of Tate: he's tall, but he's not fast. His lack of speed, quickness and agility makes it appear that his only way of creating separation is through his height. He should work well as an aerial threat, especially in the red zone, and he played the entire 2017 through shoulder pain, demonstrating his toughness and desire to play the game. He has match-up-based value, and despite his limited ceiling, he's still a piece a lot of teams would want to see on their bench.
19. Simmie Cobbs Jr., Indiana - 5th/7th Round
Simmie Cobbs walked into the combine as a potential Day 2 pick with his incredible 6'4", 220-pound frame. Then he ran a 4.64 forty and scouts went back and looked at his tape to see if speed should be a concern. It is. Cobbs gets swallowed up by corners easily, and even when he does create space, he drops far too many passes. Teams will need to get creative in creating potential space for Cobbs, but if he doesn't fix his lazy technique and ball-dropping issues, he won't develop into anything more than a fringe roster player.
20. Daurice Fountain, Northern Iowa - 5th/7th Round
Daurice Fountain put his 6'1", athletic body to the test in his senior campaign at Northern Iowa. His explosiveness is good enough to create space at the next level, but his poor route running and ball skills automatically bump him back to a Day 3 prospect at best. He's great at getting yards after the catch, and he'll go up to get the ball with the best of 'em, but he still stands as a receiver who needs a good training camp to make a roster.
21. Allen Lazard, Iowa State - 6th Round/Undrafted
Allen Lazard used his size (6'5") and strength to simply outmuscle Cornerbacks in the Big 12. His play speed and athletic ability are both mediocre, which will make it extremely difficult for Lazard to separate from press corners. Some teams may want to mold Lazard into a pass-catching Tight End, and given his speed and athletic disadvantages at every receiving level, that may be Lazard's best bet if he wants to make a roster come September.
22. Jaleel Scott, New Mexico State - 6th Round/Undrafted
Once Jaleel Scott figured out what he can do with his 6'5", long-armed body, his production skyrocketed for New Mexico State. He's not quick, and often disappears in the short-range passing game, but he uses his quick hands and long strides to create more separation than your everyday 6'5" receiver. His top-end speed is missing, but his versatility from both outside and the slot (plus his size, obviously) will help him make a roster and develop into a quality backup option down the road.
23. Keke Coutee, Texas Tech - 7th Round/Undrafted
Keke Coutee is only 5'11", but his long arms allow him to play like he's taller. Coutee has major deficits in route-running, strength and toughness, a combination that cripples his draft stock. He definitely needs to bulk up his wiry frame too. However, his speed, quickness, and ability to consistently create space vertically could add large chunks of receiving yards to most teams' stat books. His returning ability may be the deciding factor in making a 53-man roster or beginning his NFL career on a practice squad.
24. J'mon Moore, Missouri - 7th Round/Undrafted
J'mon Moore is definitely a work in progress. He has a 6'3", sturdy frame, and while his 4.6 forty may have dug him a hole as far as draft stock is concerned, his tape shows solid down-field speed, an important attribute at the next level. He dropped the ball a ton his junior year, did a much better job his senior year, but then dropped a large sum of passes during Senior Bowl practices. He still has the ceiling to be a quality backup Wide Receiver, but there's a lot of moving pieces and traits far from developed, marking his floor alarmingly low.
Other Wide Receivers with training camp chances: Dylan Cantrell, Texas Tech; Deontay Burnett, USC; Byron Pringle, Kansas State; Braxton Berrios, Miami; Quadree Henderson, Pittsburgh; Richie James, Middle Tennessee State; Jake Wienicke, South Dakota State; Justin Watson, Pennsylvania; Darren Carrington II, Utah