FullerMetrics NBA Draft Big Board 1.0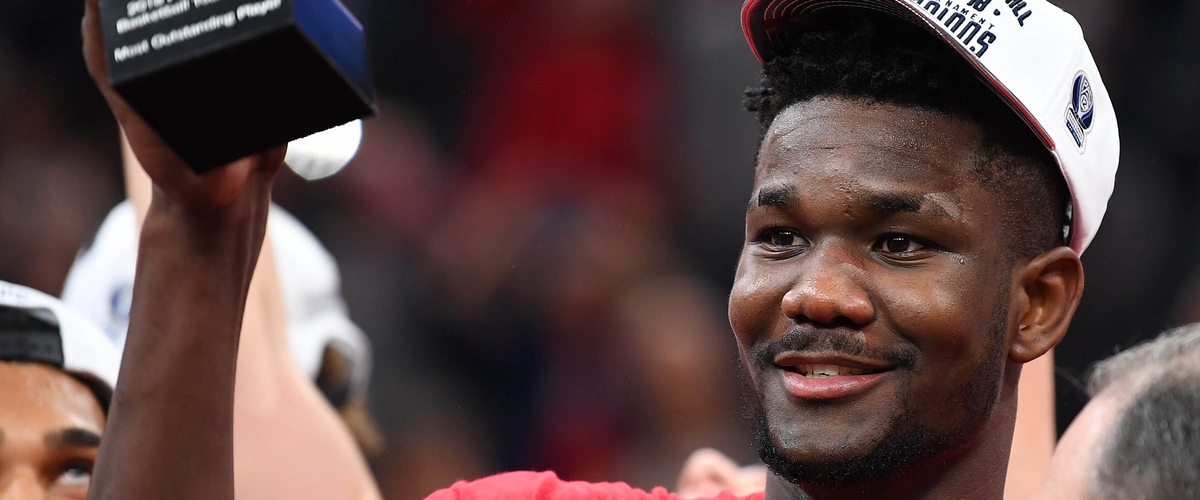 March Madness tips off tomorrow with the play-in games, and players like DeAndre Ayton will look to solidify their draft stock. While international players and stars of lesser teams won't get their chance to further their case in live play, many of the 2018 NBA Draft's best prospects now have a national spotlight to shine in. The Tanking contest has already begun in the NBA, so we might as well look at the players they're throwing games for...
1. DeAndre Ayton, C, Arizona
Ayton is a physical presence that wrecks havoc every time he steps on the court. For a seven-footer, his agility, quickness and ability to attack the rim efficiently is jaw-dropping. He also started pulling up and hitting J's during the Pac-21 Tournament, and if he can add a decent jumper to his offensive game, he's a unanimous #1 pick, hands down.
2. Luca Doncic, PG, Real Madrid (Slovenia)
If you haven't seen Doncic's ball-handling ability via Instagram videos, it's time to log on. He's a 6'8" play creator who can run the point while both scoring and distributing. His fluidity is scary-good for an 18-year-old. Imagine a better, taller Ricky Rubio, and you get to start developing him at 18.
3. Marvin Bagley III, PF/C, Duke
If there's one thing Bagley can do, it's rebound. Down the stretch and throughout the ACC Tournament, Bagley's motor was seen on both offense and defense, and while some scouts question how his defensive game will translate to the NBA level, he's 6'11" and under 20 years old. I think they can work something out.
4. Jaren Jackson Jr. PF/C, Michigan State
While there are three players above him on this big board, JJJ from MSU may have the highest ceiling of anyone in this draft. He's 6'11" with a 7'4" wingspan and an impressive frame. If that wasn't enough, he shot 40% from beyond the arc, blocked shots as well as anyone in the country, and rebounded better and better throughout the season. The mobility and impact on both ends of the floor alone makes scouts drool.
5. Mohamed Bamba, C, Texas
In the modern game, a lot of teams want to put stretch-fours and pseudo-fives on the floor. Bamba is a straight-up Center. Even through nagging injuries, his shot-blocking and rebounding make him possibly the most NBA-ready defensive anchor. A lot of teams could use the seven-footer's shutdown defense in the paint.
6. Michael Porter Jr., SF/PF, Missouri
Porter was Class of 2017's top recruit, but spinal surgery will damage anyone's stock. He shot 5-17 in his copmeback game, and an increasing number of scouts are questioning his work ethic and will to win. Still, the 6'10" modern player may have an upside of a Ben Simmons 2.0, so he's still a guaranteed Top-10 pick.
7. Collin Sexton, PG, Alabama
Sexton was already an explosive Point Guard before the SEC Tournament, but he took it to a new level by shooting a game-winning floater, scoring nearly 30 points a game and making over 60% of 3-pointers in those few games. He may be the most exciting player to watch in March Madness, and his combination of elite speed and shooting while still being a pesky defender keeps his stock rising higher and higher. He also looks more NBA-ready than Trae Young.
8. Wendell Carter Jr., C, Duke
Carter is a Top-10 pick, and he's not even the best player on his team. He proved to be a consistent rebounder and shot blocker while also showing shooting potential all over the court. Imagine how good he would have looked if he wasn't sharing paint presence with another lottery pick. This alone will have scouts excited about his upside.
9. Trae Young, PG, Oklahoma
Young exploded on the scene early in the season, and his pick-and-roll prowess and ability to shoot long-range bombs off the jumper still prove to be his biggest weapons. He turned the ball over far too much, and some are concerned with the fact that when he played well, Oklahoma didn't fare any better. The hwole team fell apart down the stretch, and many (including myself) are surprised they even made the Big Dance. How he does against Rhode Island in the opener may shift his draft stock either direction.
10. Mikal Bridges, SF, Villanova
Bridges is the highest-rated player over the age of 19, and his basketball IQ mirrors that experience. He's a winner who can guard pretty much any non-Center and hold his own. The biggest question mark was his shot-creating ability, but that was on full display when he went beast mode from beyond the arc in the Big East Championship game.
11. Miles Bridges, SF, Michigan State
Bridges did show some struggles switching to the wing, but his freakish athleticism and tenacious defense all over the court were still on full display. He's a decent shot creator with highlight-level dunking ability, and his above-average passing and ball-handling make his an excellent fit as a 6'6" Small Forward in the NBA.
12. Kevin Knox, SF/PF, Kentucky
Knox was exposed frequently on defense, but his playmaking ability in the open court and floor-stretching ability keep him in lottery pick contention. Oh, and he's also one of the best 3-Point shooters in the draft. With a 6'9" frame, he can guard either forward position if a NBA franchise teaches some defense to the second-youngest prospect in the draft.
13. Robert Williams, PF/C, Texas A&M
As far as production goes, Williams was somewhat disappointing this season. That's also because the Aggies frequently play him out-of-position on both offense and defense. His board-crashing, pick-and-roll-finishing game combined with natural shot blocking ability and his 6'9", sturdy frame make him a Clint Capela-type player, perfect in today's NBA. Don't look at what Williams is; look at what he easily could be.
14. Shai Gilgeous-Alexander, PG/SG, Kentucky
The 6'6" combo-guard wasn't on anyone's boards at the beginning of the season, but his versatility, selflessness and overall offensive ability made great strides throughout the season. Gilgeous-Alexander and Kentucky are peaking at the perfect time, and his length combined with the will to work on his game make him a potential lottery pick.
15. Lonnie Walker IV, SG, Miami
No part of Walker's game was consistent all season, keeping him out of the Top 10, but his 6'10" frame as a Shooting Guard combined with his ability to shoot from anywhere on the court both on and off the dribble make him ideal for any NBA team. His athleticism and clutch ability both further his case to round out the lottery picks.
16. Daniel Gafford, C, Arkansas
Gafford is just a flat-out physical presence. His 6'11", solid frame automatically make him a force in the paint. His potential also looks strong, with natural ability to crash the boards on both offense and defense. If he goes on a tear against Butler to start March Madness, and especially if he gives 7'2" Isaac Haas and Purdue hell in the second game, he could easily hear his name as a lottery pick.
17. Troy Brown, SG, Oregon
The 6'7" Shooting Guard held his own on defense, both in rebounding and on the perimeter. He's also an excellent ball-handler. Brown was inconsistent beyond the arc, making many scouts worry about his overall offensive game, but he's also the third-youngest prospect in the draft. If a franchise is patient, they could make Brown a dual-threat player.
18. Dzanan Musa, SF, Cedevita (Bosnia)
Musa is a scorer, plain and simple. The 6'9" Small Forward has the build and the elite production to already be considered one of the best players in Europe. He has the ideal combination of shot-creating ability, quick release and ranginess to be a real scoring threat in the U.S. as well. Think of Bojan Bodgonovic.
19. Khyri Thomas, SG, Creighton
At 6'3", he may not seem like a defensive presence at the NBA level, but his 6'11" wingspan and high-level drive give him the potential to be an incredible defender against both guards and forwards in the NBA. He's a good spot-up shooter and a team player, plus his effective passing make him an ideal candidate to come off of any NBA team's bench.
20. Mitchell Robinson, C, None (USA)
At 6'11", Robinson's length, athleticism and innate shot-blocking ability make him a likely first-rounder automatically. However, electing not to play in college only furthered scout's questioning of his NBA readiness. It might take a few years before Robinson sees quality minutes on a pro court, but for a well-rounded team late in the first round, he's a deserving developmental project considering what he could turn out to be.
21. Aaron Holiday, PG, UCLA
Holiday's wingspan makes up for his 6'1" stature, and he can heat up shooting-wise as quick as anyone in the country. Holday's made major strides to his game during his senior year, and if the tough Point Guard can dominate St. Bonaventure in the play-in game and possible upset Florida by the end of the week, his stock could soar even higher.
22. Hamidou Diallo, SG, Kentucky
Diallo stands at 6'5" with a 6'10" wingspang, good length for an NBA Shooting Guard. His space creating and ball-handling have both improved big time over the course of his Freshman campaign, and his aggressiveness (especially in the transition game) is something scouts adore. His biggest struggle has been shooting consistently, and that weakness alone will keep him from being a lottery pick. Adding upper body strength and improving his passing would help.
23. Bruce Brown, SG, Miami
Brown's Sophomore season ended early due to injury, but he was still able to showcase his perimeter defense, natural passing ability and overall grit against good competition. His jump shot is streaky, so improving that is a must. There's a chance he does return to Miami for his Junior campaign, but if not, he sits as a late first-early second rounder.
24. Anfernee Simons, PG/SG, None (USA)
Simons shows off explosiveness and shot-creating ability in every camp he attends, but he's also one of the least NBA-ready players in the draft process. A powerhouse team with patience could eventually turn him into something great, but there are still a lot of questions as to what "great" even looks like for Simons.
25. Landry Shamet, PG, Wichita State
Shamet's leadership is exceptional considering he's only a Sophomore. He's not an explosive player, but his basketball IQ is off the charts and he's one of the best decision-makers in the draft. Physically, he needs to get stronger, and his shooting game may be limited by his lack of space-creating ability, but his intangibles will lead him to develop into Denzel Valentine 2.0 very quickly.
26. Brandon McCoy, C, UNLV
McCoy certainly has NBA-ready size: he's 7' tall with a 7'2.5" wingspan and a 255-pound frame. However, like many young big men with this size, his skill set is still very raw. He has expanded his shooting range to include mid-range jumpers, and his rebounding has improved, but it may still take time for him to see significant NBA minutes.
27. Chandler Hutchison, SG/SF, Boise State
Hutchison improved his game big time throughout his senior year, becoming both a much improved perimeter defense and perimeter shooter. There's a lack of natural wings in this draft, so that alone will help him land in the first round. Questions rise about his ceiling, but the 6'7" scorer is, at the least, ready to contribute off the bench.
28. Chimezie Metu, PF/C, USC
The two things Metu guarantees to bring on the court are length and athleticism. He's the king of put-back slams, and his overall basketball IQ has exponentially increased throughout the season. He's still very far away from being a finished product, and his inconsistency stick out like a sore thumb. Still, his promising rate of growth already may be enough for a team to take the Ekpe Udoh lookalike and try to turn him into something great.
29. Keita Bates-Diop, SF, Ohio State
The Ohio State wing has had a breakout Junior campaign. He doesn't necessarily excel at any single trait, but his high motor, leadership and toughness make him a fine prospect. If Bates-Dop can find a way to translate his scoring level to the pro's, he'll make earlier teams wish they took the chance on him.
30. Jalen Brunson, PG, Villanova
Brunson may very well walk away with the Wooden Award by the time March Madness is over. He's a hard-working, prolific scorer with natural leadership abilities and plenty of experience. More than anything, he's a winner. His 6'1" height and 6'3" wingspan will automatically limit him at the next level, keeping most scouts wary of taking him any higher than the early second round. Then again, height doesn't stop Isaiah Thomas...
Second Round:
31. Shake Milton, PG/SG, SMU
32. Grayson Allen, PG/SG, Duke
33. Austin Wiley, C, Auburn
34. Trevon Duval, PG, Duke
35. Jacob Evans, SF, Cincinnati
36. Gary Trent, SG, Duke
37. De'Andre Hunter, SF, Virginia
38. De'Anthony Melton, G, USC
39. Melvin Frazier, SG/SF, Tulane
40. Devonte' Graham, PG, Kansas
41. Alize Johnson, PF, Missouri State
42. Sviatoslav Mykhailiuk, SG, Kansas
43. Jevon Carter, PG, West Virginia
44. Rodions Kurucs, SF, FC Barcelona (Latvia)
45. Rawle Alkins, SG, Arizona
46. Jalen Hudson, SG, Florida
47. Moritz Wagner, PF/C, Michigan
48. Tyus Battle, SG/SF, Syracuse
49. Arnoldas Kulbolka, SF, Brose Bamberg (Lithuania)
50. Kevin Hervey, SF, UT-Arlington
51. Tony Carr, PG, Penn State
52. Allonzo Trier, SG, Arizona
53. Ray Spalding, PF, Louisville
54. Bonzie Colson, PF, Notre Dame
55. Isaac Bonga, SG/SF, Fraport Frankfurt (Germany)
56. Keenan Evans, PG/SG, Texas Tech
57. Vincent Edwards, SF, Purdue
58. Kerwin Roach, PG/SG, Texas
59. Goga Bitadze, C, Mega Leks (Rep. of Georgia)
60. Joel Berry, PG, North Carolina