Fuller's 2020 NFL Draft Big Board 5.0: Post-Super Bowl, Pre-Combine Rankings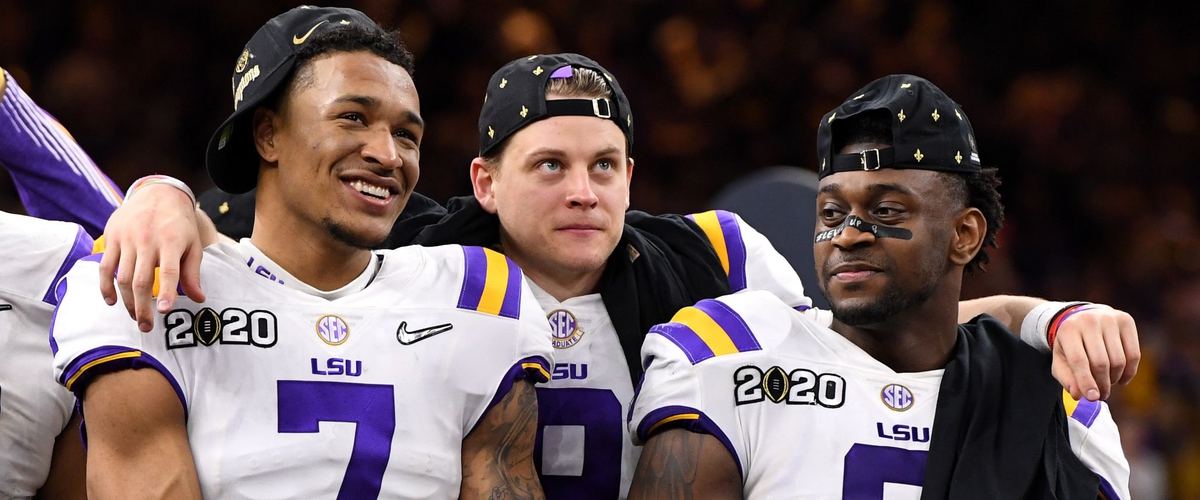 There's a VERY good chance all three of these championship-winning LSU Tigers hear their names (S Grant Delpit, QB Joe Burrow and LB Patrick Queen) called on night one of the draft.
Now that the official NFL draft order is set and the NFL Combine invitees have been announced, it was time to update my player rankings and post a new big board. Not much has changed at the very top, as the draft will still most likely begin with Joe Burrow heading to Cincinnati, but significant moves up and down the board were still made:
- Alabama OT Jedrick Wills soared up the board, moving from a late first-rounder to standing as the top O-Lineman and seventh-best prospect.
- Louisville OL Mekhi Becton saw a jump from a mid-second round grade to 14th overall, a move that in real life would mean millions more.
- LSU LB Patrick Queen was on the cusp of being a Day 3 pick, but after a solid National Championship run and his official commitment to the draft process, he's shot up to 29th overall with a legitimate shot at being the first inside linebacker taken.
- TCU DL Ross Blacklock, Auburn CB Noah Igbinoghene, and Michigan C Cesar Ruiz all saw their stock rise from a mid-round status to the mid-to-late second-round range.
- Other players that boosted their stock by at least fifty spots include LSU RB Clyde Edwards-Helaire, Michigan OLB Josh Uche, Minnesota S Antoine Winfield Jr., Florida WR Van Jefferson, Baylor WR Denzel Mims, Lenoir-Rhyne S Kyle Dugger, North Carolina DE Jason Strowbridge, Temple C Matt Hennessey, and South Carolina WR Bryan Edwards.
- The biggest slide down the board was without a doubt Missouri TE Albert Okwuegbunam (-46), but other big drops include Alabama OLB Anfernee Jennings (-20), Minnesota WR Tyler Johnson (-19), Oregon LB Troy Dye (-29), Notre Dame CB Troy Pride Jr., (-20), Oregon C Jake Hanson (-27), and Florida DE Jabari Zuniga (-24).
Alright, now that we've hit the key points, here are the complete rankings of my top 115 prospects:
1. Joe Burrow, QB, LSU ( same, #1 to the Bengals)
2. Chase Young, Edge, Ohio State ( same, Top 3 Pick)
3. Jeff Okudah, CB, Ohio State ( same, Top 4 Pick)
4. Tua Tagovailoa, QB, Alabama ( +3, Top 6 Pick)
5. Derrick Brown, DL, Auburn ( same, Top 8 Pick)
6. Isaiah Simmons, LB/S, Clemson ( +2, Top 10 Pick)
7. Jedrick Wills Jr., T, Alabama ( +11, Top 12 Pick)
8. Justin Herbert, QB, Oregon ( +2, Top 12 Pick)
9. Jerry Jeudy, WR, Alabama ( -5, Top 15 Pick)
10. Andrew Thomas, OT, Georgia ( -4, Top 15 Pick)
11. CeeDee Lamb, WR, Oklahoma ( -2, Top 15 Pick)
12. Tristan Wirfs, T, Iowa ( +2, Top 15 Pick)
13. Javon Kinlaw, DL, South Carolina ( -1, Mid-1st Round)
14. Mekhi Becton, T/G, Louisville ( +25, Mid-1st Round)
15. AJ Epenesa, Edge, Iowa ( -2, Mid-1st Round)
16. Henry Ruggs III, WR, Alabama ( -1, Mid-1st Round)
17. K'Lavon Chaisson, OLB, LSU ( +16, Mid-Late 1st Round)
18. Xavier McKinney, S, Alabama ( +5, Mid-Late 1st Round)
19. CJ Henderson, CB, Florida ( +1, Mid-Late 1st Round)
20. Tee Higgins, WR, Clemson ( -3, Mid-Late 1st Round)
21. Grant Delpit, S, LSU ( -10, Mid 1st-Early 2nd Round)
22. Laviska Shenault Jr., WR, Colorado ( -6, Mid 1st-Early 2nd Round)
23. D'Andre Swift, RB, Georgia ( -1, Mid 1st-Early 2nd Round)
24. Jordan Love, QB, Utah State ( +17, Mid 1st-Early 2nd Round)
25. Kenneth Murray, LB, Oklahoma ( -1, Mid 1st-Early 2nd Round)
26. Kristian Fulton, CB, LSU ( -7, Mid 1st-Early 2nd Round)
27. Yetur Gross-Matos, Edge, Penn State ( -6, Late 1st-Early 2nd Round)
28. Josh Jones, T, Houston ( +14, Late 1st-Early 2nd Round)
29. Patrick Queen, LB, LSU ( +74, Late 1st-Early 2nd Round)
30. Justin Jefferson, WR, LSU ( +1, Late 1st-Early 2nd Round)
31. JK Dobbins, RB, Ohio State ( -3, Late 1st-Early 2nd Round)
32. Austin Jackson, T, USC ( -5, Late 1st-Early 2nd Round)
33. Trevon Diggs, CB, Alabama ( -7, Late 1st-Mid 2nd Round)
34. Terrell Lewis, OLB, Alabama ( -2, Late 1st-Mid 2nd Round)
35. Zach Baun, OLB, Wisconsin ( +25, Late 1st-Mid 2nd Round)
36. Jonathan Taylor, RB, Wisconsin ( -6, Late 1st-Mid 2nd Round)
37. Jalen Reagor, WR, TCU ( same, Late 1st-Mid 2nd Round)
38. Jacob Eason, QB, Washington ( +6, Late 1st-Mid 2nd Round)
39. Ross Blacklock, DL, TCU ( +62, 2nd Round)
40. KJ Hamler, WR, Penn State ( +11, 2nd Round)
41. Curtis Weaver, Edge, Boise State ( -12, 2nd Round)
42. Brandon Aiyuk, WR, Arizona State ( +1, 2nd Round)
43. Marlon Davidson, DE, Auburn ( +49, 2nd Round)
44. Jeff Gladney, CB, TCU ( +1, 2nd Round)
45. Justin Madubuike, DL, Texas A&M ( +2, 2nd Round)
46. Neville Gallimore, DT, Oklahoma ( +13, 2nd Round)
47. A.J. Terrell, CB, Clemson ( +1, 2nd-Early 3rd Round)
48. Cole Kmet, TE, Notre Dame ( +22, 2nd-Early 3rd Round)
49. Tyler Biadasz, C, Wisconsin ( -15, 2nd-Early 3rd Round)
50. Noah Igbinoghene, CB, Auburn ( +69, 2nd-Early 3rd Round)
51. Julian Okwara, Edge, Notre Dame ( -16, 2nd-Early 3rd Round)
52. Jaylon Johnson, CB, Utah ( +10, 2nd-Early 3rd Round)
53. Raekwon Davis, DL, Alabama ( -17, 2nd-Mid 3rd Round)
54. Bryce Hall, DB, Virginia ( -14, 2nd-Mid 3rd Round)
55. Cesar Ruiz, C, Michigan ( +73, 2nd-Mid 3rd Round)
56. Jake Fromm, QB, Georgia ( -2, 2nd-Mid 3rd Round)
57. Ashtyn Davis, S, Cal ( -8, Mid 2nd-3rd Round)
58. Cameron Dantzler, CB, Mississippi State ( +9, Mid 2nd-3rd Round)
59. Damon Arnette, CB, Ohio State ( +7, Mid 2nd-3rd Round)
60. Solomon Kindley, G, Georgia ( +1, Mid 2nd-3rd Round)
61. Trey Adams, T, Washington ( -11, Mid 2nd-3rd Round)
62. Michael Pittman Jr., WR, USC ( +3, Mid 2nd-3rd Round)
63. Brycen Hopkins, TE, Purdue ( -7, Mid 2nd-3rd Round)
64. Isaiah Wilson, T, Georgia ( +18, Mid 2nd-3rd Round)
65. Clyde Edwards-Helaire, RB, LSU ( +52, Late 2nd-3rd Round)
66. Hunter Bryant, TE, Washington ( -13, Late 2nd-3rd Round)
67. Shane Lemieux, G, Oregon ( +2, Late 2nd-3rd Round)
68. Prince Tega Wanogho, T, Auburn ( -16, Late 2nd-3rd Round)
69. Lloyd Cushenberry III, C, LSU ( +31, Late 2nd-3rd Round)
70. Jordyn Brooks, LB, Texas Tech ( +24, Late 2nd-3rd Round)
71. James Lynch, DL, Baylor ( +5, Late 2nd-3rd Round)
72. Donovan Peoples-Jones, WR, Michigan ( -17, Late 2nd-3rd Round)
73. Bradlee Anae, Edge, Utah ( +28, Late 2nd-3rd Round)
74. Malik Harrison, LB, Ohio State ( -3, Late 2nd-3rd Round)
75. Josh Uche, OLB, Michigan ( +55, Late 2nd-3rd Round)
76. Antoine Winfield Jr., S, Minnesota ( +62, Late 2nd-3rd Round)
77. Anfernee Jennings, OLB, Alabama ( -20, Late 2nd-4th Round)
78. Gabriel Davis, WR, UCF ( -10, Late 2nd-4th Round)
79. John Simpson, G, Clemson ( +5, Late 2nd-4th Round)
80. Van Jefferson, WR, Florida ( +76, Late 2nd-4th Round)
81. Denzel Mims, WR, Baylor ( +79, Late 2nd-4th Round)
82. Tyler Johnson, WR, Minnesota ( -19, Late 2nd-4th Round)
83. Jonathan Greenard, Edge, Florida ( +22, Late 2nd-4th Round)
84. Kyle Dugger, S, Lenoir-Rhyne ( +68, Late 2nd-4th Round)
85. Cam Akers, RB, Florida State ( +4, Late 2nd-4th Round)
86. Jordan Elliott, DT, Missouri ( -14, Late 2nd-4th Round)
87. Lucas Niang, T, TCU ( +17, Late 2nd-4th Round)
88. Nick Harris, C, Washington ( +2, Late 2nd-4th Round)
89. Jason Strowbridge, DE, North Carolina ( +93, Late 2nd-4th Round)
90. Ben Bredeson, G, Michigan ( +19, Late 2nd-4th Round)
91. Jared Pinkney, TE, Vanderbilt ( -8, Late 2nd-4th Round)
92. Rashard Lawrence, DL, LSU ( -17, Late 2nd-4th Round)
93. Trevon Hill, DE, Miami ( +2, Late 2nd-4th Round)
94. Jalen Hurts, QB, Oklahoma ( -15, Late 2nd-4th Round)
95. Matt Hennessy, C, Temple ( +69, Late 2nd-4th Round)
96. KJ Hill, WR, Ohio State ( -5, Late 2nd-4th Round)
97. Devin Duvernay, WR, Texas ( +29, Late 2nd-4th Round)
98. Bryan Edwards, WR, South Carolina ( +73, Late 2nd-4th Round)
99. Khalid Kareem, DE, Notre Dame ( -3, Late 2nd-4th Round)
100. Nick Coe, DL, Auburn ( -13, Late 2nd-4th Round)
101. Zack Moss, RB, Utah ( +20, Late 2nd-4th Round)
102. Troy Dye, LB, Oregon ( -29, Late 2nd-4th Round)
103. Darrell Taylor, OLB, Tennessee ( -18, Late 2nd-4th Round)
104. Albert Okwuegbunam, TE, Missouri ( -46, Late 2nd-4th Round)
105. Netane Muti, G/C, Fresno State ( +11, 3rd-4th Round)
106. Troy Pride Jr., CB, Notre Dame ( -20, 3rd-4th Round)
107. Jake Hanson, C, Oregon ( -27, 3rd-4th Round)
108. Kenny Willekes, DE, Michigan State ( -15, 3rd-4th Round)
109. Logan Wilson, LB, Wyoming ( +47, 3rd-4th Round)
110. AJ Green, CB, Oklahoma State ( +39, 3rd-4th Round)
111. Lavert Hill, CB, Michigan ( +1, 3rd-4th Round)
112. Jabari Zuniga, Edge, Florida ( -24, 3rd-4th Round)
113. Brandon Jones, S, Texas ( -3, 3rd-4th Round)
114. Adam Trautman, TE, Dayton ( +41, 3rd-4th Round)
115. Matt Peart, T, Conn ( -37, 3rd-4th Round)