Fuller's Official 2020 NFL Mock Draft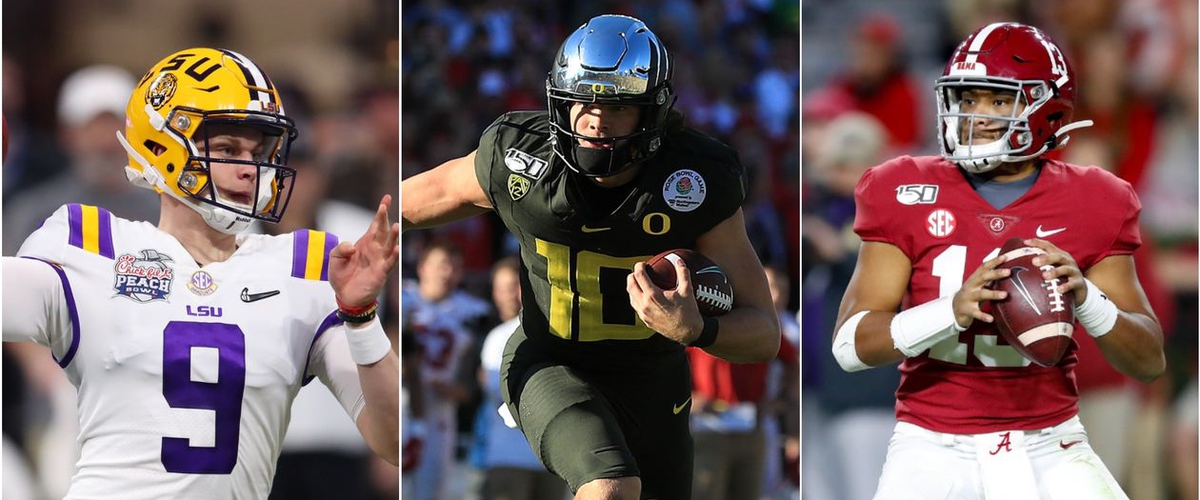 Over 100 hours of research, scouting, and film study has led to this - the first virtual NFL Draft! Barring the Russians hacking the draft and selecting Ivan Drago #1 overall, here's my final shot at guessing the first round of the 2020 NFL Draft:
1. Cincinnati Bengals: Joe Burrow, QB, LSU
This one's been planned for, well, definitely since Burrow balled out in the National Championship.
2. Washington: Chase Young, Edge, Ohio State
Washington might still be fielding offers for #2 overall (Atlanta, are you that desperate?), but they'll likely keep the pick and should take the best all-around player in the draft.
3: Detroit Lions: Jeff Okudah, CB, Ohio State
There's a decent chance Detroit trades this pick away after I post this article, but if they hold onto #3, replacing Darius Slay with another long-term, lockdown cornerback in Jeff Okudah is the smartest choice.
4: New York Giants: Jedrick Wills Jr., OT, Alabama
While most teams would take Isaiah Simmons, the clear best player available, here at #4, Giants GM Dave Gettleman isn't like most people. Jedrick Wills Jr. is arguably the best Tackle in the draft and fits Gettleman's mold for what he likes. Tristan Wirfs and Mekhi Beckton are two other Tackle candidates that wouldn't surprise me here.
5. Miami Dolphins: Tua Tagovailoa, QB, Alabama
Tua Tagovailoa may be the higher-ranked QB on most boards, but Justin Herbert doesn't have Tua's injury concerns and Miami's been talking to his college coaches all week. This being said, I'm not buying the smokescreen, and word is Miami heard good news from all of Tua's doctors this week.
6. Los Angeles Chargers: Justin Herbert, QB, Oregon
L.A. is a perfect fit for Justin Herbert to develop alongside bridge Quarterback Tyrod Taylor, although they'll be tempted to take Isaiah Simmons if he's still on the board.
7. Carolina Panthers: Derrick Brown, DL, Auburn
Brown is the second-best player available and Carolina lost Vernon Butler, Gerald McCoy and Dontari Poe this offseason, giving him the edge over Isaiah Simmons again.
8. Arizona Cardinals: Tristan Wirfs, RT, Iowa
Kyler Murray is lobbying for Arizona's front office to take a receiver at #8, despite adding DeAndre Hopkins, but I see the Cardinals making the smart choice to protect Kyler by taking the best O-Lineman available in Tristan Wirfs.
9. Jacksonville Jaguars: Isaiah Simmons, LB/S, Clemson
Cornerback is a bigger need than Safety or Linebacker, so adding CJ Henderson makes plenty of sense on paper, but Isaiah Simmons is an absolute defensive playmaker and with another pick later in the first, Jacksonville can afford to take the best player available.
10. Cleveland Browns: Andrew Thomas, OT, Georgia
Cleveland needs help across pretty much their whole O-Line, and after signing RT Jack Conklin to a big deal, Andrew Thomas makes more sense on the blind side over Mekhi Becton, although both are very similar values. Cleveland may very weel trade down out of this spot too.
11. New York Jets: Mekhi Becton, T/G, Louisville
The Jets will be tempted to add another receiving weapon for Sam Darnold, and rumors have it they're super high on Henry Ruggs III; however, the value Mekhi Becton offers as a potential starter at both Tackle spots makes him the smarter choice.
12. Las Vegas Raiders: Jerry Jeudy, WR, Alabama
The Raiders have needed a new WR1 since trading away Amari Cooper, and now they can choose from Jerry Jeudy, CeeDee Lamb and Henry Ruggs III. Jeudy is the highest-ranked on my board and I haven't heard any other strong rumors suggesting Gruden's higher on Lamb or Ruggs over him, so Jeudy's the pick at #12.
13. San Francisco 49ers: CeeDee Lamb, WR, Oklahoma
San Francisco will be delighted CeeDee Lamb fell to them here at #13. Henry Ruggs III and Justin Jefferson are two additional wideout candidates GM John Lynch may prefer.
14. Tampa Bay Buccaneers: Austin Jackson, LT, USC
Tampa pulled off the unthinkable by signing Tom Brady; now they better protect him. Austin Jackson is behind fellow Left Tackle prospect Josh Jones on my board, but Tampa's been heavily linked to Jackson for a couple months now and he's not that much of a reach at #14.
15. Denver Broncos: Henry Ruggs III, WR, Alabama
There's a good chance Denver trades up into the Top 10 to try and get their ideal receiver, but in this mock Henry Ruggs III fell to #15 and Denver would be delighted to not give up any draft capital to take a difference-making receiver like Ruggs here.
16. Atlanta Falcons: Javon Kinlaw, DT, South Carolina
Atlanta probably won't still have this pick by draft time, as they've been scrambling as much as anyone today to move up, but Javon Kinlaw at #16 is an excellent value and need-filler.
17. Dallas Cowboys: K'Lavon Chaisson, OLB, LSU
Dallas needs edge-rushing help and K'Lavon Chaisson is an excellent, high-potential option here at #17. Safety Xavier McKinney and WR Justin Jefferson are two other solid options.
18. Miami Dolphins: Josh Jones, LT, Houston
In this mock, Miami hasn't moved any of their picks and they still have a need to protect whoever their Quarterback of the future is, so top available blocker Josh Jones is the choice at #18.
19. Las Vegas Raiders: Jordan Love, QB, Utah State
Vegas could use a Linebacker (Kenneth Murray or Patrick Queen), a Safety (Xavier McKinney) or another receiving option (Justin Jefferson, Brandon Aiyuk, Denzel Mims or Tee Higgins), but the possibility of drafting another Quarterback of the future to develop behind Derek Carr is too much for Gruden to pass up, leading him to take the Mahomes-upside Jordan Love here.
20. Jacksonville Jaguars: Justin Jefferson, WR, LSU
Jacksonville isn't exactly stacked at Wide Receiver and they just cut Marquise Lee, so Justin Jefferson is the pick here over LB Patrick Queen, LB Kenneth Murray, and DE Yetur Gross-Matos.
21. Philadelphia Eagles: Brandon Aiyuk, WR, Arizona State
Philly needs receiving help and that was before they let Nelson Agholor walk. Brandon Aiyuk is the best receiver available and I believe suits Philly here over Tee Higgins and Denzel Mims.
22. Minnesota Vikings: AJ Terrell, CB, Clemson
Minnesota lost Xavier Rhodes, Trae Waynes, and Mackenzie Alexander in less than a month. AJ Terrell makes the most sense at Cornerback, although Trevon Diggs, Kristian Fulton, Jeff Gladney, and Jaylon Johnson could all come into the mix either here or at #25.
23. New England Patriots: Zach Baun, OLB, Wisconsin
New England is looking to move from #23, although the direction is disputed. Edge rusher is probably their biggest need, apart from finding their next long-term Quarterback, and Zach Baun could help them across the Linebacker corps, which is now weaker without Jamie Collins or Kyle Van Noy.
24. New Orleans Saints: Patrick Queen, LB, LSU
New Orleans needs help at Linebacker and they're higher on in-state product Patrick Queen than Kenneth Murray.
25. Minnesota Vikings: Tee Higgins, WR, Clemson
Minnesota needs help at Wide Receiver and Defensive End, and out of WR Tee Higgins, DE Yetur Gross-Matos and DL AJ Epenesa, adding a vertical threat like Higgins to replace Stefon Diggs is probably the most appealing scenario for the Vikings here.
26. Miami Dolphins: Xavier McKinney, S, Alabama
In this mock, Miami still has #26 and took QB Justin Herbert and LT Josh Jones already. Xavier McKinney is arguably the best player available and Miami's secondary looked pathetic after trading away Minkah Fitzpatrick, so Safety is the call.
27. Seattle Seahawks: Yetur Gross-Matos, DE, Penn State
LJ Collier was the biggest first-round bust last year and Jadeveon Clowney is a free agent. Gross-Matos is a proven producer off the edge and fits Seattle's defense better than AJ Epenesa.
28. Baltimore Ravens: Kenneth Murray, LB, Oklahoma
Baltimore should be thrilled Kenneth Murray is still left at #28. He's a borderline Top 20 talent and they haven't replaced Patrick Onwuasor at Inside Linebacker.
29. Tennessee Titans: AJ Epenesa, DE, Iowa
Edge rushers, Cornerbacks, and Right Tackles should tempt Tennessee here. AJ Epenesa is still on the board, and he's a better value than CB Trevon Diggs, CB Kristian Fulton, CB Jeff Gladney, CB Jaylon Johnson, or RT Isaiah Wilson.
30. Green Bay Packers: Denzel Mims, WR, Baylor
No Tight End is worth reaching for here, and since Kenneth Murray and Patrick Queen are both gone, there isn't an Inside Linebacker option worth taking either. Wide Receiver it is, and Denzel Mims is a better value than Jalen Reagor at #30. This is, of course, if they don't trade up to take a bigger-name wideout.
31. San Francisco 49ers: Cesar Ruiz, C/G, Michigan
The 49ers don't have a ton of holes, but the interior offensive line is weak and aging, making top Center/Guard prospect Cesar Ruiz the perfect pick at #31.
32. Kansas City Chiefs: De'Andre Swift, RB, Georgia
Kansas City let Kendall Fuller, Bashaud Breeland, and Morris Claiborne walk away, so Cornerback is the position to fill here. This being said, I can't get past mocking De'Andre Swift to the Chiefs. Imagine that offense with Swift added to it...
STAY TUNED FOR TOMORROW'S DAY 2 MOCK DRAFT!