Packers Training Camp by Position: Offensive Line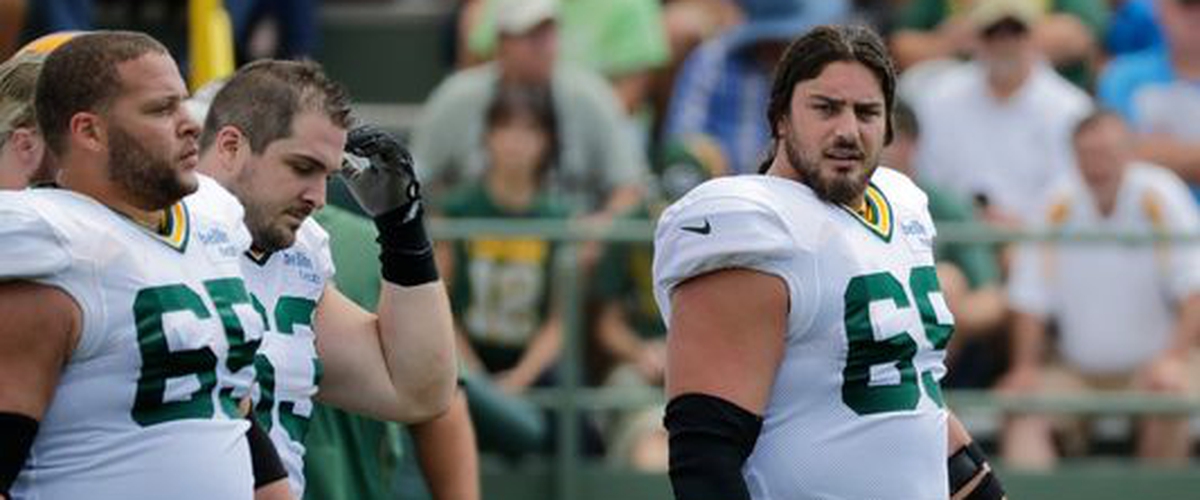 There are five starting jobs to be won on the offensive line, but because of how interchangeable the backups were across the line last season, I'm just grouping them all together for one post. The entire left side of the line is accounted for, with David Bakhtiari, Lane Taylor and Corey Linsley far above any amount of competition for their starting spots. The right side is much messier. Bryan Bulaga is always a question mark, but he had recovered from ACL surgery earlier than expected. Right Guard is essentially up for grabs, with Jahri Evans gone and no immediate replacement signed in free agency. There are about four or five players who could realistically see significant snaps at Right Guard, and with Bulaga's injury history and Jason Spriggs beginning down the injury-prone route himself, depth is as important as ever. Just look at how the Packers faired when Aaron Rodgers wasn't appropriately protected (yes, is was an illegal late hit by Anthony Barr, I know, but the point is still there to be made). The right side of the O-Line isn't talked about much by Packers pundits, but it could be a major difference maker between a deep playoff run or missing the playoffs in back-to-back seasons. Now that I've scared everyone, let's dive in...
TACKLES:
David Bakhtiari, LT - 26, 6th season, 74 starts, $11.1M Salary
Bakhtiari scared everyone when he needed to be carted off the field at Family Night, but thankfully it's just a sprained ankle and he should be back before the season opener. He's been the Second-Team All-Pro in back-to-back seasons, and there's no reason why the 26-year-old shouldn't have just as good of a chance of making a third. How he missed the Pro Bowl last season, I have no idea. Simply enough, he's one of the best Left Tackles in the game, and the fourth-biggest earner on the Packers for a reason.
Bryan Bulaga, RT - 29, 8th season, 81 starts, $7.9M Salary
Bulaga only played in 5 games last year, and he didn't even look that good in 'em. Still, McCarthy & Co. are on the Bulaga Bandwagon once again, and he'll be playing for an extension after this final year of his contract. First and foremost, he needs to stay healthy. Green Bay has three or four Tackles currently developing behind Bulaga who want nothing more than to take the injury-prone veteran's job. This being said, he made a spectacular recovery from ACL surgery in less than 9 months, and as long as he doesn't aggravate something else in his body by September, he should be the Packers' starting Right Tackle to begin the season.
Byron Bell, RT - 29, 8th season, 74 starts, $1.7M Salary
At this stage in his career, Byron Bell's potential is capped as a quality third Tackle. That's exactly what the Packers signed him to do. Bryan Bulaga is as injury prone as any starting Right Tackle in the NFL, and nobody behind him has secured the #2 spot. Jason Spriggs looked to develop into a quality third Tackle, but he was average at best when he played and he couldn't stay healthy either. Green Bay has bodies to back up their starters, but many of those carry an abundance of questions marks. That being said, Green Bay has less invested in Bell than Spriggs and rising backup Kyle Murphy. Spriggs and Murphy picked up season-ending injuries, but Bell simply was just a mediocre backup the past two seasons, even when fully healthy. If need be, they could stash Spriggs or Murphy on the practice squad, but that's not the case for Bell. He also carries a bigger price tag than the other two, meaning cutting him for cap space makes much more sense. It's never a good sign when a veteran lineman keeps grabbing for his back in practice, and Bell did that a couple of times last week. If it came down to a tiebreaker between Bell, Spriggs and Murphy for the two backup Tackle spots, remember this front office didn't draft Bell. Tiebreaker goes to the other two on the basis of front office pride, a realistic factor in today's training camp atmosphere.
Jason Spriggs, RT/LT - 24, 3rd season, 7 starts, $1.365M Salary
If Spriggs doesn't step up his game, he';; be universally considered a bust. Take 48th overall in 2016, just a handful of spots before Pro Bowlers Deion Jones, Kevin Byard and Yannick Nkagoue, Spriggs rode the bench in his rookie season and landed on Injured Reserve TWICE during his sophomore campaign. He's still only 24, and he's shown flashes of starting quality, but with Bryan Bulaga healthy again, Kyle Murphy developing well and Byron Bell providing proven depth as a third tackle, his reps are as limited as ever. He's one significant injury away from Green Bay cutting their losses with the former Second Rounder.
Kyle Murphy, RT/LT - 24, 3rd season, 3 starts, $662K Salary
Even though it was less than a year ago, many Packers fans have likely forgotten that Kyle Murphy started the 2017 season opener at Right Tackle. He also made a pair of starts at Left Tackle when David Bakhtiari was injured. His starting form was decent on both sides of the line before going down late in September with a season-ending foot injury. Murphy's facing the most competition of his career for a back-up job, but with Bakhtiari likely missing the rest of camp with a sprained ankly, he and Spriggs are set to split starting reps at Left Tackle for the next few weeks. It's unlikely Green Bay keeps five tackles on the active roster, and Murphy is better than a practice quad spot, so he really needs to show his dual-sided worth over the next two weeks to take a job from the higher-paid Byron Bell or Jason Spriggs.
Adam Pankey, RT/LT - 24, 2nd season, 0 starts, $555K Salary
Pankey only played in one game his rookie season, but he also had zero expectations as a practice squad-bound undrafted free agent. Unless a plague hits the O-Line room, Pankey will begin the season on the practice squad again. His versatility at both Tackle spots and Right Guard (that's where he started in college) should secure his practice squad job.
GUARDS:
Lane Taylor, LG - 28, 6th season, 33 starts, $4.07M Salary
2013 was a good year for O-Line scouts, as they drafted 2x All-Pro David Bakhtiari in the fourth round and nabbed Lane Taylor as an undrafted free agent. Taylor earned his 3-year, $16.5 Million extension with his consistent blocking for both the passing and running games. As far as talent at Guard goes, he's in a league of his own. The starting Left Guard spot is his for years to come.
Justin McCray, G/T - 26, 5th season, 8 starts, $555K Salary
I wasn't a fan of his form, but Justin McCray was indeed a feel-good story last year. Until an out-of-the-blue training camp invite from the Packers last year, McCray was playing in the Arena Football League. McCray would go on to play significant reps at four of the five spots on the line last year, making 8 starts across the 2017 campaign. About two weeks into this year's training camp, he's seen about 80% of the starting reps at Right Guard. It's looking more and more unlikely that Green Bay brings Jahri Evans back for a second season, so as of right now, the starting Right Guard spot is McCray's to lose.
Cole Madison, G/C - 22, Rookie, $561K Salary
Madison, a fifth-round selection in April, was the only O-Lineman taken by Green Bay in the 2018 draft. For "personal reasons", Madison hasn't shown up for training camp yet. Judging by GM Brain Gutekunst's tone, something serious is going on with this guy. His roster spot was nearly guaranteed coming into camp, but the more time he takes away from being in Green Bay, the less likely it is to see his name on the 53-Man roster for the season opener.
Lucas Patrick, G/RT - 25, 3rd season, 2 starts, $555K Salary
Patrick may be most known for crushing a line drive right into Clay Matthews' nose earlier this summer at the Charity Softball game. However, he quietly picked up a couple of starts at Right Guard last season, and with Rookie Cole Madison not showing up to camp, his odds at making the active roster again are increasing by the day. Not bad for a 2016 undrafted free agent.
Alex Light, G/T - 22, Rookie, $480K Salary
Light was signed as an undrafted free agent out of Richmond back in April, and that's the last time I've heard his name. He's seriously still in our camp right now? Yeah, it's a no from me, and probably from McCarthy & Co. too.
CENTERS:
Corey Linsley, C - 27, 5th season, 54 starts, $4.85M Salary
After J.C. Tretter moved on last offseason, Corey Linsley's starting Center job has remained undisputed. He started his entire Rookie season in 2014, despite only being a 5th-round pick, and hasn't lost the job when healthy since. Last December 30th, Linsley signed a 3-year/$25+ Million extension, and his starting job is 100% secure through 2021, the end of his new deal. Just please stay healthy, man.
Dillon Day, C - 26, 4th season, 0 starts, $555K Salary
Day looks like a WWE wrestler and got a Super Bowl ring while on Denver's Practice Squad during his 2015 undrafted rookie campaign. He wasn't expected to significantly contend for an active roster spot coming into camp, but Cole Madison's absence opens up a spot as a true #2 Center. Kofi Amichia and Austin Davis have just as good of odds to make the roster behind Linsley, but for now, Day is the most experienced and the only backup option who's spent time on an active roster.
Kofi Amichia, C/G - 24, 2nd season, 0 starts, $480K Salary
Amichia was a 6th-round pick in 2017, and spent his entire rookie year on Green Bay's practice squad. He was a Right Tackle as South Florida, but converted to Guard due to his 6'3", 304-pound size. Now Green Bay is trying to help him learn Center, hoping that Amichia can be a versatile backup interior O-Lineman in the near future. If Cole Madison's absence continues, he has a shot at making the active roster. However, it's much more likely that he spends another yera on the Packers' practice squad learning Center and becoming more adjusted to the interior responsibilities.
Austin Davis, C - 23, Rookie, $480K Salary
Davis was a two-year starter at Center for Duke, and the 2018 undrafted has a slight shot at making the active roster given Cole Madison's situation. However, it's much more likely that he finds a job on another team's practice squad come September.
SUMMARY:
STARTERS:
David Bakhtiari: Left Tackle
Lane Taylor: Left Guard
Corey Linsley: Center
Justin McCray: Right Guard
Bryan Bulaga: Right Tackle
BACKUPS:
Jason Spriggs: Tackle
Kyle Murphy: Tackle
Lucas Patrick: Guard
Cole Madison: Guard/Center, assuming he sorts out his personal issues
MISSES THE CUT:
Byron Bell: Tackle, claimed off waivers by another team
Adam Pankey: Tackle, probable practice squad candidate
Kofi Amichia: Guard/Center, probable practice squad candidate
Dillon Day, Center, signs for another team's practice squad
Austin Davis: Center, 50/50 odds at making another team's practice squad
Alex Light: Guard, unlikely to make any team's practice squad